College basketball's non-conference season is coming to a close, and to help you shake off post-holiday haze and the hangover of losing in your fantasy football playoffs, we'll be providing you with some midseason primers to get you caught up on all the nation's most important conferences.
Today, we're taking a look at the SEC.
PLAYER OF THE YEAR: De'Aaron Fox, Kentucky
Malik Monk is the guy that everyone loves on Kentucky. He's the high-volume scorer, the shooter that can hit eight threes in a game and pop off for 47 points on national television against North Carolina. That performance was unbelievable. But Monk hasn't played like that every game, while Fox has been terrific basically every night that he's step foot on the court for the Wildcats. His numbers are terrific – 16.3 points, 6.8 assists, 5.0 boards, 1.8 steals – but it's the totality of what he provides Kentucky that gets him the nod over Monk. He's Kentucky's engine offensively, particularly in their lethal transition game, and he's arguably the best perimeter defender in the country. As good as Lonzo Ball and Frank Mason II have been, there's an argument to be made that Fox has been the best point guard in college basketball.
ALL-BIG TEN FIRST TEAM
De'Aaron Fox, Kentucky
Malik Monk, Kentucky
P.J. Dozier, South Carolina
Sebastian Saiz, Ole Miss
Yante Maten, Georgia
RESETS: ACC | Big Ten | Big East | Pac-12 | SEC | Big 12
WHAT WE'VE LEARNED
Kentucky is going to steam-roll through the league: This has more to do with Kentucky than it does the SEC, although the fact that the SEC is the weakest of the power conferences is a good thing for the Wildcats. But regardless of the reason, the Wildcats are the safest bet of any team in any league to win their conference. And that is a good thing for John Calipari, because it should afford him plenty of chances to try and cure what ails his team. Their biggest issue at this point is perimeter shooting because Cal is still figuring out how to effectively work Mychal Mulder and Derek Willis into the rotation. The other issue is Bam Adebayo, who has shown flashes of dominance but has been more or less anonymous for the first six weeks of the season. The Wildcats already are Final Four good, and they can still get better.
A full strength South Carolina is the second-best team in the conference: The Gamecocks were terrific through the first month of the season, posting a perfect record and dominating the likes of Michigan and Syracuse. They are tough, they are athletic, they defend and they have a pair of really talented guards in Sindarius Thornwell and P.J. Dozier. All in all, Frank Martin's club is just a misery to play against, as Frank Martin clubs tend to be.
The young talent in the conference needs more time to mature: Entering the season, there were three teams that were really intriguing given the amount of talent that had joined the program: Texas A&M, Mississippi State and Auburn. The Aggies should be good enough to earn themselves an NCAA tournament bid despite the fact that they are playing without a point guard, but both the Bulldogs and the Tigers look like they're a year away from getting Bruce Pearl and Ben Howland back into the NCAA tournament.
KEY STORY LINES IN LEAGUE PLAY
So how many SEC teams are going to get bids to the NCAA tournament?: Kentucky's going dancing, that's for sure. Beyond that? Nothing is a given. Part of the reason is that the league, has a whole, did not land many great non-conference wins. Kentucky picked off North Carolina. Beyond that? South Carolina has wins over Syracuse and Michigan, Florida beat Seton Hall and Miami, Arkansas beat Texas, Georgia beat Georgia Tech, Ole Miss beat Memphis, Texas A&M beat … Denver. What that means is that, as of today, not only are these SEC teams in a bad spot today, there are only so many quality wins available in conference play. Just how much can you improve your résumé if you don't land a win over the Wildcats? The league sent three teams to the tournament last season. Can they better that number this year?
When will Sindarius Thornwell return?: Thornwell was deservedly in the conversation for all-americans seven games into the season, averaging 18.7 points, 6.1 boards and 4.3 assists. But then he got suspended for an offseason arrest, and the Gamecocks have gone just 2-2 in his absence. Yes, it's given a chance for P.J. Dozier to shine, but if Thornwell is out for any significant amount of time, South Carolina is going to have a significantly lower ceiling than they would otherwise.
Is there a challenger to Kentucky in the conference?: If there is going to be one, it's going to be South Carolina. But we won't have an answer to that until we know when the Gamecocks will be back to 100 percent. Even then, in order for Kentucky to blow the league title, something weird is going to have to happen.
You can subscribe to the podcast on iTunes, Stitcher and Audioboom
BETTER THAN THEIR RECORD: Georgia is checking in at 8-4 on the season, which is the kind of non-conference record that is usually reserved for teams that are going to be mired somewhere near the bottom of a power conference. The Bulldogs are better than that – J.J. Frazier is one of the better point guards in the conference and Yante Maten is one of the best big men in the country – but just how much "better than that" they are depends on just how good their supporting cast ends up being.
BEAT SOMEONE AND WE'LL TALK: Four games into the season, Arkansas went to Minnesota and lost by 14 points. At that point, it looked like the Razorbacks were destined for another .500 season, but fast forward a month and that is still the only loss Arkansas has suffered while Minnesota is sitting at 12-1. Moses Kingsley hasn't been as good as he was as a junior, but that may be a good thing for Mike Anderson's club as they look to be more balanced.
COACH UNDER PRESSURE: Kim Anderson climbed out of a coffin at Missouri's Midnight Madness, which is not the imagery that a coach who won 19 games in his first two seasons and went 6-30 in the SEC in that span wants to invoke. The Tigers have already lost to NC Central and Eastern Illinois this season. Yikes.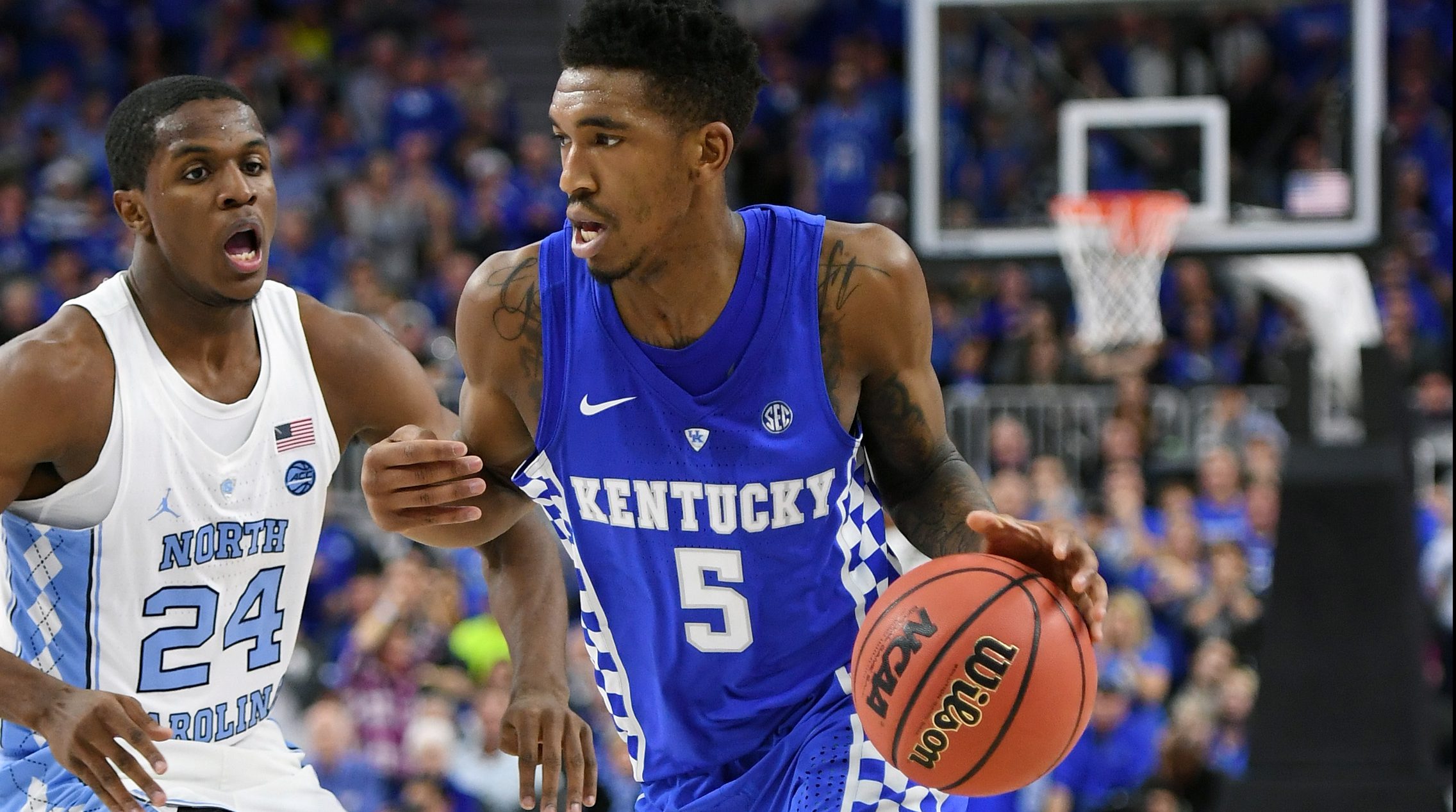 POWER RANKINGS, POSTSEASON PREDICTIONS
Tourney teams
1. Kentucky: What else is their left to say about the Wildcats? They are a second consistent three-point shooter away from being an absolute terror. The good thing about playing in the SEC is that they shouldn't have their chances of a No. 1 seed hurt if they focus on developing the likes of Bam Adebayo, Wenyen Gabriel, Mychal Mulder and Derek Willis.
2. South Carolina: The Gamecocks are a misery to play against. They're as tough and physical defensively as every Frank Martin team has been, but this group actually has some skill of the offensive end of the floor. P.J. Dozier has been fantastic this month, but the Gamecocks have a ceiling if they don't get Thornwell back.
3. Florida: I'm still trying to figure out this Florida team. They have the pieces that would allow them to thrive in Mike White's system and they have some impressive computer numbers, but this was the case last season as well. The on-court product has yet to match the on-paper potential.
4. Texas A&M: The Aggies are a point guard short of being really good. They have a really good front line – namely Tyler Davis and Robert Williams – and some solid shooters around them, but they don't have a playmaker to set the table. The Aggies are in a tough spot in terms of getting a tournament bid after a non-conference season where they lost close games to Arizona, UCLA and USC.
NIT teams
5. Georgia: The Bulldogs have the best one-two punch in the league this side of Kentucky in J.J. Frazier and Yante Maten,
6. Arkansas: The Razorbacks are the great unknown in the SEC. They have a gaudy 11-1 record but they haven't really beaten anyone that would make you believe that record is real. They could finish under-.500 in the league and they also could finish second in the league.
7. Ole Miss: I like this Rebel team. Sebastian Saiz might be the best big man in the conference, but as long as Deandre Burnett has these bouts of inconsistency, Ole Miss has a ceiling.
8. Auburn: The loss to Boston College is worrying, but with wins over Oklahoma and at UConn – and the recent addition of Austin Wiley – there's reason to be bullish on the Tigers as we head into conference play.
Autobid or bust
9. Tennessee: The Vols actually looked pretty good at North Carolina, when they had a chance to knock off the Tar Heels on the final possession. Four of their five losses this season have come to Wisconsin, Oregon, North Carolina and Gonzaga.
10. Alabama: The Crimson Tide have played a pretty difficult schedule, but the only win of note that they have to date came against Arkansas State. It seems fitting that a team coached by Avery Johnson doesn't have anyone averaging double-figures.
11. Vanderbilt: The Commodores are sitting at 6-6 on the season, but they've had some promising performances of late, beating Chattanooga and losing by five at Dayton.
12. Mississippi State: The Bulldogs got a boost last month when it turned out that Quinndary Weatherspoon didn't actually need season-ending wrist surgery. That doesn't, however, change the fact that this is a very young roster that Ben Howland is working with.
13. LSU: The Tigers have a 35-point loss to Wichita State and a 36-point home loss to Wake Forest on their résumé.
14. Missouri: During Missouri's midnight madness festivities, Missouri head coach Kim Anderson made the decision to climb out of a coffin to introduce the crowd. I wonder at what point he'll realize the symbolism.