Before I say anything else, let me just state the obvious: Grayson Allen needs to be suspended.
After he intentionally tripped Elon's Steven Santa Ana on Wednesday night, the third time in the 2016 calendar year that Allen has intentionally tripped an opponent, there is no option here.
He needs to be suspended. He needs to miss basketball games. He was let off with a reprimand and warning after the second incident last season, when he stuck his right leg out to trip Florida State's Xavier Rathan-Mayes just 17 days after he used that same heel to send Louisville's Ray Spalding sprawling, and unless the ACC follows up a reprimand with a REPRIMAND WRITTEN IN ALL CAPS TO SHOW THEY MEAN BUSINESS, the league has only one choice.
Even if head coach Mike Krzyzewski is against it.
Which he is, of course.
(UPDATE, 9:00 a.m.: Duke has announced that Grayson Allen is suspended indefinitely from competition.)
"I handle things the way I handle them, and I think I've handled this correctly, and moving forward I will continue to handle it correctly," Krzyzewski told reporters after the game. "I don't need to satisfy what other people think that I should do."
"I'm a teacher and a coach, and I'm responsible for that kid. I know him better than anybody. So to think that it's the last thing said about this to him is wrong. Obviously we will do more. Doesn't mean you have to see it, or anybody else has to see it, but what he did tonight was right. That's what people do. They say they're sorry. They accept responsibility."
If K is "a teacher and a coach," and he's "responsible for that kid," then he would not be accepting the responsibility that comes with that job if he were to pass the onus for the suspension onto the ACC.
"Grayson apologized, and he should," Krzyzewski said. After the game, Santa Ana and Allen met, with Allen apologizing and the two reportedly shaking hands and ending things amicably. Allen was also in tears as he apologized to the media congregated at Greensboro Coliseum. "It's not something you should do, and he got punished."
Did he?
That's where this thing has nuance.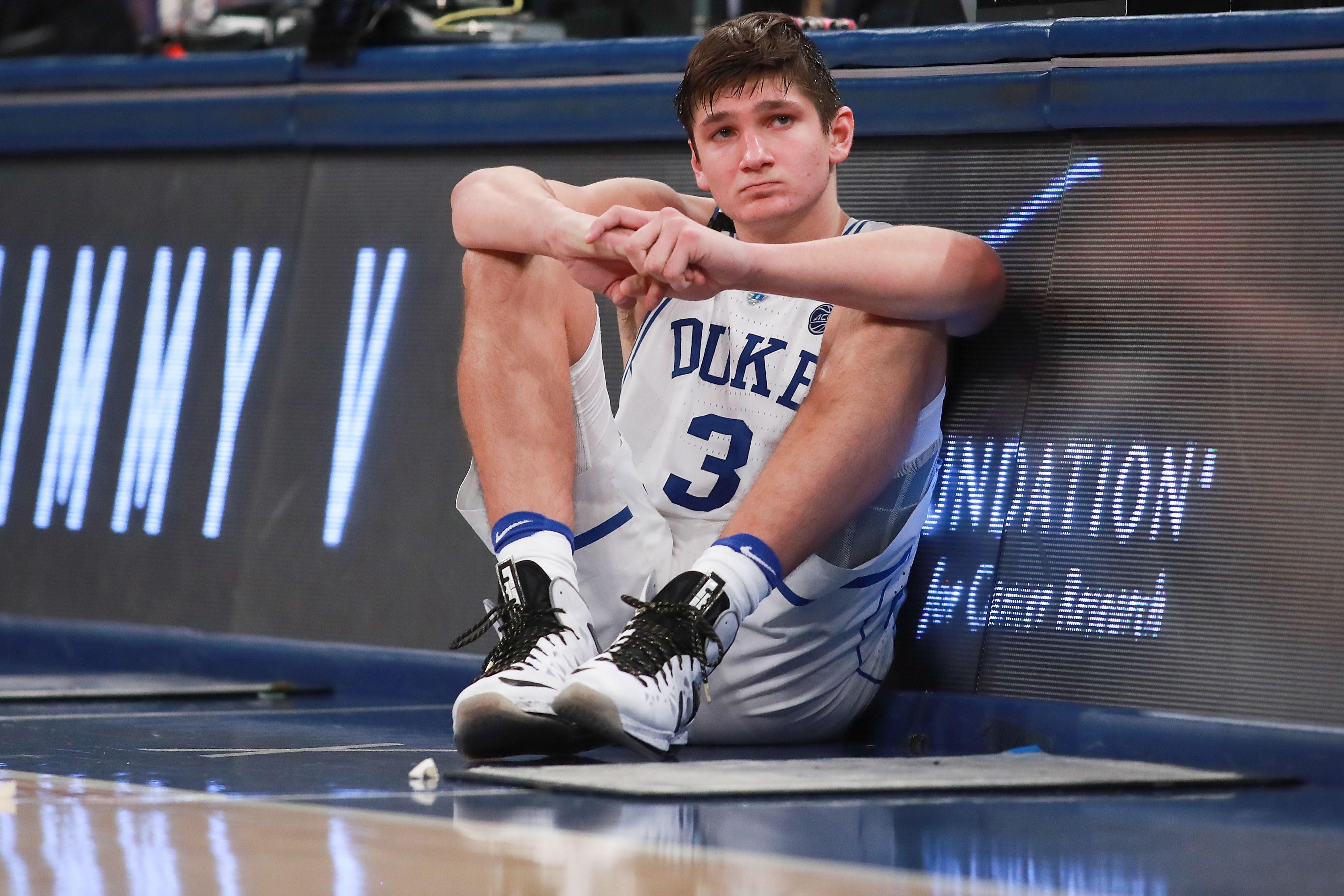 Because Allen didn't really get punished. He was pulled from the game late in the first half for the trip, and he was benched for the start of the second half. But he got back into the game. He played quite a few second half minutes, which may have been due to the fact that Duke actually found themselves in a fight against an inferior opponent for the second time in three days. So is it really a punishment if you need to use the guy to help secure a win?
Put another way, pulling someone from the starting lineup is a perfectly valid punishment for a player that is five minutes late to a film session or a kid that skips a history class, not a player that intentionally tripped an opponent for the third time.
There needs to be a suspension. If a traffic cop catches you speeding after he lets you off with a warning, you're getting a ticket. Allen needs to sit for at least Duke's ACC opener against Virginia Tech, and if Coach K won't be the one to do it, the ACC and commissioner John Swofford have to be.
Having said that, there is no punishment that Duke or Coach K or the ACC could hand down that would make Allen feel worse about what happened than he already does. Did you see his reaction on the bench? Did you see him crying in front of the cameras in the locker room? He knows what he did was wrong, he knows what will be waiting for him online and on TV tomorrow, and he knows that he brought all of this on himself.
Allen grew up a Duke basketball fan in an area of Florida that is full-blooded SEC football. He committed to Duke as soon as he got an offer from the Blue Devils. He went to Duke because it was his dream school and he returned to Duke as a junior because he wanted to have a legacy; as a Duke graduate, as a two-time national champion, as a National Player of the Year.
And he will leave Duke with a legacy: a tripper, a dirty player, a cheap-shot artist. That's what he is now going to be remembered for. Christian Laetter, J.J. Redick, Grayson Allen. There's no way around it, but the difference is that Allen isn't wired like those two. He's not a guy that relishes being Public Enemy No. 1. He doesn't want to be the villain. He wants to be liked. He'd be happier hooping anonymously. This might be too much to come back from.
But that fantasy is out the window.
Allen will have earned every bit of scorn, derision and contempt he gets over the coming days and weeks. He may even deserve it; knowing what he went through last year, I cannot imagine how or why he let this happened again, and there's nothing to say to defend it.
But just because Allen was in the wrong doesn't mean I have to enjoy watching him go through what he's been through and what he's about to go through.
And that doesn't mean I can't have empathy for a person that is coming to grips with the reality that he just set his dreams on fire.