Back in September, when we announced that Grayson Allen would be the NBC Sports Preseason National Player of the Year, I wrote a story on Allen and how a pair of tripping incidents last season turned him into college basketball's villain.
In it, I discussed how Allen's inability to control his anger in those two moments changed the public perception of him for the rest of his career. Specifically, I wrote this:
Any little flashpoint involving Allen is going to become 'a thing' very quickly, and it's fair to wonder if a fear of another incident — either consciously or subconsciously — will affect the way he plays this season.

There's nothing he can say that will change this, either. This isn't something that he'll be able to fix during what is, in all likelihood, his final year on campus. He can't un-light that fuse. That's what happens when you're caught on camera taking a pair of cheap-shots. Ask Draymond Green how the court of public opinion reacts.
We saw an example of that last night.
Here's what happened: Allen drew a foul on a play where there was minimal contact. A Tennessee State defender clipped one of Allen's feet on a layup. Allen went sprawling after missing what appeared to be a wide-open layup, and that was enough for the official staring at the play to blow his whistle.
Take a look:
There is pretty clearly contact on the play, but it's also reasonable to assume that contact like that would not be enough to send Allen flying. It's a pretty bad call based on the angles that were showed on replay, but it's also the kind of call that a Duke star is going to get in Cameron. Frankly, it's the kind of call most stars are going to get on their home floor, particularly given the angle the trailing official had on the play and the fact that Allen, ahem, 'exaggerated' the contact.
But to me, that's besides the point.
This play went viral because Grayson Allen is Grayson Allen, because he's the college star that everyone loves to hate. I googled 'Grayson Allen' on Tuesday. This is what came up: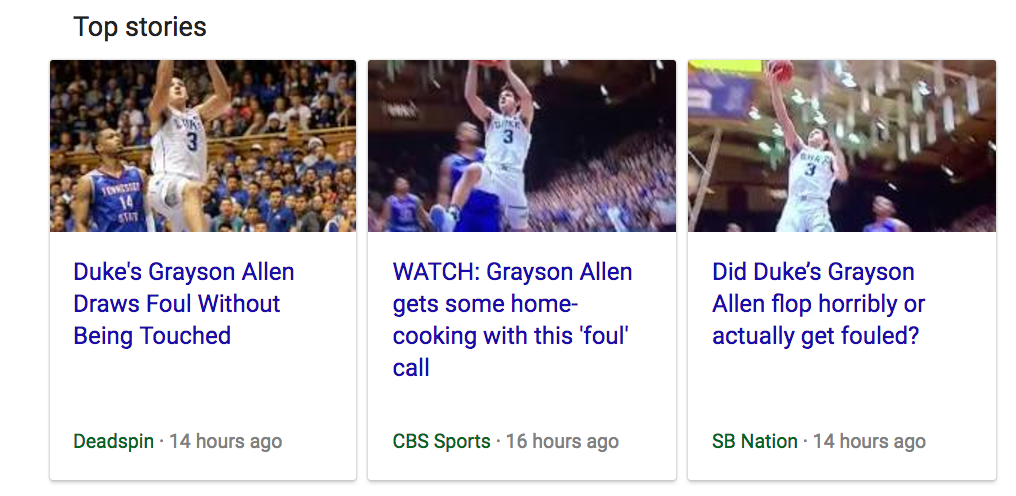 He was trending on twitter last night. He's still trending on FaceBook today.
Allen has developed a reputation for being a flopper, a trait that is despised by the average American sports fan, and it only adds to the derision that he receives for being Duke's white superstar. Throw in the two tripping incidents, and you'd have a tough time convincing me that anyone outside of Christian Laettner and J.J. Redick has been more universally disliked by the public at-large.
Given the rise of social media, I don't know that anyone has had it tougher, either. This happened in a game against Tennessee State on a Monday night that was played as the same time as a game that featured Josh Norman playing his former NFL team, the Carolina Panthers, on national television.
No one would have seen a play like this if Redick did it. Every one with even a passing interest in college basketball will see this.
This isn't going to change, not when Duke is going to be contending for ACC and national titles.
Allen needs to be ready for it, and he needs to be OK with the fact that, in large part, he brought it on himself.