The 50th installation of the rivalry that doubles as a blood feud in the commonwealth will take place on Wednesday evening at 7 p.m. ET, as No. 6 Kentucky makes the 80-mile trek west on I-64 to take on No. 10 Louisville in the KFC Yum! Center.
Kentucky has won the last four meetings and eight of the last nine, and while they'll enter Wednesday night's showdown as two point underdogs, the line Vegas sets and the general perception of what this matchup will be differs. After that thrilling, 103-100 win over North Carolina on Saturday, the Louisville Courier-Journal polled 82 media members on who they think will win; 64 of them picked the Wildcats. 
Why does Vegas differ so much from the people paid to talk about this sport? And what are the three things that will determine the outcome of this game? Let's get into it:
1. Will Louisville be able to score enough points to win?: Kentucky can put up points as well as anyone in college basketball. We all know that. They reached the century mark four times in 11 games this season, including on Saturday against North Carolina, who has the 14th-best defense in the country, according to KenPom. Only once this year have they failed to crack 87 points.
Louisville? According to Synergy's logs, they ranked in the 44th percentile in offensive efficiency at 0.897 points-per-possession. They're 227th nationally in effective field goal percentage and 244th in three-point percentage. Their three best perimeter players – Donovan Mitchell, Quentin Snider and Deng Adel – all shoot under 37.5 percent from the floor and below 33.3 percent from three; Adel and Mitchell both check in at 29 percent from beyond the arc.
The key to slowing this Kentucky team down is limiting their transition opportunities. Avoiding live-ball turnovers and bad shots that lead to run-outs is one way to do that, but the best way to slow a team down is, simply, to score. Make them take the ball out of the net while you get back on defense.
Which leads me to the biggest question of the day: How is Louisville going to score against a team whose defense can be as suffocating as Kentucky's?
To me, there are two ways to do to this:
Capitalize on your own transition chances. Louisville has, according to KenPom, the best defense in college basketball. Part of the reason for that is that they force turnovers on 23 percent of their defensive possessions. Turning those into easy buckets before the Kentucky defense can get set will be critical, as will Louisville's awareness when it comes to what is and what isn't a good transition opportunity.
Get to the offensive glass. Kentucky is 238th nationally in defensive rebounding percentage. Louisville is eighth nationally in offensive rebounding percentage. There are going to be times where Louisville's best offense will be a missed shot that turns into a tip-in.
Kentucky is going to get their's, and I think it's safe to say that Louisville is going to have to score more than 75 points if they want to win this game. If Rick Pitino can find a way to generate points – or if Mitchell and Adel finally find a way to play the way we all thought they would play this season – the Cardinals will have a shot.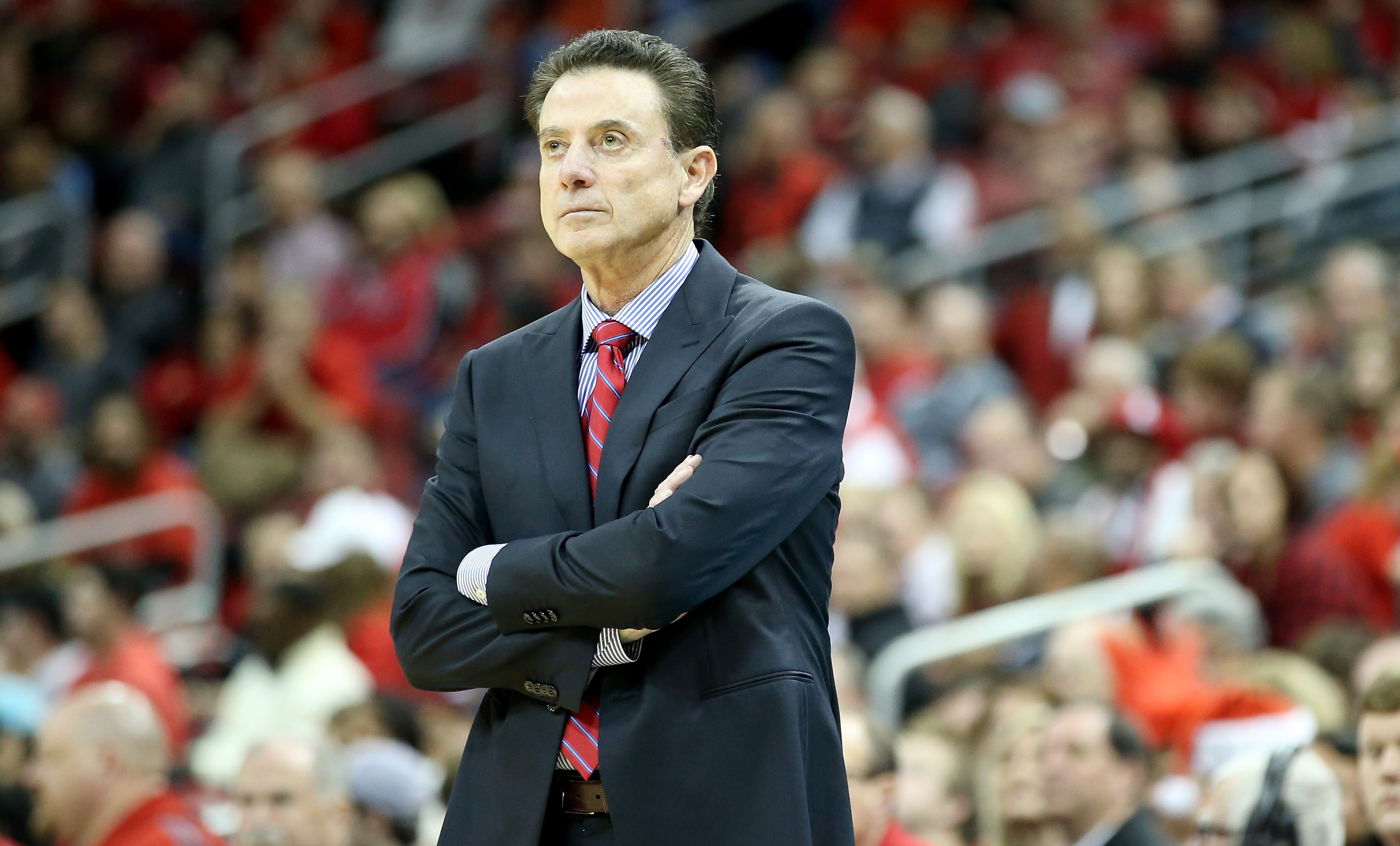 2. Louisville has to find a way to slow-down Malik Monk: Monk is the most dangerous scorer in college basketball. Louisville has the nation's best defense. Strength on strength is always fun.
What made Monk's performance against North Carolina wasn't so much that he was able to pop off for 47 points and carry his team – if you paid any attention in the preseason, you would have known that it was going to happen at some point – it was that he provided a way for Kentucky to score in half court settings. That's the biggest concern with the Wildcats. Given their lack of perimeter shooting and some of the offensive question marks that they have in key positions on the offensive end of the floor, what happens when De'Aaron Fox, Isaiah Briscoe and Monk aren't able to get layups and dunks on the break?
The answer, on Saturday at least, was Monk. John Calipari spoke after the game about how he put in plays similar to what he ran for Jamal Murray last season, plays designed specifically to get Monk an open shot or an opportunity to go one-on-one against a defender. I would be shocked if we didn't see that out of Kentucky again, and I think that Louisville is better equipped to handle it than North Carolina was.
For starters, the Cards have so much length. Mitchell, who I expect will get plenty of chances to go up against Monk, is long and athletic. Adel and V.J. King are 6-foot-7 athletes with plus-wingspans. Those three are also athletic enough that they should be able to at least make things difficult for Monk, which is about all you can ask against a guy who is unguardable when he's running hot.
But the more interesting part of this is that Pitino has developed one of the more complicated defenses to play against. They have so many different looks they can give. Sometimes they press full-court in man-to-man. Sometimes it's a 2-2-1 press. Sometimes they drop back into a man-to-man. Sometimes it's a 2-3 zone. Many times, that half court defense is some combination of the two, where they're playing man on half of the court and zone on the other half or changing defenses midway through a possession.
One former Louisville player described it to me as a gameplan of "organized chaos", and it can be a nightmare to breakdown.
You can subscribe to the podcast on iTunes, Stitcher and Audioboom
3. Who steps up for Kentucky?: As good as the Wildcats were on Saturday, it was somewhat concerning that so much of their offense came from Fox and Monk. Those two finished with 71 points and 12 assists, combining to contribute 87 of Kentucky's 103 points.
That's not something that is sustainable, meaning that Kentucky will need to find another source of scoring. I don't think it will be Isaiah Briscoe, who has turned into one of the best glue-guys in college basketball. Derek Willis was a difference-maker last season, but his issues defensively mean that he splits time with Wenyen Gabriel, who is very much a work in progress on the offensive end.
To me, the answer is Bam Adebayo, who has been good in stretches this season but has struggled to stay on the floor. He battled foul trouble throughout against North Carolina and still managed to finish with 13 points and seven boards. Louisville's front line is as deep as they are long and athletic, and Adebayo's ability to deal with the likes of Jaylen Johnson, Ray Spalding, Anas Mahmoud and Mangok Mathiang without picking up fouls is going to be critical.
4. This is Kentucky's first true road test: Here's a stat for you, courtesy of ESPN's John Gasaway: In the Calipari-era, Kentucky is just 2-5 in their first true road games of the season. In 2008, they won at Indiana in Tom Crean's second season with the Hoosiers, a year where Indiana finished 194th in KenPom's rankings. In 2014, they won at Louisville the season that they started 38-0. The other five years? They've lost at North Carolina twice, they lost at Indiana thanks to Christian Watford, they lost at Notre Dame in Nerlens Noel's one season on campus and they lost at UCLA last season.
Home court advantage in college basketball is massive. It's worth anywhere between five and ten points, depending on the teams involved and the pace of play. Just one example, from the projections on KenPom: Louisville is picked to win by one point against Virginia at home. They're projected to lost by five to the Cavaliers on the road.
And that's before you factor in that so many of Kentucky's most important players will be playing their first true road game in a rivalry as heated as Kentucky-Louisville in an environment that can be as hostile as the Yum! Center.
That's a massive advantage to have in a game like this and has as much to do with where Vegas set their opening line than anything else happening in this game.