No. 6 Kentucky beat No. 7 North Carolina 103-100 in what was one of the best college basketball games that you'll see.
Malik Monk went bananas. Justin Jackson and Joel Berry II had (almost) enough answers. And the result was a thriller that came down to the final seconds. 
Here are the five things we learned from that game:
1. So that Malik Monk guy is pretty good: Can you think of a more impressive performance than the one that Malik Monk had on Saturday afternoon in Las Vegas?
Buddy Hield's 46 points in Oklahoma's loss at Kansas, the No. 1 vs. No. 1 game from last January, comes to mind, but Buddy did that in three overtimes. Denzel Valentine's 29-12-12 game in last year's Champions Classic. Jeremy Morgan had 38 points in one half for Northern Iowa last weekend. All terrific, but I'm not sure any of them are in the same class as what Monk did on Saturday.
Forgetting, for a second, that Monk scored 47 points on 28 shots – the majority of which were jumpers, he only got to the foul line five times – in a 40-minute game against the No. 7 team in the country, Monk buried contested threes twice in the last two minutes to answer a North Carolina baskets. The first came after Justin Jackson gave the Tar Heels their first lead of the game at 98-95. The second came with 15 seconds left with Kentucky down 100-98.
He carried the Wildcat's offense for 38 minutes.
Then he made the two shots he had to make to ensure that this team wouldn't lose.
Unreal.
You can subscribe to the podcast on iTunes, Stitcher and Audioboom
2. Should we be concerned about Kentucky's supporting cast?: While he wasn't quite as good as Monk was, De'Aaron Fox probably would have been considered the Player of the Day on any other day, finishing with 23 points and 10 assists. Combined, Fox and Monk took 49 of Kentucky's 74 shots and 12 of their 21 free throws. They scored 70 of Kentucky's 103 points.
It was dominant.
But what happens when Monk isn't incapable of missing, or if Fox goes up against a defender that's able to keep him out of the paint? In other words, when the Wildcats are playing against competition like this, are they going to have to rely on those two playing like this to win?
There are two reasons I bring this up:
Kentucky didn't really have a third option avail himself. Bam Adebayo played much better in the second half than he did in the first, but outside of about a five-minute stretch in the second half, he was mostly anonymous. Bam finished with 13 points and seven boards before fouling out. Briscoe added 10 points, seven boards and four assists, but his best role on this team is as a glue-guy largely due to the fact that he's always going to struggle to score against this level of competition. Does Kentucky have a third option they can count on? Do they even need one?
Suddenly that vaunted Kentucky defense doesn't seem so scary. The Wildcats gave up 97 points on 83 possessions to UCLA in Rupp Arena. They gave up 100 points on 79 possessions against UNC. Their perimeter is supposed to be the strength of the defense, but they let Justin Jackson go for 34 points and were torched by Joel Berry II, who had 23 points and seven assists, in ball-screen actions. Put another way, it looks like they're going to have to be able to score in the 90s if they want to beat elite teams. Can they do that if either Monk or Fox has an off-night or gets into foul trouble?
3. What a difference a Berry makes: Without Joel Berry II on the floor, North Carolina struggled to put away Davidson and then nearly got upset by Tennessee, both games that happened in the Dean Dome. Against Tennessee, Justin Jackson finished shooting 3-for-15 from the floor and 0-for-6 from three.
Fast forward six days and the Tar Heels traveled across the country and not only survived the raining hellfire that was Malik Monk's shooting but came back on them and took the lead in the final minute. Jackson? He finished with 34 points in what was without a doubt the best performance of his career as Berry went for 23 points and seven assists, carving up Kentucky's ball-screen defense.
Berry is not only UNC's second-leading scorer, but he is the guy who creates better looks for everyone else on the floor. If the last two games wasn't enough to prove it to you, Saturday was. And if you still don't believe it, you cannot be helped.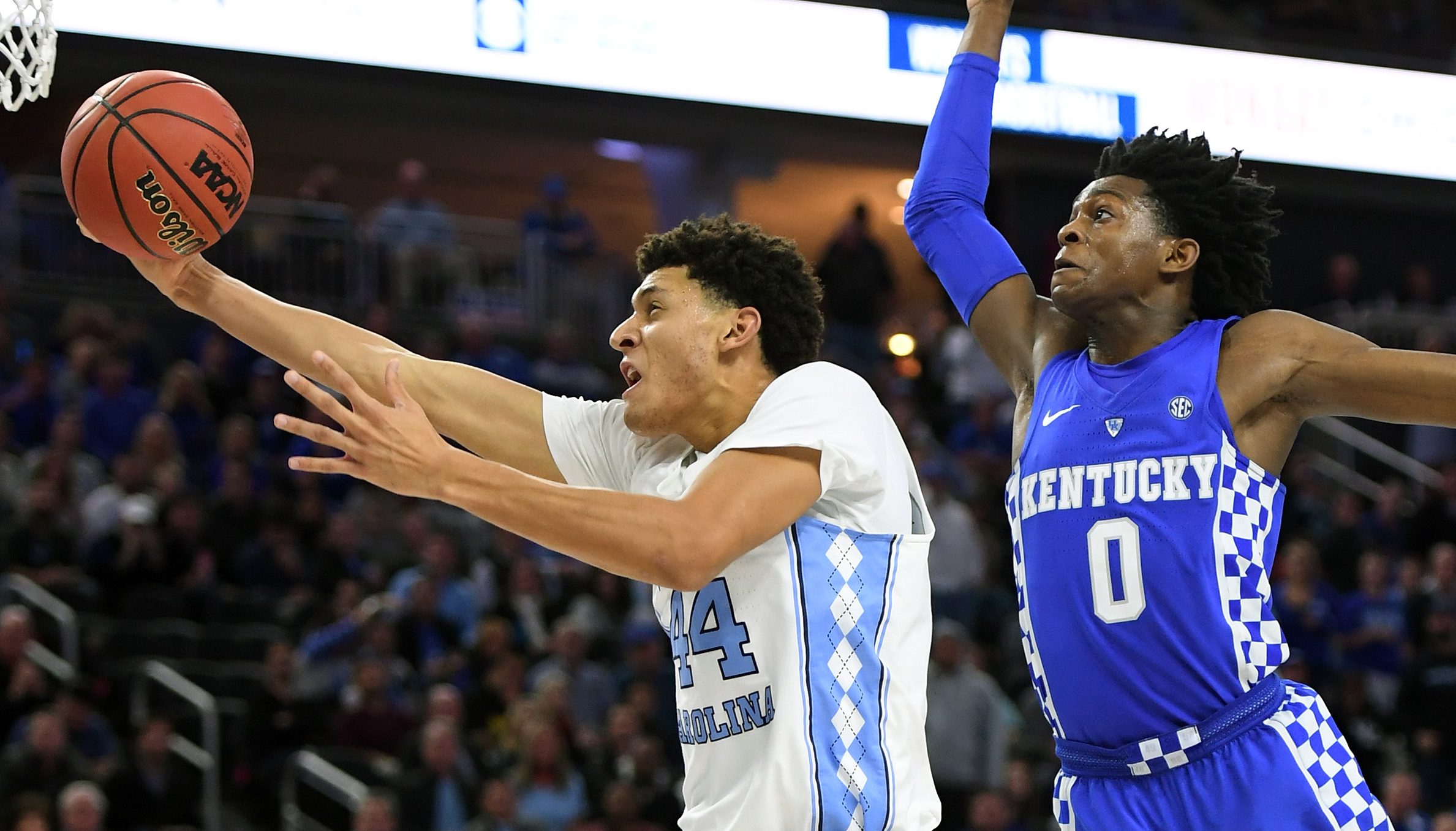 4. Just how good are North Carolina's big men?: First things first: North Carolina is really, really good. I'm not sure they're 'Steal The ACC Title From Duke' good, but they're definitely good enough that a Final Four isn't unlikely; if they finish second in the ACC I think they're probably looking at a No. 2 seed at worst. Berry and Jackson can quite clearly hold their own with any 1-2 punch in college hoops, and the Heels are still waiting to get Theo Pinson back.
But there is a concern with this team: Their front court. Do they have a shot-blocker? Do they have a low-post scoring threat that is, truly, a threat? Kennedy Meeks is a land-warrior that always seems to be in foul trouble. Isaiah Hicks is a freak athlete that has never capitalized on his gifts. Tony Bradley is a freshman that is still learning just how good he can be.
The million-dollar question is if it will matter. Think about it like this: Of the top six teams in the country – Duke, Villanova, Kansas, North Carolina, Kentucky and UCLA – no one has a front line that is overpowering. Gonzaga and Baylor do, but I'm not convinced they're on the same level. In fact, there aren't many teams anywhere in the country that have a front line that will strike fear in UNC's hearts.
5. This win was enormous for Kentucky's chances at a No. 1 seed: Kentucky has as many marquee non-conference games as anyone. They got Michigan State in the Champions Classic. They played Arizona State and Hofstra in nationally-televised neutral site games. They beat UNC today and still have Louisville in the Yum! Center next week and Kansas in Rupp Arena next month.
But they lost to UCLA. Beating the trio of Michigan State, Arizona State and Hofstra isn't all that notable. The SEC doesn't have another elite team in the league. If Kentucky had lost this game, they probably would have had to beat both Louisville and Kansas for any shot at getting a No. 1 seed on Selection Sunday. They probably still need to win both of those games to feel comfortable, but at least with this win they know they have one elite win in the bank.