SATURDAY'S SHOWDOWNS
No. 7 North Carolina vs. No. 6 Kentucky, Sat. 5:45 p.m.: Before we get into what this game means, we need to talk about the x-factor in this game: the health of Joel Berry II's ankle. Berry has missed the last two games after injuring the ankle two weeks ago and it's unclear if he will be able to play on Saturday; if he does play, who knows how healthy he'll be.
That's an enormous issue for the Tar Heels, not only because we learned just how valuable Berry is to that team last weekend, but because of who North Carolina is playing. The way that Kentucky plays defense is that they overwhelm teams with their athleticism and ball pressure. They force turnovers, they force bad shots and they turn those empty possessions into layups at the other end of the floor. You need strong point guard play to run offense and get good shots against them, and an absent or hampered Berry would clearly hurt their chances of doing so.
And that's frustrating, because this is a game that was supposed to tell us something about both of these teams. Kentucky's been dominant for long stretches this season, but the only time they played a team that was anywhere near their caliber was when they lost at home to UCLA. North Carolina has been just as impressive, particularly as they cruised to a title in the Maui Invitational, but they were beaten pretty good by Indiana in Assembly Hall.
It will be tough to take too much out of this result if Berry is out. It won't, however, affect what that win looks like on NCAA tournament profiles, which is why Kentucky won't mind if Berry sits. Both of these teams are in contention for a No. 1 seed. UNC has the win over Wisconsin on their résumé and a full ACC slate to play. Kentucky doesn't have a marquee win and won't have any chances in league play to pick up a win this good.
A win is more important to Kentucky than it is to UNC.
Prediction: Joel Berry II is expected to play, but I don't think he's healthy. I'm on Kentucky (-5).
You can subscribe to the podcast on iTunes, Stitcher and Audioboom
No. 18 Butler vs. No. 9 Indiana, Sat. 5:00 p.m.: It looks like the Hoosiers are going to have O.G. Anunoby available on Saturday, and if they do, that's a problem for Butler's Kelan Martin, who will have to deal with one of college basketball's best defenders. The concern for this Indiana has been what they will do against defenses that can bog them down, and while Butler, on paper, is a team that can do that, they don't have the kind of stoppers in the back court that will make life miserable for the likes of Robert Johnson and James Blackmon Jr.
The Big East has done a lot of good things in non-conference play this season, and this is another chance for the conference to make a statement. Indiana is one of the favorites to win the Big Ten.
Prediction: With Anunoby on the floor I think Indiana (-2.5) is the play. If it turns out that Anunoby doesn't play, take Butler plus the points.
No. 21 Notre Dame vs. No. 15 Purdue, Sat. 2:00 p.m.: This will be an interesting matchup of styles. The Irish play small-ball and roll out a starting lineup that features Bonzie Colson, who is generously listed at 6-foot-6, at the power forward spot. Purdue? Their front line consists of 7-foot-2 Isaac Haas and 6-foot-10 Caleb Swanigan.
The question will be this: Can Notre Dame take advantage of the perimeter ability of their front court players, pulling Haas and Swanigan away from the rim, or will the Boilermakers pound the ball into the paint. Worth noting: Purdue is fifth nationally in three-point shooter while taking more than 42 percent of their field goal attempts from beyond the arc. You'll pay if you pack your defense in too much.
Prediction: I think Notre Dame wins outright, so if you can get the Irish (+2.5) you're getting rich.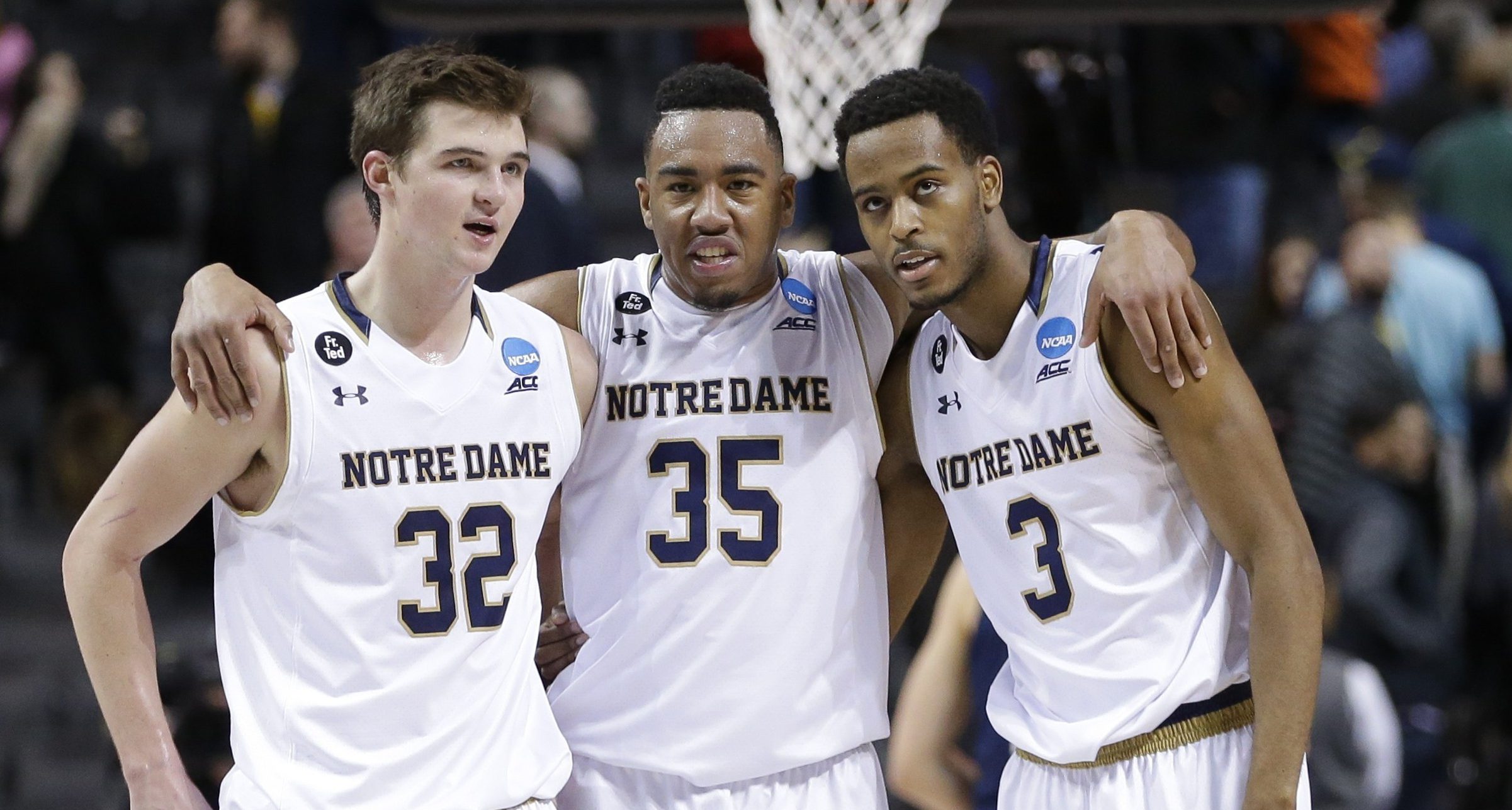 FIVE MORE GAMES TO WATCH
Georgetown at Syracuse, Sat. 12:00 p.m.: The most intense rivalry from the Old Big East will be reignited this weekend in the Carrier Dome. The game will honor former Syracuse guard Pearl Washington, passed away due to complications from brain cancer. Pick: Georgetown (+6.5)
Texas A&M vs. No. 19 Arizona, Sat. 12:00 p.m.: This game will be played in Houston as part of the Lone Star Shootout. Both Texas A&M and Arizona are, on paper, NCAA tournament teams, but neither of them have landed the kind of non-conference wins that would make them feel comfortable about getting an at-large bid. Pick: Texas A&M (-3.5)
Ohio State vs. No. 2 UCLA, Sat. 3:00 p.m.: Ohio State is not all that good this year, but there are two things worth noting here: They weren't all that good last season when they beat Kentucky in the CBS Sports Classic in New York, and anytime UCLA is on TV should be appointment television for anyone basketball fan with a pulse. Pick: UCLA (-9)
Wake Forest at No. 17 Xavier, Sat. 8:00 p.m.: The Skip Prosser Classic. Prosser, an extremely popular coach that spent his time at Xavier and Wake Forest, passed away in the summer of 2007 while employed as the head coach of Wake. In terms of hoops, this is a game that Xavier needs to win after they lost at Baylor and at Colorado earlier this month. Pick: Xavier (-10)
No. 8 Gonzaga at Tennessee, Sun. 4:00 p.m.: Tennessee gave North Carolina all that the Tar Heels could handle last weekend in Chapel Hill. This time, they'll get Gonzaga in Thompson-Boling Arena. The big worry for the Vols are the bigs. Gonzaga has a lot of good ones. Tennessee, not so much.
FOUR STORY LINES TO FOLLOW
1. Are the stars healthy?: It seems like this is a topic that we have been discussing far too often this season, but once again, the best players on two of the best teams in action this weekend will likely not be at 100 percent if they play at all. Indiana's O.G. Anunoby has missed the last three games after spraining his ankle late in a win over North Carolina. Ironically enough, it's UNC's Joel Berry II that is also dealing with an ankle injury that has kept him out of the last two games. As I mentioned earlier in this column, both of those players are key to their team's matchups with Butler and Kentucky, respectively.
2. Kentucky needs all the good wins that they can get: As of today, Kentucky has just one win over a KenPom top 80 team, and that's Michigan State, who is currently ranked 43rd, a number that will likely drop as the site's preseason expectations are phased out of the formula; that usually happens right around the new year. Kentucky will get their chances – they play UNC this weekend, Louisville next week and Kansas in January – but it's important for the Wildcats to capitalize on those non-conference opportunities, because elite wins don't look like they exist in the SEC. With Duke, Villanova, Kansas, UCLA, Indiana and Baylor all compiling résumés that look like they will be strong enough to put them in contention for a No. 1 seed, a lack of league wins will come back to bite Kentucky on Selection Sunday.
3. Are neutral site games good for the sport?: That's the big question we always ask, and it's relevant to bring up this weekend because of the overlord of neutral site events. There's the CBS Sports Classic in Las Vegas featuring UK vs. UNC and UCLA vs. Ohio State. The Lone Star Shootout in Houston has Texas A&M vs. Arizona and Texas vs. Arkansas. The Crossroads Classic pits Indiana's four best teams against each other: Indiana vs. Butler and Purdue vs. Notre Dame. The same event takes place in Iowa, where Iowa State squares off with Drake and Northern Iowa gets Iowa.
The argument goes two ways. On the one hand, if we don't have neutral site events we probably aren't seeing these games happen. The typical knock on neutral site games is that the environments are sterile, empty and not what college basketball is about. That may be true in the event in Texas, but the Crossroads Classic should be packed with fans from each of those fanbases. The event in Iowa should be crowded as well, and while UCLA and Ohio State may not draw a huge crowd, it would be shocking if North Carolina and Kentucky wouldn't fill up an arena anywhere, let alone in Vegas.
So while, in general, I think neutral site games aren't always good for college hoops, I don't think this weekend will be an accurate representation of that.
4. There are some fairly important bubbles games this weekend, and no, it's not too early to start talking about these things:
Arkansas vs. Texas, Sat. 12:30 p.m.
Davidson vs. No. 3 Kansas, Sat. 7:00 p.m.
Middle Tennessee State at VCU, Sat. 7:00 p.m.
Oklahoma State at Wichita State, Sat. 7:00 p.m.
Dayton at Northwestern, Sat. 7:00 p.m.
BYU at Illinois, Sat. 9:30 p.m.
Clemson at Alabama, Sun. 4:00 p.m.