It really shouldn't be all that much of a shock that Luke Kennard tops the list as the nation's most improved player.
The 6-foot-6 shooting guard has been the best player on the roster for Duke this season, a team that is ranked in the top five by everyone with a valid a opinion and ranked No. 1 by the savvy forward-thinkers. He's averaging 20.0 points, 6.1 boards and 3.3 assists and has been Duke's best player in their four toughest games this season; against Michigan State, Rhode Island, Kansas and Florida, Kennard is averaging 23.8 points.
What's surprising about Kennard's season isn't that he became an effective college basketball player – he was a McDonald's All-American, he averaged 11.8 points last season, and he scored more points in high school than a guy named LeBron James – but that he's been able to dominate like this on a team that has a chance to win a national title. That's how good he's been for Duke this season. Playing without Jayson Tatum for seven games, with a banged-up Grayson Allen and without Harry Giles III, Kennard's has made Duke look like they could win the ACC and make the Final Four even if they never get back to full health.
He went from being the third-best player on a two-man Duke team as a freshman to this. Who saw that coming?
2. Manu Lecomte, Baylor: Lecomte was a good player at Miami during the 2014-15 season. Not great, but a solid piece for a good team. After sitting out last season at Baylor, he's managed to play his way into being one of the best point guards in the Big 12 and one of the biggest reasons that the Bears are currently sitting in the top five of both polls. Lecomte's averaging 13.9 points this year, and although his scoring has been somewhat inconsistent, he's played well in Baylor's big games. But the truly notable improvement has been in his ability to create offense for his teammates. Lecomte is averaging 5.3 assists after averaging 1.8 assists as a sophomore with Miami, and that playmaking was the biggest question mark that Baylor had entering the season.
You can subscribe to the podcast on iTunes, Stitcher and Audioboom
3. Semi Ojeleye, SMU: Ojeleye is a former four-star recruit that played a season and a half at Duke, so it's not like this is a guy that never had any ability. We just never saw it featured at the college level, and now that we have, he's proven to be worth the hype he had in high school. Having taken advantage of a season-and-a-half as a redshirt, he's averaging 17.8 points and 7.6 boards on the year while, as a 6-foot-7 forward with elite athleticism, is shooting 41.5 percent from three. The Mustangs are still trying to find their footing after the Larry Brown fiasco this summer, but Ojeleye has turned into a really good piece to build around and one of the best players in the AAC.
4. Bonzie Colson, Notre Dame: Colson is generously listed at 6-foot-6, he isn't an elite athlete and he's a power forward, a front court weapon who does most of his damage in the low- and mid-post. And yet, he's turned into the best player on Notre Dame and, along with Matt Farrell (who is much-improved in his own right), is the biggest reason the Irish appear to me much better than we expected. He's averaging team-highs of 16.5 points and 10.8 boards this season and, at the least, deserves a mention in all-american consideration. Is anyone more underrated than Mike Brey when it comes to developing talent in his program?
5. Jock Landale, Saint Mary's: Saint Mary's has found their next great Australian, and that's Landale. He was super-efficient in limited minutes as a sophomore, but the 6-foot-11 Landale has been playing at like all-american this season for the Gaels. He's averaging 18.4 points and 8.5 boards while shooting 67.4 percent from the floor as the anchor in Randy Bennett's offensive attack.
6. Kyron Cartwright, Providence: Ed Cooley has always centered his offensive attack around his point guard. That's just how he likes to play. Whether it's Kris Dunn or Bryce Cotton or Vincent Council, Cooley's has always demanded that his point guards carry a heavy load. The biggest question we had with the Friars this season was who would take on that role this year. Well, we have an answer now: It's Kyron Cartwright, a player that few outside of the Big East diehards would have heard of entering the season. Cartwright is averaging just 8.8 points on the year, but he's fifth in the country posting 7.7 assists per night, an incredibly important number for the better-than-we-thought Friars because of the lack of weapons this team has offensively. The fact that he's doing so while averaging significantly fewer turnovers than Kris Dunn did as a starter is notable as well.
7. John Collins, Wake Forest: Before the season, who would have predicted that Collins would develop into the best player on Demon Deacons? Playing just 24 minutes a game, Collins is posting 18.0 points and 10.7 boards and has already collected six double-doubles on the season, including five in his last five games.
8. Tacko Fall, UCF: The 7-foot-6 Fall is so much more than just a super-tall dude that found his way onto a basketball court. He's averaging 13.8 points, a nation's-best 13.1 boards and 2.6 blocks in just 28 minutes a night. He's running the floor, he's scoring on post touches and he's doing it all while staying out of foul trouble, which can be an issue for someone his size. The next step? Improve on that 34.1 percent free throw shooting before Hack-a-Tacko becomes a thing.
9. Kyle Washington, Cincinnati: Washington is another guy who took advantage of a redshirt year and a new environment. After struggling to find minutes in his two seasons at N.C. State, Washington has turned into the best player for the Bearcats, averaging 16.1 points and 8.0 boards for Mick Cronin's club, who appear to be the favorite in the AAC and are ranked in the top 25.
10. Obi Enechionya, Temple: Enechionya has developed into a real life NBA prospect. He's turned into Temple's go-to guy, averaging 18.6 points on the season, but what makes him such an intriguing player is a unique aspect of his skill-set: At 6-foot-10, he's shooting 49.2 percent from three (while attempting more than six per game) and blocking 2.9 shots a night. No player has averaged three made threes per game and 2.9 blocks per game in a season since 1993, which is as far back as I can find data.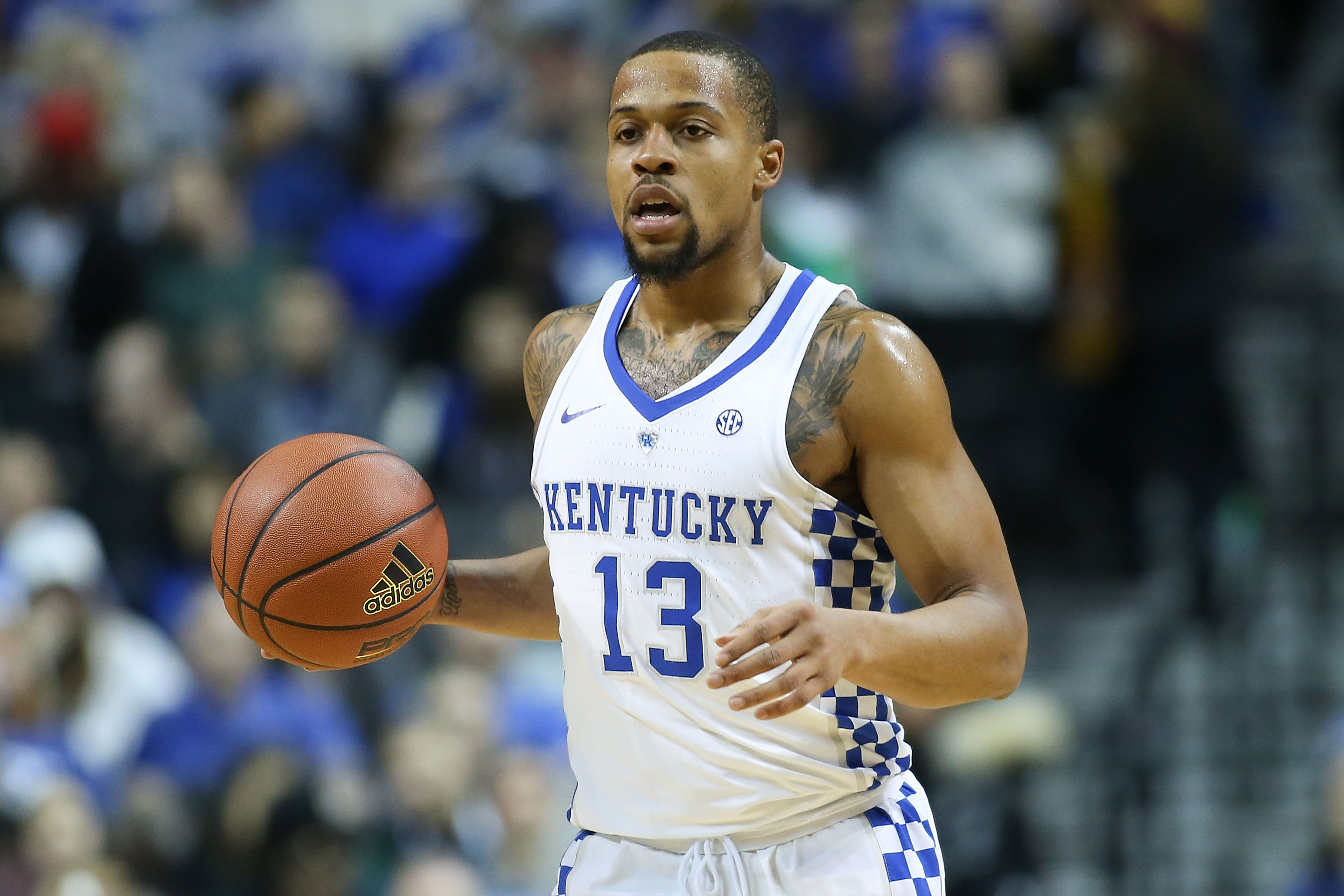 TEN MORE NAMES TO KNOW
11. Isaiah Briscoe, Kentucky: Briscoe has been terrific this season for Kentucky, but it's hard to rank him in the top ten of this list when the single-biggest flaw in his game – his perimeter shooting – hasn't gotten much better.
12. Jawun Evans, Oklahoma State: Evans has developed into one of the best point guards in the country, but it's tough to figure out where to rank him because we saw this coming before he got injured at the end of last season.
13. Ben Lammers, Georgia Tech: The bright spot in what will likely be a long Georgia Tech season, Lammers is averaging 15.8 points, 10.8 boards and 4.6 blocks, which leads the country. He averaged 3.6 points and 4.0 boards as a sophomore last year.
14. Khyri Thomas, Creighton: We knew how good Mo Watson Jr. and Marcus Foster would be. I don't think many expected Thomas to average 13.3 points, shoot 53.3 percent from three and develop into Creighton's best perimeter defender.
15. Esa Ahmad and Nathan Adrian, West Virginia: The biggest reason that West Virginia hasn't taken a step back with what they lost last year? Ahmad and Adrian are playing at a borderline all-Big 12 level.
16. Sindarius Thornwell, South Carolina: Thornwell has turned into one of the best non-Kentucky players in the SEC this season. Check this line: 18.7 points, 6.7 boards, 4.1 assists, 1.6 steals, 1.3 blocks, 48.3 percent on threes. Now he just has to get back from suspension.
17. JaCorey Williams, MTSU: It's tough to know just how much of this is opportunity and the level he's playing at, but Williams has gone from averaging 4.5 points at Arkansas to averaging 19.0 points for one of the nation's most dangerous mid-majors.
18. Kyle Kuzma, Utah: We expected Kuzma to take a step forward this season, and while his scoring numbers aren't quite as high as I thought they would be, his averages of 15.8 points, 10.3 boards and 3.3 assists for a young Utah team are impressive.
19. Reid Travis, Stanford: Travis came off of injury to be the best player for Stanford this season, averaging 17.7 points and 9.4 boards.
20. Caleb Swanigan, Purdue: Swanigan has played his way into all-american consideration, but he'd be higher on this list if his turnover issues hadn't popped up of late. He has 13 giveaways in his last two games.