SATURDAY'S SHOWDOWNS
No. 1 Villanova vs. No. 23 Notre Dame, Sat. 12:00 p.m.: This is a fascinating matchup for a couple of reasons. For starters, this is the first real test that undefeated Notre Dame is going to be getting this season. We honestly have no idea how good the Irish actually are, and you wouldn't be alone in needing to see a team starting Matt Farrell and Bonzie Colson prove it before buying in.
But we also haven't see Villanova tested in a while, either. They won at Purdue earlier this season and, since then, have more-or-less coasted to their undefeated mark. This will not only be a nice gauge game for Villanova, but it will also be a chance for them to pad an NCAA tournament résumé that will need to be strong for them to get a No. 1 seed this year.
The other part of this that's fascinating? Both of these teams play small ball. There are going to be times on Saturday where 6-foot-5 Bonzie Colson is playing center and being guarded by 6-foot-5 Kris Jenkins, who will be at center for the Wildcats.
No. 22 Cincinnati at No. 16 Butler, Sat. 4:30 p.m.: Butler could really use this win. Coming off of a road loss to Indiana State during the week, the Bulldogs will be playing back in Hinkle Fieldhouse on Saturday. But here's the thing: Cincinnati could really use this win as well, and that Bearcat program already owns a road win over Iowa State.
The matchup here will be intriguing as well. Butler plays a more open, run-and-gun style than they did under Brad Stevens. Tyler Lewis is a show-man in transition, as is Kamar Baldwin, and getting Kelan Martin spotting up or attacking a close out is always a good coaching maneuver. Cincinnati is tough and big and physical. They try to wear you down. They pound the glass. They really, really defend. How does Butler handle it?
You can subscribe to the podcast on iTunes, Stitcher and Audioboom
FIVE MORE GAMES TO WATCH
No. 17 Wisconsin at Marquette, Sat. 2:00 p.m.: In one of the more under-appreciated rivalries in college basketball, Marquette will be looking to land a marquee win to bolster the non-conference portion of their NCAA tournament résumé. Will
Nigel Hayes continue to play like an all-american?
Utah at No. 13 Xavier, Sat. 5:30 p.m.: The Musketeers have lost back-to-back games and are really struggling to shoot the ball from the perimeter. Utah has struggled this season as they have a young roster waiting on a pair of transfers to get eligible.
Michigan at No. 2 UCLA, Sat. 8:00 p.m.: UCLA is now a week removed from their win over then-No. 1 Kentucky in Rupp Arena. This will be the first time they see the floor since then. Michigan had the look of a tournament team earlier in the season, but they've lost a pair of winnable games in recent weeks.
Hofstra vs. No. 6 Kentucky, Sun. 3:00 p.m.: The Wildcats will square off with Hofstra on Sunday, a game that is only really notable because it will be played in the Barclays Center.
No. 21 Florida at Florida State, Sun. 4:00 p.m.: The Gators looked the part of an NCAA tournament team when they lost to Duke in New York City on Tuesday. Florida State is more talented, however, but it's difficult to trust them. This will be a big win for whoever gets it.
FIVE STORY LINES TO FOLLOW
1. Kentucky's perimeter shooting is officially a concern: The Wildcats are currently shooting 32.2 percent from beyond the arc, which is 254th nationally. The only real threat they have from three in their starting lineup is Malik Monk, and he's streaky. They can play Derek Willis at the four, but Willis is such a step-down on the defensive end of the floor from Wenyen Gabriel that it may not end up being a net-positive to play him, not when the Wildcats rely so heavily on their defense to create offense in transition.
I'm not sure what the answer is. I'm not even sure there is an answer. This is just what Coach Cal has to work with this season. Can they improve? Probably. The great thing about being a bad shooting team is that shooting is the easiest thing to develop. Teams without size can't get bigger. Teams without athleticism can't get more athletic. The only problem? There are just four months left of the season. How much better can Kentucky really get?
One thing worth noting here: The 2010 Kentucky team, the one with John Wall, DeMarcus Cousins and Eric Bledsoe, the one that lost in the Elite 8 because of their shooting issues, finished the season making 33.1 percent of their threes.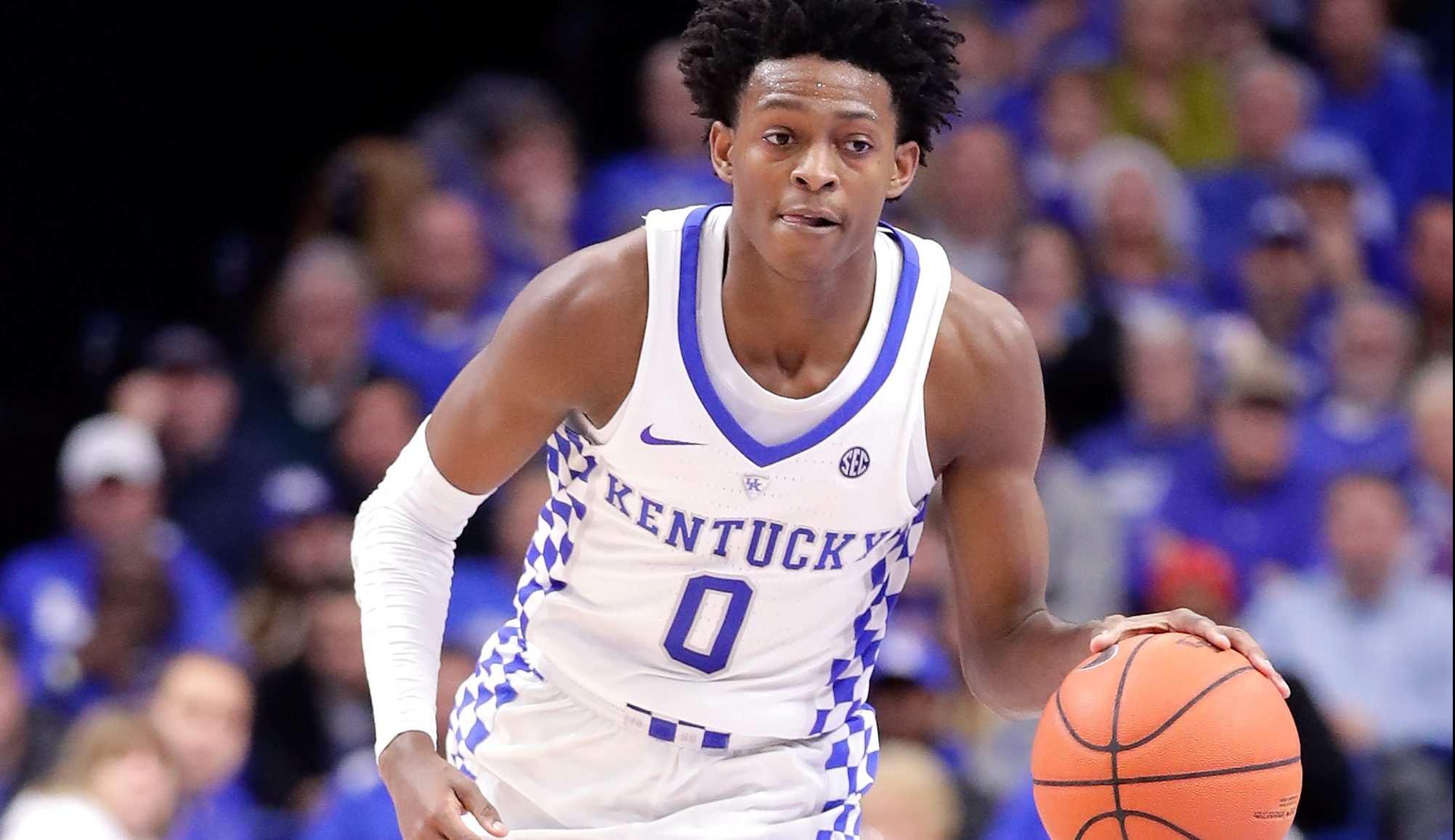 2. Let's see if Notre Dame is for real: The Fighting Irish are one of nine undefeated teams left in college basketball, but as good as they have been this season, Mike Brey's club still hasn't really beaten anyone. The Colorado win looks better after the Buffaloes beat Xavier. Beating Fort Wayne, the team that upset Indiana, is good. Northwestern and Iowa are Big Ten teams.
But none of those four wins – none of Notre Dame's nine wins – have come against a team we know will be in the NCAA tournament. We know Villanova will be, and the interesting thing about this matchup is how well the two teams matchup, particularly up front. Neither the Irish nor the Wildcats have much size inside. If Notre Dame can pull off the upset, it will be time to start talking about them much more.
3. UCLA's first action since the win at Kentucky: The last time that we saw the Bruins take the court they put up 97 points on Kentucky in Rupp Arena. That's pretty good. It's also an easy way to get a big head, especially for a team that has so many freshmen on the roster. UCLA will face off with Michigan at home on Saturday. It will be interesting to see how they come out early on in this one.
4. Bounce-back chances for Big East programs: No. 13 Xavier has lost two games in a row now, both of them coming on the road. They were felled at No. 4 Baylor before getting dropped at Colorado on Wednesday. The Musketeers will host Utah, a winnable game that could help them find a rhythm shooting the ball.
No. 16 Butler is coming off of a loss of their home, having been upset at Indiana State by the Sycamores. The Bulldogs will have a bigger test than the Musketeers, as they host a top 25 team in No. 22 Cincinnati.
5. Jonathan Isaac's health, Florida State's tournament hopes?: Isaac is the forgotten top ten pick. He's been terrific this season and has a chance to play his way into the top ten if he continues doing what he's been doing, but he's missed the last two games with a hip injury. This is an important game for the Seminoles, as they host Florida this weekend. Will Isaac be available?