1. There's a lot more to this UCLA team than just Lonzo Ball: Entering this weekend, that's the name that everyone knew on UCLA. Ball is the team's superstar freshman point guard, a player that has been compared favorably to Jason Kidd and whose ability to spray passes all over the floor is the biggest reason that the Bruins offense is a juggernaut.
But that offense isn't going to be the difference-maker for the Bruins this season, because the Bruins were able to score last year, too.
No, the reason that UCLA has a chance to win a national title this season is that they can actually defend. They're not Virginia. They're not going to hold good teams to 50 points. They're not going to be forcing 20 turnovers a night. They don't have to. All they need to do is to be 'good enough' on that end of the floor. Limit penetration, protect the rim, clean the defensive glass.
If we learned anything on Saturday, it's that the Bruins are going to be able to do the latter two things on that list. T.J. Leaf injected a shot of athleticism into the front court while Ike Anigbogu provides a physicality and a toughness they haven't had in the paint under Alford. Throw in Thomas Welsh, who more than held his own against the Wildcats, and this is a pretty good front line that UCLA is working with.
And given what we already know about this team's guards, that's a scary proposition.
RELATED: Player of the Week | Team of the Week | Five Takeaways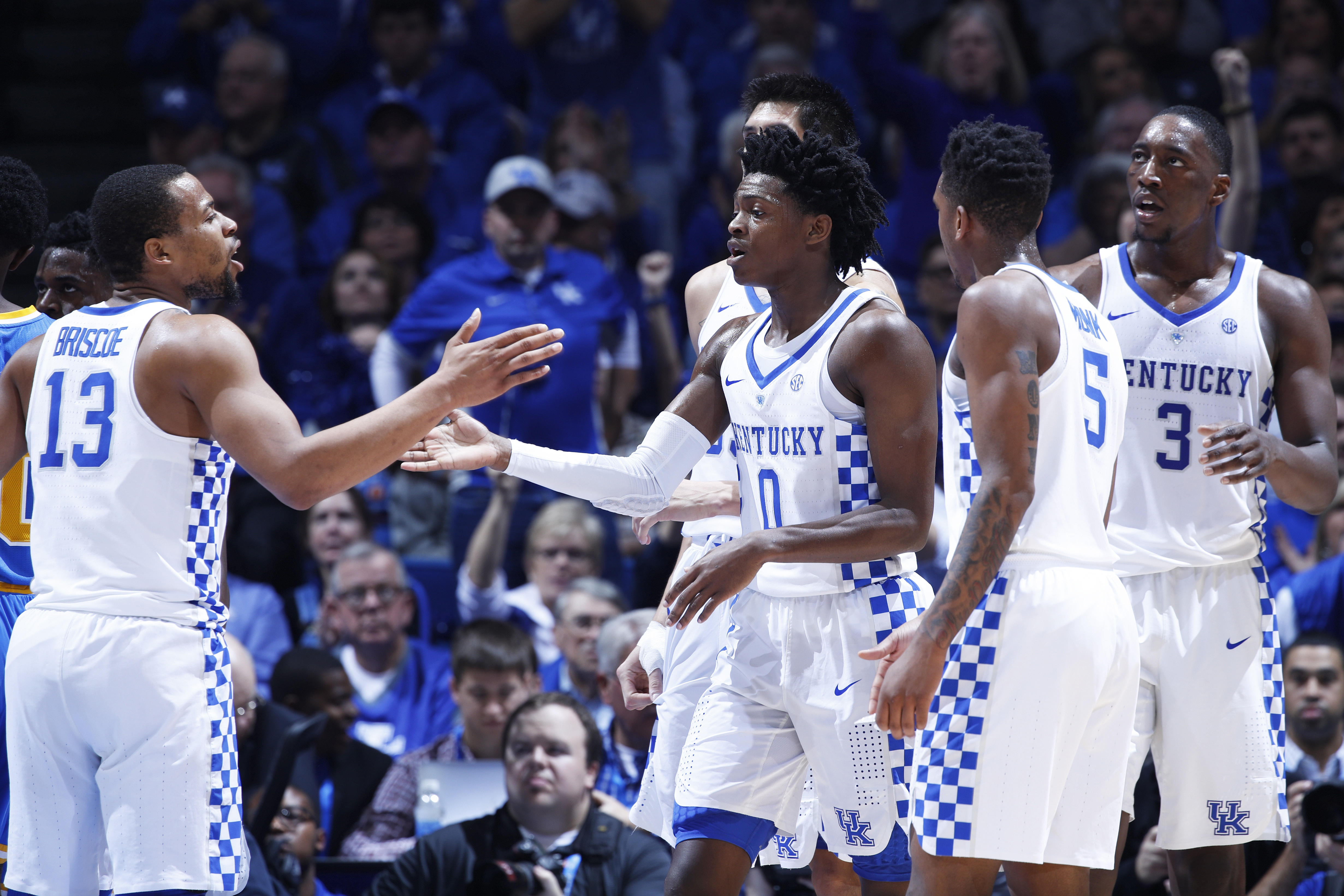 2. Kentucky is going to be just fine: Saturday's loss was a humbling one for the Wildcats. After steam-rolling through literally everyone they've played this season – Kentucky entered the game having won by at least 21 points in every game – the Wildcats got outplayed by UCLA pretty thoroughly. That's going to happen with young teams, regardless of how well they play against inferior competition, and it may happen again before SEC play starts; Kentucky still have to play North Carolina and Louisville before Christmas.
The Wildcats are an elite defensive team, and they are even better at scoring in transition. Where they struggle, however, is with half court offense. They simply don't have enough shooters to be able to consistently create high-percentage looks against a set defense, and the way to force them into half court offense is, simply, to score on them. UCLA is one of just a handful of teams that has the guard play and the offensive weapons to be able to do that consistently for 40 minutes, and even then, it took the Bruins a while to grow into the game.
In other words, there aren't very many teams that can do what UCLA did to Kentucky's defense.
Thus, there aren't very many teams that can actually beat Kentucky.
So don't be worried about the 'Cats.
They'll be just fine.
3. Turns out, the Big 12 is really good: The narrative on the Big 12 entering the season was that the league was down outside of Kansas. The Jayhawks were the favorite to win the league just like they always are, but once you got past Bill Self's club, there really wasn't much of substance in the league.
That looks to be a dumb narrative.
It starts with Baylor, who has been awesome this season. The Bears picked up yet another excellent non-conference win on Saturday, coming from behind at halftime to beat No. 7 Xavier by 15 points in Waco. It turns out that Baylor actually has the supporting cast around Johnathan Motley to be relevant, and if the tournament was to start today, Baylor would very likely be the No. 1 overall seed in the NCAA tournament.
Then there's West Virginia, who went into Charlottesville and picked up a road win over No. 6 Virginia the same week that they forced 40 turnovers in a 40 minute game. Iowa State is probably still top 25 good, even with that home loss to Cincinnati last week, and we'd be remiss not to mention the play of both Texas Tech and TCU, the latter of whom is one of just two teams in the league and 11 teams in the country that are still undefeated.
Here's the kicker: As of today, the No. 1 conference in college basketball, according to KenPom.com, is … the Big 12.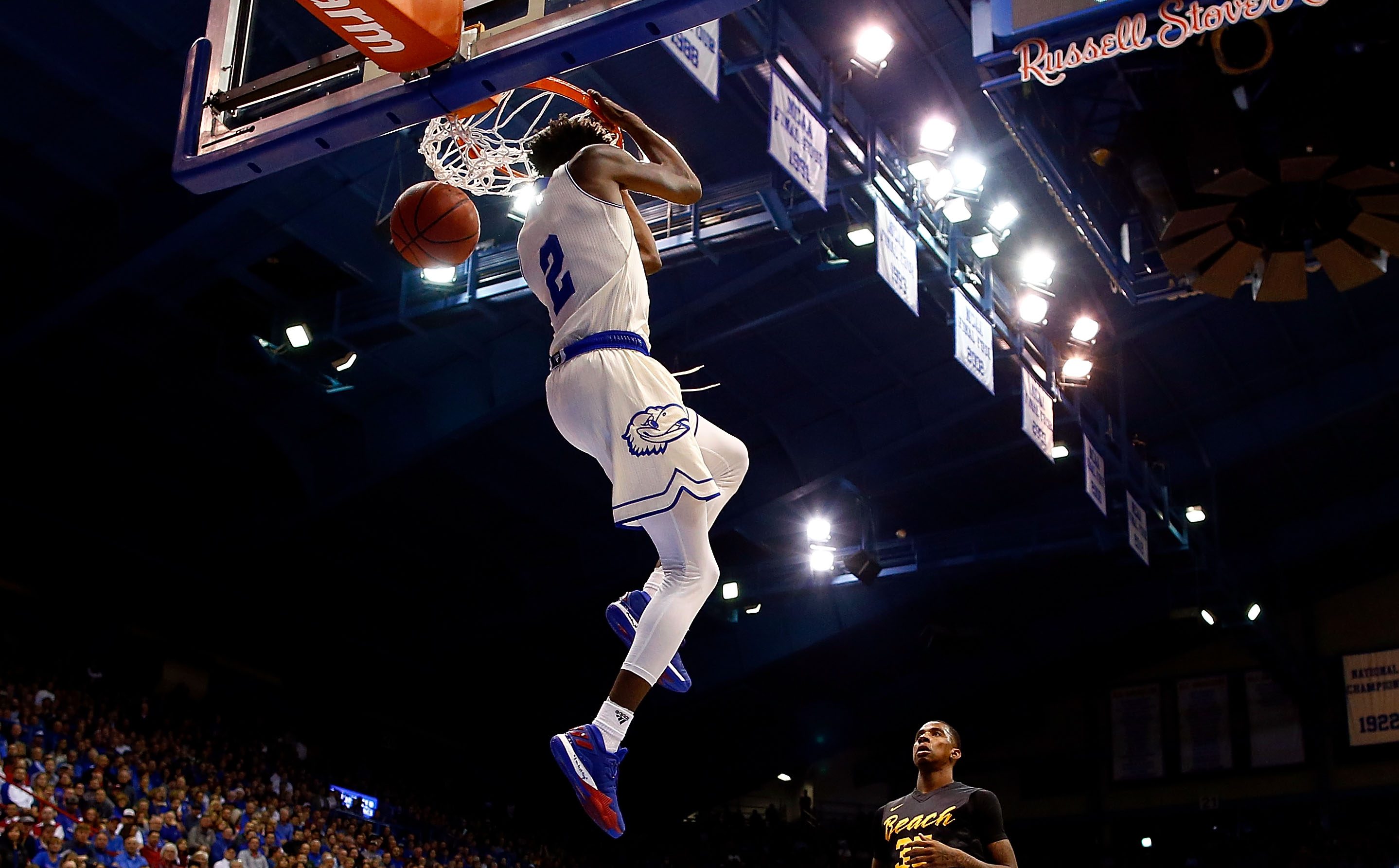 4. Is LaGerald Vick the most surprising player in the league?: Baylor's Manu Lecomte has been better than expected, as has his teammate, Jo Lual-Acuil. Jawun Evans has been a star for Oklahoma State, but we all knew that he was going to be good. Texas A&M transfer Alex Robinson is leading TCU in points, assists and steals, but he was a good player for the Aggies before he left. We knew he would do good things in Fort Worth.
But Vick?
I'm not sure anyone expected Vick to develop into a starter for Kansas just weeks into the season, but here we are. He's averaging double-figures on the season. He's made 9-of-11 threes in the last three games, a stretch where he's averaging 15.3 points. He's been terrific defensively, and his presence has allowed Kansas to put plus-defenders on the floor at every position while playing small-ball lineups.
Who saw that coming?
5. So maybe the North Carolina hype train got a bit out of control: Yes, North Carolina played well early on this season. Yes, they were impressive in their wins against Chattanooga and in the Maui Invitational. Yes, Joel Berry II and Justin Jackson have both gotten better.
But the fact that the narrative last week somehow turned into North Carolina being the most impressive team in college basketball seemed a little bit weird, a fact that was confirmed by UNC's loss at Assembly Hall on Wednesday night.
Now let me be clear: There's no shame in losing in Assembly Hall, not when IU was playing the way they were playing. But UNC dug themselves a 26-9 hole early in the first half that they were never really able to dig out of. They were rattled by the atmosphere. They did not play well at all, and I just don't think that if this was truly the best team in college basketball, that doesn't happen that way.
UNC is good, and probably better than many thought entering the season, but before we go anointing them the champs can we take a second to remember these are basically the same dudes we've been unimpressed by for a couple of years now?