Coming into the season, the thinking on UCLA was pretty simple: This is either going to be Final Four-good team or they're going to end up crashing and burning in the NIT.
I think we have our answer.
Isaac Hamilton scored a team-high 19 points and Lonzo Ball shook off a horrid start to the game to finish with 14 points and seven assists as the No. 11 Bruins picked up the biggest win of the Steve Alford era, beating No. 1 Kentucky in Rupp Arena, 97-92.
It's the second-straight season that the Bruins have beaten Kentucky. The Wildcats lost to UCLA in Pauley Pavilion last season.
The Bruins dug themselves a hole early, as Ball committed five of his six turnovers in the first nine minutes of the game. UCLA's biggest and brightest star struggled early in his first true road game as a collegian. He looked rattled, making uncharacteristically bad decisions and getting lit up by De'Aaron Fox on the defensive end of the floor, and the result was that Kentucky was able to get out in transition, get some easy baskets and get themselves an early 23-14 lead.
The difference in the game ended up being a pair of overlooked players.
Sophomore guard Aaron Holiday changed the course of the game. He had all of his 13 points and each of his four assists in the first half, keeping Kentucky from getting too big of a lead and allowing Ball to grow into the game.
But the star, and the guy that could end up being what takes this UCLA team to another level, was T.J Leaf. He finished with 17 points, 13 boards and five assists. He posted a steal and a block, numbers that aren't exactly representative of the impact he had on the interior defensively, and he and freshman Ike Anigbogu provided a toughness and an athleticism up front that we haven't seen from UCLA in recent seasons.
"You know going into Rupp it's going to be a crazy atmosphere and a great team. We knew that," Leaf said after the game. "We came in, gave it our all, did a good job on the backboards and got the win."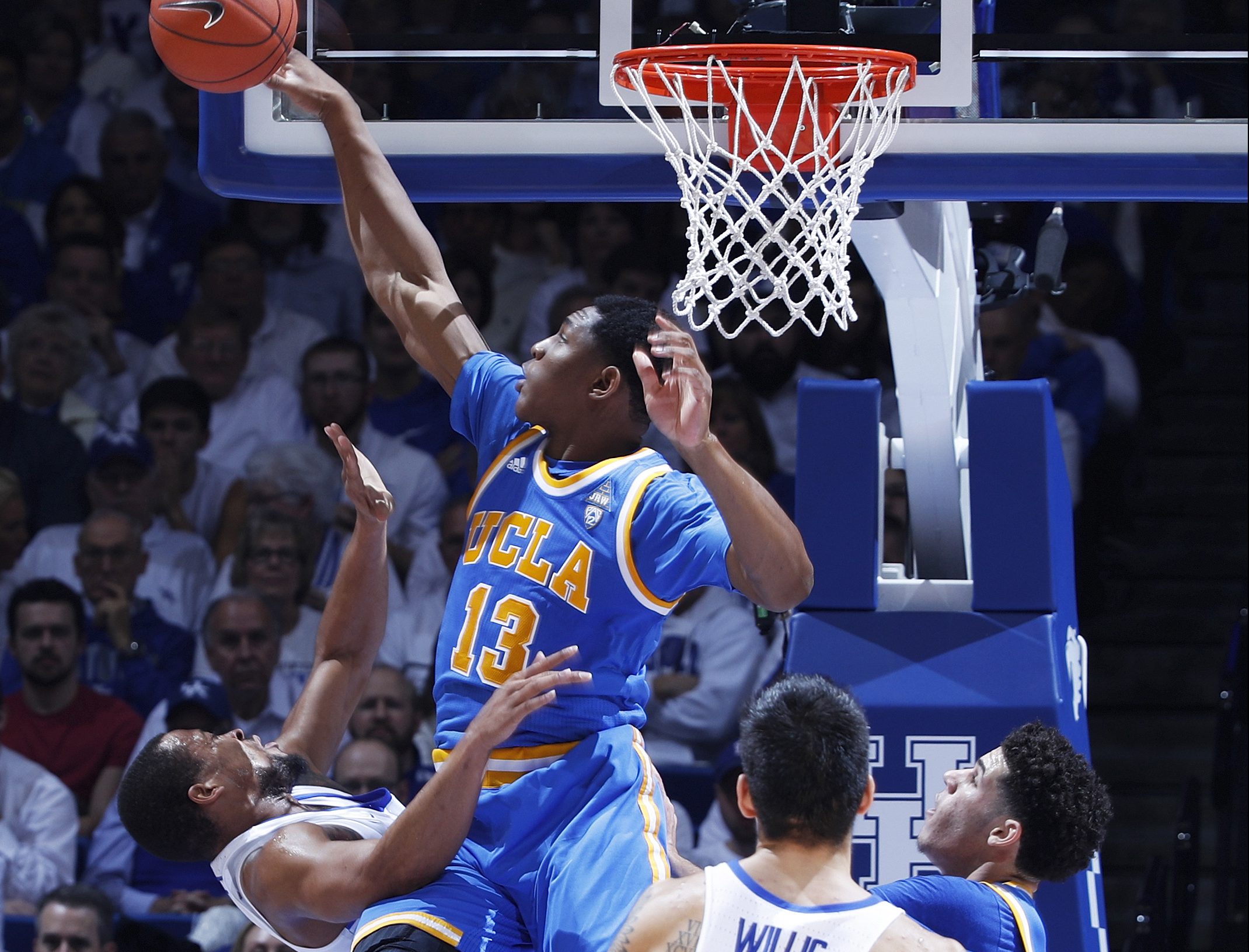 Anigbogu finished with a loud six points and six boards, including one sequence where he blocked Bam Adebayo's shot at one end and threw down a put-back dunk at the other. Thomas Welsh added 14 points and eight boards. All told, the Bruins controlled the paint all afternoon, and while they gave up 92 points, their performance on the defensive end was impressive.
That's a dangerous and talented Kentucky team, one that entered Saturday having reached triple-digits in three straight games.
And the Bruins more than held their own, getting stops when they mattered the most.
"I was really proud of the defensive stops we got when we had to get them," Alford said in the postgame interview.
Last season, the Bruins finished 119th in KenPom's defensive efficiency metric. They were 58th in the country entering Saturday. That's where their Achilles' heel is going to be. That's where their success this season is going to be determined. Will they consistently get stops? Are they going to be better on the defensive glass, where they finished 205th last season? Can they stop penetration? Defend the rim when their guards get beaten? Hold their own against the physicality and athleticism of the best teams in the country?
On Saturday, in what could end up being their most significant test of the season, the Bruins passed with flying colors.
And the credit goes to Leaf, Anigbogu and Welsh.
Because we know what this team can do offensively. We know they can put up 97 points in a road game against a team that can defend the way Kentucky can defend. We know how many shooters they have, how they can spread the floor and how Ball can take advantage of that space and create good shots on every possession.
"This is one of the harder places to play," Alford said. "For us to come in here and do the things we were able to do against a really good defensive team … tells me a lot about what we can do offensively."
It also tells Alford that his team only needs to be 'good enough' defensively to make them a title threat.
And the most important thing that we learned on Saturday is that the Bruins are 'good enough'.