No. 11 UCLA went into Rupp Arena on Saturday afternoon and knocked off No. 1 Kentucky, 97-92. 
The game was just as entertaining as we all thought it was going to be, only the outcome turned out just a bit different. 
Here are five things we learned from the game.
1. UCLA is much better defensively than they were a season ago: That was the biggest question mark with this team entering the season. Will they be good enough defensively to win games? The answer is yes. I wrote a full column on UCLA's defense already, so I won't waste anymore words on it here.
2. T.J. Leaf is a problem: The UCLA freshman that we had all heard so much about was Lonzo Ball, and rightfully so. Ball is a likely lottery pick, a kid that has the potential to one day be Jason Kidd, and he's one of the most entertaining players in all of college basketball. It's easy to fall in love with everything about the kid's game, from his passing ability to his unselfishness to the way he takes over games with his vision.
But the infatuation with Ball made a lot of people overlook Leaf, a skilled, 6-foot-10 forward who entered Saturday averaged 17.3 points, 9.0 boards and 2.5 assists. Not anymore, not after he went for 17 points, 13 boards and five assists against Kentucky. The offensive side of things wasn't all that surprising. We knew that Leaf could score and we knew that his versatility and athleticism made him a matchup problem for opposing bigs, although maybe not to the degree that we saw on Saturday.
Where Leaf really seemed to impress was defensively. He grabbed some big rebounds and he made an impact in the paint on the road against Bam Adebayo and the No. 1 team in the country. His motor and his physical toughness stood out as much as anything, and when combined with his athleticism, length and offensive skill, he makes for an impact player and an intriguing long-term prospect. Expect to hear a lot more about him.
3. Kentucky's issues in the half court were on display: The Wildcats are a terrific defensive team and they are terrific when their defense allows them to get out and run in transition. That's what they've been able to do all season long, due in large part to the fact that they've been able to physically overpower everyone that they've played, particularly in the back court.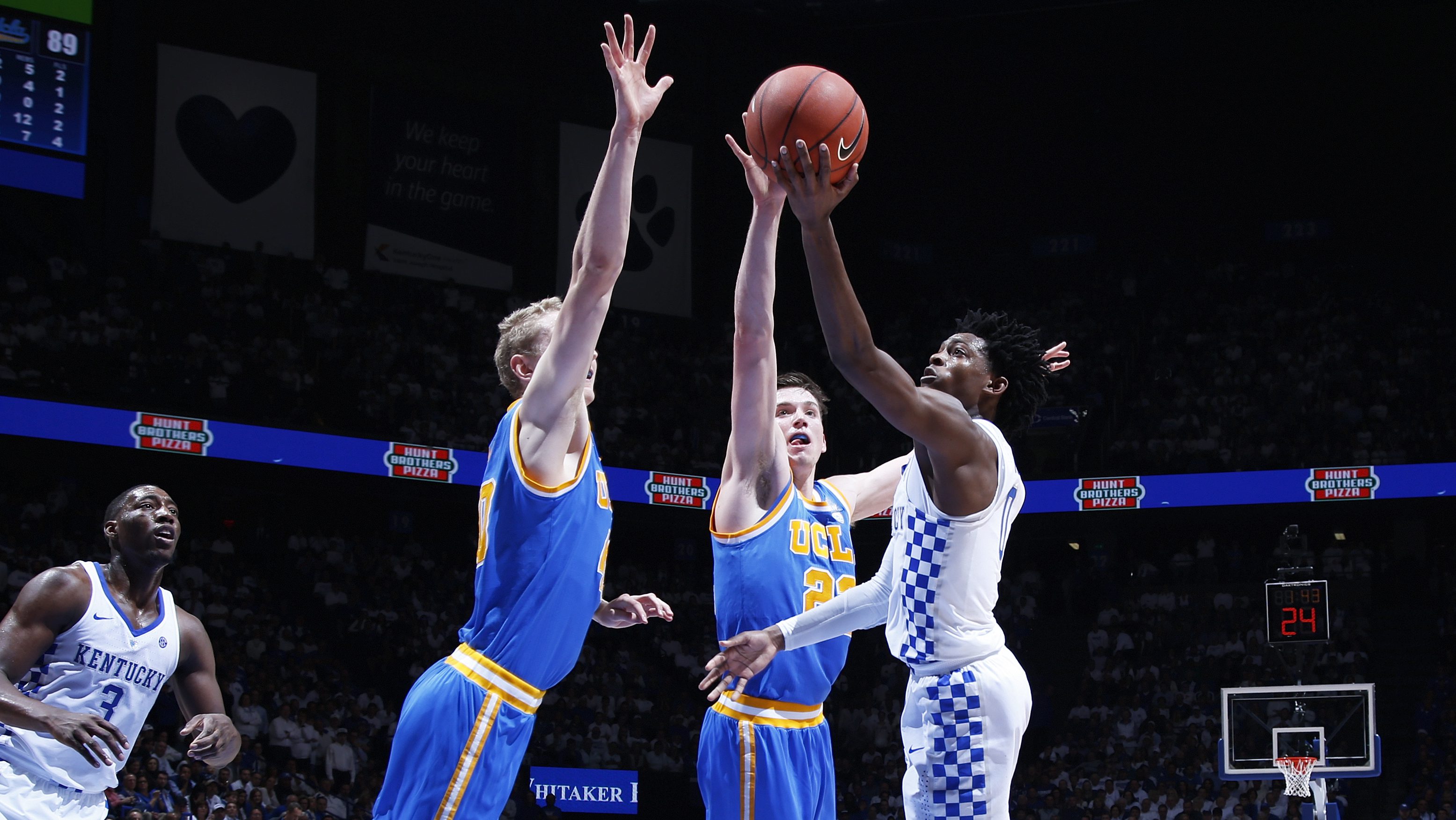 Where Kentucky has some issues is when teams force them into a half court battle. They lack shooters. De'Aaron Fox and Isaiah Briscoe combined to shoot 1-for-9 from three. Derek Willis hit a couple of triples and seems to be finally finding some footing in the rotation, but he's also a step-down on the defensive side of the ball. What happens, then, is that teams can clog the middle, limiting what the Wildcats can do on that end of the floor. It takes away driving lanes for Fox and Briscoe and it makes it that much more difficult to get Bam Adebayo quality touches in the post.
That said …
4. … the way this game says more about UCLA than the Wildcats: The way to force Kentucky into a half court game is to score on them, and that's a lot more difficult than in sounds. UCLA is very, very good offensively. They not only can score in transition as well as anyone, which let them get the ball through the net before Kentucky set their defense, they have a difference-maker on their roster in Ball who, quite simply, makes everyone on the team better. There are very few teams in the country that can say that they have one of those things, let alone both of them.
The bottom line?
The list of elite teams, the number of teams that can legitimately be called title contenders, just grew by one.
And that list still includes the Wildcats.
5. This may go down as the single-best win of the college basketball season: Kentucky is still awesome. They are still going to be the favorite to win the SEC. They're still going to be a top five team all season long, and they're still going to enter the NCAA tournament as a national title contender. None of that is going to change.
And that's great news for UCLA.
Because they just picked up a win on the road against a team that is going to be a top five team on Selection Sunday. That's huge, because those are the kind of wins that make a difference in seed lines. Assuming the Bruins win their league this season, having this win on their résumé is what will put them into the conversation for a No. 1 seed. With the Pac-12 looking like it may not be quite as strong as we thought – both Oregon and Arizona are in a bad way right now – it becomes even more valuable.