SATURDAY'S SHOWDOWNS
No. 11 UCLA at No. 1 Kentucky, Sat. 12:30 p.m.: Outside of the Champions Classic, this matchup between a pair of blue-bloods in one of the nation's most famous arenas is likely the most anticipated game of the season to date. Why? For starters, the amount of talent that's going to be on the floor is ridiculous, but more importantly, that talent allows Kentucky and UCLA to both play styles that are quite aesthetically pleasing. Our full preview for this game can be found here.
Prediction: The official lines are not out yet, but according to KenPom.com, which is usually a fairly good approximate for Vegas, Kentucky looks to be around a 10-point favorite. At (+10), I'll be on UCLA.
No. 7 Xavier at No. 9 Baylor, Sat. 3:30 p.m.: UCLA-Kentucky may be the most anticipated matchup of the weekend, but Baylor-Xavier is the game that will pit two top ten teams against each other. Xavier we all expected to be in this spot this season, but Baylor's emergence as a potential Big 12 contender caught a lot of people by surprise.
There are going to be two key matchups here. The Bears are going to have a huge advantage on the interior. Johnathan Motley will be the best big man on the floor by a wide margin – if he keeps playing the way that he's been playing, he'll be in the discussion for all-american teams – while Jo Lual-Acuil has been a revelation this season. That duo can really protect the rim, and the Bears have been good about making sure they run offense through them on the other end of the floor. I'm not sure who Xavier has to slow them down.
On the other side, we have the Musketeers, who are going to have to figure out how to deal with Baylor's 1-1-3 zone, which looks like a junk defense on the surface but is tough to figure out the first time you see it. Chris Mack's club has some perimeter talent – Trevon Bluiett and Edmond Sumner are the big names, but J.P. Macura has been terrific this season – but Myles Davis, the guy that makes their offense run smoothly, still is not cleared to play.
Prediction: We'll update this when an official line comes out. KenPom has Baylor winning by four, and if that's the case, Baylor (-4) is a good bet.
You can subscribe to the podcast on iTunes, Stitcher and Audioboom
SEVEN MORE GAMES TO WATCH
No. 25 West Virginia at No. 6 Virginia, Sat. 2:00 p.m.: Styles don't get any more contrasting than that of Press Virginia and the Pack-Line. The Mountaineers want to play full court, frenetic basketball while the Wahoos like to control every detail of a game. What wins out?
Saint Joseph's at No. 2 Villanova, Sat. 1:00 p.m.: The Holy War! An always-intense rivalry, I don't think that the Hawks have the horses to take a run at Villanova this season, especially not when the game is being played in the Pavillion.
No. 8 Gonzaga vs. No. 16 Arizona, Sat. 5:30 p.m.: This game looked a lot more interesting when we thought Arizona would have Parker Jackson-Cartwright, not to mention Allonzo Trier, Ray Smith and Terrence Ferguson.
Oklahoma at No. 17 Wisconsin, Sat. 1:00 p.m.: The Sooners are sitting at 6-1 on the season despite learning to play without Buddy Hield and company. This will be their biggest test of the season to date.
No. 21 Rhode Island at Providence, Sat. 4:30 p.m.: A battle for supremacy in the state of Rhode Island. It may not make waves nationally, but this rivalry matters in the state.
FIVE STORY LINES TO FOLLOW
1. Kentucky and UCLA are both playing elite teams for the first time: That is the No. 1 story line that needs to be taken out of this game.
Kentucky has been absolutely massacring opponents this season. They've only scored fewer than 87 points once and cracked triple-digits in their last three games. UCLA has reached triple-digits quite often themselves this season, putting together a transition attack that is less ruthless but more aesthetic than Kentucky's. Both of them look like the runaway favorites to win their respective leagues as of today, but neither of them have played anyone all that good. Kentucky has wins over Michigan State and Arizona State. UCLA has picked off Nebraska and Texas A&M.
Those wins are nothing like the wins that Indiana now has, which is the beauty of this game. UK and UCLA matchup really, really well, so this should not only be an incredibly entertaining game to view, it is going to be our first chance to really see how they do going up against a significant test.
2. The same can be said for West Virginia and Virginia: The Mountaineers are doing crazy things with their press this season – like, for example, forcing 40 turnovers in a 40 minute game – but they aren't exactly doing it against the best competition. They have beaten Illinois (who lost to Winthrop) and lost to Temple (who lost to New Hampshire and UMass). So who knows just how good they actually are.
The same can be said for Virginia, who gave up an average of just 41.3 points in their first six games but who also found themselves down 32-16 with five minutes left in the first half at home against Ohio State. The Wahoos eventually won that game, but seeing as the Buckeyes, who are a borderline tournament team, are the best team that Virginia has played this season, I don't think we really have a feel for just how good this team is or how much they miss Austin Nichols.
We'll learn a lot in Charlottesville on Saturday.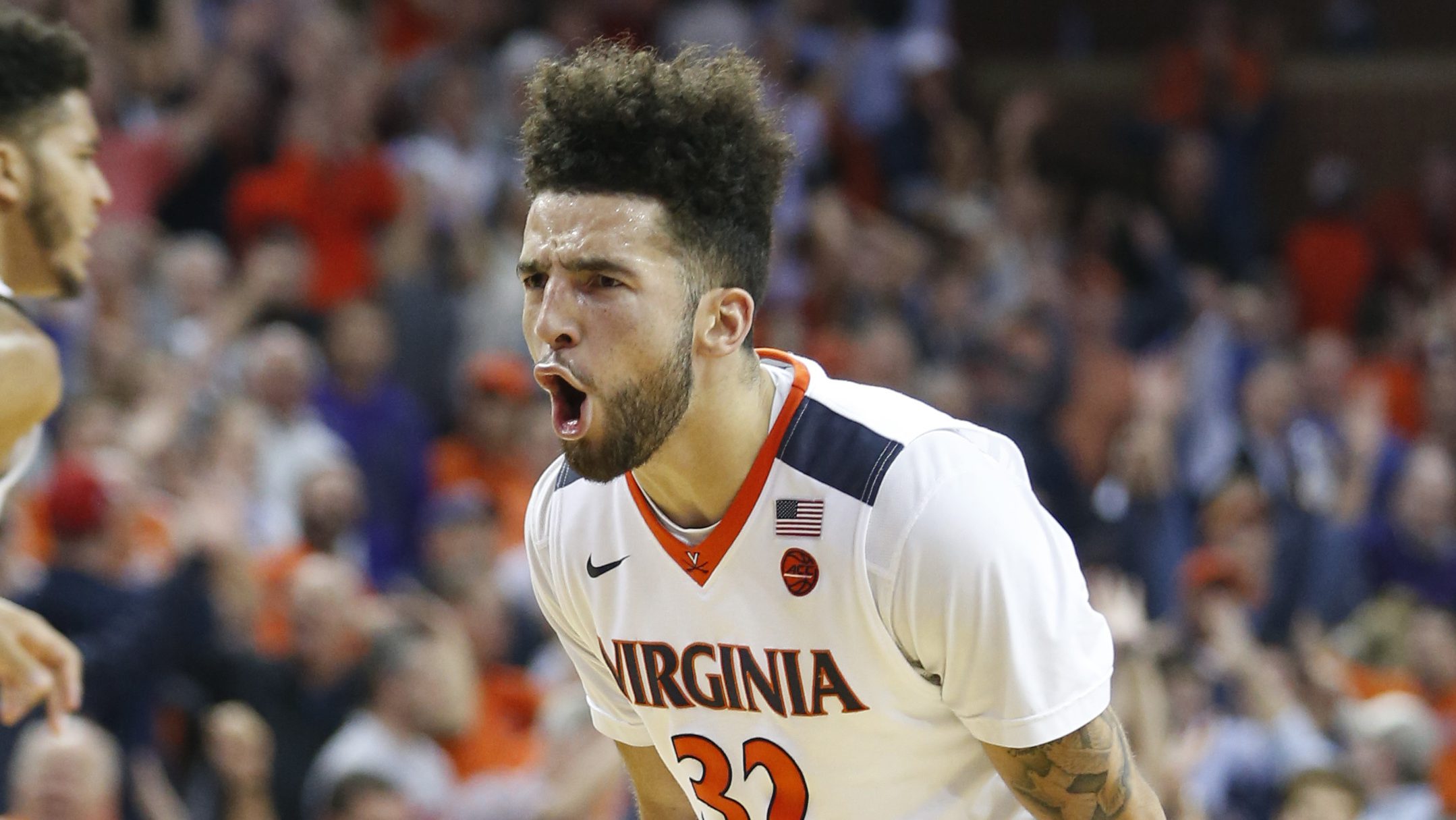 3. About Nigel Hayes … : Hayes played easily his best game of the season in Tuesday's win over No. 22 Syracuse, coming within a point of a triple-double as he almost single-handedly sliced apart the Orange zone. It wasn't a coincidence that Wisconsin looked as good as they have all year when Hayes, who hasn't shot a three in two games, operated as a playmaker in the paint and played inside-out. But that was also against a zone, where it only makes sense to play Hayes at the high-post.
So what happens this weekend? What happens against Oklahoma? Will Hayes continue to embrace what he does best at this level, or will be continue to try to prove what he can be to the next level?
4. Melo Trimble vs. Jawun Evans: Evans might be the best point guard in the country that you haven't heard of yet. Trimble, on the other hand, is a guy that everyone knows, a guy that has developed a reputation for saving his team in crunch time. Both Evans' Oklahoma State team and Trimble's Maryland Terrapins really could a win on Saturday night when they play at the XFinity Center.
5. So who's hurt the most by injuries?: Duke's problems aren't exactly a secret anymore. Neither are Michigan State's, although news came down on Thursday evening that star freshman Miles Bridges is dealing with an ankle injury that could keep him out for a few weeks. USC learned on Thursday that Bennie Boatwright, a starting forward, will be out for six weeks after spraining his MCL while Arizona is going to be without starting point guard Parker Jackson-Cartwright for some time with a high-ankle sprain. And Indiana? They have two games this weekend and neither of them will be played with O.G. Anunoby on the floor.