The most impressive team in college basketball through the first three weeks of the season has been the Kentucky Wildcats.
They're ranked No. 1 in the country for good reason. They've won by at least 21 points in every game they've played, they've scored at least 87 points in every games except one, they've cracked triple-digits in each of their last three games and they just so happen to have one of the best defenses in the sport.
What else do you need?
Critics will say they need to do this against a team with comparable talent, and it's not unfair. Kentucky's beaten up on five mid-major teams, Arizona State and a Michigan State team that is currently 4-4.
On Saturday, we get that matchup. The Wildcats will host No. 11 UCLA, who has an electric freshman guard of their own leading an offense that is lighting up scoreboards out west.
It will be the most-anticipated matchup on a day filled with terrific games, not only because it's between two blue-blood programs playing elite-level basketball, but because the way these two teams play should turn this into a fast-paced, highlight-laden shootout.
Let's break the matchup down.
You can subscribe to the podcast on iTunes, Stitcher and Audioboom
If you looked solely at the box scores of Kentucky's games, you'd probably assume that the Wildcats are the second-coming of the Golden State Warriors, an offensive juggernaut with a roster full of players that are unguardable.
That's not necessarily the case.
What makes this Kentucky team so special happens on the defensive side of the ball. Simply put, they are a nightmare to play against. De'Aaron Fox is one of the best on-ball defenders in the country. Isaiah Briscoe isn't all that far behind, and Malik Monk has assuaged fears about whether or not he was a guy that cared about that side of the ball.
And I haven't even mentioned the size and versatility along their front line yet.
Cal isn't doing anything all that fancy with them on the defensive end, either. He isn't reinventing the wheel. He's not playing gimmick defenses or using any kind of full-court pressure. All he's doing is asking his guys to play aggressive, pressuring man-to-man defense, often-times picking up the primary ball-handler for 94-feet, and his team has bought in.
Their best defensive lineup, the one that Cal has used to start three of the last four games, features Wenyen Gabriel at the four and Bam Adebayo at the five. Both Gabriel and Adebayo are athletic enough to cover point guards, so Cal will switch every exchange 1-through-5.
Kentucky plays with an unbelievable amount of effort and energy on defense. Everyone on the roster plays like they're the walk-ons, like the only way they can get minutes is if they lead the team in floor-burns. But they're not. They're lottery picks, and in the case of Fox and Monk, more athletic than anyone they're going to face this season. They make running offense a nightmare, and once they get the ball back – whether it's off a missed shot, a turnover and, oftentimes, even a made shot – it's off to the races.
And it's that transition game that kills you.
Briscoe, Fox and Monk are all interchangeable. They can grab a defensive rebound and lead the break coast-to-coast. (Part of the reason that Fox is averaging such a high number of rebounds is that he doesn't have to worry about point guards crashing the glass, so while the other four guys on the floor go find a body, Fox heads to the rim and grabs the board, the quickest way to ignite their break.) If that doesn't work, all three of them can throw outlet passes 94 feet and drop them in the bucket like Aaron Rodgers throwing a fade route. They can be the guys running the lanes, catching those passes and finishing acrobatic layups with two guys draped all over them. They can throw the alleys and finish the oops.
But the key to their transition game?
They read each other so well. If Fox sees Briscoe is in a spot to get an outlet pass, he's gone. If Monk is corralling a rebound, he knows Fox and Briscoe will be running the floor already. That's why you see "possessions" for Kentucky that so often look like this: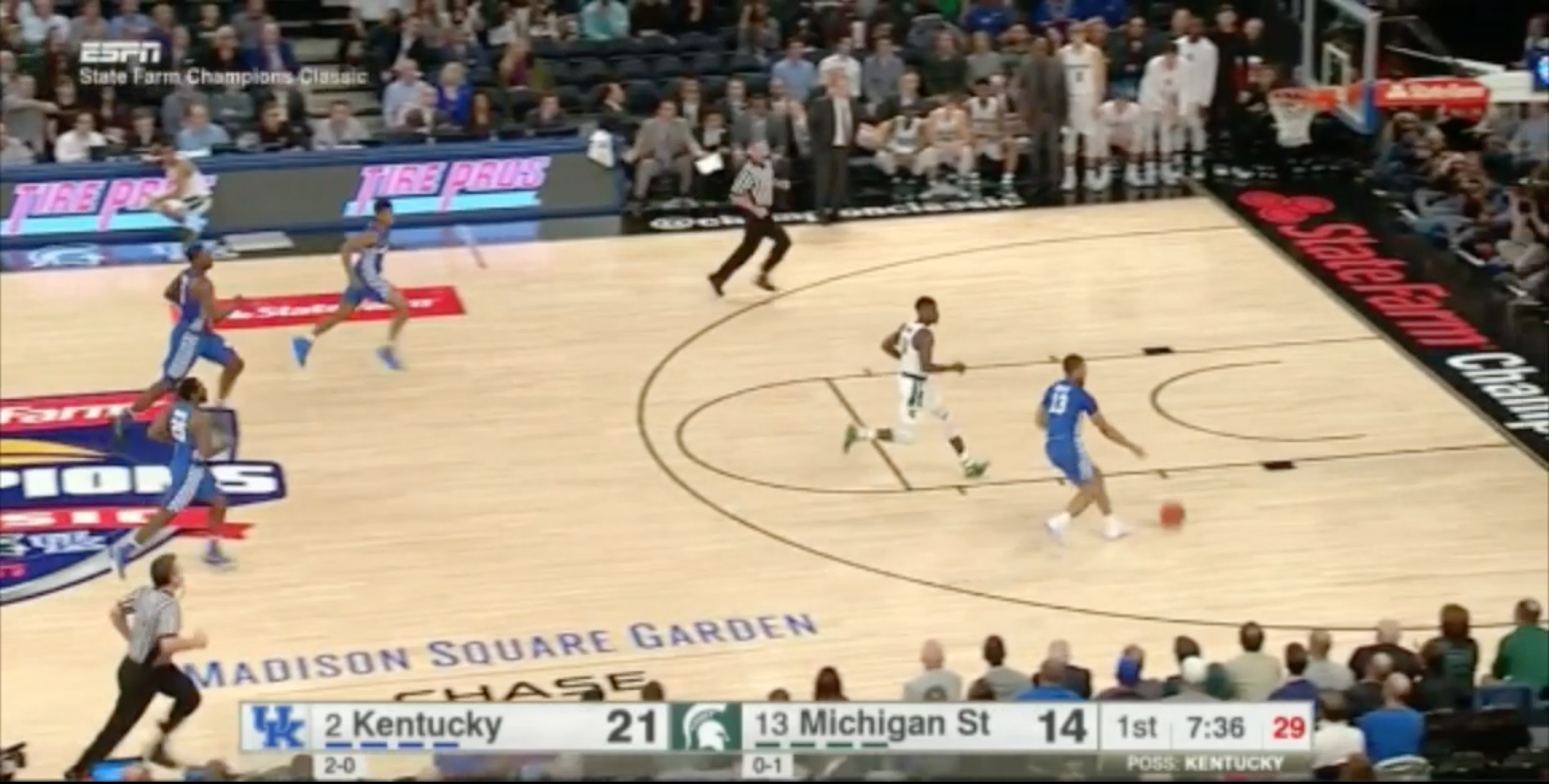 On the year, 28.7 percent of Kentucky's offensive possessions come in transition, according to Synergy's logs, which is second nationally only to a Savannah State team that has yet to record a win over a Division I opponent.
One of the criticisms of Coach Cal is that he's only a recruiter. He doesn't coach, he just rolls the ball out and lets the talent on his team takeover. Frankly, that's what he's doing this year, and it's brilliant. He doesn't need to micro-manage this group. All he had to do as devise a system that would play to their strengths and let their instincts takeover.
He did, and it's working pretty well to date.
---
The key to beating Kentucky this season is to force them to play offense in the half-court. The closest anyone has come to doing that this season was Michigan State, and they held the Wildcats to a manageable 69 points. Kentucky has a perimeter shooting issue. Fox and Briscoe combined have made just five threes on the season and are shooting 20.8 percent from beyond the arc even after combining to go 3-for-3 against Arizona State on Monday night. Their best defensive lineup doesn't really have a front court scoring threat while guys like Isaac Humphries and Derek Willis, upgrades offensively, limit how effective that Kentucky defense is.
The easiest way to slow down a team's transition game is by scoring. Make them take the ball out of the net.
And the good news for Bruins fans is that UCLA not only has one of the nation's most potent offenses themselves, but they just so happen to be able to do the things that you need to be able to do to operate against that Kentucky defense.
The biggest thing is that the Bruins, like the Wildcats, are terrific in transition. Believe it or not, UCLA actually plays at a faster tempo and has a shorter average length of possession than the Wildcats, according to KenPom.com. The best way to score on a great defense like Kentucky's? Beat them down the floor and score before they're set. Get uncontested layups. Get open threes before the defense can locate all of the shooters, of which UCLA has plenty.
Kentucky's transition game is designed around getting those layups, using their speed to beat teams to the rim. UCLA's is slightly different, geared towards getting the myriad of shooters on the roster open, rhythm threes. No one in the country is better at making that happen than Lonzo Ball, and I say that for three reasons: (1.) UCLA leads the nation in effective field goal percentage because (2.) they're second in the nation in three-point percentage and (3.) they're in the 88th percentile in transition points-per-possession just a year after finishing in the 21st percentile, according to Synergy, while (4.) Ball averages 9.6 assists, leading the nation.
In this case, the effect is two-fold: Not only will UCLA avoid having to run offense in the half court, it will keep Kentucky from getting out in transition at the same time.
It's not crazy to think that UCLA's best defense on Saturday will be fast break buckets.
But even if the Bruins are unable to get out and run, this is still a team with weapons that can break down Kentucky's switching man-to-man defense.
Think back to the NBA Finals. The way the Cavaliers attacked Golden State's switches was to create the mismatches that they wanted; in other words, they'd have whoever Stephen Curry was guarding set a ball-screen for LeBron James or Kyrie Irving, then sit back and let talent takeover.
You beat a switching defense by identifying the mismatch you want to take advantage of and force that switch.
Part of the reason that Kentucky's switching has been so effective is that they haven't run into a team who has guards that are capable of fully taking advantage of those mismatches. Is anyone really that worried about Tum Tum Nairn or Tra Holder? UCLA, however, does. Everyone should know how good Ball is at this point, but the other three pieces the Bruins have on the perimeter – Bryce Alford, Isaac Hamilton and Aaron Holiday – are talented as well. Combined, those three are averaging 46.4 points, 10.6 assists and shooting 44.8 percent from three on nearly 17 threes attempted per game.
They spread the floor with shooters, their perimeter is littered with playmakers and their bigs are skilled enough to be able to slip screens and take advantage of having a smaller guard on them.
The one thing UCLA does not do well is crash the glass, but that has a hidden benefit: keeping two or three guys behind the ball is a really good way to limit how many run-outs Kentucky can get.
---
Neither Kentucky nor UCLA has truly played a team that appears to be on their level this season, which is what makes this game so intriguing.
Lonzo Ball has played like the potential No. 1 pick in the draft and UCLA has looked like the hands-down favorite to win the Pac-12.
And Kentucky?
Playing them has been about as much fun as getting your hand caught in a meat grinder.
On Saturday, for really the first time this year, we'll get a sense for whether or not their early-season hype has been justified. But more than that, we'll see a game between two of the most entertaining teams in the country, two teams loaded with offensive firepower and future NBA players in a game where the winner will be the team that can run the floor better.
What more can you ask more?