The ACC/Big Ten Challenge kicks off tonight.
Here is a preview of the 14-game slate.
No. 3 North Carolina at No. 13 Indiana, Weds. 9:15 p.m.
Easily the biggest game of the event, the streaking Tar Heels will make their way to Bloomington to face-off with an Indiana team that has been knocked back after a perfect start to the season. The Hoosiers not only lost to Fort Wayne on the road last week, but they may have lost James Blackmon Jr., the hero in the win over Kansas, to a knee injury. Tom Crean said the injury isn't serious, but for a team that lacks weapons in the half court, not having Blackmon against the Tar Heels would be a major blow.
Why?
Because North Carolina is playing as well as anyone in college basketball right now. Joel Berry II looks like an all-american, the trio of Kennedy Meeks, Isaiah Hicks and Tony Bradley are averaging 39.0 points and 22.4 boards and the Tar Heels are hitting 39.2 percent from beyond the arc this season. Playing in Bloomington will be by far their biggest test of the season. The Hoosiers are lethal when their threes are going down, and when Assembly Hall is packed to the gills, those threes tend to go down.
Prediction: It sounds like Blackmon has a good chance of playing, so I'll go with Indiana (+4.5) at home.
Michigan State at No. 5 Duke, Tues. 9:30 p.m.
Michigan State has been playing better of late, but this is still a dreadfully young team missing key players and at the end of a long, long three weeks. they've been to Hawai'i, New York and the Bahamas already this season, and they will be heading back out to Durham for this one at some point on Monday.
Miles Bridges is playing much better after the trip to the Battle 4 Atlantis than he did against Kentucky at the Garden and Duke, frankly, does not have anyone that can guard him. That said, I think the Blue Devils will be too much, even with Jayson Tatum, Marques Bolden and Harry Giles III out and Grayson Allen limited.
Prediction: Duke (-11.5) coasts, but keep an eye on the status of Grayson Allen's toe.
No. 22 Syracuse at No. 17 Wisconsin, Tues. 7:30 p.m.
Two teams trending in the wrong direction. Let's start with Syracuse, who couldn't find a way to run offense against South Carolina's half court pressure. It was not a promising performance from the Orange, who mustered all of 50 points as the issues with their point guard play – Franklin Howard and John Gillon – rose to the surface.
On the other hands, the Badgers are still trying to figure out how they are going to be able to turn Nigel Hayes back into an efficient basketball player. A year after getting criticized for settling for too many threes, Hayes is shooting more three per game at a worse clip than he did last season, just 29.0 percent. Someone's streak has to snap on Tuesday.
Prediction: I think Syracuse wins so of course I'll take the Orange (+7.5).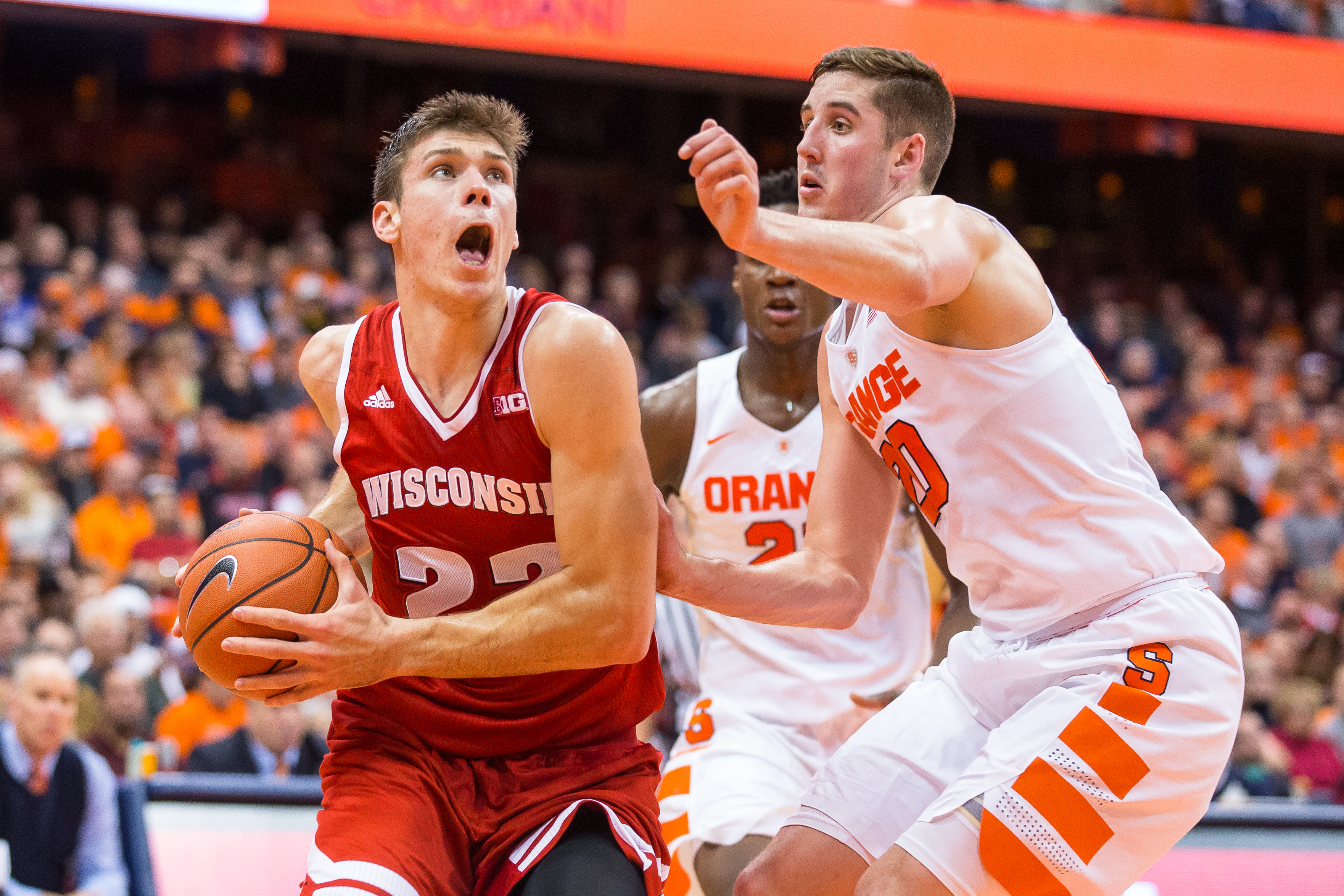 No. 15 Purdue at No. 14 Louisville, Weds. 7:15 p.m.
This is a matchup of two very different teams. The Boilermakers want to pound the ball inside, to take advantage of the fact that they have Isaac Haas and Caleb Swanigan and you don't. Louisville? They press, they try to force turnovers, they want to speed the game up and take advantage of the talent and athleticism on their perimeter.
There are two keys to this game. 1. Can Louisville's bigs stay out of foul trouble? The sheer size of Haas and Swanigan got Georgia State into foul trouble and cost them a win in Mackey Arena, and it nearly cost Villanova their win at Purdue. 2. Will Louisville make perimeter shots? Deng Adel and Quentin Snider are shooting under 30 percent from the floor this season. Donovan Mitchell is under 40 percent. That's not good.
Prediction: I'm on Louisville (-5.5) as I think Louisville's guards overwhel Purdue's back court and nullify the advantage the Boilermakers have inside.
Ohio State at No. 6 Virginia, Weds. 7:15 p.m.
Virginia is giving up an average of 41.3 points per game through six games. Their opponents are shooting 31.7 percent from the floor and averaging just 0.708 points-per-possession, which is an insane number. The question here is: Can Ohio State break 50 points on the evening?
Prediction: I'm going to say take the under (119.5) here. Virginia is a 12-point favorite, meaning the predicted final score is 66-54. The Wahoos haven't given up more than 52 points this season and are allowing an average of just 41.3 points. Iowa, who put up 92 on Memphis and 78 on Notre Dame, scored 41 points against Virginia. Ohio State, however, has also been pretty good defensively on the season, and the only proven scored Virginia has on their roster is London Perrantes, who isn't really a scorer. And all that is before you consider Virginia is the slowest team in the country and Ohio State is 185th in pace. If you're only into betting lines, I'd say take Ohio State (+12).
Virginia Tech at Michigan, Weds. 9:15 p.m.
This is a win the Hokies badly need after they blew a 16-point second half lead to Texas A&M, missing out on their chance to take a swing at UCLA in the Wooden Legacy title game. Buzz Williams has a good team in Blacksburg, one that will improve their NCAA tournament candidacy with a win at Michigan. The Wolverines looked good at the 2K Classic in New York two weeks ago, but took a beating on the road against South Carolina over the weekend.
Prediction: I like Virginia Tech (+5), mainly because I'm not convinced Michigan isn't overrated and I love the Hokies this season.
Monday, Nov. 28
Minnesota at Florida State, 7:00 p.m.: This is going to be a nice gauge game for both of these teams. The Seminoles should, in theory, be able to take care of Minnesota at home, but Richard Pitino's team is sitting at 6-0 on the year with a 14-point win over Arkansas.
Wake Forest at Northwestern, 9:00 p.m.: Is this the year that Northwestern makes the tournament? It looked like it in their 19-point win over Texas. Not so much against Butler and Notre Dame. Wake Forest is 5-1 on the year with a couple of decent mid-major wins.
Tuesday, Nov. 29
Pittsburgh at Maryland, 7:00 p.m.: Maryland is 7-0 on the season, but five of those seven wins have come by single digits, including late comebacks against Georgetown and Kansas State. What happens when the Terps face off with a good Pitt team?
Georgia Tech at Penn State, 7:00 p.m.: Penn State has struggled early on this season while Georgia Tech is … still Georgia Tech under Josh Pastner.
Iowa at Notre Dame, 9:00 p.m.: Iowa scored 41 points against Virginia and lost. They got 42 points from Peter Jok the next night … and lost to Memphis. The Irish, coming off of a
win in the Legends Classic, have looked good this year.
N.C. State at Illinois, 9:00 p.m.: Dennis Smith Jr. has been phenomenal of late, but his team is still missing Maverick Rowan (concussion) and Omer Yurtseven (suspension). This is a win they should be able to get.
Wednesday, Nov. 30
Rutgers at Miami (Fla.), 7:15 p.m.: Don't look now but Rutgers is undefeated. This will be their stiffest test of the season to date.
Nebraska at Clemson, 9:15 p.m.: I'm still unsure of what to make of either of these teams. Clemson's Jaron Blossomgame is a first round pick.