CAMBRIDGE, Mass. – Reverend Jonathan L. Walton, Harvard's Plummer Professor of Christian Morals and Pusey Minister in the Memorial Church, foresaw a more patient Siyani Chambers this season.
That isn't some prophetic prediction. That virtue is required when recovering from an ACL tear, an injury that sidelined Chambers for all of last year.
But Walton says that because, for nine months, he witnessed Chambers' patience on display inside his own household.
Due to an unusual set of circumstances – an ACL tear, which happened at his summer internship of all places, and an archaic Ivy League rule – led Chambers to become a nanny for Walton's three children.
In the summer of 2015, Chambers was interning at adidas in Portland. While playing pickup, his left knee gave out. In September, Harvard officially announced that Chambers had torn his ACL and would subsequently take a leave of absence from the school.
Withdrawing from the university was the only option to preserve his final year of eligibility with the Crimson. There is no redshirting in the Ivy League. Staying in school and going to class burns a year of Ivy League eligibility whether or not that student is actually playing in games or even on a team. It's the Ancient Eight's way of saying, "academics over athletics." Student-athletes can apply for a fifth year, but only if it's based on academic reasons.
Players like Dartmouth's Alex Mitola and Harvard's Patrick Steeves elected to stay in school, earning an Ivy League education before becoming a graduate transfer – and becoming eligible immediately – at a different school in another conference. Both ended up transferring to George Washington.
But Chambers' decision to remove himself from school isn't uncommon. After suffering a Jones fracture in his right foot in October of 2014, Columbia's leading scorer, Alex Rosenberg, removed himself from school before returning for his final season the following fall. Harvard's Kyle Casey and Brandyn Curry were forced to take the same route in 2012 when they were linked to a widespread cheating scandal. They both re-enrolled the next year. Yale's Makai Mason, whose broken foot will likely keep him out this season, is the latest Ivy League star that has to make this decision.
It's a loophole, but not one many would like to exploit.
"It was definitely a tough decision," Chambers said. "I didn't want to take a year off from school and be away from my friends and teammates, guys who've I been with this whole time. Evan [Cummings], Patrick [Steeves], Agunwa [Okolie]."
"I wanted to finish out my career with them."
The leave of absence meant Chambers couldn't be on campus. He returned to his home in Golden Valley, Minnesota, for the fall semester as he began his rehabilitation. The plan was always to return to Cambridge in January. Chambers' younger brother, Kamali, was in his freshman season at Boston University, and he wanted to be nearby to support him. The other reason was obvious: to be as close to the team as the NCAA rules would allow him to be.
But with the dorms off limits, where would he live?
---
Jonathan Walton was preparing to go on sabbatical at University of Penn, where he would be doing academic research for a book about ethical readings of The Bible. This meant leaving his wife, Cecily, as the sole caretaker of their three children: 12-year-old twins Elijah and Zora, and 4-year-old Baldwin.
"When I was preparing to go on sabbatical, our previous nanny got another job," Walton said. "It was about the same time Siyani got hurt. I was talking to him, and he was explaining to me that he had to go home. The only way he could stay he was to have a job. And of course, to find a job and find a place to live and pay rent in Cambridge is just unthinkable. He told me, 'In a perfect world I can just stay here [on campus], but I can't stay in the dorms.' So I went home and had a conversation with my wife, Cecily, and I said, 'Siyani needs a job. I wonder if he can help you out.' And she said, 'Great idea. Ask him to see if he's interested.'
"I asked him, 'Do you want to become a nanny?' It was as simple as that. And he was like, 'Sure. Absolutely.'"
And like that, arguably the most decorated player in Harvard basketball history became a "manny."
---
Chambers and Walton both began their time with the Harvard basketball program in the fall of 2012. Chambers was a freshman point guard Amaker and his staff fervently pursued, and Walton, head of the Memorial Church, was beginning a stint as the faculty fellow for the team.
Just before the fall semester, Harvard was rocked by the academic scandal that Jay Harris, the Dean of Undergraduate Education, called, "unprecedented in its scope and magnitude." Harvard announced that nearly half – 125 students in total – of the Introduction to Congress class from the previous spring was being investigated for a take-home final. They were suspected of cheating, or worse, plagiarizing answers on the exam.
Despite multiple teams being represented in the course, Kyle Casey and Brandyn Curry, two stars from Amaker's budding basketball program, seemed to grab all of the headlines. In all 70 students withdrew from school, including Casey and Curry.
Walton, who had hosted an annual season tip-off, in which he invited all the players into his home, decided to start 'Basketball Sunday.'
"We bring in the men's and women's teams," Walton said. "One of the reasons was for members of the larger community can get to know these kids as human beings and what kind of standup individuals they are and that these are just nice thoughtful kids. And that sort of came out of the negative attention that Harvard basketball received during that whole 'cheating scandal' that wasn't."
"Of course that was something that impacted a lot of teams, but because of the basketball team's success, two basketball players were featured. It was something that really upset me because these kids were thrown out there."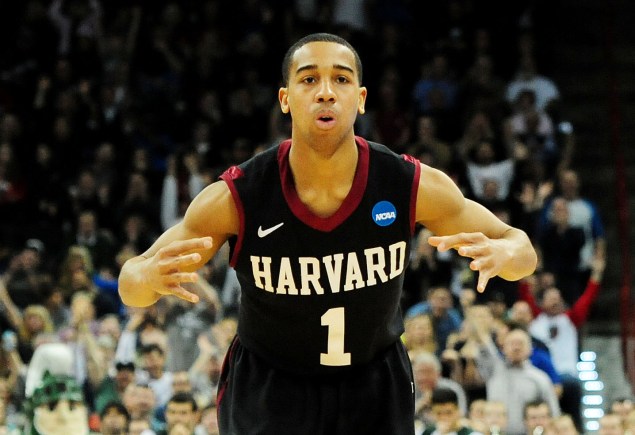 Who better than the affable Chambers to lead the integration of the basketball team into the wider Harvard community?
"He is a fan favorite," Walton added. "But one of the reasons he's a fan favorite isn't just because he's fast as lightning. One of the reasons he's a fan favorite is because everyone knows him as that nice, smiling kid. He's always talking to children. You can stop and hold a conversation with him."
That engagement he had with fellow students, faculty and children is why Chambers was invited into Walton's home this past year.
---
Chambers moved on the third floor of the Waltons' on-campus residence. His daily duties involved getting the children ready for school, shuttling Elijah to theatre practice and Zora to track practice. He'd go out and pick up dinner ("He can't cook a lick," Walton says), and help the kids with homework. He also became versed with PAW Patrol, a Nickelodeon cartoon about rescue dogs.
"We often didn't know who was having more fun with all the PAW Patrol toys, whether it was Siyani or Baldwin," Walton said.
"I think every day was funny and entertaining in its own way," Chambers added. "I'm really glad I had that opportunity."
With Elijah, Zora and Baldwin in school most of the day, it allowed for Chambers to rehab, either on his own or at Massachusetts General Hospital.
While he couldn't be with the team, he could easily be spotted behind the bench during homes games at Lavietes Pavilion.
"He handled it beautifully," Harvard head coach Tommy Amaker. "Didn't surprise me at all."
"As you can imagine our focus was geared toward our guys, as long as we knew Siyani was in a good place."
With no games or practices to participate in, Chambers' competitiveness was reserved for Walton Family game night, whether it they were playing Monopoly and Pictionary.
"He found himself yelling and screaming and throwing pieces when he was losing," Walton said. "I got a sense of what his teammates felt like."
"Siyani would stand up and be like, 'Boy what's wrong with you?' He was hyper-competitive and on the other hand he was hyper-compassionate, especially with my youngest son. I think it helped his temperament and patience."
---
Chambers was fully cleared over the summer, but naturally, it took almost two additional months for him to feel comfortable with his surgically repaired knee.
After the graduation of Wesley Saunders and season-ending injury suffered by Chambers, the Crimson fell to a 14-16 (6-8) record, good for a fourth-place finish in the Ivy League last season. Harvard returns all-Ivy League forward Zena Edosomwan, as well as Corey Johnson. Amaker also brought in a freshman class that includes three players in the Rivals Top 150.
Princeton was voted as the preseason favorite, but Harvard is certainly a contender, as is defending champion Yale despite the loss of Makai Mason. This March, Chambers could cap his career as the most decorated player in program history. He could potentially appear in four NCAA Tournaments and finish top-10 in scoring and top-5 in assists and steals.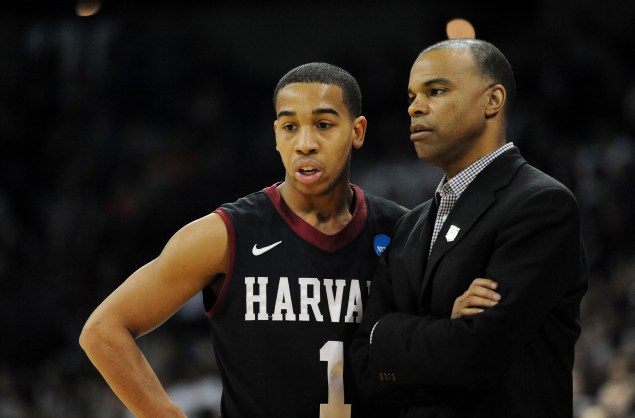 "I've always said this about him, he'll go down as arguably the most important player that we've ever had," Amaker said. "He's always been the most important player on our team. He hasn't always been the best player. But there's never been anyone as important since he's been here with the role he plays, the position he plays, the production he's given."
"He's the smartest player I've been around since Shane Battier."
In a losing effort on Friday night against Stanford, in a season-opener played in Shanghai, Chambers showed no real rust, scoring 12 points, grabbing three rebounds and recording four assists (committing zero turnovers).
This year's roster features almost double the freshmen and sophomores as it does upperclassmen. He's dealing with a different kind of youth this year.
There would be times in the Walton household where Chambers would look at Elijah, Zora and Baldwin and reminisce about what he was like at their ages. And it's possible that when he looks at a freshman like Bryce Aiken or a sophomore like Corey Johnson, he's reminded of what he was like his first few years in college.
"When you're a freshman or a sophomore, you're just trying to 'Go, go, go,'" Chambers said. "But now as a senior, I just want to take in my last year and enjoy every minute of it."