NEW YORK — This year's iteration of the Champions Classic was weird, to say the least.
The No. 1 team in the country, Duke, lost in a thriller to a team that was already 0-1 on the season, and not only did the performance assert why that 0-1 team – No. 7 Kansas – is a national title contender – because #BIFM – but it also was proof positive that the Blue Devils are the best team in the country. That's what happens when you take a team like Kansas to the wire, erasing a 10-point deficit in the final five minutes, without Harry Giles III, Jayson Tatum and Marques Bolden.
And then there is Kentucky.
The No. 2 Wildcats played their best game of the season, dominating No. 13 Michigan for 40 minutes, beating Tom Izzo's team by 21 points and doing so while their front line failed to look anything close to dominant. The Wildcats all-but ensured that they will be the No. 1 team in college basketball come Monday morning, and yet, it seems like it's something that we're all glossing over.
And, frankly, there's a reason for that: Michigan State just isn't very good right now.
There are a lot of reasons for this, but by far the biggest issue is on the offensive end of the floor. The Spartans managed all of 48 points against Kentucky after they struggled to find any kind of offensive rhythm after the opening minutes against Arizona. They shot 32 percent from the floor. They were 5-for-26 from three. they had nine assists and 19 turnovers.
Subscribe to the CBT Podcast on iTunes, Stitcher or Audioboom
"I think this is one of John (Calipari's) best defensive teams," head coach Tom Izzo said. I'd quibble with that assessment – three times in his Kentucky tenure Coach Cal has fielded a team that finished first or second in KenPom.com's defensive efficiency metric – but this is a very good Kentucky defense. De'Aaron Fox may be the nation's best on-ball defender, Isaiah Briscoe has transformed himself into a stopper and there is enough size, length and athleticism on this roster that effort is the only thing that would keep this version of the Wildcats from being very good on that end of the floor.
Putting that kind of defensive back court on the floor against a team whose point guard play is very much a work in progress is going to cause problems, but more on that in a second.
To me, the biggest issue that this Michigan State team has is that they don't really have a star on the offensive end of the floor. Miles Bridges was supposed to be the guy that carried the load, but he's just not ready for that at this point in his development. He's a role player in the same way that Michael Kidd-Gilchrist was a role player on Kentucky 2012 national title team. Bridges is an other-worldly athlete that plays hard, defends, rebounds and does all the things on a basketball court that you cannot teach. In the first ten minutes on Tuesday night, he blocked two layups seemingly out of nowhere and broke up another alley-oop, essentially erasing six points that Kentucky would've scored against any other team in the country.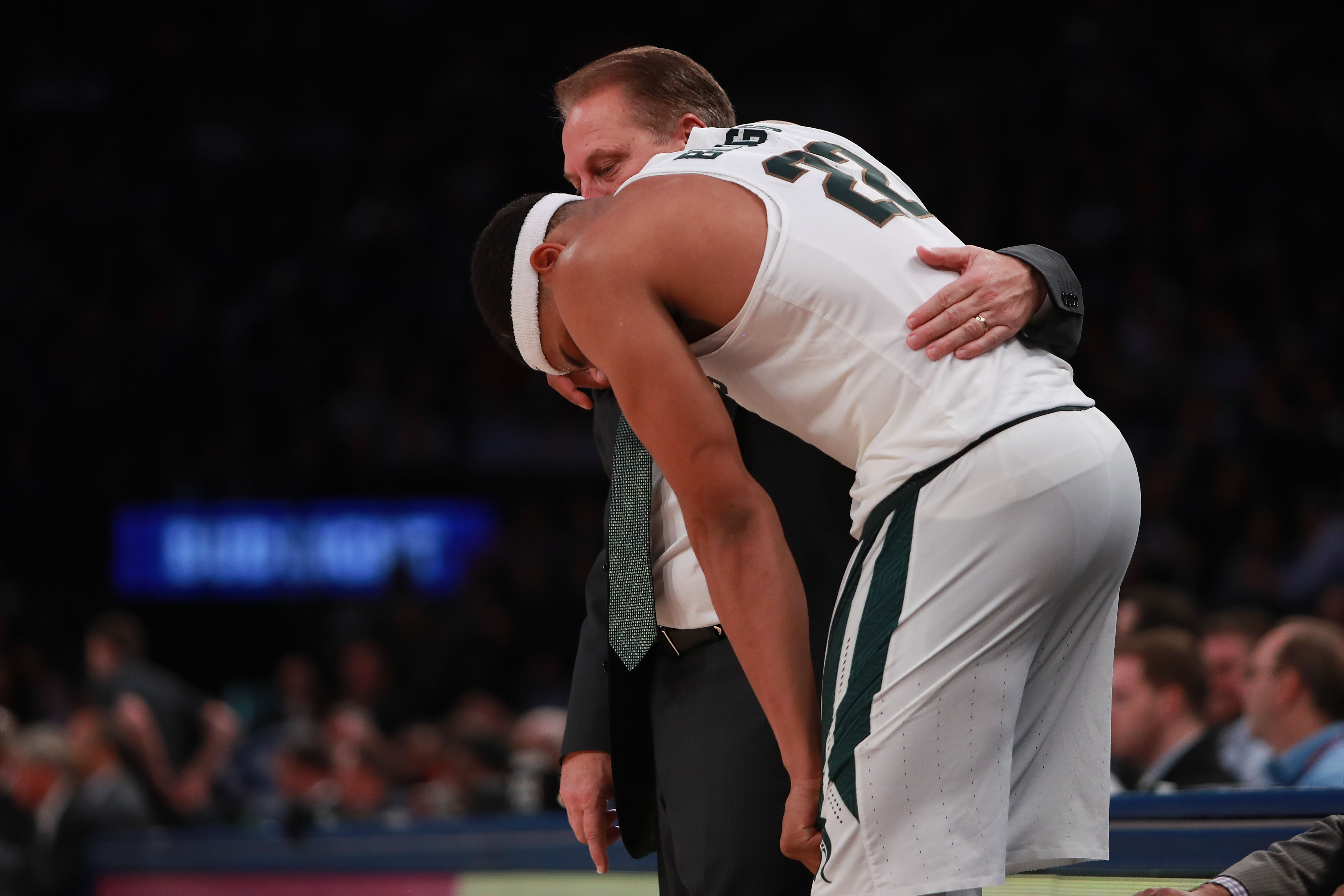 But that's what he does best right now.
At this level right now, he is a glue guy. But given the youth on Michigan State's roster, the Spartans need him to be the guy, and he's not that guy, at least not against this level of competition. He finished 2-for-11 from the floor with nine turnovers against Michigan State.
"I'm really embarrassed," Bridges said, adding that he felt added pressure to try and make something happen when the offense started struggling. "But that's what I can't do. I have to get my teammates involved and do something else."
"In high school, I was getting wherever I wanted, bullying guys," Bridges added. "You can't do that here."
Izzo's known as one of the best x's-and-o's coaches in college hoops, but without a commanding voice at the point guard spot, their offense devolved into too much one-on-one. Instead of running their lanes in transition and running through their sets, Michigan State was trying to break the defense down on their own. That's not going to work against a team that can defend the way that Kentucky can defend. That's not going to work if Michigan State is going to beat the teams that they expect to beat.
The good news?
Much of what ails Michigan State is fixable. They'll get better as Cassius Winston gets more comfortable running the show. They'll get better as Nick Ward learns how to be a guy that offense runs through in the post. They'll get better as Josh Langford gets more comfortable being a go-to guy on the offensive end of the floor. They'll get better as Izzo continues to work with them on how he wants his offensive to run and his team to play. Veteran teams can overcome subpar point guard play. Great point guards can help 'coach up' a young team early in the season.
The Spartans, right now, have neither, and the result wasn't exactly unexpected.
"The good news is the mistakes we're making are fixable mistakes. [Coach] is not telling us to jump higher or run faster, it's cutting and the x's-and-o's," Nick Goins said, adding that the loss of Ben Carter and Gavin Schilling, a pair of senior bigs, is taking a toll as well. "Having that leadeship and the people that know our coaches and how they want the program run, it's where we're struggling, to get people to fit into those roles."
"When you have 18 or 20 turnovers, defensive mistakes, that you know you can't make, that's stuff you can control," said Langford. "When you look at yourself in the mirror, it's frustrating, but you have to live and learn."
That's what life is going to be like at this level. Michigan State will have to learn how to adjust.
As Izzo put it, "welcome to the real world."