NEW YORK — Kansas was my pick to win the national title in September.
They were my pick to win the national title when the season started last Friday.
They were my pick to win it all even when they lost to Indiana in the Armed Forces Classic, and they would have been my pick to win the national title had they lost to Duke in the Champions Classic on Tuesday night.
They did not lose to the Blue Devils.
The No. 7 Jayhawks left their troubles in Hawai'i, getting 21 points, five assists and the game-winning bucket from Frank Mason in a 77-75 win over a depleted No. 1 Duke in Madison Square Garden.
As Duke head coach Mike Krzyzewski told Mason after the game, it was a "big time shot by a big time player."
The Blue Devils were without Harry Giles III, as he is still recovering from a knee scope he had in September, while Jayson Tatum and Marques Bolden both sat out as they are working their way back from a foot and "lower leg" injury, respectively.
Mason was the story, however. He was, once again, incredible, but I'll get to that in a second.
The bigger story is that Kansas needed this win more than you probably realize.
It's hard to call any game a must-win five days into the season, particularly when that win involves a team like Kansas, who is probably going to win the Big 12 title and who will undoubtedly end up in the NCAA tournament barring a Duke-esque run of injuries.
But Kansas is in a unique situation this season. This was the last chance for the Jayhawks to get a marquee win on their résumé until a January 30th visit to No. 2 Kentucky. The rest of their non-conference schedule is headlined with programs that are better in theory than they will be on the floor. Stanford is a middle-of-the-road Pac-12 team. The same can be said about Nebraska in the Big Ten and Georgia, should Kansas get the Bulldogs in the CBE Classic, in the SEC. Davidson? They're OK. UNLV? Gross.
Then there is the Big 12, which isn't nearly as good as it has been in past seasons. There may not be another top 25 team in the league this year – that depends on how you view a Baylor team that beat No. 4 Oregon without Dillon Brooks at home – but the bottom-line is that it doesn't look like there are going to be many chances for the Jayhawks to land the kind of victories they would need in league play to earn a No. 1 seed.
Which is what makes this win so important. On Selection Sunday, we may all remember that Duke was without three of their top four players, but that won't factor into where they get bracketed. Injuries matter for who was missing when you lose. They are not considered when discussing teams that you've beaten, and if tonight taught us anything, it's that Duke is going to be scary-good if and when they finally get healthy.
Come March, this win is going to look sensational, and Kansas is not going to have too many more chances to get wins that look that way this season.
Back to Mason, were just five days into the season, but he is undoubtedly the front runner for National Player of the Year despite the fact that he is playing on a team that is just 1-1. After two games against top ten teams, Mason is averaged 25.5 points, 7.0 assists and 5.0 boards while getting to the line 22 times and, ya know, hitting a game-winner in MSG.
Perhaps more important, however, is the fact that he totally took over both games down the stretch. That's who he is for the Kansas team, and considering that the Jayhawks are dealing with some of the growing pains that come with building a roster entirely around freshmen, it's a luxury that other programs aren't necessarily afforded.
"Frank made some plays tonight that were … ," head coach Bill Self said, trailing off as he did the real-life version of 'SMH', as if he couldn't believe how lucky he was that a kid that a kid that originally committed to Towson was torching the No. 1 team in the country for him.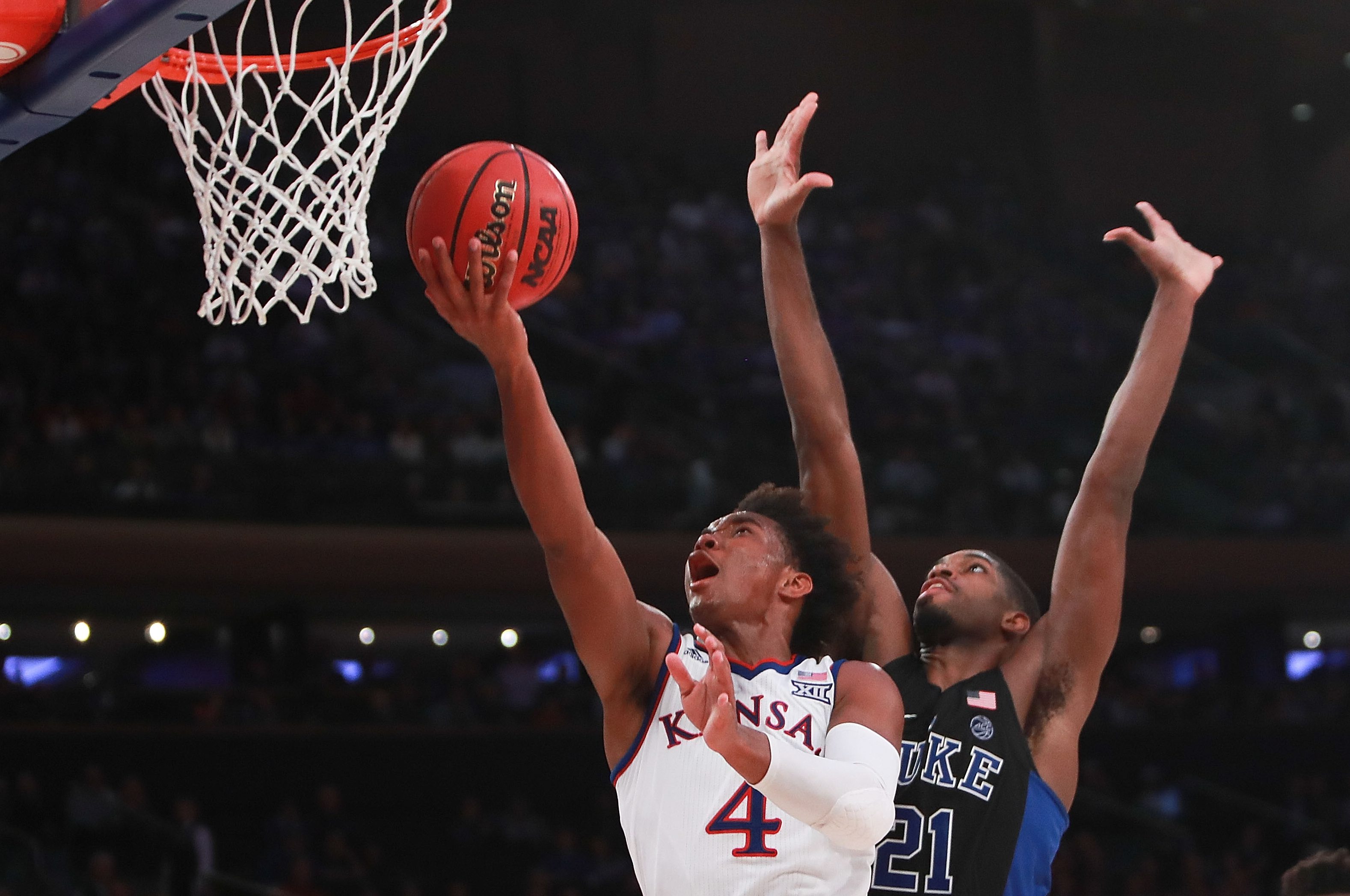 And the scary part?
Self isn't doing anything more than giving Mason the rock and letting him do what he can do. It's what we like to call the 'Do Him' offense.
"The last three minutes we were just wasting time and putting him in pick and roll situations," Graham said.
"Quite a play we called," Self added with a laugh. "'Get out of [Mason's] way and he'll shoot it.' He's made a lot of big plays for us. He's a stud."
There isn't a player in the country that is better in a big moment than Mason, and what should be comforting for Kansas fans is that he's not alone in that back court.
"I'm really big on strong faces and leadership," Coach K said of Mason, whose stoic demeanor makes him appear incapable of emoting during a game. "He gives the face of a great leader all the time. Big time guard. Big time winner."
Devonte' Graham, who originally committed to Appalachian State, was just as impressive for the Jayhawks before he started cramping up. He finished with an impressive 13-point performance, buoying Kansas early as the Jayhawks struggled to gain a foothold in the first half.
"[Graham] could've made the same play," Mason said of his his game-winner.
"Those guys are both pitbulls," Self added. "They have an assassin mentality. They bring our team as much toughness as anybody does. We don't always play pretty, but [with them] we can compete."
Freshman Josh Jackson, who was rated as a first-team preseason all-american by NBC Sports, was on the verge of a sensational game, finishing with 15 points in 18 minutes. But he fouled out thanks, in part, to a technical foul he earned in the first half when he slapped the ball out of a Duke player's hands after a foul was called. Udoka Azubuike also provided critical minutes, grabbing 12 rebounds and adding six points in just 15 minutes off the bench.
But it was the play of Mason and Graham, a pair of guards that were rated as mid-major prospects in high school, that led the Jayhawks to this win. It was the play of Mason and Graham that forced overtime in Kansas' loss to Indiana.
And it will be the play of Mason and Graham, who make up the best back court in college basketball, that will be the reason the Jayhawks will compete for a national title this season.
"[They don't] fit the eye test with length and height but [they've] got some things you can't teach," Self said. "Intangibles that are as good as anybody in america possess."
"There isn't much they can't do."