NEW YORK — Just give them the damn title.
It sounds weird saying that when the No. 1 team in the country lost, 77-75, on a neutral floor to a team that was already 0-1 on the season, but I just don't understand how you could have watched Duke erase a double-digit second half deficit to force Frank Mason's heroics and come away feeling any other way.
Duke was playing without Harry Giles III, who likely won't be available until ACC play, if at all. They were without Jayson Tatum. They were without Marques Bolden. That's two of the five most talented players in the country and, in total, three likely lottery picks come June's NBA Draft.
But there's more.
Duke played just six guys on Tuesday night in the Garden, and the best player that's actually able to suit up for the Blue Devils – Grayson Allen, who was the most popular pick for Preseason National Player of the Year – was bad. He finished with 12 points on 4-for-15 shooting and never really seemed to get into the game until the final minutes.
"Grayson had a frustrating game," head coach Mike Krzyzewski said. "You can't expect to get fouled. I think he's going to a point where he makes a move and it's a good move and he expects a foul."
"He's playing hard when he gets the ball, but he needs to play harder when he doesn't have the ball, which is what he did in the last few minutes."
And despite all of that, Duke still led Kansas heading into halftime and still managed to scrap back from a 67-57 deficit with less than five minutes left on the clock.
"We're a good team otherwise we'd get blown out of here tonight," Coach K said. "But we're a limited team right now. We're not who we imagined ourselves to be. That's not an excuse, it's just the way it is. We'll see what happens when we get guys back."
It is still unclear when that is going to be. Duke is going to be in no hurry to bring Giles back, not when his earning power could disintegrate if he suffered another knee injury this year. Neither Tatum nor Bolden are dealing with serious injuries – Tatum has a sprained foot and Bolden has what Duke terms a "lower leg injury" – but initial reports said both of them should have been available on Tuesday night.
But ironically enough, having those three sidelined for the Champions Classic may have been the best thing for the Blue Devils, because Coach K now knows what he has in Luke Kennard, Frank Jackson and, frankly, Chase Jeter.
Kennard was the best player on the floor for the Blue Devils. He finished with 22 points, five boards and five assists and was responsible for 15 of Duke's points – three buckets and three threes that he assisted on – in a 20-10 run that tied the game at 75 with 30 seconds left.
"He had a really good game tonight," Coach K said. "He's played really well. He's played well in every practice. He's a really good player. We expected him to be really good. I wouldn't say he's overachieved because he's a big time player, and big time players show up in these environments."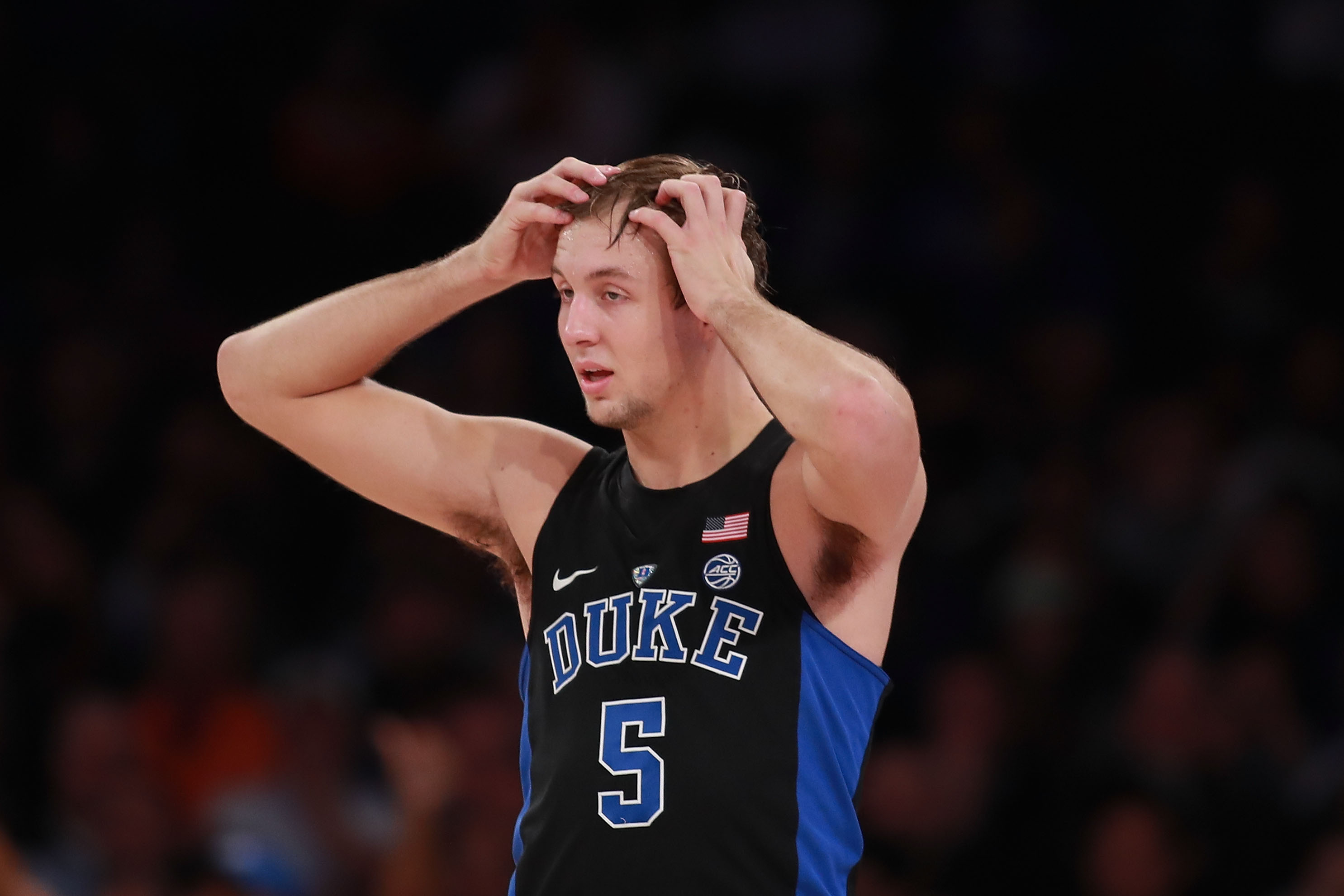 Jackson also stepped up and made two huge shots in the final minutes after what was overall a pretty disappointing game for him. His four-point play with three minutes left kept Duke within one possession of the Jayhawks, and he followed that up by hitting the three that tied the game with 22 seconds left, setting up Mason's game-winner.
Through the season's first two games, Jackson was arguably Duke's best player, averaging 19.5 points off the bench. He looked somewhat overmatched for the first 35 minutes on Tuesday night, but that happens to freshmen playing their first game with this kind of spotlight and pressure. The fact that he stepped up and made two critical shots that gave the Blue Devils a chance to win the game is far more important than the off-night that he had.
The same can be said for Jeter, whose stat-line – seven points, four boards and three blocks but three turnovers, four fouls and a 5-for-10 night from the line after missing a couple layups – isn't as impressive as the impression he made on Coach K.
"I thought this was a big game for Chase," he said. "There were a couple times he didn't finish, but I thought he played hard and well."
"You learn a lot from being in this level of a game," Coach K added, and that's what really matters here.
Assuming Duke finds a way to get back to 100 percent health, Kennard and Jackson will probably end up being Duke's fifth and sixth scoring options. They'll likely split minutes and find themselves in a similar position to where Allen found himself as a freshman. And when Allen was a freshman, he spent the majority of the year on the bench before exploding in the Final Four to average 13.5 points and spark the title-game run that eventually won the Blue Devils the 2015 national title.
"I thought overall it was a great experience for us," Coach K said. "They're going to be one of the best teams in the country throughout the whole year. To play that way when a couple of our veterans didn't have a good game tonight? It was good for us."
After Tuesday night, not only does Coach K know that he has those two weapons in his back pocket, but he knows that both Kennard and Jackson have the confidence to be able to succeed in the biggest moments.
If they can lead a short-handed, struggling Duke team back from 10 points down in MSG against a top five team that some – Hi! – have picked to win the national, then what can't they be trusted to do?