NEW YORK — It only took seven minutes for the 18,000 fans packed into Madison Square Garden to get a feel for how dangerous Malik Monk can be as a scorer.
Kentucky's most entertaining freshman hit three threes in the span of 161 seconds to spark an 11-2 Kentucky run that gave the Wildcats a lead they would never relinquish. Monk finished his night with 23 points, hitting 7-for-12 from three and living up to the hype as one of the streakiest players in college basketball. Monk entered the night shooting 36 percent from the field and 25 percent from three and left the Garden as the clear difference-maker for this version of Kentucky as the No. 2 Wildcats beat No. 13 Michigan State, 69-48.
Isaiah Briscoe added 21 points and five boards while De'Aaron Fox finished with 12 points, six assists, four boards and two steals.
But it was Monk who was the star of the show.
The Wildcats entered Tuesday having shot just 9-for-34 from beyond the arc in the season's first two games, with three of those nine threes coming from Mychal Mulder, who didn't get off Kentucky's bench until garbage time against Michigan State. On Tuesday, Wildcats not named Monk shot 0-for-10 from beyond the arc.
It doesn't take a physicist to figure out that the Achilles' heel for this team is going to be their perimeter shooting, the same way that it was for the 2010 team. And on the nights when Monk gets hot from deep, this is the result that you're going to get. When he gets rolling like this, Monk has 'gravity'. Defenses have to adjust to his presence on the floor. He pulls help defenders out of position, he creates driving lanes for the likes of Fox and Briscoe and, eventually, it will create space for Bam Adebayo, Isaac Humphries and the rest of Kentucky's front court in the paint.
"We knew they were going to pack the lane in," Monk said. "Fox and Briscoe get in the lane every time they can. They set me up and I was able to knock down the shot."
"I knew he was due for a big night," Briscoe added.
Perhaps the most important part of Monk's performance was that none of the 17 shots that he took felt forced. His reputation coming out of high school wasn't just as a streaky shooter; it was as a dumb shooter, too. His shot selection wasn't what you would call good, and it is certainly a very good sign for the Wildcats that, on a night where Monk was cooking from the opening minutes while playing on the biggest stage he's ever played on, that he didn't start forcing shots.
In fact, he was almost too passive.
In the first half, he passed up an open look to set up Wenyen Gabriel for a three – which he missed – and committed his only turnover of the game when he palmed the ball later in the half. After the game, head coach John Calipari noted that finding a way to manufacture shots for Monk is one of the things his team is working on.
"Malik has it going," Cal said, "so how are we going to get him shots and where are we going to get them from?"
Tuesday night was the first time we got a real look at who Kentucky is going to be this year – forgive me if I'm unimpressed with wins over Stephen F. Austin and Canisius in Rupp Arena – and as impressive as Monk was shooting the ball, perhaps the most important takeaway was how well that back court works in concert with each other.
At this point, everyone should know about Fox's prowess on the defensive end of the floor. He may be the best on-ball defender in college basketball. But Monk is athletic enough that effort is the only thing that will keep him from being a plus-defender, and Briscoe is developing into a lock-down defender in his own right. Miles Bridges, Michigan State's star freshman and a future lottery pick, finished 2-for-11 from the floor with nine turnovers on Tuesday and it was Briscoe who did the heavy lifting on him defensively.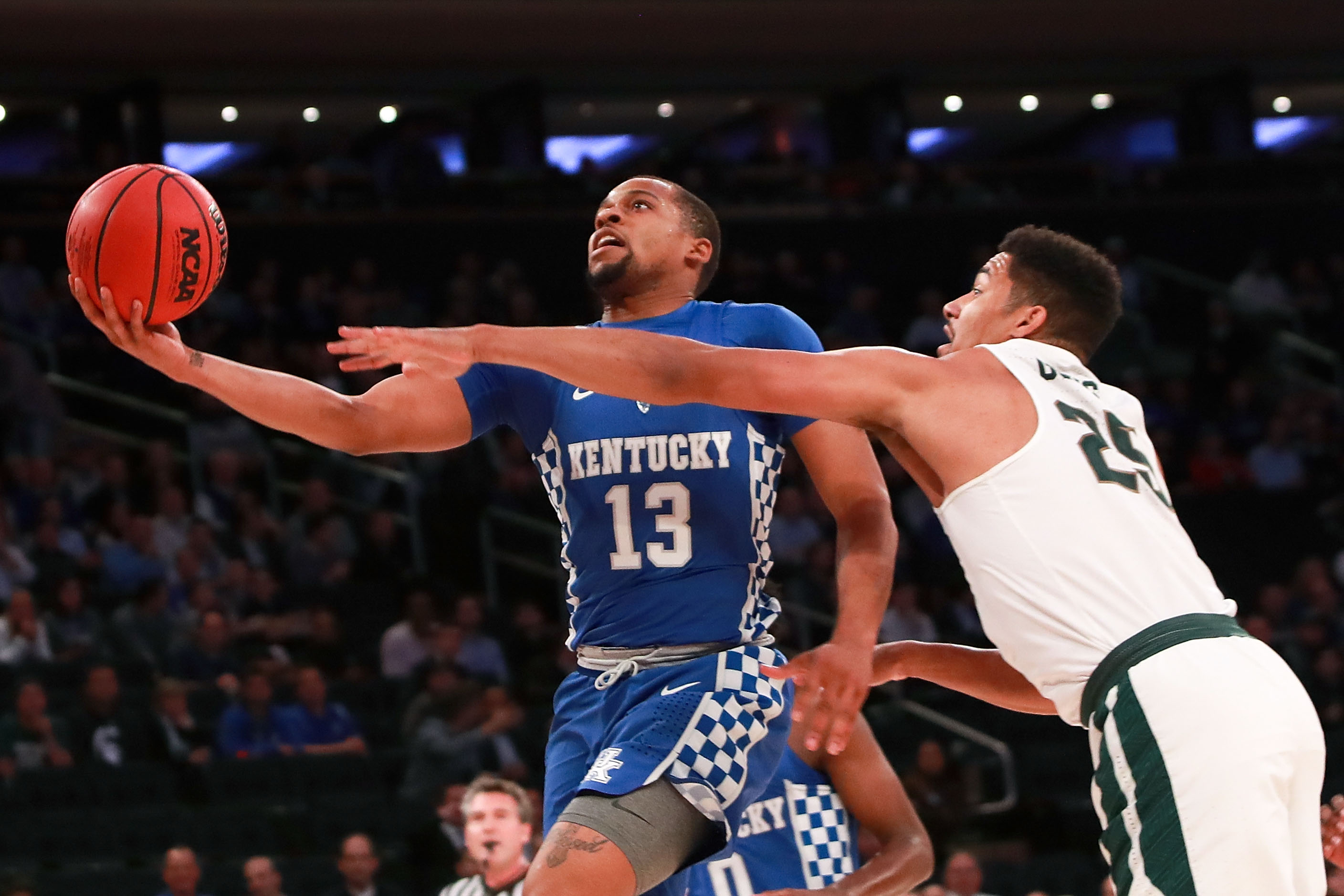 "People that watched him in high school can't believe he can defend and rebound the way he has," Coach Cal said of Briscoe, who is embracing the role of 'elder statesman' on this Kentucky team. "He's way more mature. He's way more comfortable with the way he's playing."
Briscoe was once against terrific getting to the rim, both in half court settings and in transition, where defenders bounce off of him like pebbles bouncing off the windshield of a Ford F150 on the interstate. The knock on him is his inability to shoot from the perimeter, and on Tuesday, he was 0-3 from three and did not make a field goal from outside the paint. And while his stroke did not look as bad as it did last season, he's still a long way away from being a 'good' shooter.
But Coach Cal doesn't care, because as far as he is concerned, Briscoe's issue is that he thinks like a bad shooter.
"All it is is being more confident," he said. "The first half he didn't want to take the shots that were there. I told him that if he didn't take the three that was there I was taking him out."
That's all he really needs to be.
Because Monk is going to have nights where he goes nuts, where he makes Tuesday's shooting display look pedestrian. Fox and Briscoe are going to create all kinds of problems on the defensive end of the floor and in transition; I think these Wildcats have the potential to be a top three team defensively. Tom Izzo agreed, saying "I think this is one of John's best defensive teams," which is saying a lot considering he's had three teams finish in the top two of KenPom's defensive efficiency metric.
And eventually, talents like Adebayo, Humphries and Wenyen Gabriel are going to start playing like the future NBA Draft picks that they are.
"The group of freshmen, they're not ordinary freshmen," Briscoe said. "They pick up things fast and they know how to play basketball. We don't run a lot of plays."
Kentucky's ceiling is as high as any team in the country.
And if the Wildcats are going to end up reaching that ceiling, they're going to need Monk to be the guy that he was on Tuesday night.