PLAYER OF THE WEEK: James Blackmon Jr., Indiana
Indiana's opening-night win over Kansas was impressive for a couple of reasons, not the least of which was the fact that the Hoosiers landed a win over a team that seems like it is a lock to eventually earn, at worst, a No. 2 seed in the NCAA tournament. What was more important, however, was that the Hoosiers proved that they have guys that can create offense on their own. That was the concern after Yogi Ferrell graduated: When this Indiana team has a late-clock situation or a possession where they have to get a bucket, who do they give the ball to?
The answer now appears to be Blackmon, who finished with 26 points while making a series of tough threes in the second half. While the Hoosiers had other players make big shots – Curtis Jones in particular – it was Blackmon who had the plays called for him, and he delivered. That's a great sign for the Hoosiers, and it's the biggest reason that I think Indiana is a better team than we gave them credit for entering the year.
THEY WERE GOOD, TOO
Joel Berry II, UNC: Berry looked the part of an elite floor general in wins over Tulane and Chattanooga, averaged 20.5 points, 5.0 boards and 4.5 assists. The Tar Heels beat a good Mocs by 40.
Frank Mason III, Kansas: Mason's Jayhawks could hang on to beat Indiana, but he had 30 points nonetheless and seemingly fouled out their entire team.
Jock Landale, Saint Mary's: Landale had 33 points and nine boards for the Gaels in a blowout win over Nevada and Cam Oliver, a big man who has a shot to end up in the NBA.
Caleb Swanigan, Purdue: Granted, it came against McNeese State, but Swangian's line – 23 points, 20 boards, six assists – has only been done by Blake Griffin and Ben Simmons in the last decade.
Angel Delgado, Seton Hall: Delgado is averaging 18.0 points and 15.0 boards through the season's first two games.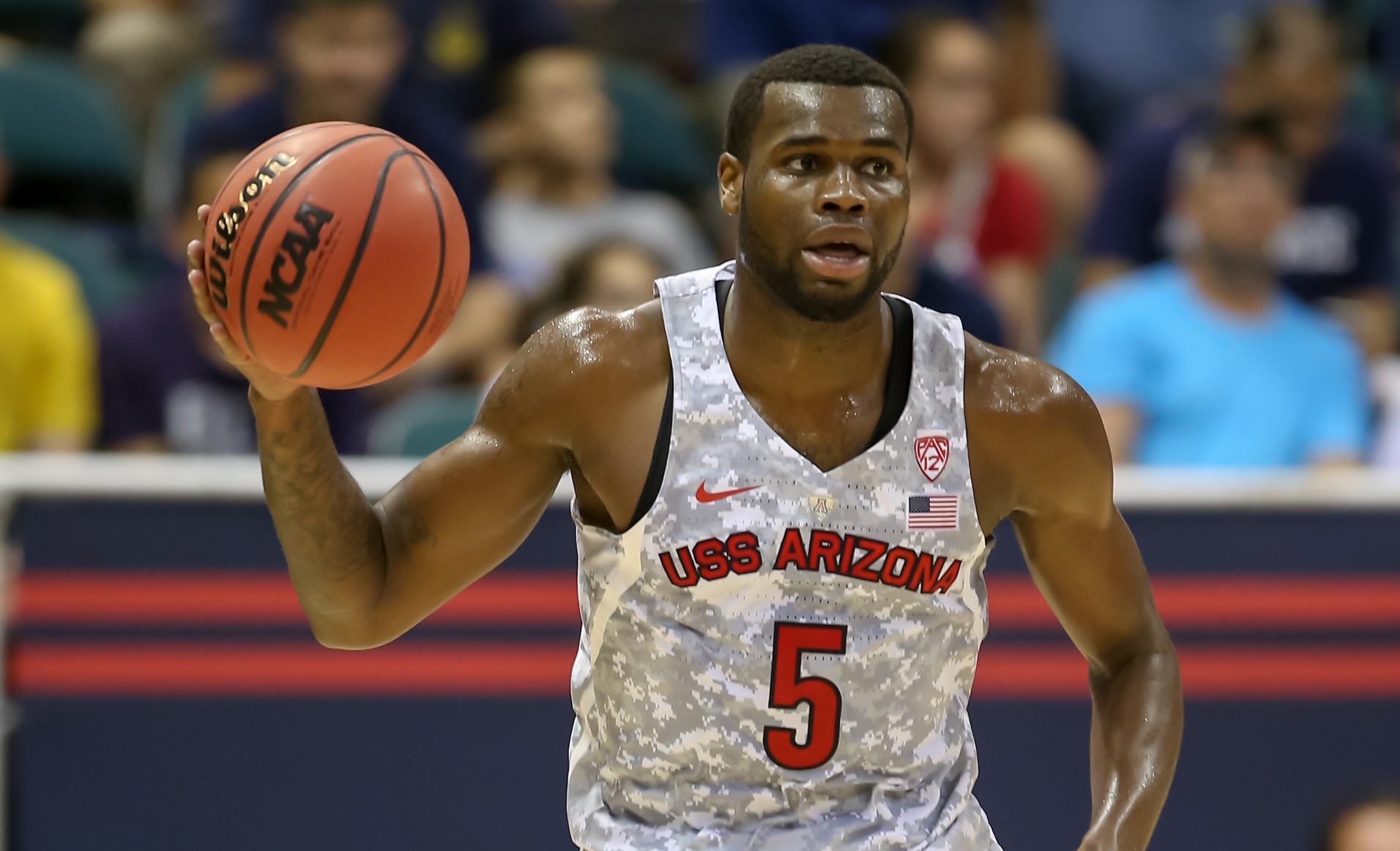 TEAM OF THE WEEK: Arizona Wildcats
It's hard not to go with the Wildcats here, who went out to Hawai'i for the Armed Forces Classic having lost Ray Smith to yet another torn ACL and playing, as of now, without Allonzo Trier, and beat Michigan State. And not only did they beat Michigan State, but they did it after digging themselves a 15-point whole early in the first half.
Kobi Simmons caught fire. Lauri Markkanen looked like a functional stretch four. Parker Jackson-Cartwright and Kadeem Allen both made critical plays down the stretch. There was not much more that you could ask of a team in that situation.
THEY WERE GOOD, TOO
Indiana: The Hoosiers picked up an overtime win over Kansas in the Armed Forces Classic. That's the kind of win that is going to look great come Selection Sunday.
UNC: The Tar Heels didn't just win two games in impressive fashion, they did it by beating Tulane in New Orleans and smacking Chattanooga – who had just won by 13 at Tennessee – by 40 points in Chapel Hill.
Wagner: The Seahawks went into Storrs and beat UConn, 67-58. The Huskies look like they're in trouble this year, but a win in Gampel Pavilion in any year is a good win.
Yale: The Elis picked up a 98-90 win over Washington in Seattle on Sunday night. More impressive than that, they did it without their two best players in Makai Mason and Jordan Bruner.
Subscribe to the CBT Podcast on iTunes, Stitcher or Audioboom
WHAT DID WE LEARN?
Kentucky's shooting issues are real: The Wildcats were 9-for-34 (26.5%) from three in two wins this weekend, and three of the threes that they made came from Mychal Mulder, who is not going to see a lot of action this season. Outside of the jump-shooting, the trio of Isaiah Briscoe, De'Aaron Fox and Malik Monk were pretty impressive. But if they cannot find a way to consistently make defenses pay for packing it in the paint, the Wildcats are going to have the same fatal flaw as the 2010 Kentucky team.
Dennis Smith Jr.'s slow-start: The N.C. State point guard and potential top five pick has yet to look the part. He averaged 11.5 points and 4.0 assists while shooting 6-for-22 from the floor and 0-for-7 from three. N.C. State nearly lost to Georgia Southern on Friday night as well. Smith is coming off of a torn ACL that he suffered last August, but this didn't appear to be a rust issue. This looked more like a freshman adjusting to the rigors of Division I basketball.
Frank Jackson might be pretty good: With Duke's big three out with injury, Jackson, the forgotten freshman, was terrific in two blowout wins for the Blue Devils. Coming off of the bench, Jackson averaged 19.5 points and shot 50 percent from three. There were questions in the fall whether he would be able to handle the point guard spot in college, and while those questions are still relevant – he had six assists and five turnovers this weekend – it looks like Jackson is going to be an impact player this season.
So are the Syracuse point guards good?: That was the big question with the Orange entering the season. Can Franklin Howard and John Gillon handle being full-time point guards? Against Colgate, it looked like they can. The duo combined for 15 assists and just three turnovers. Granted, that didn't come against a great team, but it is a good sign for the Orange.
UCLA and Lonzo Ball look like the real deal: It's too early to make any definitive statements on the Bruins at this point, but it's not too early to say that they were pretty impressive in the season's first weekend. The Bruins knocked off Pacific and CSUN while Lonzo Ball is making those Jason Kidd comparisons seem apt.
SET YOUR DVR
Mon. 7:00 p.m. No. 4 Villanova at No. 15 Purdue
Mon. 7:00 p.m. San Diego State at No. 14 Gonzaga
Tue. 7:00 p.m. No. 2 Kentucky vs. No. 12 Michigan State
Tue. 9:30 p.m. No. 1 Duke vs. No. 3 Kansas
Thu. 9:00 p.m. Valparaiso at No. 5 Oregon
Sat. 2:00 p.m. No. 17 Saint Mary's at Dayton