Yesterday, we took a look at the most influential "X-Factors" in college basketball for the 2016-17 season.
Players like Malik Monk, Dillon Brooks and Harry Giles III made that list. 
Today, we're going to take a look at college basketball's most important players, the guys who will have the biggest impact on their team, the guys who are a great year away from making their team a contender in their league and a threat in March.
We did the best we could to avoid duplicating players that were x-factors from players that are on the most important list. I do think there is a difference – that's a different post for a different day – so without further ado, here are the 13 Most Important Players in college basketball. 
LEAGUE PREVIEWS: Big 12 | ACC | Pac-12 | Big Ten | | SEC | Mid-Majors
Subscribe to the CBT Podcast on iTunes, Stitcher or Audioboom
Melo Trimble, Maryland: Trimble and the Terps did not have the season they were hoping to have in 2015-16, meaning that Trimble is the only member of that team's starting lineup that will be returning to school this year. That wasn't the plan, but it is good news for Maryland. Trimble is still the talent that completely changed the fortunes of the Maryland program, and this year, it will be his team to lead. He's an all-american caliber talent, and with a better supporting cast than some realize, the Terps have a chance to make some noise in a wide open Big Ten race this year.
E.C. Matthews, Rhode Island: As a sophomore, when Matthews was healthy, he averaged a team-high 16.8 points on a team-high usage rate of 29.5%. URI went 23-10 and made the NIT. As a junior, when Matthews managed just 10 minutes because of a torn ACL, the Rams went 17-15. Granted, there is a lot more that went into that drop-off that just Matthews missing time – he was far from the only player on the roster that was injured last season – but he was the biggest miss. He's back now. And he's healthy. That's great news for URI, who should contend for the A-10 crown.
Jaron Blossomgame, Clemson: The Tigers have a chance to save Brad Brownell's job this season if they can get to the NCAA tournament, and they are in a decent position to do so. Clemson brought back a number of pieces and added a couple of impact transfers – namely Elijah Thomas – but the key is Blossomgame. An athletic, 6-foot-7 wing with three point range that averaged 18 points last season is a rare commodity.
CONTENDER SERIES: Duke | Oregon | Kentucky | Kansas | Villanova
London Perrantes, Virginia: It's hard to overstate just how much the Wahoos lost with Malcolm Brogdon and Anthony Gill graduating. The arrival of Austin Nichols should help UVA replace Gill, but the burning question that remains is Brogdon. Who is going to carry his load offensively? The answer, it seems, is that no single player will be able to carry that load on his own. But given his role as the provider in this offense, and considering the fact that Perrantes has shown flashes of being a better offensive weapon than his numbers would indicate, he may be the most valuable player UVA has. There's a reason he's one 89 games in his career.
Nigel Hayes, Wisconsin: I've been critical of Hayes the basketball player this preseason – and not unfairly, his shooting splits were really inefficient – but if he can improve his consistency shooting the ball, he certainly has the talent to be a really good player for the Badgers. You may not realize this, but Hayes led Wisconsin in assists last season. Playing on a team where the lead guard is a guy like Bronson Koenig, who is shoot-first, having an efficient playmaker on the floor to join him is big, particularly when you consider that Ethan Happ, the Wisconsin center, may actually be the team's best player. If Hayes is the guy we all want him to be, Wisconsin can win a national title.
Deonte Burton, Iowa State: Monte' Morris is the easy pick here, but given the situation on the rest of the Cyclone roster, I think Burton is more important. Iowa State has no size. Burton isn't all that tall, but he's 6-foot-5, strong and super-athletic. In theory, he can be a guy that plays the Draymond Green role for the Cyclones. That's a trendy thing to say these days – and, frankly, saying it undervalues just how good and unique Green is – but Burton has the tools to be that guy. Will he be effective in that role?
Dedric Lawson, Memphis: The Memphis program was in an awful spot last season, with a lame-duck head coach, a fan base that had turned and a roster that just didn't have the talent to win anywhere near the level expected by the city. Much of that is still the case this year, but there are two important things to note: Tubby Smith is a hell of a basketball coach, and Dedric Lawson is a guy that could average 20 points and 10 boards this year. I don't know if this is a tournament team just yet, but I have faith in Tubby making the most of what he has on the roster and, should the best-case scenario arise, it will be because Lawson plays like an all-american.
Top Backcourts | Top Frontcourts | Top 100 Players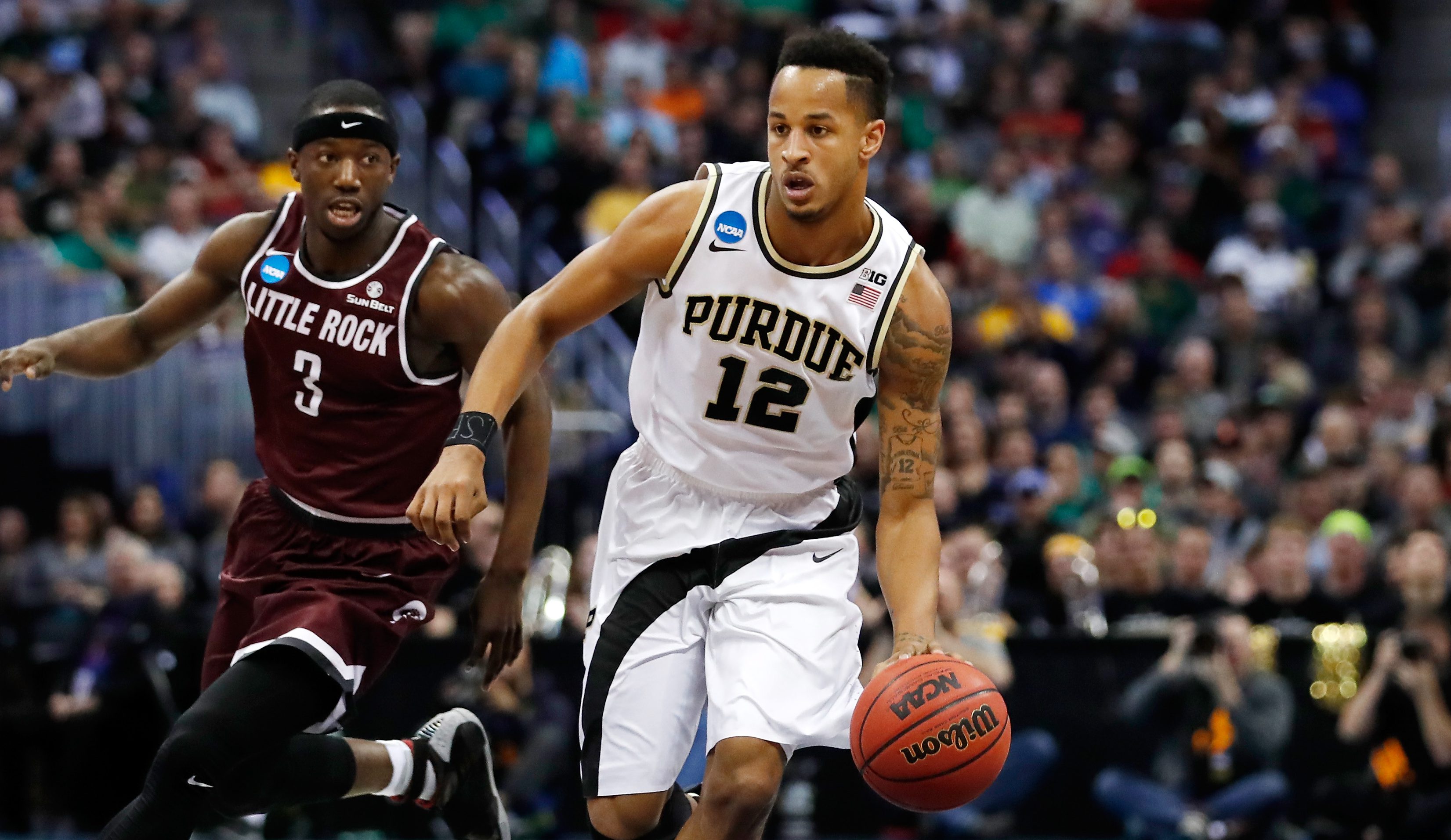 Vince Edwards, Purdue: Edwards is the difference-maker on this Purdue team. We know more or less what the rest of this team is going to be – their bigs are bigs, their point guards are not bad, they have some guys that, in theory, can shoot – but Edwards is the one player that has shown the potential to be a game-changing talent. He was the best player on the floor for the much of the final month of Purdue's season, and he's a versatile talent that can defend, that can make threes and that, at 6-foot-7, averaged 2.9 assists. He's the guy that takes Purdue from being a Big Ten contender to the Big Ten champ.
Justin Jackson, North Carolina: Here's the way that I see the North Carolina season going: Joel Berry II is going to be an upper-tier ACC point guard, good enough that he's clearly the best player on this roster but not good enough to garner all-america consideration. Kennedy Meeks and Isaiah Hicks will be good enough to old their own against any front line in college basketball but not quite good enough to ever be thought of as UNC's strength. What I'm unsure of is Jackson. I think the kid is really talented, but I think he's an inconsistent shooter who has yet to prove he can take over a game when needed. And that's what UNC needs him to be this year.
Dennis Smith Jr., N.C. State: There are a number of teams this year with terrific point guard play and questionable talent elsewhere on the floor. That's not the case with the Wolfpack. Smith has a chance to be the No. 1 overall pick in the 2017 NBA Draft on a team with shooters on the wings and talent like Abdul-Malik Abu and Omer Yurtseven on the front line. There isn't really anyone else on this team capable of creating their own, but there is enough talent for the Wolfpack to be a top 15 team. If Smith lives up to the hype, and if Mark Gottfried finds a way to get something close to the most out of his roster, I don't think it's crazy to say this group has Final Four upside.
Landen Lucas, Kansas: There are a number of different ways I could have gone here, but I'm going with Lucas for two reasons: 1. If he does what he did last season, he has the skills to be the anchor defensively for a team that projects to be one of the best in the country on that end of the floor. With Frank Mason, Devonte' Graham and Josh Jackson on the perimeter, KU needs a guy that can control the lane on that end of the floor and protect the rim if they get out and pressure or gamble for steals. 2. There isn't all that much front court depth for the Jayhawks. Dwight Coleby is 'a guy' and coming off of a knee injury while Udoka Azubuike and Mitch Lightfoot are freshmen and not exactly ready to handle the kind of load they are probably going to need to play. That leaves Lucas. Remember, Duke won a national title in 2010 with Brian Zoubek playing center.