Last March, for the second straight year, Notre Dame saw their NCAA tournament run come to an end in the Elite 8.
Three months later – again, for the second straight season – the Irish watch the two best players from that Elite 8 team matriculate to the NBA. In 2015, it was Jerian Grant and Pat Connaughton. In 2016, it was Demetrius Jackson and Zach Auguste. The Fighting Irish are coming off of back-to-back Elite Eight appearances after not making it that far since 1979. Nobody expected either of those teams to get to the Elite 8, and no one is predicting that this year's Notre Dame team can make a similar run, either.
"We've lost four NBA players in two years, which is a major drain on talent," head coach Mike Brey said. Notre Dame doesn't recruit the way Duke does or Kentucky does. The Irish don't reload with a handful of McDonald's All-American and projected lottery picks. They don't plan rebuilding their roster on an annual basis, but here we are.
And Brey?
He believes that he has built a program that will have sustained success because of the experience and leadership built into the roster.
"What [we] always hang [our] hat on, is we've been able to stay old and experienced. And we'll start, in our exhibition game, two seniors, three juniors," Brey said to NBCSports.com. "The guys have been a part of great runs in March and big wins. So it's a pretty confident group. They know who they are. They know what's worked for them before. I've been impressed by our progress."
The recent stretch of success started because of the veteran leadership of Grant and Connaughton – two seniors who willed the Irish to the Elite Eight in 2015 after a run to win the ACC conference tournament.
"We had fabulous leadership with Connaughton and Grant when we won the ACC championship. That was a breakthrough group," Brey said. "I give so much credit in the leadership of making us believe that we could do more than we've done in the past."
That strong leadership continued last season with Jackson and Auguste as the Fighting Irish made the Elite Eight even after finishing 11-7 in the ACC and only being a No. 6 seed.
Since Notre Dame has lost so many NBA-caliber talents, expectations are down for the Irish this season, but Brey is seeing positive signs from his new trio of veterans.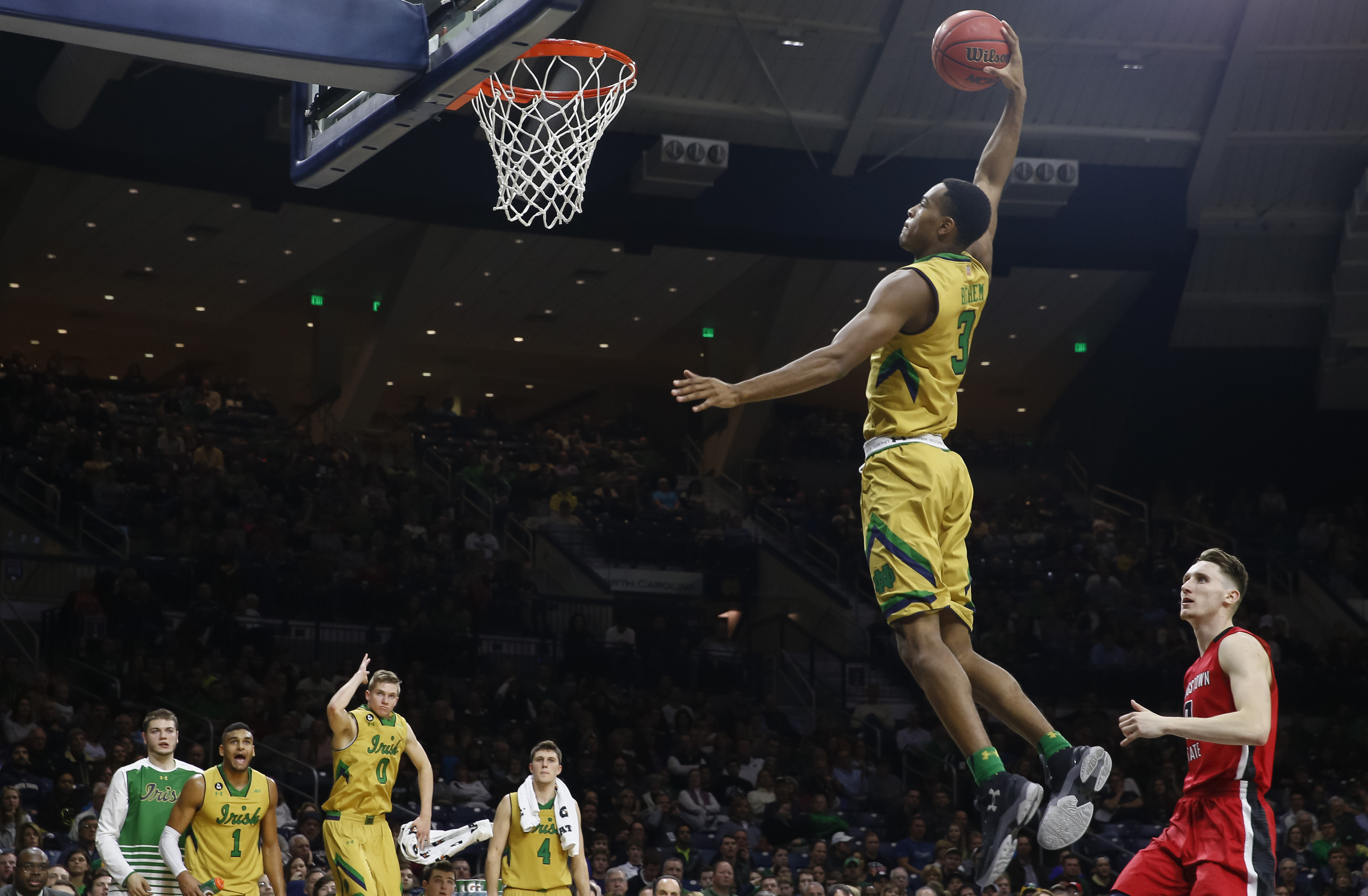 Notre Dame's 2016-17 roster is headlined by V.J. Beachem, Bonzie Colson and Steve Vasturia, three upperclassmen who had to be patient and wait their turn before thriving. This season's likely starting center, Martinas Geben, only played sparingly the last two seasons behind Auguste. New point guard Matt Farrell is a junior who only started four games last season. Brey expects his new starters to log big minutes and be a factor because of their last few years of development.
This is the typical path of a Notre Dame basketball player. Grant, Connaughton, Jackson and Auguste were all touted recruits coming out of high school but none of them were go-to guys in their first year, even though Jackson was a McDonald's All-American.
"You feel you have good momentum and I have a good climate," Brey said. "Beachem and Vasturia and Colson have done a good job of leading. They rotate into the spots."
The leadership of the older Notre Dame players every season has also been the key to keeping the roster mostly in place. For a school that doesn't recruit one-and-done types of freshmen and rarely gets McDonald's All-Americans, Notre Dame's back-to-back Elite Eight appearances came as a pleasant surprise. Brey sees the success as a byproduct of what the program has been building over the last decade.
"The Elite 8s probably put our recognition and respect at yet another level," Brey said. "There's no question these returning guys think about getting past a regional final and getting to a Final Four. I think it's my job to remind them on a weekly basis that you can't make a run again in March unless you get access to March."
Brey is expecting this new roster to have plenty of stability since the team is only adding three new pieces to the equation, but he also realizes that this is a tougher ACC to get through this season.
Since Notre Dame played in the old Big East that used to put double-digit teams in the NCAA tournament before the program transitioned into the ACC, Brey knows a little bit of what to expect from such a deep conference.
"I think playing in the Big East — playing through the buzzsaw that it was with 10 tournament teams — that's helped my mindset of dealing with what the ACC has become," Brey said.
"Getting access to March will be harder than it was for the two previous teams to get access to March. I've tried to let them know that so our day-to-day preparation matches that."
While Notre Dame's roster is filled with veterans who want to take the next step and make a Final Four, the team's new coaching staff has also brought new energy to the program.
Ryan Humphrey and Ryan Ayers were brought on as assistant coaches while Eric Atkins was hired to be the team's video coordinator. All three played for Brey at Notre Dame but the three never played with each other in college.
"I've been waiting for an opening to bring my guys back that played for me. And that's so powerful," Brey said.
"They've got great energy, they can certainly sell Notre Dame and talk about what it's like to play for me. They've kept me energized."
Notre Dame's new coaching staff is fairly unique. Four of the five guys on staff played for Brey at Notre Dame. The only one who didn't is associate head coach Rod Balanis, who has been on the Notre Dame staff for all 16 years Brey has been the head coach.
And given that all of the new additions were college athletes, all of them can still hoop at a very high level. Humphrey ended a successful European pro career in 2013 and went into coaching. Ayers graduated in 2009 and spent time playing in the D League and in Europe before turning to coaching and Atkins also played professionally and graduated recently enough to still be in very good basketball shape.
There was an added value as well: They could play against, and beat, the team's most experienced players. They could push them as hard as any player on the current Notre Dame roster.
"I was telling Martinas Geben, '[Ryan Humphrey] is the only big man coach that can pin your shot on the board,'" Brey said. "Ryan Ayers can demonstrate the footwork of what we need from the perimeter."
Once the new members of the staff were settled in, the pickup wars started happening. Atkins, Ayers and Humphrey were soon playing Beachem, Colson and Vasturia in intense games that still cause dispute around the Notre Dame basketball offices.
"I don't know the result, but there's a lot of junk being talked between both groups. We may have to get that game going one day and let the rest of the team and staff watch it," Brey said.
Brey was able to replace trusted, long-time assistants with former players who could re-hash old drills and routines that had worked for Notre Dame in the past. Some of the drills brought up by the new staff were forgotten by Brey, who enthusiastically put them back into the rotation.
But more than that, it was proof that Brey's methods work. One high school coach that has had multiple players sign with Brey told NBCSports.com that he's the most loyal college coach he's dealt with. Brey going to give his guys the shot he promises them on the recruiting trail. Veterans are going to play over the freshmen until the freshmen earn their minutes.
That commitment to the Notre Dame family is why Brey has former players coming back to coach with him.
And it's why he's able to, as he puts it, "stay old."
Notre Dame basketball players are willing to accept a role, a redshirt and limited minutes early in their career because they know it will pay off at the end of it.
That payoff?
Back-to-back Elite 8s.