PRESEASON NATIONAL PLAYER OF THE YEAR: Grayson Allen, Duke
Picking the Preseason National Player of the Year this season was not an easy thing to do. This year's freshman class will rival the Class of 2013 — Andrew Wiggins, Julius Randle, Aaron Gordon, etc. — in terms of overall talent, and there are a number of newcomers entering into a situation in which they should be able to shine. Hell, there are two potential No. 1 picks and a third projected lottery pick on Duke's roster this season, and none of them are named Grayson Allen.
But the reason we picked all for this award is actually pretty simple: He's the best player on the best team in the country. Don't believe me? Think about this: As a sophomore, his first season playing consistent minutes at the collegiate level, Allen averaged 21.6 points, 4.6 boards and 3.5 assists while posting a 61.6 true shooting percentage. That hasn't been done by a high major basketball player since 1993, which is as far back as the CBB Reference database has statistics. As far as I know, it's never happened before by a player at the high major level. For comparison's sake, when Damian Lillard was a senior at Weber State, he was one of the three other players to post those stats.
And Allen did it while playing in a conference that sent six teams to the Sweet 16 and two to the Final Four last season.
You may hate him, but you cannot deny that the kid can flat out play.
RELATED: A Different Shade of Grayson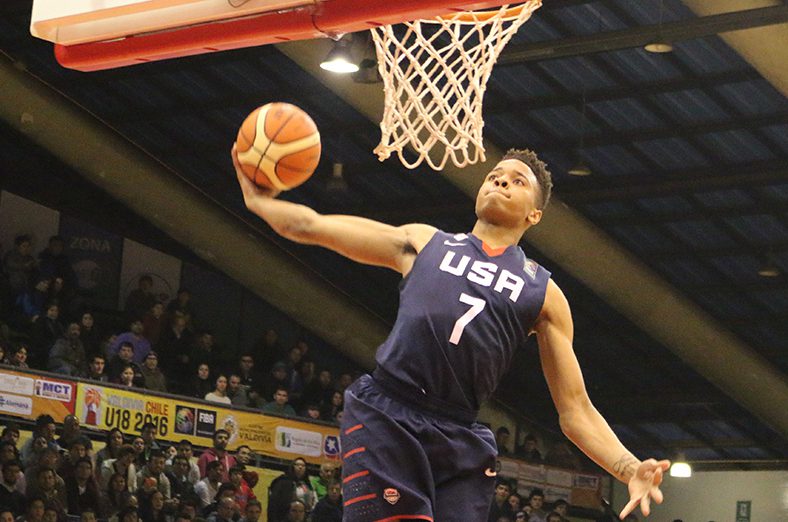 FIRST TEAM ALL-AMERICA
Markelle Fultz, Washington: Fultz was one of just two other guys that we truly considered for Preseason Player of the Year. He's the current favorite to be the No. 1 pick in the NBA Draft and, given Washington's uptempo style of play, he has a chance to post massive numbers. The biggest question mark here is whether or not the Huskies are going to be good enough to dance; to win the award on a team that's not a national title contender is hard to do. It's only happened three times in the last two decades, and all three of those winners — Doug McDermott, Jimmer Fredette and Kevin Durant — averaged more than 26 points. McDermott and Fredette were on teams that earned No. 3 seeds in the NCAA tournament.
Josh Hart, Villanova: Hart was the third player to get serious consideration for National Player of the Year. He's the guy that is most likely to have a Buddy Hield-esque, breakout senior season. As a junior with the Wildcats, Hart averaged a team-high 15.5 points and 6.8 boards, playing an integral role in Villanova's small-ball attack. His ability to attack the glass and playing bigger than his 6-foot-5 frame will be even more important for Jay Wright's club this season as they deal with a lack of size on the interior, but the key for Hart's long-term future will be his three-point shooting. He made 35.7 percent of his threes last season and 46.4 percent the season before, but that was on relatively limited attempts and his flat shot and awkward release makes it tough to project him as a floor-spacer at the next level. Did he put in the work this offseason to make a jump the way Hield did last season?
Josh Jackson, Kansas: Jackson was ranked the No. 1 prospect in the Class of 2016 by a number of outlets, and there are still people that believe he'll eventually be the best NBA player out of this group. A freak athlete like Andrew Wiggins, Jackson is a bit more polished and a whole lot tougher than Wiggins was a freshman. It's not crazy to think that he can match Wiggins' output (17.7 points, 5.9 boards, nation's top perimeter defender), and considering Kansas is a preseason top five team, that puts him firmly in the All-America discussion. But here's what will limit him: If Carlton Bragg makes the improvement many expect him to, Jackson's offense may be cut into, and considering there are a pair of alpha-dogs that will be the guys called on to make big shots in key moments, it's hard to see him having any "Wooden Moments".
Ivan Rabb, California: We went with Rabb as the nation's best big man this season. Like Fultz, Rabb could end up playing on a team that doesn't reach the NCAA tournament. That's concerning, but there's a real chance that Rabb could end up averaging 18 points and 10 boards this season. Last season as a freshman, he averaged 12.6 points and 8.5 boards playing as a tertiary option on the offensive end. He would have been a lottery pick had he opted to declare for June's NBA Draft.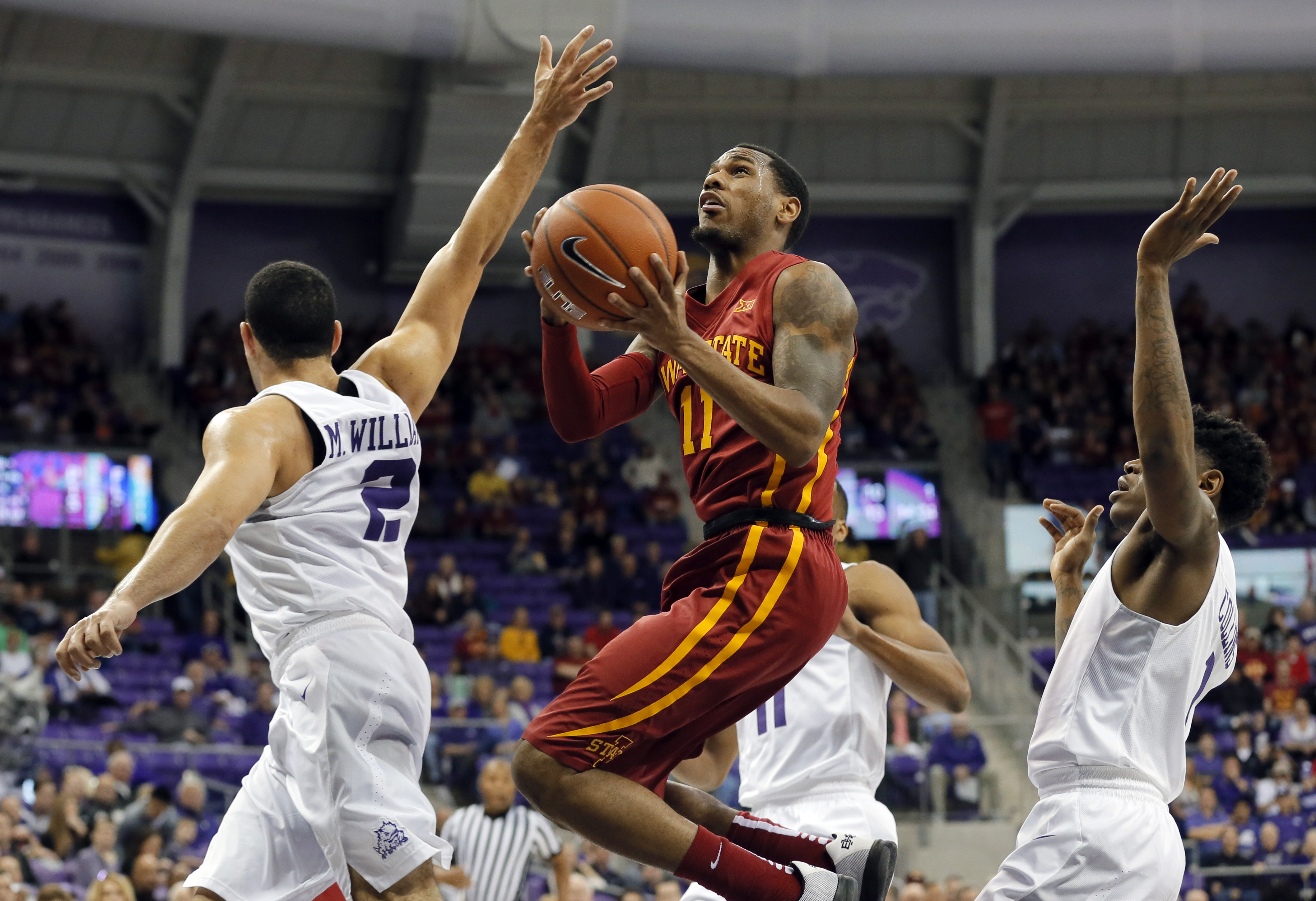 SECOND TEAM ALL-AMERICA
Monte' Morris, Iowa State: Morris is in an interesting situation this season. For the past three years, he's defined himself as the model of point guard efficiency, a facilitator who makes big shots when he has to but who excelled as running a team and creating for the guys around him. This year? That talent around him is depleted, meaning Morris will be asked to become more of a volume scorer. We expect him to embrace that role and excel in it.
Dennis Smith Jr., N.C. State: Smith tore his ACL last August, forcing him to miss his senior season of high school. But the injury meant that he was able to graduate high school early, enroll in college in January and spend the majority of his rehab time doing so with the Wolfpack trainers. The result? He's returned from the injury as good as new, which is important considering the fact that so much of what makes Smith dangerous is his explosiveness. A potential top five pick, Smith is talented enough that he could take a perennially under-achieving team to the NCAA tournament.
Nigel Williams-Goss, Gonzaga: You may not recognize this name. A former top 30 recruit, Williams-Goss transferred out of Washington after an all-Pac 12 season as a sophomore. He sat out last year as a transfer and will step in to the starting point guard role this season. Gonzaga lost Kyle Wiltjer and Domas Sabonis, but with the talent they have returning — and becoming eligible this season — the Zags have the look of a top ten team, and we expect Williams-Goss to be their engine.
Austin Nichols, Virginia: Nichols is going to be the star for this year's Virginia team, which is once again a contender for the ACC title. As a sophomore at Memphis, the former McDonald's All-American averaged 13.4 points, 6.7 boards and 3.4 blocks. He spent last season redshirting at Virginia and learning the system, which he is a perfect fit for. He's a better big man that Anthony Gill, and Anthony Gill was one of the most underrated players in the country last season.
Thomas Bryant, Indiana: Bryant is another guy that had a chance to be a first round pick last season but opted to return to school. He had a promising first year in Bloomington, but it came with typical freshman mistakes: He was lost early in the year, especially on the defensive end. But Bryant has the tools, he plays extremely hard and he's young for his grade; he was born five months after Josh Jackson.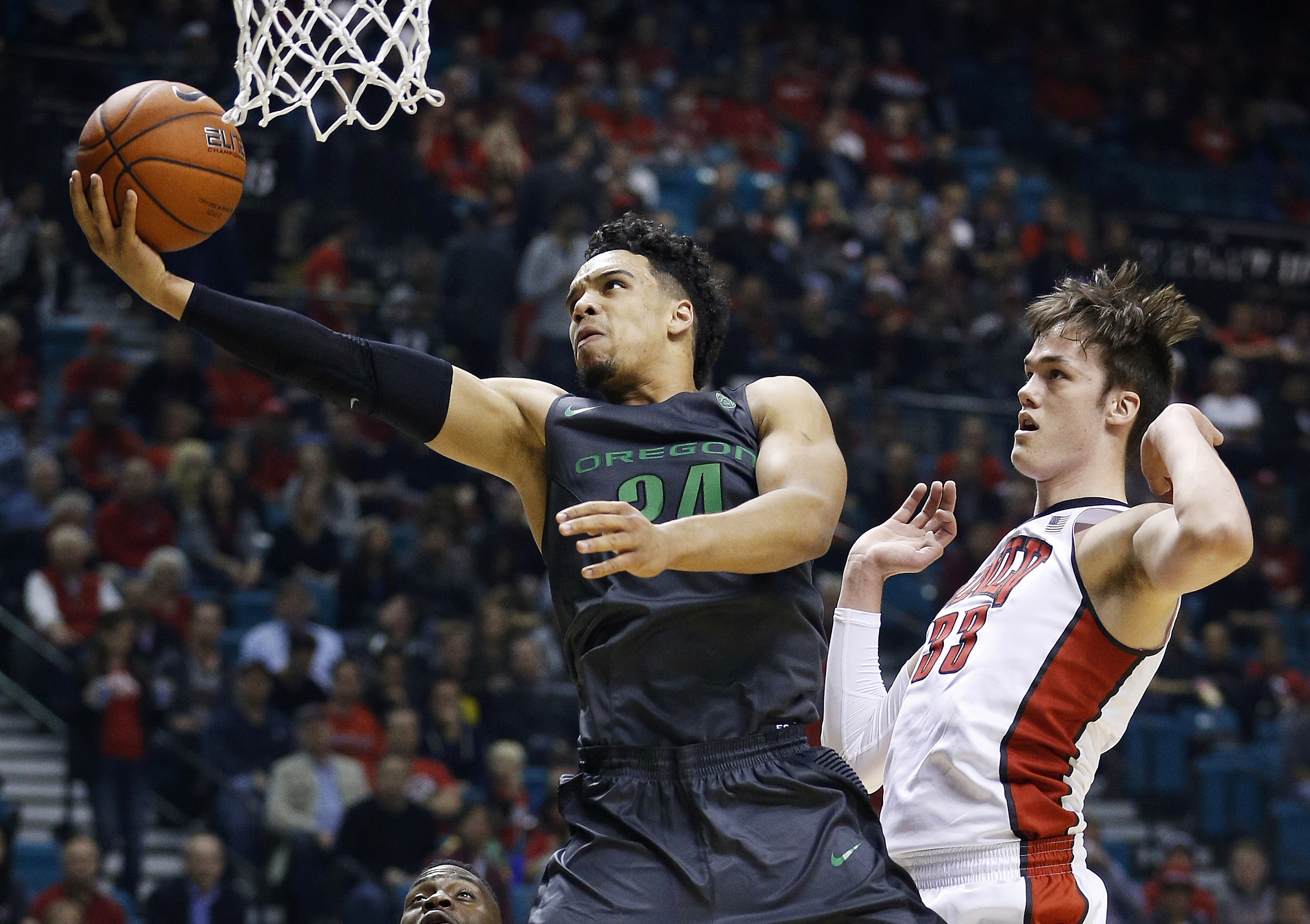 THIRD TEAM ALL-AMERICA
Dillon Brooks, Oregon: Health is the big question with Brooks, and the reason that he's a third-teamer instead of being in contention for the first team. Brooks has a foot injury, one that Oregon has already said could keep him out at the start of the season. If healthy, he's a junior that averaged 16.7 points, 5.4 boards and 3.1 assists last season for a preseason top five team.
Jaron Blossomgame, Clemson: Blossomgame had a chance to leave college and head to the NBA Draft this spring, but he opted to return to school for his senior season. Blossomgame is certainly talented enough to be on this list — he averaged 18.7 points last season — but without the hype of a guy like Smith or Fultz, will he be able to get the Tigers to be a good enough team that people will play attention to him?
Jayson Tatum, Duke: The Blue Devils are the most talented team in the country, and trying to predict where production is going to come from in that offense is tough. Tatum is one of the best pure scorers in college basketball this season, but there's a real possibility he could end up being the third or fourth leading scorer on this team. The good news? Jabari Parker and Brandon Ingram thrived in the role he'll play. The bad news? Harry Giles III may be the best player on Duke come March.
Alec Peters, Valparaiso: Peters is the best player at the mid-major level in the country, a kid that graduated from school in three years and had the chance to leave for literally any other program in the country. He didn't. He opted to stay at Valpo, where he'll be the centerpiece of new head coach Matt Lottich's offense. It's not crazy to think he could average 23 points.
Bam Adebayo, Kentucky: Who is going to be Kentucky's leading scorer this season? It's tough to figure out, right? Our money is on Adebayo, their 6-foot-10 center. He's a freak athletically with more of a face-up game than he gets credit for. Given the lack of perimeter shooting for the Wildcats this season, Adebayo will be asked to carry much of the load.