Before we get into the meat of this post, let's hold the annual tradition of laying out our "mid-major disclaimer", or how we determined who was eligible for this team:
The schools from the Power 5 conferences were excluded, obviously, as well as any program in the Big East, the American, the Atlantic 10 or the Mountain West. The WCC, with the exception of Gonzaga and BYU, were included, as was the Missouri Valley, with the exception of Wichita State. The Zags and the Shockers are top 25 programs nationally paying their head coaches many millions of dollars and recruiting like the big boys. And to me, BYU is still a Mountain West program that was forced to relocate because #football.
This is our plea: Don't argue the semantics of who we rated as high-major vs. mid-major. That's not the point of this. The point is to highlight the best players in the country that you're probably not aware of.
So without further ado …
Top Backcourts | Top Frontcourts | Top 100 Players
POSITION RANKS: Lead Guards | Off Guards | Wings | Big Men
MID-MAJOR ALL-AMERICAN FIRST TEAM
ALEC PETERS, VALPARAISO
Alec Peters could have not appeared on this list. He initially declared for the NBA Draft before withdrawing his name. After Bryce Drew left for Vanderbilt, it would have been understandable if Peters elected to enroll in a high-major school as a graduate transfer. But the 6-foot-9 big man decided to stay at Valparaiso for his final year. In many eyes, he's the best mid-major player in the country this season, ranked the highest by NBC Sports.
A well-rounded forward, Peters averaged 18.4 points, 8.5 rebounds and 1.3 assists per game, shooting better than 44 percent from three (and that percentage was down from his sophomore season). He also led the Crusaders to the NIT championship game.
MIKE DAUM, SOUTH DAKOTA STATE
The Summit League race will be one to monitor throughout the winter. The Jackrabbits will be in the mix because of Mike Daum. The 6-foot-9 sophomore, who is certainly on NBA radars like others on this list, averaged averaged 15.2 points and 6.1 rebounds in his first season in Brookings.
MARCUS EVANS, RICE
The Conference USA Freshman of the Year burst onto the scene last season, averaging 21.4 points and leading the league in steals. Evans will likely be one of the top scorers in the nation, especially if he can improve upon his 30 percent three-point shooting. While he continues to put up the points — and being a pest on the other end of the floor — he could see an increase in assists per game, as he will undoubtedly have the ball in his hands on the majority of the Owls' possessions.
LEAGUE PREVIEWS: Big 12 | ACC | Pac-12 | Big Ten | Mid-Majors
Subscribe to the CBT Podcast on iTunes, Stitcher or Audioboom
KEVIN HERVEY, UT ARLINGTON
Kevin Hervey was a breakout star through 15 games of last season. He was close to averaging double-double, putting up 18.1 points and 9.8 boards. More importantly, the Mavericks were 13-2 and held wins over Memphis and Ohio State while taking Texas to overtime. His season — and subsequently, UT Arlington's Cinderella hopes — were dashed when he tore his ACL during warmups of a showdown game with league champs Little Rock. He's still working his way back to healthy, tbut he 6-foot-8 forward is the face of one of the scariest mid-majors in the country, bringing back all five starters from a 24-win team. Texas and Saint Mary's are on UT Arlington's non-conference schedule, and should be on upset alert.
EMMETT NAAR, SAINT MARY'S
The latest in a long line of Australians to star for the Gaels, Naar, like Matthew Dellavadova, Patty Mills and Mickey McConnell before him, led one of the best offenses in the country, ranked top-20 in offensive efficiency by kenpom.com. The 6-foot-1 junior was first-team all-West Coast Conference as a sophomore, averaging 14.0 points, 6.4 assists, 3.7 rebounds and 1.3 steals per game.
January 14th
February 11th
Mark those dates down in your calendar. Emmett Naar going up against Gonzaga's Nigel Williams-Goss will be appointment viewing.
CONTENDER SERIES: Duke | Oregon | Kentucky | Kansas | Villanova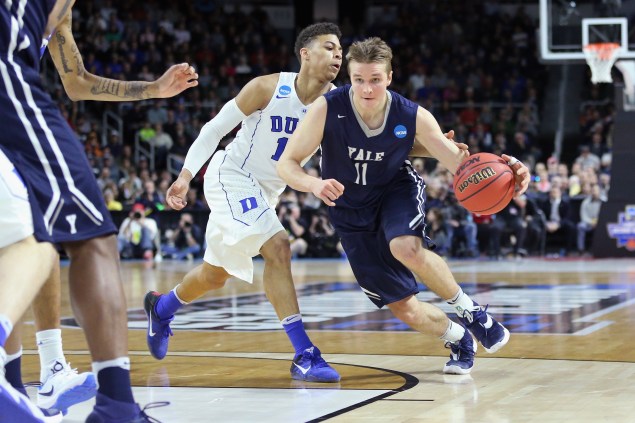 MID-MAJOR ALL-AMERICAN SECOND TEAM
EVAN BRADDS, BELMONT
This time last season, Craig Bradshaw was tabbed as a Mid-Major All-American. However, by season's end, Evan Bradds was the leading scorer for the Bruins. The 6-foot-7 senior is coming off a breakout junior campaign, posting 17.6 points, 9.2 rebounds and 2.2 assists per game. He led the nation in field goal percentage, connecting on 72 percent of his attempts. Somehow, he only shot 71 percent from the free throw line. How many players shoot better from the floor than they do from the charity stripe?
TIM KEMPTON, LEHIGH
Entering his senior season, Tim Kempton is poised to win the Patriot League Player of the Year for the third time. The 6-foot-10 center averaged 17.7 points, 9.5 rebounds and 1.4 assists per game as a junior. With several guards capable of knocking down shots, teams are forced to pick their poison: double Kempton and give up open looks, or let him go to work on the block. He anchors the Patriot League favorite.
MAKAI MASON, YALE
On the biggest stage, Makai Mason had a breakout performance: dropping 31 points win over Baylor in first round of the NCAA Tournament. Mason did average 16.0 points per game last season, but the reason for Yale's success was its rebounding. It was among the best in the country. With Justin Sears and Brandon Sherrod graduating, Mason is going to need to take over on a nightly basis. After spending the offseason working with the German National Team, Mason should be up for the challenge.
DALLAS MOORE, NORTH FLORIDA
The reigning Atlantic Sun Player of the Year was highly efficient on offense during his junior campaign. He averaged 19.8 points, dished 6.0 assists (to 1.9 turnovers) and grabbed 4.0 rebounds per game. The 6-foot-1 guard also shot 52 percent from the field and a tick under 40 percent from three. The Ospreys have won 61 games (back-to-back 20-win seasons) and made an appearance in the NCAA Tournament during Moore's career.
JUSTIN ROBINSON, MONMOUTH
Despite several upset wins, Monmouth received more national attention for the four guys at the end of the bench than the five players on the floor. That's unfortunate because the Hawks, who ended up being snubbed for an at-large bid, were really good. They should be the MAAC favorite again this season, with Justin Robinson leading the way. The diminutive point guard averaged 19.3 points, 3.8 rebounds and 3.7 assists last year.
MID-MAJOR ALL-AMERICAN THIRD TEAM
ANTONIO CAMPBELL, OHIO
The senior forward averaged 17.1 points, 10.2 rebounds and 1.8 blocks per game, shooting 56 percent from the field, en route to MAC Player of the Year honors. The 6-foot-9 forward has improved leaps and bounds from his freshman season (3.8 points in 9.6 minutes per game). His improved ability to step out and shoot (37 percent from three last season) only benefits a Saul Phillips' offense that requires spacing for its screen and rolls.
CHRIS FLEMMINGS, UNC WILMINGTON
Chris Flemmings began his career in Division II. He ended last season as first-team all-CAA guard. Read more on his rise here. He averaged 16.2 points per game, 5.8 rebounds and 1.4 steals in 31.9 minutes per game. The last time we saw Flemmings he was putting a scare into Duke, dropping 18 points on the Blue Devils in a near upset in the first round of the NCAA Tournament.
WILLIAM LEE, UAB
UAB returns four starters from a 26-win team last season. One of those players poised to make a jump should William Lee. The 6-foot-9 junior was named Conference-USA Defensive Player of the Year and earned third-team all-league honors. He was seventh in the nation in blocked shots, posting 10.6 points, 6.2 rebounds and 2.9 blocks in 24.8 minutes per game.
JEREMY MORGAN, NORTHERN IOWA
Northern Iowa, like Saint Mary's, isn't far off from joining the other teams in the "mid-major disclaimer" mentioned above. Northern Iowa is a solid program and should be in store for another successful season despite the loss of Paul Jesperson, Matt Bohannon and Wes Washpun. That's because Jeremy Morgan, who averaged 11.3 points and 5.3 rebounds while shooting 48.5 percent from the floor and 40.7 percent from 3-point range, should take a leap as a senior. While it's certainly an ending Panther fans would like to forget, Morgan showed a glimpse of what he's capable of in the second round of the NCAA Tournament by scoring 36 points — of 10-of-20 shooting — with 12 boards in a double-overtime loss to Texas A&M.
OMAR PREWITT, WILLIAM & MARY
The 6-foot-7 senior is coming off a junior year where he averaged 17.8 points, 5.2 rebounds and 2.5 assists per game for the Tribe. He's truly hard to matchup with. He's got great size for a guard at that level, which allows him to get to the bucket — and the free throw line — with regularity. Defenses can back off him either considering that he connected on 36 percent of his threes last season.  Chris Flemmings is the preseason Player of the Year in the CAA, but Omar Prewitt will compete with him for those postseason honors, as William & Mary and UNC Wilmington fight for the top spot in the league.