On Tuesday morning, we released the NBCSports.com Preseason All-American Team.
We named Duke's Grayson Allen the Preseason Player of the Year. Allen spoke exclusively to NBCSports.com about how things have changed for him in the last 18 months, going to unlikely hero to Duke star to a despised figure in college basketball.
The worst part wasn't that he had gone from being celebrated as the surprising hero of a team that had won a national title to the Most Hated Man In College Sports.
The worst part wasn't that he followed a path, carved by Christian Laettner and taken by J.J. Redick before him, that he never wanted to be on. It wasn't that he couldn't go anywhere online or watch any sports on TV without seeing, reading or hearing someone ridiculing him, or that he had heard the four most soul-crushing words any child can hear their parents say: "We're disappointed in you."
The worst part?
For Grayson Allen, in the midst of a year where he was playing the best basketball he had ever played and dealing with more public and personal turmoil than he had ever before dealt with, the worst part was that he knew that he had done this to himself.
MORE: 2016-17 Season Preview Coverage | Conference Previews | Preview Schedule
---
It only took two weeks for Grayson Allen to fulfill the legacy he never wanted.
It started on a Big Monday, the day after Peyton Manning had won his second Super Bowl, when the Blue Devils hosted a top ten Louisville team that was just three days removed from announcing that they would be self-imposing a postseason ban due to a burgeoning escort scandal. All eyes were now on basketball, and all college basketball fans were tuned into to this game.
And Allen, who was well on his way to a second-team NBCSports.com All-American season, delivered with a moment that immediately went viral. After getting knocked to the floor on a drive to the rim early in the second half, Allen tripped Louisville's Ray Spalding to stop a breakaway, a move that looked intentional but was awkward enough to earn Allen the benefit of the doubt.
That benefit went away two weeks later when, in the waning seconds of a 15-point win over Florida State, Allen extended his left foot backwards, sending Xavier Rathan-Mayes sprawling to the Cameron Indoor Stadium floor. This time, there was no denying it.
It was blatant.
It was intentional.
And it set off a firestorm.
The video was posted on every website. His picture was broadcast on every sports network. 'Should Grayson Allen be suspended?' and 'Is Grayson Allen a dirty player?' was a topic discussed by every personality paid to have an opinion.
RELATED: 50 Shades Of Grayson: Allen tries to avoid just One Shining Moment
Imagine that, for a second.
Imagine if your worst moment was broadcast live to millions of people, if the dumbest thing you ever did — the event that plays over and over in your head as insomnia takes hold — was replayed over and over on Sportscenter. Imagine if those same videos, accompanied by a story written by someone you've never heard of that details how annoying you are or how punchable your face is, can forever be found by simply typing your name into Google.
That's where Allen was when the calendar turned from February to March.
"I knew that I made mistakes," Allen said. "I messed up. I always had to be reminded of that and see that on TV. It was tough. It's embarrassing to see my mistakes, stuff I regret a lot, being replayed for everyone to see."
Four months earlier, Allen was the player everyone had pegged as the nation's breakout star. He wasn't even a year removed from igniting Duke's 2015 National Championship run, going from being a seldom-used, confidence-sapped freshman to the spark in a come-from-behind win over Wisconsin in the NCAA tournament title game. He had all the makings of being the Next Great Duke Villain — he's white, he's handsome, he plays with an edge and he's damned good, good enough to be named the 2016-17 NBCSports.com Preseason National Player of the Year — but simply being the footnote to the story of Coach K finally embracing, and succeeding, with the one-and-done model was not enough to make him memorable.
Not in the same way that Laettner and Redick are memorable.
It works like this: there is no middle ground with Duke. They're like the New York Yankees or the Dallas Cowboys in that fans either love them or actively root for them to lose, regardless of opponent. Playing at Duke comes with the caveat that you will be disliked because of the jersey you wear for you entire college career. It works that way for everyone, whether they're white or black, good or bad, tall or short, whatever.
But when you reach the level of a Laettner and a Redick, it changes the equation. That's when the target gets put on your back, and Allen got there last season. He averaged 21.6 points, 4.6 boards and 3.5 boards — which, when combined with his 61.6 true shooting percentage, gave him a stat-line that had never been accomplished at the high-major level before.
Throw in a pair of tripping incidents in the span of two weeks, and Allen didn't stand a chance. The hate he had to deal with last season was arguably more intense than anything any previous Duke player has dealt with. All Laettner had to do was to shut off the TV. Twitter didn't exist and FaceBook didn't allow anyone that wasn't a college student until after Redick graduated. Allen can't post on Instagram or Twitter without getting a barrage of responses telling him just how terrible of a person he is.
"There's nothing you can do to fully get away from it," he said.
Allen spoke with both Laettner and Redick about how to deal with the backlash, and their message was simple: Tune it out.
"Listen to the voice of our team and our coaches and not worry about stuff from the outside that's being said," Allen said. "[Coach K] has been through so many seasons and had so many players come through. He knows how to deal with it."
But they also told him that there is no blueprint for this, that different people have to find different ways to cope. He's not Laettner and he's not Redick. Laettner loved playing the role of the heel. Redick learned to embrace it, to use the vile things spewed from student sections as motivation, but it was also a defense mechanism.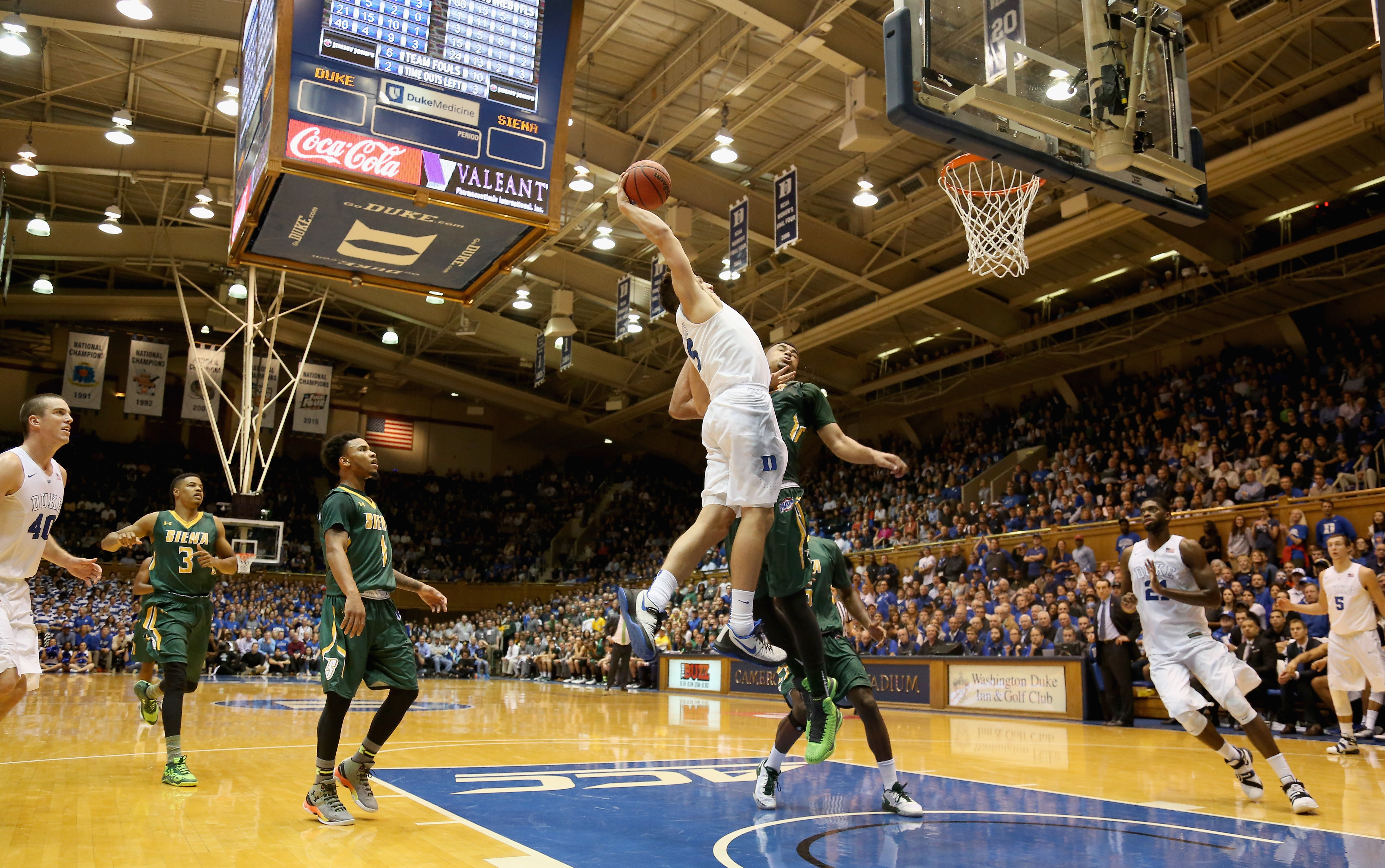 "Instead of getting hurt by it, if this is who they want me to be, then I'm going to have fun being that villain," former Duke assistant Chris Collins explained. At the time, Collins and Redick were, and still remain, incredibly close. "I think it helped him deal with all the things that were coming his way."
That's not Grayson.
He doesn't like the attention. He doesn't want the spotlight. "He never has," his mom, Sherry, said, which is what made his decision this spring so interesting.
Allen had a chance to declare for the NBA Draft. He likely would have been a first round pick — potentially top 20 — and, in a worst-case scenario, he would have been taken early in the second round and landed a guaranteed contract. Living out a life-long dream while cashing NBA paychecks or going to class five times a week while spending another full season getting abused every time he leaves Duke's Durham campus? Play a role on an NBA team or see a new crop of freshmen come in and cut into your shots and minutes?
It seems like an obvious decision, and for Grayson, it was.
Just not the way many expected.
"Getting that Duke degree, having the opportunity to play as a lead guard, having the opportunity to play with an extremely talented group," Allen said, listing the reasons why staying in school was the easy choice. "Step outside my comfort zone more, talk more, be a leader more. I definitely think about winning another national championship."
"It was really hard for me to pass up."
MORE: 2016-17 Season Preview Coverage | Conference Previews | Preview Schedule
---
Sherry Allen is from the heart of SEC country. She understands how the life of a college athlete can be under a microscope, that a superstar for a powerhouse program living in the fishbowl of a college campus can have a mistake magnified out of proportion.
But she's a football fan.
She didn't realize that, in sending her son to Duke, she was potentially setting him up for this. It never crossed her mind, largely due to the fact that she never thought her son would put himself in this situation.
"The word 'mad'? We weren't 'mad' at Grayson, we were disappointed in Grayson," Sherry said, realizing full-well that, for someone Grayson's age, disappointing one's parents is far worse than angering them. "We were disappointed because he wasn't smart. And Grayson is smart. He let down for a brief moment, and he was not smart and he made a mistake. That was the disappointment for us."
And that disappointment led to anguish as the newscycle spiraled.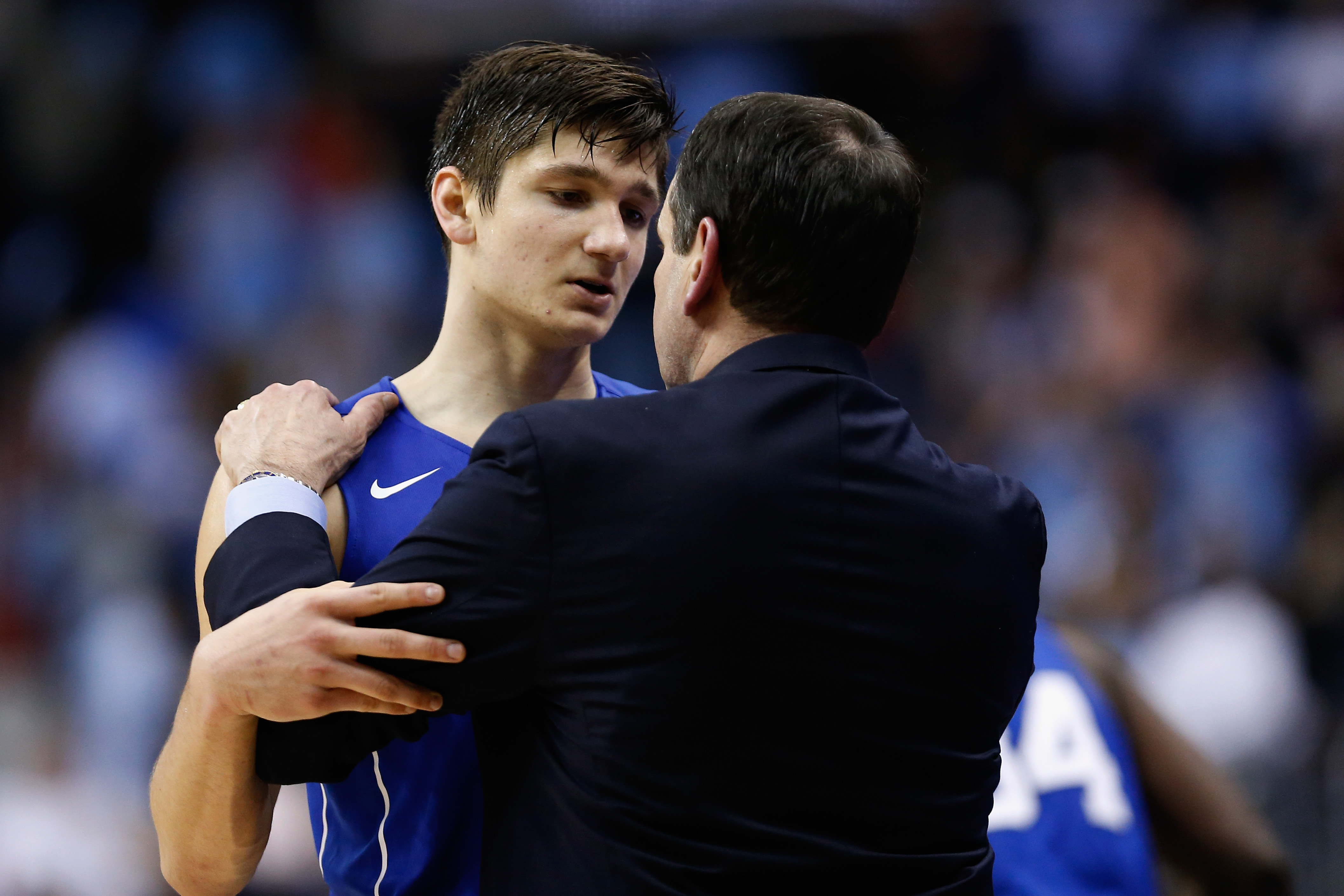 "To tell you that I wasn't hurt, I was," she said. "I think the biggest hurt that I had personally was the name calling. To hear adults, who are parents and have children and are professionals, call names out to your child knowing that they are a parents their self, that was the biggest hurt to me."
She tried not to let her son see it, because he was able to move on from this. He could put the trips and the hatred that it spawned behind him. He could block out the noise. He could focus on the message from within the team. She knew he could do all of that, and she was right. He played some of his best basketball down the stretch, leading Duke to the Sweet 16 despite playing without their starting power forward and with a six-man rotation.
But he wouldn't have been able to do that if he knew that what he did had hurt the women he calls "such a big sweet-heart."
"What Grayson would not be able to handle is if he knew that we were hurt, showing hurt and feeling hurt," she said. "He would not have been able to move on from that."
That's what led to the phone calls.
As Grayson tells it, whenever his mom saw or heard or read something about him, she would call him to take her mind off of it. As Sherry tells it, she was simply calling to make sure that he was OK, that what she was seeing — whether it be a segment on First Take or a FaceBook post from a family friend — wasn't bothering him. The truth doesn't matter, because the end result of those conversations was that Sherry and her husband were able to get their message across to him: Move on. It happened, and unless you can go back and change the past, learn from it, grow from it, and let it go.
That's the message that Allen was hearing from his coaches, too. It's what he was hearing from his teammates. It's what he's spent the last eight months doing.
The question now is where he goes from here, because the tricky part is that playing with an edge is what makes Allen as good as he is. There's a toughness to him, a competitiveness that cannot be taught. Ask anyone associated with the Duke program the last two years — players or coaches that were forced to scrimmage with the undermanned Blue Devils in practice last season — and they'll all tell you playing against Grayson Allen is a miserable experience.
He's never not going to play hard. He's never not going to be super-competitive. He's been that way since he first learned what sports were. But last year, he was competitive to a fault. Last year, he let the intensity of the moment get to him. He tripped Spalding after he didn't get a call on a drive to the rim that left him on the deck. He tripped Rathan-Mayes after the Seminole point guard bumped him.
In those situations, he was the one that reacted.
But what happens if it's not Allen's fault?
The perfect encapsulation of just how bad it got for Allen last season came at the very end of their season. Oregon's Dillon Brooks had just buried a long three to beat the shot clock with a few seconds left and the game no longer in doubt. After Allen dribbled out the clock, Brooks bumped into him and the announcer said that Allen "shoved" Brooks away.
That's not the case. It was relatively harmless — as Allen tells it, Brooks apologized for running into him, complimented him for being a good player, Allen responded with a "you too, good luck", and that was that — but since it was Duke and Grayson Allen, and since Coach K was caught on camera lecturing Brooks about the shot in the handshake line, it turned into a massive story.
The point isn't to argue the merits of Coach K deriding opposing players. The point is that any little flashpoint involving Allen is going to become 'a thing' very quickly, and it's fair to wonder if a fear of another incident — either consciously or subconsciously — will affect the way he plays this season.
There's nothing he can say that will change this, either. This isn't something that he'll be able to fix during what is, in all likelihood, his final year on campus. He can't un-light that fuse. That's what happens when you're caught on camera taking a pair of cheap-shots. Ask Draymond Green how the court of public opinion reacts.
But regardless of your opinion on Allen, it is important to remember here that he returned to school despite the fact that he'll have to face the music every night. He returned to school because he wants to get his Duke degree, which he's hoping to finish in three years. He passed up on guaranteed NBA money to chase a second NCAA title.
Education matters to him.
Winning matters to him.
The program he plays for matters to him.
He is everything we want our college stars to be.
And he knows that two moments of weakness ensured that he'll never be remembered that way.