HAWTHORNE, Calif. — The call came when the coach was at his lake house.
His wife was the one that saw whose name popped up on the screen.
This was the moment of truth for Matt Lottich.
He had never pushed, never tried to overplay his hand to sell a soon-to-be graduate student on why returning to Valparaiso was the right move. Lottich, who had just become a head coach at any level for the first time in his life, knew what he could potentially have in Alec Peters. He knew what it would mean for his program — hell, for his career — to bring back an honorable mention All-American, a potential NBA Draft pick who will likely be the best mid-major player on any of the 275-or-so mid-major teams in the country.
But he also knew the opportunity that lay in front of Peters. The 6-foot-9 forward had finished his degree in three years, meaning that he had carte blanche from the NCAA to transfer anywhere in the country without having to sit out a season.
And that was if he opted to pull his name out of the NBA Draft.
Peters could chase his dreams at the professional level. He could increase the amount of exposure he garnered as a senior by transferring to one of the powerhouse programs — "the blue bloods of college basketball," as Peters put it — that had reached out to his high school and AAU coaches this spring. With the head coach that recruited him to Valpo, Bryce Drew, headed to Vanderbilt, the timing just made too much sense.
Lottich knew that.
And he knew that his relationship with Peters was too strong to be soured over the player taking advantage of the time and opportunity the revamped NBA Draft early entry rules gave him to weigh his options.
"I wanted to be available for him. I knew his goals. I wanted him to know that we would do everything in our power to help him reach those goals [at Valpo]," Lottich, who joined the staff as one of Drew's three assistant coaches the same season that Peters entered as a freshman, told NBCSports.com. "But, ultimately, we cared about him. If he felt that he could reach those goals at other places, then we wanted to help him with that."
What that led to was two months of stress. Who is he working out with? Who is making back-channel calls to his former coaches? Are opposing staffs tampering? Will he get an invite to the NBA Draft combine? Would he settle for guaranteed money to simply get an invite to a camp? Is the D-League or overseas really an option?
Fast forward to late-May. Lottich, who was officially hired on April 7th, the same day that Peters declared for the draft without hiring an agent, had watched the face of Crusaders basketball for the last three years workout with Utah. And Houston. And Boston. He watched him get passed over by the people sending out combine invites and still get another workout in Denver. He watched him pull his name out of the draft and bunker down with his family and girlfriend.
And he watched Peters' name pop up on his phone.
"I'm coming back to Valpo."
The wave of relief meant Lottich's celebration was muted: a silent fist-bump for his wife.
——
In theory, up-transferring — leaving a program in the low- or mid-major ranks for a school that plays in one of the major conferences — is great. More exposure to professional scouts. More chances to play on TV. Larger home crowds and wilder road environments.
That all looks good on paper.
In reality, it's not the picture-perfect transition that it seems.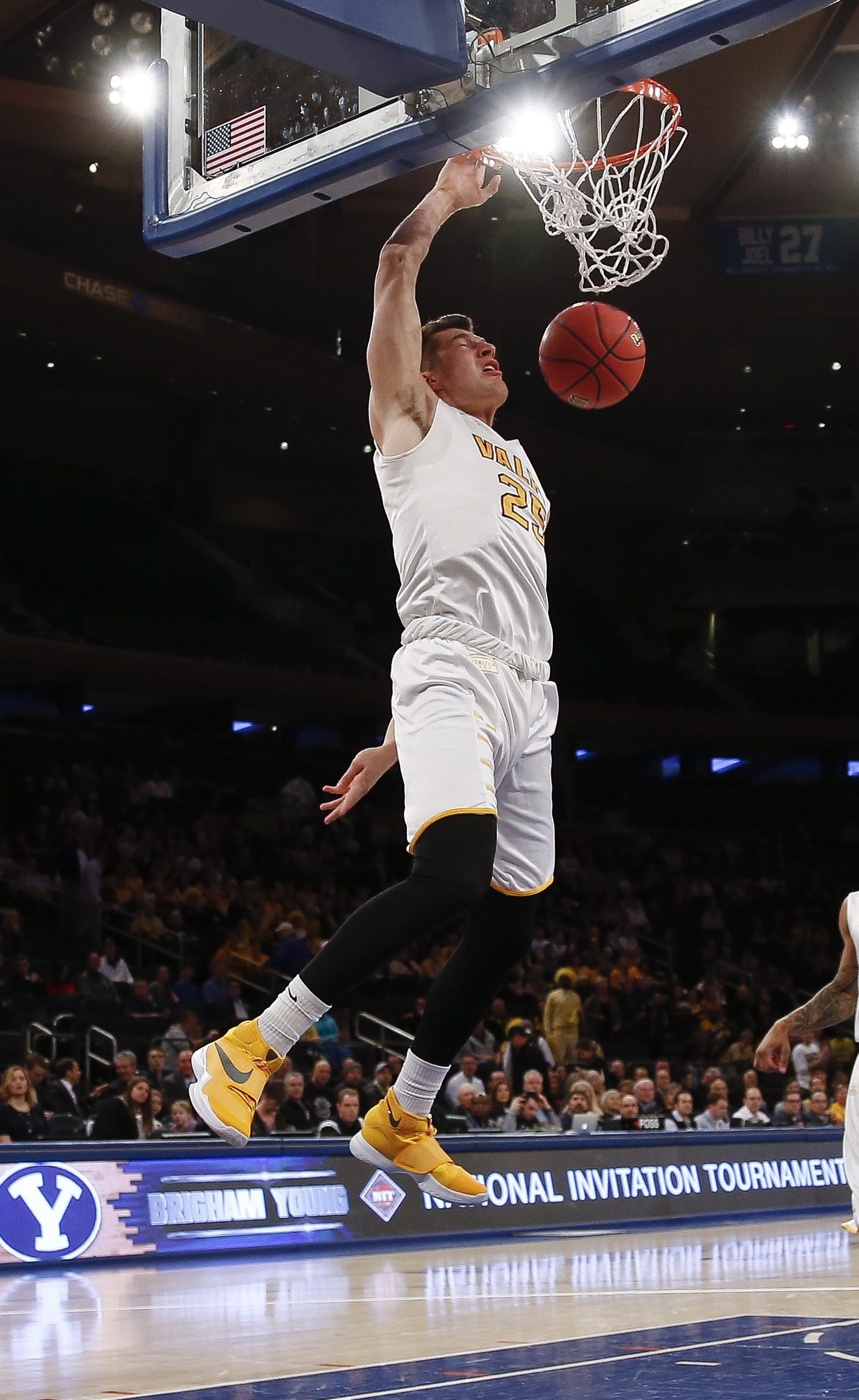 While the up-transfers may have visions of playing a starring role in front of 10,000 screaming fans, the truth is that high-major college coaches aren't raiding the lower levels of college basketball looking for a player to build their team around. They're looking for a piece, a kid that has a proven ability to play a role that's left void on their current roster.
Every up-transfer thinks they're going to end up being a Joseph Young or Jordan Clarkson, the next DeAndre Kane or Damion Lee. Those guys are the exception. The truth is that the overwhelming majority of these former mid-major stars end up being forgettable pieces at the highest level of college hoops. That doesn't necessarily mean that they weren't good enough to be the leading scorer on a tournament team, but it does mean they weren't used that way by their new coaching staff. They've invested time and money in recruiting, developing and ingraining their system in the kids already on the roster. They're not throwing that away to give 15 shots a night in the Big Ten to someone because they averaged 15 points in the Big South.
That's what made Peters' situation so unique.
He could have followed Drew to Vanderbilt. He could have played in the SEC for a coach that knew the ins and outs of what he was capable of, a coach whose system Peters was already fluent in. He could have been the star of a team that isn't as far away from being tournament-worthy as their record — and departures from — last season would seem to indicate.
We've never seen that situation play out. The closest we've ever come to it was Doug McDermott and Creighton. McDermott was a two-time All-American as a junior playing in the Missouri Valley. A likely second round pick, he opted to return to school for his final season of eligibility, helping to usher the Bluejays into the new-look Big East. Playing in the same system for the same coach with the same teammates in a new league, McDermott had one of the greatest seasons we've ever seen from a collegian, becoming the consensus National Player of the Year and a lottery pick.
The irony there?
Two NBA scouts told NBCSports.com that McDermott is the guy that Peters, who averaged 18.5 points, 8.4 boards and shot better than 44 percent from three, should model his game after if he's going to make it as an NBA player. It's feedback that Peters said he heard from the front office personnel himself.
For those on the outside, it just made too much sense.
But what those on the outside didn't realize is that Peters is too loyal to abandon his team to benefit himself. He didn't do it back in his AAU days, when some of the biggest programs in the midwest — the St. Louis Eagles, the Mac Irvin Fire — tried to poach him from the Illinois Irish. He didn't do it when there was a chance for him to leave Washington HS (Ill.) for IMG Academy. He sure as hell wasn't about to leave Valpo now.
"There was a moment of consideration. It would have been stupid of me not to consider it after everything that had happened with the coaching change," Peters told NBCSports.com in an interview last week. "With all that went on in [those two months] it felt like a year that went by."
"After I pulled my name out I took a few days and kind of relaxed and said, 'OK, before everything gets crazy, let's take a few days.' Me and my dad sat down and we listed everything, pro and con. Before I came out of high school we did the same thing. All the data on everything. All the stats on what it's like to be a guy that transfers up to a bigger school. I just tried to be as best informed as possible before I made my decision."
Ultimately, the decision was relatively easy.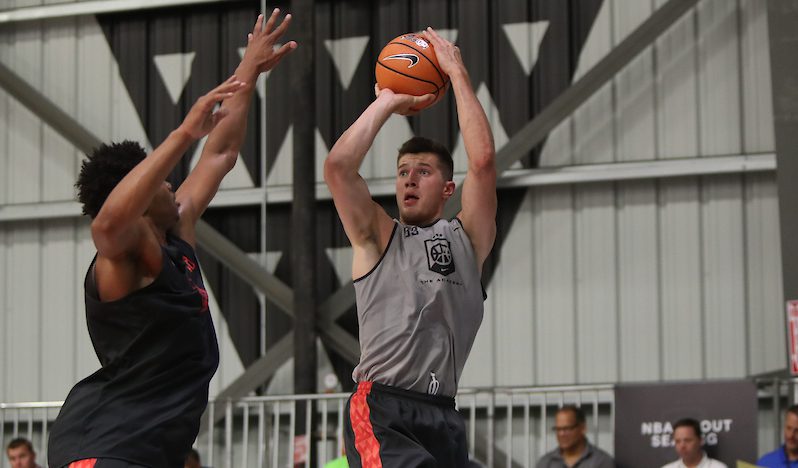 "The ultimate determination for him was that he couldn't bring his teammates with him," Lottich said. "He's close with his teammates. He's the leader of this team. He's been the face of Valpo basketball for the last two, maybe even three years. He's the most famous player at Valpo since Bryce Drew. He has the opportunity to leave here as the all-time leading scorer and rebounder. I know he wants to win an NCAA tournament game at Valpo, and we have a team that he has an opportunity to do that."
And in the end, that mattered more to Peters than a chance to play in the ACC or the Big Ten. That mattered more than following his former head coach to Nashville.
Part of the reason was that, during his visits with NBA front offices, he was told that man-handling Horizon League competition said just as much about his ability as playing well for a bigger program.
"I was able to ask them straight up, as honest as they can be with me: 'Do you see me [in the NBA], and if this isn't my year what do I gotta do for next year to make it mine and be a first round pick and make a roster?'," Peters said.
Their answers?
"Be a guy at a mid-major school next year that's dominating at my level. Show that I can put up 20 and 10 and dominate a game against a bigger opponents when we play them. Lead my team farther into the NCAA tournament this year."
In other words, they told him that staying at Valpo not only wouldn't hurt his chances of getting to the NBA, but having a monster season might actually help more than being a solid piece for a good team at a higher level.
Peters told NBCSports.com all this while at the Nike Skills Academy, a three-day bootcamp in Los Angeles that afforded Peters the chance to workout with the best trainers, some of the best college players and all of Nike's best non-Team USA affiliated talents. He went head-to-head with the likes of Aaron Gordon, Stanley Johnson and Julius Randle, players that play the same position he'll end up playing in the professional ranks. He more than held his own, and at times he was one of the best players on the floor.
And he did all of that in front of NBA scouts and front office executives from almost every team.
Peters' physical limitations are never going away. He'll always be a below-average athlete by NBA standards. There will always be questions about his ability to defend or about what position he will play. But in a league that value the ability to shoot the ball more than ever, a guy that spent those three days raining pick-and-pop threes and spacing the floor is going to generate interest.
Regardless of what conference he plays in.
"Ultimately," Peters said, "I don't think there's any better place for me to be."