NORTH AUGUSTA, S.C. — Peach Jam is always the best AAU event of the summer, and it certainly lived up to the hype. The caliber of play isn't comparable to any other AAU tournament because of the depth on talent on every roster. There are kids coming off the bench that will be all-league players in mid major conferences. Some teams start five guys that are top 100 players in their respective classes.
Between the level of play, the intensity in the gym and the atmosphere that is created at the Riverview Park Activities Center, there is nothing better. The one downside this year is that the U17 USA Basketball team returned from winning a gold medal in Spain and immediately went to play at Peach Jam. Given the jet lag and the timing, thanks to a cancelled flight on July 4th, it was understandable that some of the biggest names at the event — Kevin Knox, Wendell Carter, Jaren Jackson Jr., Troy Brown — didn't play their best. They have been on the road for a month.
That set, there were many truly terrific performances there this week. Here is who stood out the most:
Trae Young, MoKan Elite: Young is not the most highly-regarded prospect on the MoKan roster — Michael Porter Jr. is, more on him in a second — but he was the best player on the floor for them this week as MoKan took home the Peach Jam title. Young averaged 27 points and 7.3 assists in eight games in North Augusta, numbers that are somewhat skewed by the pace at which MoKan plays and the amount of time he has the ball in his hands. His production and his dominance, however, cannot be questioned. Deep range, beautiful stroke, handle, court vision, the ability to finish in the lane, you name it, he can do it.
RELATED: Class of 2017 point guard dominoes ready to fall
The knock on Young, who has emerged as Kentucky's top target in the class, has always been that he's wired as a scorer, which works on this MoKan team and at the high school level in Oklahoma. He's a poor decision-maker at times, forcing threes and turning the ball over too much. As he ascends through basketball's ranks, he's going to have to continue to learn how to be a facilitator. That should come with time, with coaching and with a team surrounding him that is as or more talented than he is.
Michael Porter Jr., MoKan Elite: Porter is the best prospect on that MoKan roster and may be the best prospect in the Class of 2017. He's a rangy, 6-foot-9 wing with elite level athleticism, consistent three-point range, the ability to score off the bounce and a knack from grabbing a defensive board and going coast-to-coast. His ability in transition and in space is what made this MoKan team so dangerous when allowed to get up and down the floor. He averaged 26.4 points and 11.4 boards this week, going through stretches were he looked totally unstoppable.
There are some issues with Porter. He needs to add weight and strength, and for a guy whose NBA ceiling centers around his potential as a versatile defender, his lateral quickness and desire to keep in front of a defender is lacking. The biggest knock on Porter is that he's "soft", and that narrative is somewhat overblown. His best performance of the week came Thursday morning against Team Takeover, when he played through a twisted ankle and responded to an opponent's jawing in his ear with 33 points, 13 boards, three assists and three steals. But on Friday night, in a MoKan win over Howard Pulley, Porter totally disappeared as Gary Trent Jr., a top ten prospect in his own right, spent the whole game sticking him with elbows and running his mouth. Porter finished with just 11 points, and his impact on the game felt even smaller.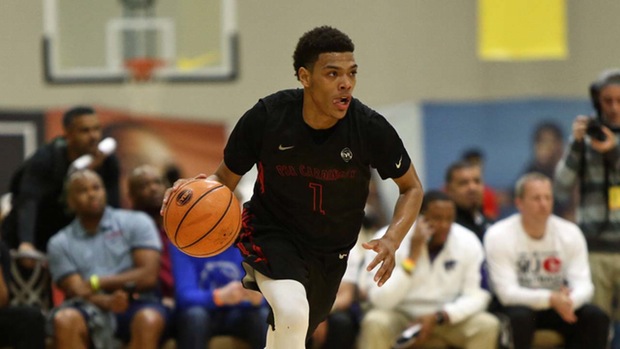 Quade Green, PSA Cardinals: The Cardinals were arguably the most talented team in the Peach Jam field, with 7-foot- center Mohammad Bamba the name that everyone knows. But Green was probably the best player on the floor for this week, averaging 16.7 points and 8.3 assists in front of every college coach in the country. His performance in the semifinals, going for 21 points and six assists while leading PSA back from an 18 point deficit, is something that will stick in the minds of people for a while. Along with Young, Green has emerged as a top 2017 point guard target for the blue bloods.
Deandre Ayton, California Supreme: I don't know that Ayton will end up being the best player in this class in ten years, but I'm not sure there is a player with a higher ceiling than his. The things that he is able to do on the offensive end of the floor are absurd. He's 7-foot with a 7-foot-4.5 wingspan (measured at the 2014 LeBron James Skills Academy). He was hitting step-in threes as the trailer on a fast break when he wasn't sprinting the floor and getting easy buckets off of rim-runs. He can score facing up and he can use his strength to back down even the best defenders at this level. His footwork, agility and body control is unreal for a human his size, and he's a much better passer than I realized.
The red flag with Ayton is his competitiveness and his motor, and that can show through on the defensive end. He doesn't protest the rim as well as you would hope given his size. But I don't think you can question his competitiveness after seeing him totally outplay Marvin Bagley III, Mitchell Robinson and Wendell Carter in head-to-head matchups. The most impressive performance came against the 7-foot Robinson, a top 15 prospect and an elite defender at this level. Robinson got the best of him in the first half, but Ayton responded with an impressive, dominating second half performance to carry Cal Supreme to a 17-point win as he spent the final 16 minutes letting Robinson know all about the whooping he just took.
Brandon Randolph, PSA Cardinals: There is a ton of talent on the Cardinals roster, but Randolph was as impressive as anyone. A top 50 prospect, Randolph had a handful of dominant performances in front of some elite programs. He's a dexterous and explosive athlete with a unique ability to finish around the rim and range out to the three-point line. He had one sequence on Thursday where he hit three threes, had two tough, driving layups, a mid-range jumper and a thunderous dunk in transition all in the span of about five minutes.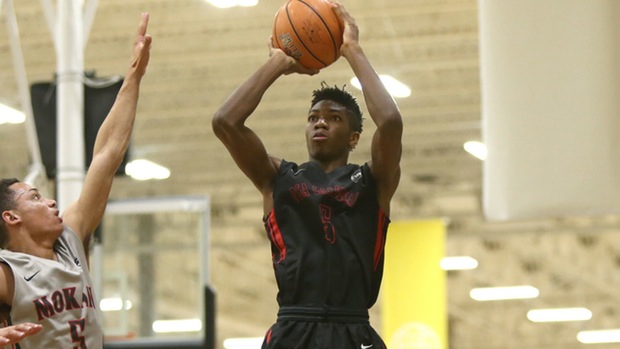 Gary Trent Jr., Howard Pulley: Trent was one of the few members of USA basketball that showed up and played immediately. And while he didn't have his best performances — when you're a shooter and your legs aren't there, it's hard to be at your best — to do what he did while playing in games that tipped after 2 a.m. Spanish time is notable.
Alex O'Connell, Team United: O'Connell didn't actually play in the Peach Jam. He played in the Peach Invitational, which was an event held 10 minutes away that included the Nike teams that didn't qualify for the main event. An athletic, 6-foot-5 wing with deep range, O'Connell lucked out in the sense that, on Friday, when his team squared off against Collin Sexton's Southern Stampede squad, they did so at a time when there were no games being played at Peach Jam.
And O'Connell, who is from Milton, Georgia, went off in front of 18 high major head coaches and members of more than two dozen staffs. That night alone, he added offers from Louisville and N.C. State. Duke was sitting three-deep for Sexton that day, and it's worth noting O'Connell's father played for the Blue Devils.
Jose Alvarado, NY Rens: The name that everyone knew on the Rens entering Peach Jam was Hamidou Diallo, the top ten recruit that had Coach K and Coach Cal sitting court side even when he rested for the final game of pool play. And given the point guard situation this season, the way Alvarado played should help him significantly depending on the way the dominoes fall.