Here's a quick look at 26 college players that NBA Draft fans will want to keep tabs on while eyeing the loaded 2017 draft.
1. Josh Jackson, SF, Kansas: Jackson is exactly what you want to see out of an NBA wing. He's big, he's insanely athletic, he can hit threes and put the ball on the floor, he's incredibly tough and competitive. Think Andrew Wiggins, only with some dog in him. How does he perform when he's used as a small-ball four at Kansas, and just how developed is he offensively? Those are the questions that will determine whether or not he's the No. 1 pick.
2. Harry Giles, PF, Duke: How are his knees? He shredded his left knee before his sophomore season in high school and tore his ACL in his right knee before his senior season. If healthy, he'll be in the conversation to be the No. 1 pick.
3. Markelle Fultz, PG, Washington: In a year where the point guard crop is absolutely loaded, Fultz has emerged as the best of the bunch. He's not just a crazy-athletic, Russell Westbrook or Derrick Rose type. He's a heady, change-of-pace lead guard that stands 6-foot-5 … and just so happens to have elite NBA point guard athleticism, too. There are people that would put Fultz No. 1 on a list like this.
4. Lonzo Ball, PG, UCLA: Ball will be the most intriguing prospect to watch this year. During his high school and AAU career he looked like he could be the next Jason Kidd, if not better. He's got the size, the passing ability, the range. The problem? He's yet to play basketball in a system that A) wasn't tailor-made for his skill-set by his father and B) doesn't feature his two brothers on the floor with him. Just how well will his game translate to the next levels?
5. Jayson Tatum, SF, Duke: At 6-foot-9, Tatum is such a smooth scorer at the small forward spot. But there are two things about his game that are red flags for me: 1. He thrives in the mid-range, and if the analytics revolution has taught us anything, it's that the mid-range is the most inefficient place to try and earn a living in the NBA. 2. He's really ball-dominant. He needs to have the ball in his hands to be effective. If he can work on those issues, he could have a lot of value in a league where versatility and big wings have value.
6. Thomas Bryant, C, Indiana: Bryant had a good freshman season with Indiana, one where he consistently improved throughout the year. But that was inevitable considering just how bad he was when he got onto campus, especially defensively. He's 6-foot-11 with a 7-foot-6 wingspan and he plays the game hard and emotionally. Seeing just how much the rest of his game develops — defending pick and rolls, low post offensive, shooting stroke — will determine if he's a first rounder or a lottery pick.
7. O.G. Anunoby, SF, Indiana: He has elite physical tools. He already is a terrific defensive player; ask Jamal Murray. He's been compared to Victor Oladipo, although he's about four inches taller than Victor. If he can make the same kind of jump offensively that Oladipo made, the rising sophomore could be a lottery pick.
8. Grayson Allen, Duke: A conversation that I had with an NBA scout during the ACC tournament has always stuck out to me: What makes Buddy Hield and Jamal Murray markedly better pro prospects over Allen? He's the same size, he just as — if not more — athletic, he shot 41.6 percent from three, he's a more versatile offensive threat. He's predictable offensively, yes, and that performance he had against Kentucky in the Champions Classic is going to stick in the mind of a lot of people. But there's a lot to like with this kid. Can it shine through on a roster loaded with lottery picks?
9. Dennis Smith Jr., PG N.C. State: Smith was considered by many to be the best point guard in the 2016 class before he tore his ACL his senior season. He was good enough that Cat Barber went pro to avoid risking playing behind him. So how healthy is he?
10. Jonathan Isaac, Florida State: He's a 6-foot-11 wing that has guard skills. He's also about as strong as a pipe cleaner. How assertive will he be at Florida State? How strong will he get? Can he defend? Isaac has a ton of upside but is a long way from reaching that upside.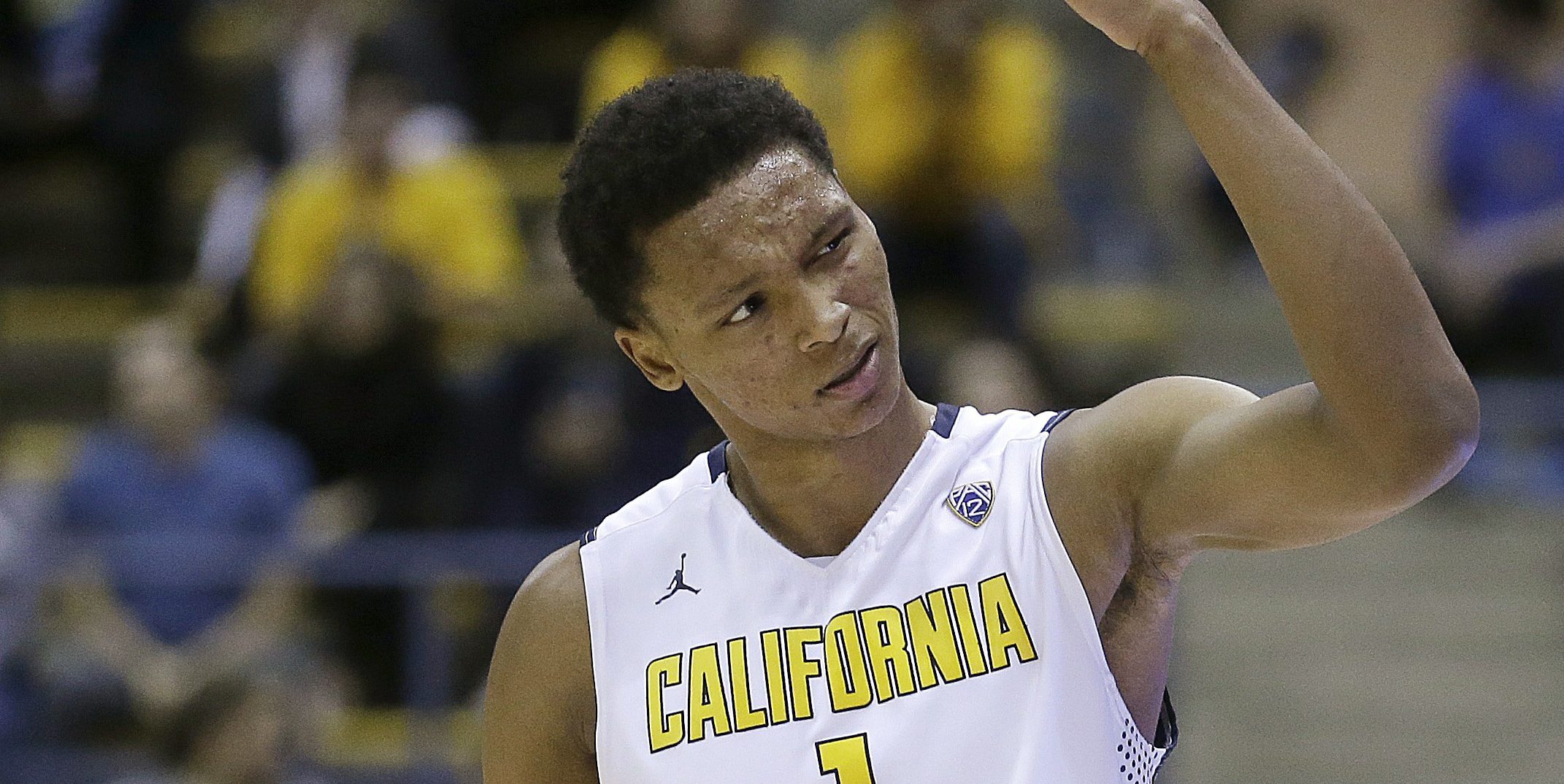 Here are 16 more names to keep an eye on
11. Ivan Rabb, PF, Cal: Rabb had a chance to be a mid-to-late first round pick had he gone pro this season. Given the talent in the 2016 recruiting class, Rabb could end up improving significantly and still just be a late lottery pick.
12. De'Aaron Fox, PG, Kentucky: Dynamic playmaker. Elite defender. But can he shoot it well enough?
13. Svi Mykhailiuk, SF, Kansas: Mykhailiuk has been in college for two years and is still four months younger than Jackson. A prized prospect when he enrolled, is this the Ukranian's breakout season?
14. Tyler Lydon, PF, Syracuse: He blocks shots and he hits threes. That's enough to get you considered for the first round. But will he add the strength and mobility needed to avoid being the next Jarrod Uthoff?
15. Miles Bridges, SF, Michigan State: Bridges is a super-athletic wing playing for Tom Izzo. He's going to shine in college.
16. Bam Adebayo, PF, Kentucky: He's big, he's powerful, he's athletic. But he's also a bit undersized. He's not Cliff Alexander, but is his ceiling more than Montrezl Harrell or J.J. Hickson?
17. Chimezie Metu, PF, USC: Metu's athleticism and mobility is terrific. His production hasn't caught up just yet.
18. Nigel Hayes, SF, Wisconsin: He's got the physical tools to be a really good combo-forward in the NBA … if he can improve on his 36 percent shooting and 29 percent three-point shooting.
19. Dedric Lawson, CF, Memphis: He averaged 16 and nine last season. He could average 21 and 12 next year. But can Tubby coach away his issues with inefficiency?
20. Marques Bolden, C, Duke: Bolden is a 7-footer with a 7-foot-6 wingspan that checks in at 250 pounds. Just how much will his offensive game translate as he moves up a level?
21. Omer Yurtseven, C, N.C. State: He's a skilled and polished post player, but the Turk doesn't have ideal physical tools for a center. He had 91 points and 28 boards in a U-18 game this spring.
22. Jawun Evans, PG, Oklahoma State: Evans had his season cut short by injury and OSU's struggles kept him off the radar. But he showed flashes of being a star in league play.
23. Shake Milton, PG, SMU: A 6-foot-5 point guard with a 6-foot-11 wingspan that shoots 43 percent from three? It will be interesting to see what he can do with Nic Moore gone.
24. Malik Monk, CG, Kentucky: He can be so entertaining and so inconsistent. Can he prove he's not just a scorer, that he can be A) a playmaker or B) an elite shooter?
25. Jarrett Allen, PF, Texas: He's big, he's long, he's athletic and he plays with a motor. Think Steven Adams or Tristan Thompson.
26. Jaron Blossomgame, SF, Clemson: He could have been a second round pick this season. If he continues to improve as a shooter, the lottery isn't out of the question.