It's been a decade since J.J. Redick and Adam Morrison staged college basketball's greatest Player of the Year race, which is notable today for one reason and one reason only: That was the final season that high school players were allowed to go straight to the NBA out of high school.
This is now the tenth iteration of the NBA Draft since the association incorporated the one-and-done rule, and while we can debate whether or not it has hurt college basketball, there is no equivocating the simple truth that it has changed the way the game is played.
First things first. When I say 'the association', I mean the NBA, because the most important thing to remember about this rule is that it exists entirely because the NBA was tired of having to guess on which high schooler would turn into Kevin Garnett, Kobe Bryant or LeBron James and which would end up being Kwame Brown, Darius Miles or Jonathan Bender. Owners were tired of spending money on kids that were never going to be worth what their contract said they had to be paid. Send them to campus for a year, watch the kids play against 22 and 23 year old men, put them in a more structured setting and figure it out from there.
They'd still end up guessing — for every Kevin Durant, Anthony Davis and Russell Westbrook there are half a dozen Anthony Bennetts, Michael Beasleys and Greg Odens — but at least those guesses felt more educated; it's hard to predict injuries, work ethic and affinity for narcotics.
The NCAA had no say in this rule.
It is not something that the NCAA wanted implemented.
And there are people that believe that the rule is bad for college basketball, that it has hurt the sport that so many grew up loving so much.
That's partially true, particularly if you're looking at this through the lens of an administrator or an educator. Ben Simmons cared about going to class about as much as I care about parliamentary elections in Albania. John Calipari can brag about his team's GPA all he wants, even the most naïve member of Big Blue Nation understands he's bringing kids to Lexington to be educated in how to be a professional basketball player.
Those guys aren't "student"-athletes in any sense of the word, but is that really worse for the public perception of the state education in major college athletics than the fake classes that North Carolina funneled their athletes into?
Calipari was the first to figure this thing out, that embracing one-and-done culture and shoveling players off to the NBA as quickly as possible was the best way to ensure that the next crop of stars would arrive on campus the following fall. Once he won a national title with Davis and Michael Kidd-Gilchrist, the No. 1 and No. 2 pick in the 2012 draft, the copycats came out in full force.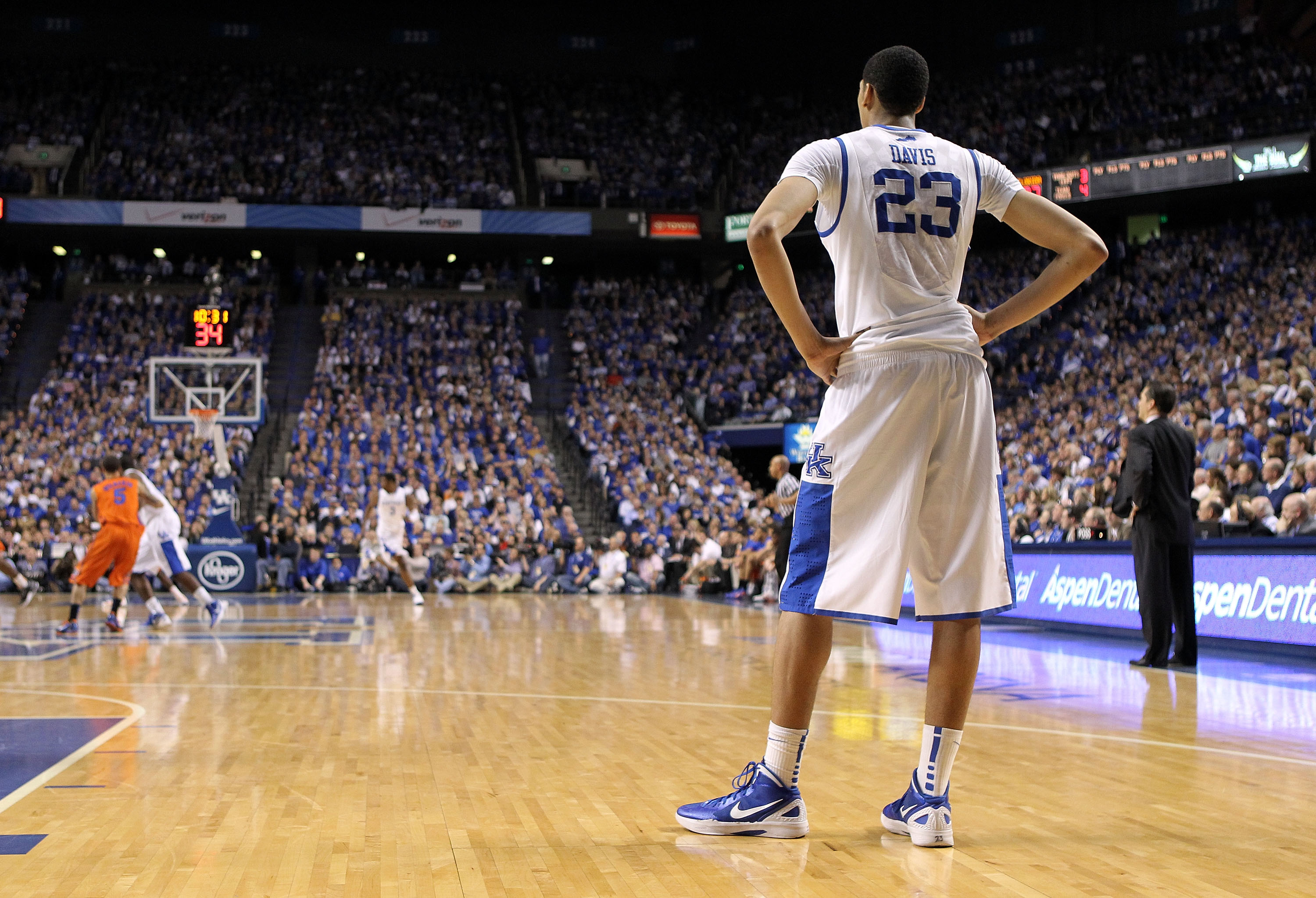 Ten years into the experiment, we've reached a point where Duke and Kentucky, the two biggest brands in the sport that are led by two of the most famous coaches in America, spend every spring and summer competing to land commitments from the next crop of 18-year old superstars. Kansas throws themselves into the mix for some of these kids, as has Arizona. Ohio State and Syracuse pick up one-and-dones from time-to-time, and there's always a random Pac-12 school — UCLA, Cal, Washington — underperforming with a lottery pick on their roster.
The recruiting is year-round. The biggest programs in the country aren't worried about filling two or three empty scholarships every year. They have to overhaul their roster every 12 months if they truly want to compete for league titles and trips to the Final Four.
It's exhausting.
And here's the catch: The best recruiting class in the country doesn't guarantee a banner. UConn won two national titles in the last six years built around undersized, veteran point guards. The best NBA player on Louisville's 2013 national title was … Gorgui Dieng? Montrezl Harrell? Russ Smith? Villanova's 2016 national title team may not have had an NBA player on the roster. Duke's 2010 title team had a bunch of seniors leading the way. North Carolina won it in 2009 with seniors Tyler Hansbrough and Danny Green and juniors Wayne Ellington and Ty Lawson leading the way. A veteran Kansas team beat one-and-done Derrick Rose and Memphis in 2008. Florida won their second straight title in 2007 when their three lottery picks all returned to school, and they beat an Ohio State team with Oden, Mike Conley and Daequean Cook on it to do so.
In other words, one-and-dones haven't hurt the chances that programs can develop kids for three or four years and turn them into winners, but it has created a situation where the best young players in the world spend a winter playing on college campuses.
All-in-all, it's hard to argue with the idea that the age limit has been a good thing for college basketball.
And there's one way to prove it to you: Last year's NCAA tournament ratings.
We've talked about it ad nauseam, but this year's draft class is weak because the 2015 recruiting class was as bad as any class has been in a long time. The superstar freshman played on an LSU team that was totally irrelevant by February and that didn't even play in the NIT. Brandon Ingram, the soon-to-be No. 2 pick in this draft, was out in the Sweet 16. Skal Labissiere was a bust, and he was gone before the end of the first weekend. Jaylen Brown didn't make it past opening night. Henry Ellenson watched the NCAA tournament on TV.
The 2016 NCAA tournament was the closest thing we're going to see to an NCAA tournament played with the one-and-done rule eliminated.
And, as a result, the amount of people that actually cared about the NCAA tournament plummeted.
Prior to the national title game, the ratings for the 2016 tournament were down 12% from the 2015 tournament. The ratings for the national title game were down more than 30% from the prior season, when a one-and-done laden Duke won a title over a Wisconsin team that beat a one-and-done laden, record-chasing Kentucky team.
The one-and-done rule is unfair to the elite basketball prospects across our country, taking away their ability to earn a living at 18 years old and limiting their career earnings potential by a year.
That bothers me.
I don't think it's right.
But you can't complain about it anymore, because getting the next generation of NBA superstars on campus for seven months is better for college basketball than losing them to the league straight out of high school.