The 2015-16 season turned into the year of the senior for a couple reasons, the biggest being that guys like Buddy Hield and Denzel Valentine, both seniors, exploded in their last year on campus. They split all of the National Player of the Year awards, and deservedly so. Both were awesome, and both could end up being lottery picks on Thursday night.
The other reason was that the freshmen class was not really all that impressive, especially in comparison to the Class of 2016. Put another way, if the one-and-done rule wasn't a thing, Hield and Valentine probably wouldn't be lottery picks this year. That means that we likely won't see many guys go from the second round this year to the lottery next year.
But it's possible.
Here are the candidates:
THE NAMES YOU ALREADY KNOW
Grayson Allen, Duke: A conversation that I had with an NBA scout during the ACC tournament has always stuck out to me: What makes Buddy Hield and Jamal Murray markedly better pro prospects over Allen? He's the same size, he just as — if not more — athletic, he shot 41.6 percent from three, he's a more versatile offensive threat. He's predictable offensively, yes, and that performance he had against Kentucky in the Champions Classic is going to stick in the mind of a lot of people. I'd still rank Buddy and Murray over Allen simply because both of them are elite at a particular skill that is incredibly valuable in the NBA right now, but the idea that those two are in the conversation for the No. 3 pick while Allen was considered, at best, a borderline first rounder is crazy to me.
Josh Hart, Villanova: Hart is probably the best guy to compare to Hield, isn't he? He's a terrific college guard whose major limitation as an NBA prospect is his ability to shoot the rock and his ability to create offense for himself one-on-one. Hart, who was the best player for last year's national champions, has received plenty of exposure during Villanova's three-year reign atop the Big East. NBA front office folks know what he can do. If he's going to play his way into being a lottery pick he's going to have to do like Buddy did and turn himself into a shooter first and foremost.
Nigel Hayes, Wisconsin: I can't quite quit Hayes just yet. He did not have a good year as a junior, that's not in dispute. He shot just 29.3 percent from three and 40.0 percent from inside the arc last season, a year that also saw his rebounding numbers take a significant hit. But he can shoot — his splits as a sophomore were 54.1/39.6/74.4 — which makes me wonder how much of his struggles were some combination of mental, struggling to adjust to life after Bo Ryan and, perhaps most significantly, a shot selection issue as he tried to prove that he was a wing. Hayes is 6-foot-8 with a 7-foot-3 wingspan and perimeter skills. He the mold of a small-ball forward at the next level. Will his skill level catch-up?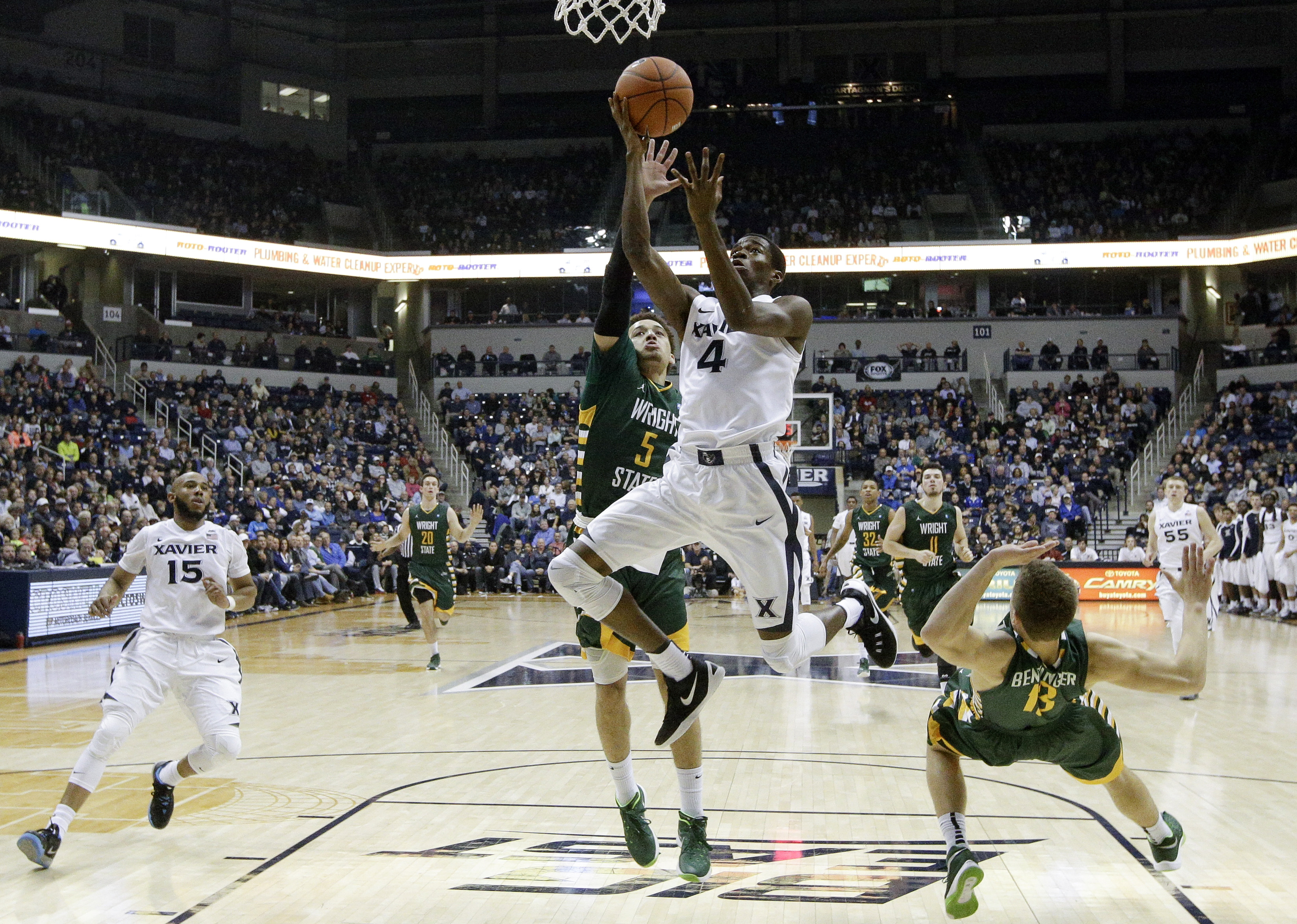 THE NAMES YOU SHOULD KNOW
Edmond Sumner, Xavier: I might be the biggest Edmond Sumner fan that didn't birth him. He's an athletic 6-foot-6 point guard that is still growing into his body. He's also still learning how to be a point guard — he's a bit turnover prone, and he functions better in attack mode than as a facilitator — but there's so much potential there. It will be interesting to see what he develops into next season, but he's got the ability and the potential to be a first round pick one day.
Tyler Lydon, Syracuse: Lydon is going to show up on every one of these lists for two reasons: He can block shots and he can hit threes. Having a guy that can protect the rim on the defensive end of the floor and spread the floor on the offensive end of the floor is about the most valuable combination of skills on the market at the NBA level simply because players that can do both of those things are rare. Lydon has some flaws he needs to fix — most notably, he needs to spend the summer in the weight room and the cafeteria — but if he takes the jump everyone expects him to take, he'll be another guy Jim Boeheim crushes for leaving school too early.
Jaron Blossomgame, Clemson: Blossomgame is a guy that could have had a guaranteed contract as an early second round pick this season. He might have been able to play himself into being a late-first rounder if he proved during workouts that his 44.6 percent three-point shooting wasn't just a result of limited opportunities. He'll get the chance to do just that as he returned to Clemson for his senior season.
O.G. Anunoby, Indiana: I'm not sure Anunoby fits the criteria here, considering that he didn't declare for the draft and spent much of his freshman season playing limited minutes behind Troy Williams. But once Tom Crean realized what he had in Anunoby, he became a integral piece of Indiana's puzzle. He's such a talented and versatile defender, if he can make himself into some kind of offensive threat on the perimeter he'll be a first rounder. If he turns into a guy that can average 15 points and shoot 40 percent from three, he might be a lottery pick.
FIVE MORE NAMES YOU MAY NEED TO LEARN
Deng Adel and Donovan Mitchell, Louisville: I'm enamored with Mitchell, who is the kind of big, powerful and long athlete that can play the combo-guard spot. I'm expecting a monster sophomore season out of him. Adel, a 6-foot-7 wing, was a guy that folks around Louisville thought could be the best member of last year's freshman class. He spent much of the season banged up. What happens if he's healthy?
Svi Mykhailiuk, Kansas: Svi has long been considered a potential first rounder given his size and shooting ability. He's spent two seasons at Kansas playing primarily a back-up role, but he enrolled at school a year early and only just turned 19 years old. Get this: he's four months younger than Josh Jackson, the No. 1 recruit in the Class of 2016 and a soon-to-be Kansas teammate. What kind of hype would he have if he was a freshman this season?
Luke Kornet, Vanderbilt: I'm enamored with Kornet but we still need to see him put it all together. Players that can block shots and hit threes have value these days. Kornet shot 40 percent from three (on 3.6 3PAs per game) as a sophomore and 28.0 percent as a junior. He averaged 3.0 blocks as a junior and just 1.1 blocks as a sophomore. Can he do both of those things as a senior?
Shake Milton, SMU: Milton classifies himself as a point guard, but he's 6-foot-5 with a nearly 7-foot wingspan. He shot 42.6 percent from three and had a 1.78 assist-to-turnover ratio. What happens when he gets to spend more time on the ball with Nic Moore gone?