So Marques Bolden committed to Duke on Thursday afternoon, ending a long, drawn out battle between the Blue Devils and Kentucky for the rights to the guy that some believe is the best center entering the college ranks next season.
Bolden isn't a season-changing talent, not for a team like Kentucky or Duke, who currently sit at No. 1 and No. 2 of our preseason top 25, but he filled a role in both programs: A low post scorer and a shot blocker.
And as a result, this recruitment heated up, further creating an element of dislike between the two best programs in the sport, the two biggest brands in the sport and the teams with the two most famous celebrity coaches in the sport. John Calipari was the first to take this thing public, writing a blog post two weeks ago that took a shot at Duke's "set for life" recruiting pitch by making a not-at-all veiled reference to Derryck Thornton, a former five-star recruit that transferred out of the program in April.
     RELATED: Can Duke go 40-0 next season?
If you thought it was going to end there, you're dead wrong.
The tweet that Cal sent out for that blog post is below:
When Bolden committed, the @DukeBluePlanet twitter account sent out — and subsequently deleted — the following: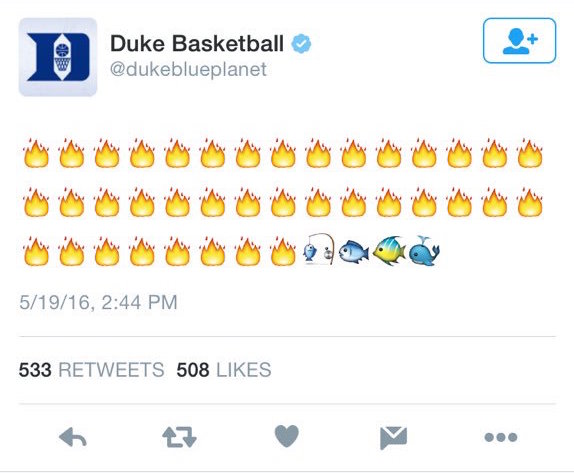 If you can't tell, those last four emojis are fish and fishing rods.
That is some high-major social trolling.
And I couldn't possibly love it more.
A healthy hatred between those two programs is a good thing for our sport. The only shame is that, in this year's iteration of the Champions Classic, Duke is playing Kansas and Kentucky gets Michigan State.