The NBA Draft's Early Entry Deadline has come and gone. Just about every elite recruit has decided where they will be playing their college ball next season. The coaching carousel, which ended up spinning a bit faster than initially expected, has come to a close for all of the major programs. 
In other words, by now, we have a pretty good feel for what college basketball is going to look like during the 2016-17 season. With that in mind, let's take a look at who could spark the Coaching Carousel next season.
Richard Pitino, Minnesota: Pitino has the hottest seat in the country at the high-major level, and it's not just because of what's happened on the court. The issue is off the floor, where the Gophers just cannot figure out a way to stay out of trouble. In the last three months alone, a player has been arrested over a sexual assault allegation and three players were suspended after a sex tape was tweeted by Kevin Dorsey. Players have been dismissed for violating team rules and, 18 months ago, a player named Daquien McNeil was kicked out of the program after allegedly assaulting his girlfriend. Should I mention that Pitino went $175,000 over budget on private jets as well?
But that's not it. Pitino went 25-13 his first season and won the NIT, but has since followed that up with 18 wins and, last year, an 8-23 finish and a 2-16 record in the Big Ten. The Gophers have no where to go but up next season, but how big of a leap will Pitino have to make for the new Athletic Director to overlook his team's transgressions. The good news? That $5.7 million buyout won't be easy to raise money for.
Steve Alford, UCLA: Pitino was the easiest name to put on this list. Alford is the most intriguing name here. It's no secret that UCLA fans are not happy with their head coach or the way the program is heading. Whether it's Daddy Ball or disappointing regular seasons or whatever, the Bruin faithful have been clamoring for a change. There have been multiple instances of UCLA fans paying for planes with "Fire Alford" banners to fly over UCLA's campus. Alford returned a one-year extension he received to try and appease the fan base. And all this is happening when the Bruins are bringing in a loaded recruiting class headlined by a freshman named Lonzo Ball, who is a potential top ten pick and, depending on how the season plays out, a candidate for All-America this season.
The Bruins have the potential to win the Pac-12 next season. They also have the potential to totally implode. Pauley Pavilion certainly won't be short on drama or story lines this season.
     RELATED: Eight programs on the rise | And seven on the decline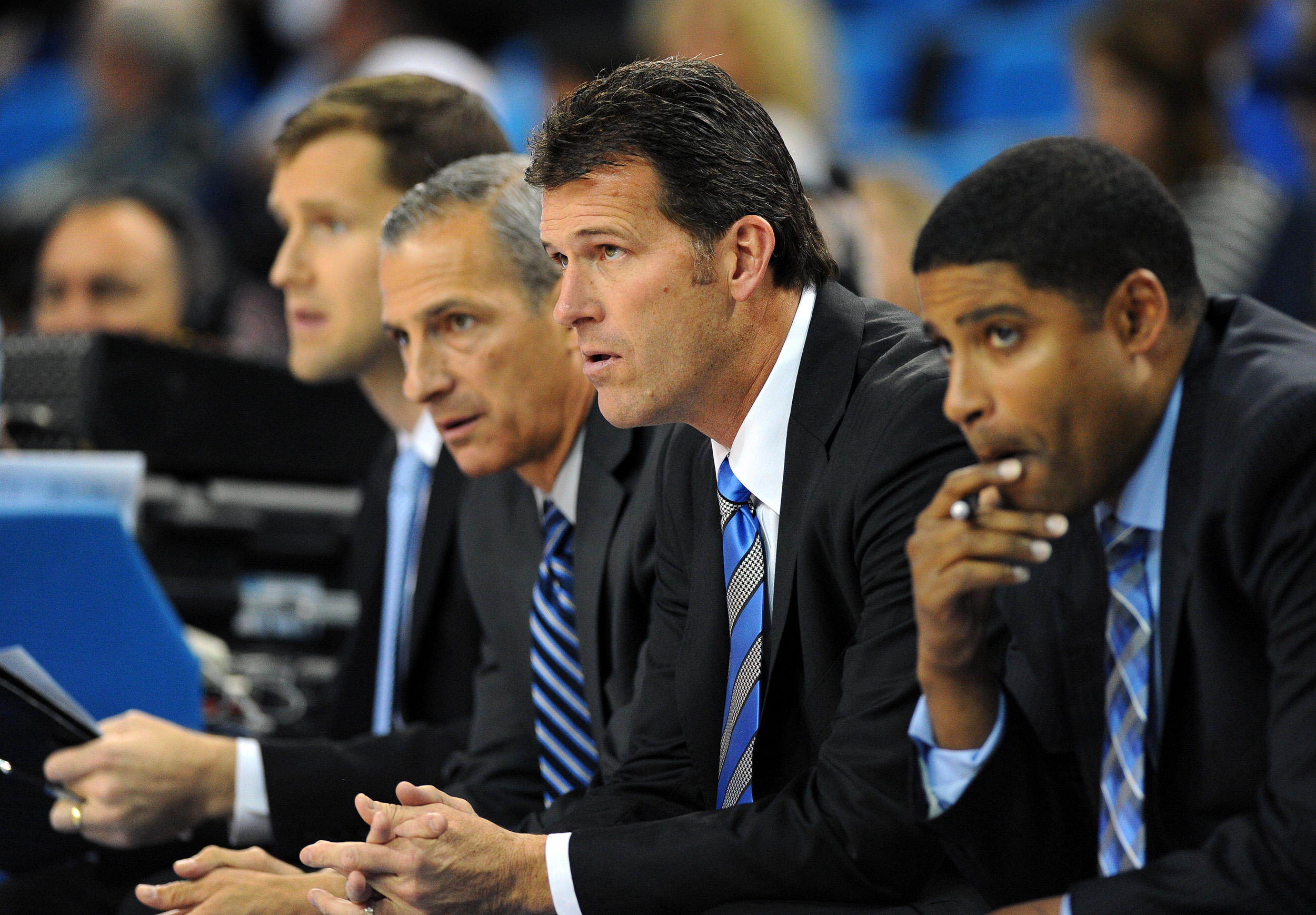 RELATED: Next year's Breakout Stars | Winners, Losers of Coaching Carousel
Kim Anderson, Missouri: In hindsight, hiring a 60-year old that had spent the last 12 seasons in the Division II ranks probably wasn't the best move for Missouri as they tried to find their footing in the SEC. Since Anderson took over, he's gone 19-44 and won six SEC games in two seasons where the Tigers have finished in 14th in the league. Of the 12 players that were signed in the 2013 and 2014 recruiting classes — kids that should be juniors and seniors next season — 11 transferred out of the program or were dismissed. Keanau Post, a JuCo transfer that graduated last spring, is the only one that left in good standing.
Bruce Weber, Kansas State: We touched on this yesterday, but if Weber didn't lose the fan base with a losing record the past two seasons, including a 13-23 mark in the Big 12, he probably did when the Wildcats faithful had to watch an alum and a former assistant in Brad Underwood take a job with league rival Oklahoma State.
John Groce, Illinois: Groce entered the 2015-16 season on the hot season. He had won an average of just over 20 games in three seasons, reaching one NCAA tournament and amassing a record of 24-30 in the Big Ten. Last year was a big year for him, and the Illini went 15-19 with a 5-13 Big Ten record, only finishing ahead of train wrecks Rutgers and Minnesota. But Illinois' roster was obliterated by injury last year, and that earned Groce a stay of execution. Can he turn things around in 2016-17?
Jim Christian, Boston College: This will be Christian's third season in Chestnut Hill, and his tenure with the Eagles has not really been all that impressive. That's putting it mildly. He won 13 games and went 4-14 in the ACC in his first season with the Eagles and followed that up with a 7-25 season where BC went winless in league play, a year so bad that senior Dennis Clifford told reporters that his best memory as a college basketball player was "going out to eat". Christian also loses two of his top three scorers to graduation. He does returns Jerome Robinson, who will be an all-ACC player down the road, and he had nine freshmen on the roster last season, which may be enough to earn him another season.
Johnny Jones, LSU: Jones failed to reach the NCAA tournament in a season where he had the No. 1 pick on his roster, flanked by enough talent to arguably make them the best team, on paper, in the SEC. That's a bad look, one that could have justifiably cost him his job after this past season. If Jones isn't able to turn things around this year, they may be looking for a new basketball coach in Baton Rouge.
     RELATED: Looking Forward Big 12 | ACC | A-10 | Big East | Big Ten
[soundcloud url="https://api.soundcloud.com/tracks/264779901″ params="auto_play=false&hide_related=false&show_comments=true&show_user=true&show_reposts=false&visual=true" width="100%" height="450″ iframe="true" /]
Mike Anderson, Arkansas: Anderson won 27 games in 2014-15, reaching the second round of the NCAA tournament on the backs of Bobby Portis and Michael Qualls. But those two both bounced for the NBA, and Anderson won just 16 games last year. He did get some good news with Moses Kingsley returning to school, and it's hard to fire someone that has spent a total of 23 years at the program, but at some point, winning has to be a priority. He's been to one tournament in five years.
Brad Brownell, Clemson: Brownell is entering his seventh season with the Tigers, and is now six years removed from his only trip to the NCAA tournament. He's never won more than 10 ACC games and has lost at least 12 games every season.
Mark Fox, Georgia: Fox has been with the Bulldogs for seven seasons, reaching two NCAA tournaments and two NITS in that span. He's won 20 games each of the last three seasons, meaning Georgia has been good, just never really relevant beyond a fight for a spot on the right side of the bubble each February. Is that enough to keep his job at a school where basketball is the fourth-most important sport behind football, football and football?
Tim Miles, Nebraska: Miles was able to turn around the first two Division I programs that he coached at, making North Dakota State one of the better mid-major programs in the country before taking Colorado State from seven wins his first season to the NCAA tournament five years later. He looked like he was on the same path with the Cornhuskers, winning 19 games and getting an at-large bid his second year in Lincoln. But things have stagnated, as Nebraska was under .500 and went just 11-25 in the Big Ten the last two seasons.