As we take a look at ahead at the 2016-17 season, we're also going to take a deeper dive into what we think will end up being some of the biggest storylines next season. Today, we're talking about Kansas and whether or not Bill Self has earned the reputation he has with one-and-done freshmen.
Last week, we looked at Duke and the potential for a 40-0 season.
The consensus among college basketball observers is that Duke and Kentucky are the two programs that, right now, are recruiting better than anyone in the sport.
They're the teams that can lose three — or four or five or six — players to the NBA Draft and find a way to reload their roster enough to compete for league titles and Final Fours the following season. Kentucky had cornered the market on one-and-done prospects until Duke and Coach K decided to throw their hat into the mix, and on Tuesday, I wrote a column about the tension that the rivalry has created on the recruiting trail.
But nowhere in there did I mention Kansas, and I'd be willing to wager that there aren't many hoops pundits or recruitniks that would tell you the Jayhawks are on the same level as Duke and Kentucky when it comes to bringing in elite talent.
There's a reason for that, and it's not Bill Self's ability to put together strong recruiting classes. Kansas is the best in the country at gathering the leftovers once Duke and Kentucky have picked through the kids they want from each class. In the 11 recruiting classes since the one-and-done era went into effect in 2006 — the year Kevin Durant and Greg Oden were freshmen — Self has landed 15 five-star recruits, according to Rivals. (For comparison's sake, John Calipari has landed 32 five-star recruits since he came to Kentucky in 2009 and Coach K has landed 20 since 2006, with 10 coming in the last three seasons.) Nine of those 15 kids have come in the last four recruiting classes, a stretch that has included six of the eight top ten recruits that Self has brought to Lawrence. Three times in the last seven years and twice in the last four seasons Self has landed the No. 1 recruit in the country.
The natural question to ask, then, is why so many consider Kansas to be a step below Duke and Kentucky in the current recruiting climate, but the more pressing question given the way that the 2016-17 college basketball season is taking shape is this: Can we trust Bill Self to make the most out of landing the nation's No. 1 prospect, Josh Jackson?
The answer to the former is the reason why we even have to consider the latter.
Bill Self is one of the best coaches in all of college basketball. No one is going to argue that if they aren't senile. The 12 straight Big 12 regular season titles that he has won, combined with the National Title that he won in 2008, are enough that he would be elected to the Hall of Fame if he were to retire today. Mark Few is the only coach to come close to putting together a streak like that, and even he hasn't been able to win 12 straight regular season titles at Gonzaga. Say what you will about the strength of the Big 12, it's a hell of a lot better than the WCC.
But this past season was the first time in a while — probably since the 2012 team — where it felt like Kansas had the rest of the conference outclassed, and that only happened late in league play, thanks to an 11-game winning streak to close out the regular season. In other words, you wouldn't necessarily be wrong in saying that the Jayhawks' reign over the Big 12 is due the impossibility of winning a road game in Phog Allen Fieldhouse as much as anything else. They're almost assured of going 9-0 at home in league play, which means that a 5-4 record on the road in conference will just about guarantee at the very least a share of the regular season crown. With Texas Tech and TCU at the bottom of the conference, and with the state of the current Kansas State and Oklahoma State programs, going 5-4 on the road in the Big 12 isn't exactly a daunting task.
     RELATED: Eight programs on the rise | And seven on the decline
[soundcloud url="https://api.soundcloud.com/tracks/263667340″ params="auto_play=false&hide_related=false&show_comments=true&show_user=true&show_reposts=false&visual=true" width="100%" height="450″ iframe="true" /]
     RELATED: Next year's Breakout Stars
The fact that Kansas has struggled in the NCAA tournament relative to expectations in recent seasons hasn't helped, either. In the last four years — the four years where Self has done what he can to embrace the one-and-done ideal — Kansas has not made a Final Four. In 2013, they lost to Michigan in the Sweet 16 as a No. 1 seed. In 2014 and 2015, the Jayhawks lost in the second round as a No. 2 seed. This past season, they reached the Elite 8, where they lost to No. 2 seed — and eventual champion — Villanova as the No. 1 seed.
Bill Self has only made it to the Final Four twice in his career, and neither team had anything remotely close to a one-and-done player on it. When he won the title in 2008, his roster was so deep and so veteran-laden that future All-American Sherron Collins was the seventh man and future lottery pick Cole Aldrich couldn't get off the bench. The 2012 team that reached the national title game was nowhere near as deep, but the only player on that roster that left school with eligibility remaining was junior and National Player of the Year runner-up Thomas Robinson.
Even the team that he had this past season, the one that lost in the Elite 8, was built entirely around veterans. There may not have been a first round pick on the roster, and the two marquee freshmen that he brought into the program — Cheick Diallo and Carlton Bragg Jr. — were somewhere between a bust and a bigger project that some expected.
Bragg was in a tough spot. He was never really thought of as a one-and-done caliber player and was stuck playing behind Perry Ellis, who may be the most under-appreciated player in the history of the Big 12 Conference. Diallo will look like a bust on paper, but his shortcomings were something that we probably should have seen coming. He doesn't have a great feel for the game or a high basketball IQ — even I could pick out when he would forget what play Kansas was running or when he missed a defensive rotation. His success in high school came because he had a terrific motor and was bigger and more athletic than most of the kids he was playing against. As a slender, 6-foot-8 power forward with no discernible offensive skill set and a habit of forgetting what he was supposed to be doing, should we really be surprised that he struggled to get minutes?
     RELATED: Looking Forward in the Big 12 | ACC | Atlantic 10
In and of itself, that's not a big deal. The problem is that this year just added to the perception that Self doesn't know how to coach one-and-done kids. Cliff Alexander was a top five recruit that turned out to be a massive bust. He finished the season ineligible and can currently be seen in street clothes behind the Portland Trailblazer bench during playoff games. Kelly Oubre, Xavier Henry and Andrew Wiggins — and, to a point, Wayne Selden — all had solid-to-really good careers at Kansas, even if they didn't play out quite like many Jayhawk fans were hoping. Wiggins, in particular, was a victim of his hype and a guy whose legacy in college will forever be tarnished by the fact that Joel Embiid couldn't stay healthy.
And who can forget about Josh Selby, who was Rivals' No. 1 recruit in the Class of 2010 that missed the first nine games of his college career, averaging 7.9 points as a freshman and, after declaring for the draft, managed a whopping 38 games in the NBA before he was forced to find work overseas. He's now a 25-year-old playing in Turkey while guys he was ranked in front of — Kyrie Irving, Harrison Barnes, Enes Kanter — are playing critical roles on teams that have a shot to win the NBA title.
That's why Self has the reputation that he does. That's why there are people in recruiting circles that will tell you that Kansas doesn't pick the kids that they want as much as they chase the highest-ranked and most talented players that Duke and Kentucky pass on.
And that's why we have to ask the question: Is Bill Self the right man to coach Josh Jackson?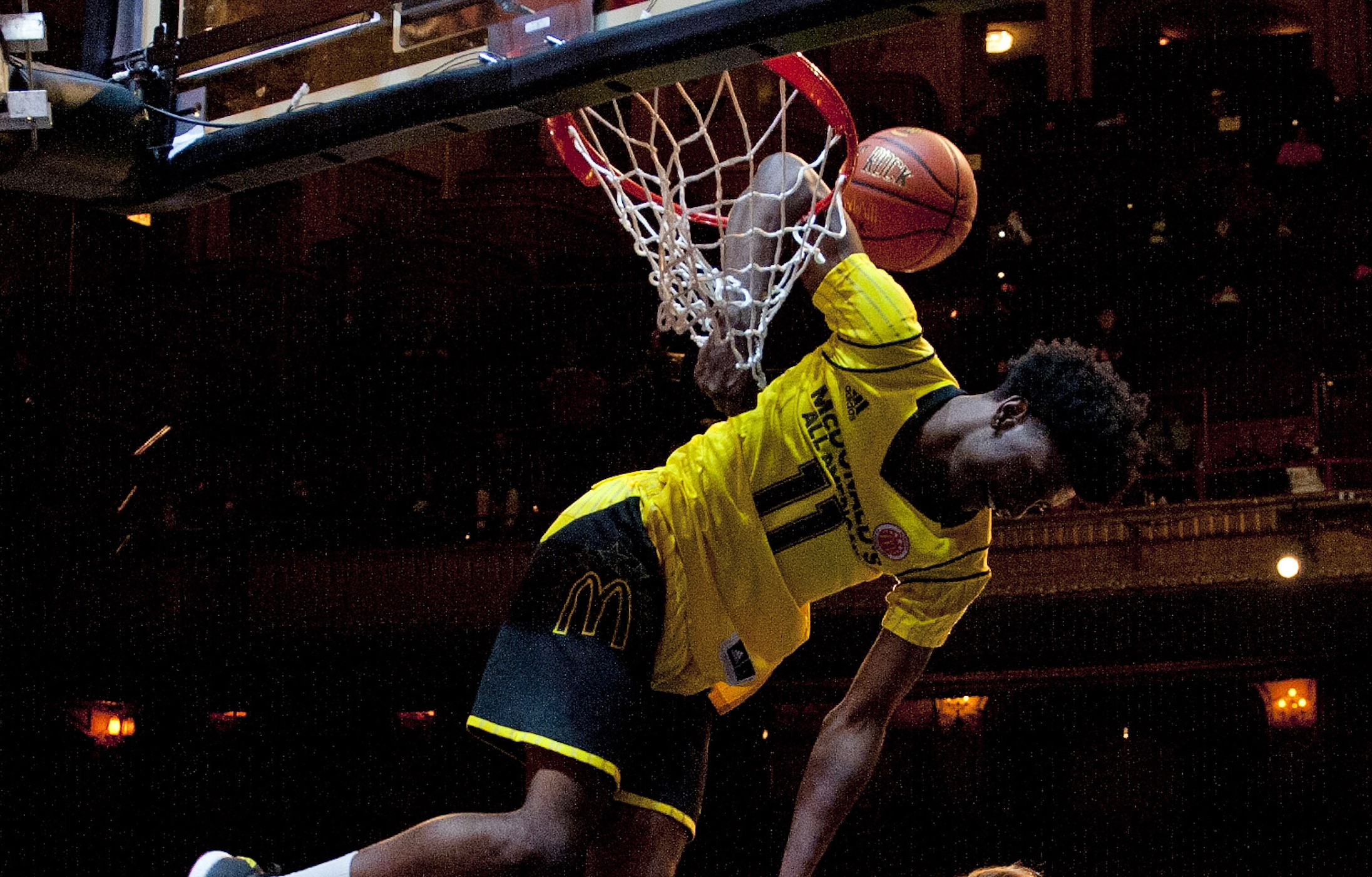 And to me, the answer is yes.
The player that Jackson is inevitably going to get compared to is Wiggins. They're both Jayhawks. They were both ranked No. 1 in their class. They're both big, athletic wings with otherworldly physical tools and a skill-set that is both very-much developing while still being advanced enough to allow them to play as a natural wing.
But here's the thing that you may not realize: They'll both play with Frank Mason as their point guard, and it's Mason that will ultimately be the difference.
The team that Wiggins played on was an example of why relying on a new youth movement every season is risky. That team's starting lineup included three highly-touted freshmen (Wiggins, Embiid and Selden), a talented-but-promising sophomore in Ellis and a junior point guard named Naadir Tharpe, who was no where near the veteran leader or steadying point guard presence that a roster like that needed in order to succeed. In other words, that Kansas team needed Wiggins to step in and be "The Guy" and, if his career has proven anything to this point, it's that he's not exactly wired to be "The Guy".
Jackson is. He's competitive as hell, he relishes the big moment, he wants the ball in his hands. He has all of those intangibles that coaches always rave about. There are many that believe that he can be a leader at the college level in his one-and-done season, but the reason we are so bullish on Kansas is that he's not going to have to be.
     RELATED: The NBCSports.com Preseason Top 25
This is going to be Frank Mason's team. He's the senior point guard. He's the bulldog. He's the guy that sets the tone for that locker room. And if he doesn't, than Landen Lucas or Devonte' Graham will. Svi Mykhailiuk is back. Bragg is back. Hell, even Diallo may end up coming back.
In other words, Jackson may be the best player that Kansas has on their roster. He may better Wiggins' 17.1 points and he may be a better perimeter defender as well. Hell, he's probably going to end up being named to a number of Preseason All-American teams, and it's not a stretch to think he could be the Preseason Player of the Year in the Big 12.
The expectation is going to be there.
But not only is Jackson more prepared to handle those kind of expectations, the burden that comes with them is nowhere near as heavy when you're not being asked to lead the team, the be the alpha dog, from day one as well.
And in the end, that is what is going to be the difference for Jackson.