As we take a look at ahead at the 2016-17 season, we're also going to take a deeper dive into what we think will end up being some of the biggest storylines next season.
Today, we're talking Duke and the potential for a 40-0 season.
There's a strong argument to make that, in the years since Duke and head coach Mike Krzyzewski fully embraced the one-and-done era, his 2016-17 roster will be the strongest that he has coached.
Stronger, I'd argue, than the 2015 team that produced the three first round picks, including Jahlil Okafor, the No. 3 pick, and Justise Winslow, who went 10th. The kicker? Neither of those two were the stars of the 2015 Final Four. That title belongs to Tyus Jones, who was selected 25th in 2015, and Grayson Allen, a probable first-round pick who returns to school this season as a reigning second-team all-american.
Think about this for a second.
Allen was one of the ten-best players in college basketball last season. He's a guy who could have snuck into the first round had he opted to enter his name into the NBA Draft, but is coming back to school for his junior year after averaging 21.5 points and 3.5 assists as a sophomore.
And there's a very real chance that he could end up being the fourth option offensively for the Blue Devils next season. That's what happens when a program brings in the likes of Jayson Tatum, Harry Giles and Frank Jackson, to say nothing of the potential that they also land Marques Bolden*. Those are two of the top three, three of the top ten and, if they land Bolden, four of the top 16 players in a class many believe to be as strong and as deep as any we've seen in the recruiting rankings era.
*(Bolden has yet to announce where he will be playing his college ball. His list is down to Duke and Kentucky, but there is no timetable yet for when a decision is going to get made.)
Throw in the return of Luke Kennard, Amile Jefferson and Matt Jones, and what you have is a roster that is talented, deep and balanced, enough so that Duke will likely end up being the consensus No. 1 team in the country come November despite the fact that the likes of Kansas, Kentucky, Villanova and Oregon are going to be very, very good as well.
If it were Kentucky fielding a roster like this, the 40-0 chatter would've started before the Wildcats were bounced in the second round of the NCAA tournament. When will that discussion pop up, and is there really a chance that this group can pull it off?
Well, the answer to both of those questions is slightly more complicated than simply comparing old Kentucky rosters to what this Duke roster is projected to be.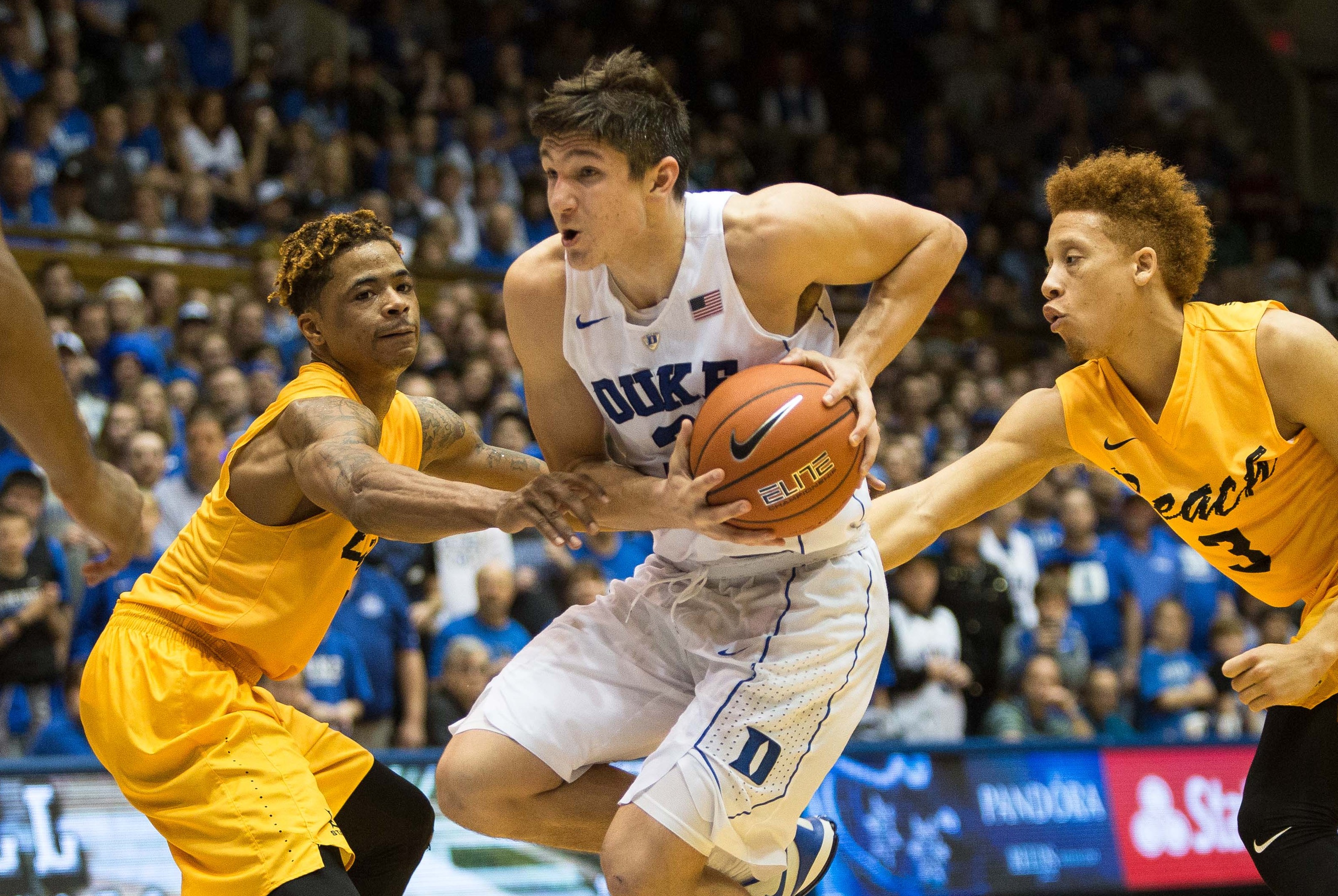 For starters, the ACC is a much tougher conference than the SEC. Even with the unbalanced schedules, it's almost impossible for Kentucky to play as tough of a conference slate as Duke will play on an annual basis. The ACC is coming off of a year where six teams reached the Sweet 16 and next season, the league may be even better; the NBCSports.com Preseason Top 25 features four ACC teams in the top ten, five in the top 15 and seven in the top 25. That doesn't include Miami, Pitt or N.C. State, who adds one of the best point guards in the country in Dennis Smith Jr.
     RELATED: What does the ACC have in store for the 2016-17 season?
It also ignores just how difficult it is for anyone to make it through league play unscathed. The last time any team posted an undefeated ACC regular season was back in 1999, when a Duke team led by Trajan Langdon and Elton Brand — a team many consider to be among the best college basketball teams of all-time — finished league play 18-0 and entered the NCAA tournament with just a single loss on their record. In fact, the last time that an ACC team finished league play with just one loss was Maryland's title-winning team in 2002.
That's not all.
All of that happened at a time when Louisville, Syracuse, Notre Dame, Miami and Pitt were playing in the Big East or Conference USA and when Virginia was an ACC cellar-dweller, not a perennial top ten program.
And Kentucky?
Well, they've run through their SEC schedule with an undefeated record twice in the last five years, not to mention that Florida went 18-0 in SEC play back in 2014. It's not all that surprising when you think about it like this: the team that finished 9th in the ACC this season reached the Final Four, while two of the three teams that tied for third in the SEC were left out of the NCAA tournament.
     RELATED: The 2016-17 Preseason Top 25
The other thing that you have to consider here is that this Duke team doesn't exactly have a flawless roster construction.
The biggest concern to me is the point guard spot. Jackson is a terrific player. He's going to have a major impact at the college level, he could end up being a one-and-done guy and he'll likely have more than a few highlight plays throughout the season. But he's also a prototype of the new breed of point guard: An athletic scorer that gets put into a lead guard role because he can handle the ball and no one at the lower levels of basketball can stop him. Tyus Jones, he is not, and that's where the loss of Derryck Thornton has the potential to hurt this Duke team. Jackson also happens to be the only point guard currently on the roster, so instead of allowing Thornton to play 15-20 minutes on the ball, Jackson is going to have to embrace being a full-time point guard on a team with four or five guys that can take over a game.
How he embraces that role will be particularly relevant, because the other issue with Duke's roster is that their top four perimeter players — Jackson, Tatum, Allen and Kennard — are all scorers at heart. They're at their best with the ball in their hands, making a play for themselves. They're not known for being the kind of players that make their teammates better. That doesn't mean they can't — Allen did, after all, average 3.5 assists — it just means that their best skill is scoring the ball.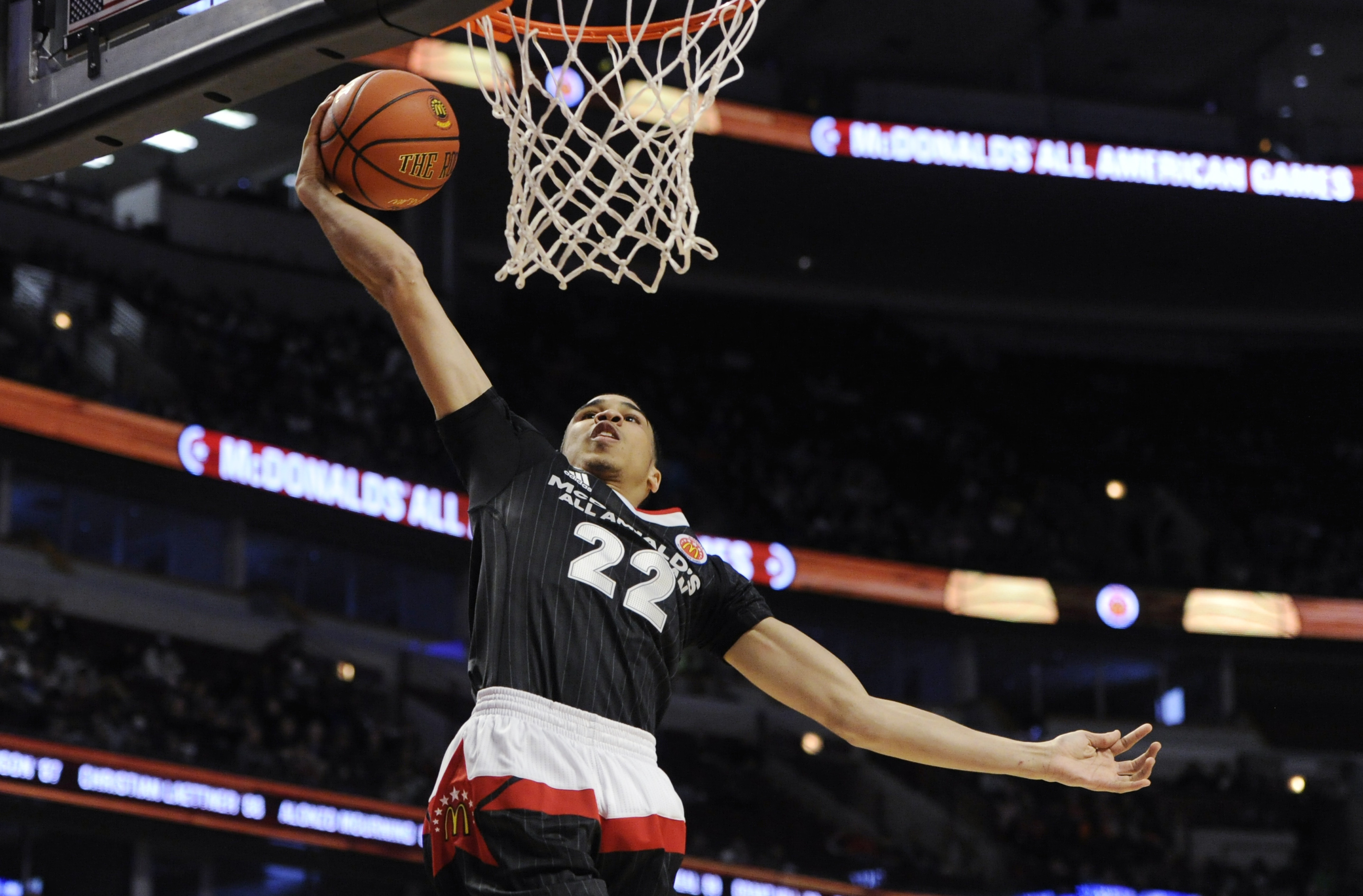 The biggest concern here may be with Tatum. He's got the tools to be a tremendous player — he's a smooth, 6-foot-8 small forward with an advanced handle, a soft touch and sneaky athleticism — but he's also a guy whose biggest strength is his mid-range pull-up game. Does he have the strength and explosiveness to get to and finish at the rim? Will he get more comfortable shooting college threes? How will be operate in a system where the number of times that he'll be allowed to go one-on-one is limited?
Last season, Coach K's offense was built around putting Allen, Brandon Ingram and Kennard into isolations because no one could stop those guys. Funneling the ball to two or three players worked when the other two spots on the floor were taken Marshall Plumlee and Matt Jones. It was like watching the Oklahoma City Thunder play. They don't need a "pure" point guard when they have two players that are unstoppable.
But this season?
When Duke's loaded with first round-caliber talent?
It will be interesting to see how Coach K molds all of those pieces together, but fit is not the only concern for this group.
     RELATED: Eight programs on the rise | And seven on the decline
Giles shredded his knee prior to his sophomore year in high school — torn ACL, torn MCL, torn meniscus — and while he was seemingly back to full health by his junior season, he tore the ACL in his other knee at the start of his senior year. He had two surgically repaired knees before he even enrolled in a summer school class at Duke. How healthy will he be, and how long will it take for him to return to the player that was at one point considered the consensus top prospect in the class?
And if Giles isn't healthy or Duke opts to put a cap on the minutes that he plays, and if they don't land Bolden, will there be a post presence to take the pressure off of their perimeter attack?
So no, this Duke team isn't going to be perfect.
But then again, who is?
Every high schooler in the country has to make an adjustment in college, when they're playing with and against a higher level of competition. And every coach in the country will tell you they'd rather find a way to get talented players to embrace their role than try to coach up kids that aren't good enough.
Duke is going to be the best team on the floor every time they step on the court this season. They're not always going to be the favorite — road games in league play can do funky things to betting lines — but they are always going to have the most talent.
Will that lead to an undefeated season?
I seriously doubt it. But hey, if Leicester City can with the Premier League, anything can happen.
Just, please, don't bet your mortgage on it happening.