As Donald Trump makes his way through the state of Indiana, looking to beat Ted Cruz in the Indiana primary, he's managed to team up with disgraced — and somehow still-beloved — for Hoosier head coach Bobby Knight.
How did those two end up together? From Time.com:
Knight says he told a mutual friend in New York that he'd like to talk to Trump, who he had never met. They connected on the phone. "I just told him I thought that we needed him," says Knight. "That right now, in this moment in time, he was the man who should be in charge. He should be the guy that can get us back to where we want to be."

According to Knight, Trump responded: "Coach, I know exactly how I want you involved. And when the time comes, I will give you a call and we'll go from there."
Sounds about right.
It makes too much sense that Knight would be a loyal Trump supporter, and the marriage is perfect for Trump as well. Knight is still basketball royalty to many in the most basketball-mad state in America, and just last week Cruz tried to reenact a scene from Hoosiers while calling the rim a "basketball ring". (Her face!!!)
All Trump had to do was get 'The General' involved to prove to the Hoosier Hoop Heads just how much he loved basketball.
And then he went and tweeted this: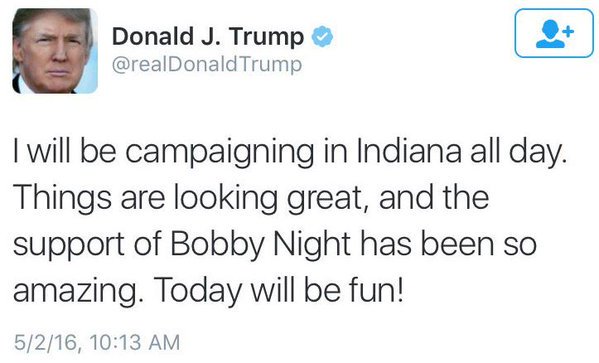 Stick to politics, fellas. Please.