HOUSTON — They call it "Nova."
They practice the play every day during the "Wildcat Minute." The purpose is to be prepared, regardless of the time on the clock, the score of the game and how many timeouts they have available. It's a play that's been in Jay Wright's arsenal for years. Before Monday, the most famous shot during Wright's tenure at Villanova came using "Nova" as point guard Scottie Reynolds took the ball the length of the floor in 5.5 seconds and finished a runner in traffic to beat Pitt in the 2009 Elite Eight.
The 2016 version of "Nova" substitutes Reynolds for Ryan Arcidiacono. Villanova's trusted senior point guard is given the ball and tasked with taking a shot or finding an open option.
With 4.7 seconds left and Villanova tied with North Carolina at 74 with the national championship on the line, Arcidiacono made the right read, as he found trailing teammate, and inbounder, Kris Jenkins for the game-winning 3-pointer from the right wing as the Wildcats captured their second national championship in program history with a 77-74 win over North Carolina on Monday night.
The Jenkins buzzer-beating 3-pointer came out of a timeout right after a desperation, double-pump 3-pointer from North Carolina senior Marcus Paige that tied the game at 74, capping a wild sequence that will help this game go down as one of the greatest finishes in NCAA tournament history.
North Carolina trailed by 10 with 4:42 remaining but made a furious late rally to get back into things as Paige and his teammates wouldn't give up.
But Jenkins, a 6-foot-6, 240-pound forward who was a recruiting afterthought for Villanova, had the final word as the confident junior hit the biggest shot of his life despite sitting on the bench for a good chunk of the game with foul trouble. Jenkins finished with 14 points as his buzzer-beater will go down in basketball lore as one of the best shots ever to win a championship.
"When I take the ball out, the defender usually follows the ball. So I was able to get in [Arcidiacono's] line of vision," Jenkins said. "I screamed his name, and he was able to flip it back to me.
"To have this opportunity to hit a game-winning shot, from a senior who was unselfish enough and gave up the ball, that could have been the final shot of his career. And I'm happy it turned out that way."
Arcidiacono finished with 16 points, as he was named Most Outstanding Player of the 2016 NCAA tournament.
"The play is going to become famous now but all it really is is get the player you trust the most with the ball to make a decision and kind of open up the court," Villanova assistant coach Baker Dunleavy said of "Nova." "The final option was Kris coming behind, and give Ryan credit, he saw Kris' man right in front of him and got it to him.
"Our scout team knows the play so it never works. But, of course, it works in the Elite Eight in 2009 and the final game in 2016. But, no, it never works in practice."
The unselfish nature of the final play of the season perfectly captured the essence of Villanova basketball during the 2015-16 season — as well as the four-year career of Arcidiacono. The Big East regular season champions were constantly doubted during the season after some early tournament exits the last few years and early-season, double-digit losses to quality opponents like Oklahoma and Virginia. Without a bonafide future NBA player, the Wildcats relied on balance, toughness and keeping a positive attitude as they became an offensive juggernaut during most of the NCAA tournament.
Arcidiacono is the backbone to the Wildcats. A starter since his freshman season, the 6-foot-3 guard has made a ton of huge plays during his Villanova career. When you go over the history of Arcidiacono making big plays in critical moments, it's easy to see why Villanova wanted the ball in his hands to make an important play.
"His freshman year, he had a buzzer-beater against Syracuse. His sophomore year he hit the huge buzzer-beater against Kansas in the Battle 4 Atlantis. Last year, at Butler, he had the ball in his hands with six seconds left, opportunity to make a play, found Darrun Hilliard open for a three at the buzzer," Villanova assistant coach Ashley Howard said of Arcidiacono. "He's been our guy, man. In crucial situations we've always gone to him. He's always came through. I can remember at Providence last year, overtime game, he comes off a ball screen, gets to the basket, layup with two seconds left. He's unflappable in those moments. He made the right play tonight and his legacy is going to be enormous at Villanova. Enormous. I'm proud of him."
Arcidiacono was so impressive during the tournament that veteran broadcaster Jim Nantz approached the senior after the game and gave him the tie from around his neck. It's a little-known tradition that Nantz does with a senior at the conclusion of every NCAA tournament.
"Jim Nantz came up to me, stopped me. I just thanked him for a great tournament, everything he did," Arcidiacono said. "He said at the end of the tournament I always go to the winning team and I pick a senior who has inspired him throughout the tournament. He gives him the tie at the end. He said it was me. I was in awe. I didn't know what to say. It was just a great honor from a really nice person."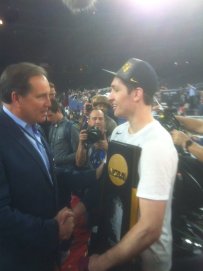 In the postgame locker room, Arcidiacono and Jenkins sat side-by-side as a media throng gathered around each of them. Jenkins was sitting in his chair, holding the national championship trophy and doing his "champions dance" while Arcidiacono had Nantz's tie around his neck. Other players and coaches in the Villanova locker room could be heard repeatedly watching different angles of the Jenkins buzzer-beater on phones as they tried to wrap their heads around being a part of one of the greatest basketball games of all time.
"That's been our team all season. Nobody cares who gets the credit," Howard said. "Guys play hard for each other on both ends of the floor. And that last play was just a testament to that. Ryan could have easily forced a shot, game goes into overtime, no big deal. But he made the right play because he trusted his brother and Kris came through for him."
Arcidiacono, Jenkins and the rest of the 2016 Villanova Wildcats will undoubtedly be legends around campus and Philadelphia — mentioned now in the same breath as the 1985 team that is still the highest-seeded team to ever win the NCAA tournament.
Meals will be bought for them and photos will be taken, babies might even be named "Arch" or "Kris." A city that has dealt with a pro basketball team that has (semi) purposely lost for years to go with slumps in baseball and football now has a champion to cheer for.
"Hopefully [Kris buys his own cheesesteaks], so he doesn't get an NCAA violation. Let's hope he pays for it until he graduates," Villanova guard Jalen Brunson said with a laugh. "But Kris is going to be a legend, not for that shot, but for everything that he's done."