We're kicking off our preview coverage of the Sweet 16 today with a ranking of the 16 teams left in the NCAA tournament to get you primed for the second weekend.
If you're not ready to let the first weekend go, trust me, I hear you.
It was wild. You relive the eight buzzer-beaters we saw or the 13 craziest moments we experienced.
And when you're ready to move on, go check out our Sweet 16 Power Rankings and the Sweet 16 Things You Need To Know. Then continue reading here.
1. Buddy Hield, Oklahoma: Think about this for a second: In the second round of the NCAA tournament, Buddy Hield scored 36 points. That's pretty incredible, right? Well, 29 of those points came in the second half, which is an insane number for anyone to score in one half of a college basketball game. But it gets better: Hield scored 26 of Oklahoma's final 31 points as No. 10 seed VCU was doing everything they could do to try and erase a 13-point half time deficit. They even took the lead at one point, which is why it is safe for us to say Hield literally put the Sooners on his back and dragged them to the Sweet 16.
That's absurd, what he was able to do. How come we aren't talking about it more?
2. Malcolm Brogdon, Virginia: Brogdon can go into star mode and take over a game offensively. Maybe he didn't do it on Saturday, but he's done time and again this season. Where Brogdon really makes a difference is on the defensive end of the floor. He can, when needed, totally shut down an opponent's best player, whether it's a point guard or, in the case of Butler's Andrew Chrabascz, a power forward. So, Georges Niang, are you ready for Friday night?
3. Brice Johnson, North Carolina: The best big man left in the tournament. Johnson is averaging a double-double this season, but he's made tremendous strides on the defensive end of the floor in the last three weeks. And it's that improvement defensively that has changed this Tar Heel team.
4. Yogi Ferrell, Indiana: Ferrell has been phenomenal for Indiana this season, as he carried the team through a stretch where a group of young guys were learning new roles and figuring out how they can impact a game at this level. And he's still capable of that. But it's worth noting that, now, the Hoosiers supporting cast is playing at a level where he doesn't always have to dominate. That's why there is a real chance that Indiana can beat North Carolina on Friday night.
[soundcloud url="https://api.soundcloud.com/tracks/253838335″ params="auto_play=false&hide_related=false&show_comments=true&show_user=true&show_reposts=false&visual=true" width="100%" height="450″ iframe="true" /]
5. Grayson Allen, Duke: There seems to be a national push-back against Grayson Allen right now, given the hate that comes with being white and a star at Duke (and, of course, the tripping). But what's worth remembering is that Allen is a "star at Duke". He's the biggest reason why a team with no depth, a single post player that Coach K trusts and a single point guard — an inconsistent freshman, at that — on the roster is in the Sweet 16.
6. Josh Hart, Villanova: Criminally underrated. That's the best way to describe Hart, whose ability to rebound and defend multiple positions allows Kris Jenkins to be somewhat hidden defensively. He's always been tough as nails, though, but now that he's actually scoring at a consistent rate as well? Look out. I judge how much people know about basketball based on what they think of Hart as a player.
7. Georges Niang, Iowa State: There may not be a more versatile or dangerous 1-on-1 scorer in the country than Niang. Like Allen, he's carrying a team that has so many roster flaws they really shouldn't be in the position that they are in right now. He's not underrated at this point, but he may be under-appreciated.
8. Domas Sabonis, Gonzaga: There's an argument to be made that Sabonis is the best big man left in this tournament. I think that title still belongs to Brice Johnson, but Sabonis isn't that far behind. He's a nightmare to deal with in the paint because of his strength, his physicality and his ability to work through contact. That, and he might be the toughest player in the sport.
9. Monte' Morris, Iowa State: Niang is the most recognizable name on the Cyclones, but there's an argument to be made that Morris is their best player. The dynamic point guard doesn't turn the ball over and gives Steve Prohm two dynamic, borderline unstoppable players on his perimeter.
10. Brandon Ingram, Duke: Ingram's really flourished since he was asked to take over the small forward role for the Blue Devils. His matchup with Oregon is going to be really interesting and telling, because Oregon has the athletes at the four spot to matchup with him.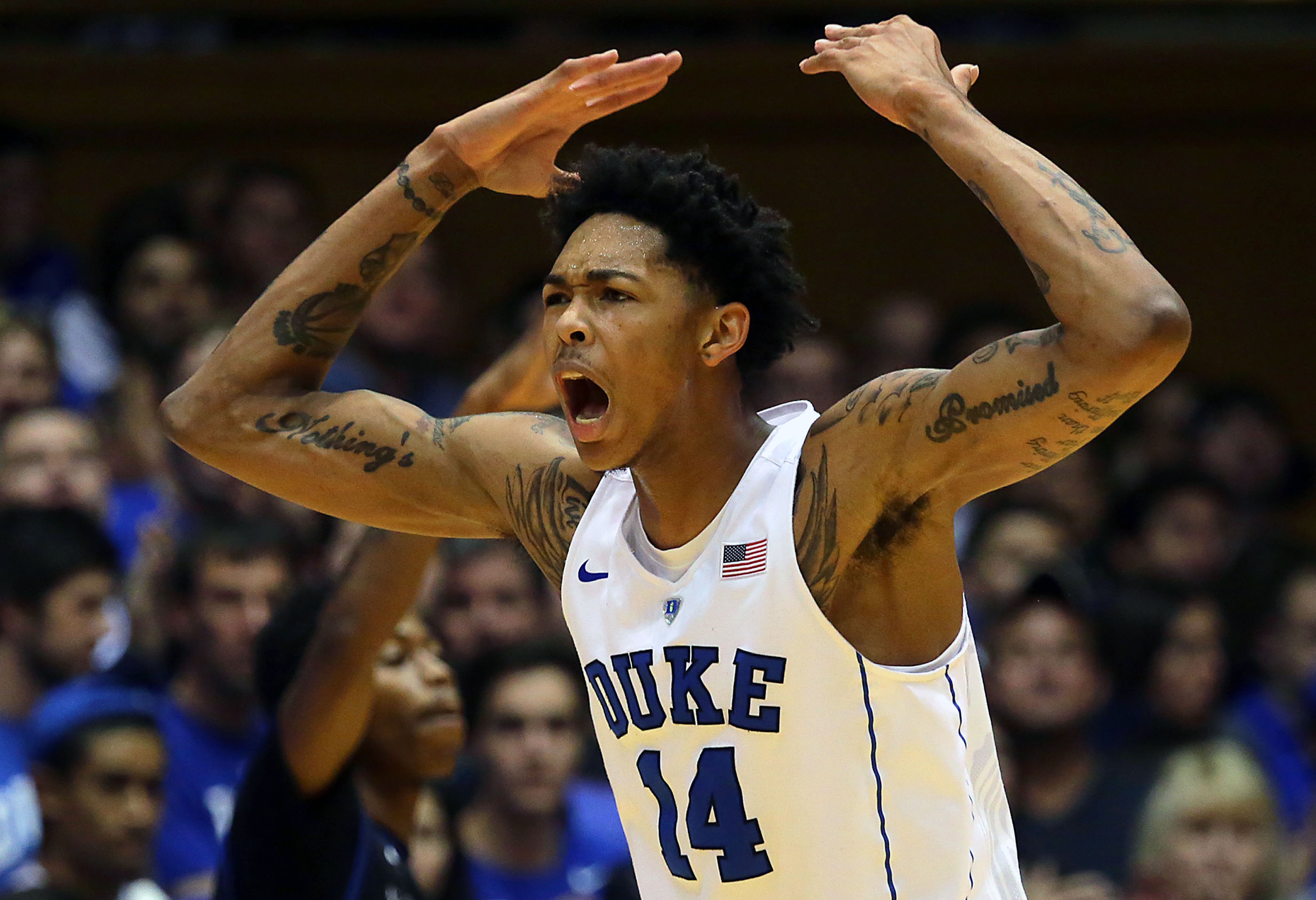 11. Perry Ellis, Kansas: I initially had Ellis lower on this list than 11th, which should tell you something about Kansas: They're the best team left in the tournament but their best player is Perry Ellis? The thing that makes the Jayhawks so good is that they don't have a star, because a punch does the most damage  when you don't know where it's coming from.
12. Dillon Brooks, Oregon: This may actually be too low for him. Brooks is one of the guys that lets Oregon play a small-ball style. He's their leading scorer and their go-to guy in big moments, be he'll be tested defensively against Duke.
13. Sheldon McClellan, Miami: Like Hart, McClellan is really underrated. He's a terrific athlete that can score at all three levels as well as create his own shot with the bounce. He's the guy in that Miami back court where you know what you're going to get on a nightly basis.
14. Demetrius Jackson, Notre Dame: Jackson is the engine that makes Notre Dame's offense tick, much the way that Jerian Grant was Notre Dame's engine last season.
15. Melo Trimble, Maryland: I loved Trimble last season, and in the preseason, and early this season. But he's been such a disappointment the last month or so. Is the real Melo going to show up for the Sweet 16 and Kansas?
16. Danuel House, Texas A&M: He's the kind of guy that can score 18 points in the final 11 minutes and change of a double-overtime win against Northern Iowa. He's also the guy that scored exactly zero points in the first 35 minutes of that game.
AND HERE ARE 16 MORE GUYS THAT YOU NEED TO KNOW
17. Marcus Paige, North Carolina
18. Frank Mason, Kansas
19. Isaiah Cousins, Oklahoma
20. Anthony Gill, Virginia
21. Zach Auguste, Notre Dame
22. Kyle Wiltjer, Gonzaga
23. Chris Boucher, Oregon
24. Troy Williams, Indiana
25. Angel Rodriguez, Miami
26. Ryan Arcidiacono, Villanova
27. Michael Gbinije, Syracuse
28. Elgin Cook, Oregon
29. Thomas Bryant, Indiana
30. Kris Jenkins, Villanova
31. Jalen Jones, Texas A&M
32. London Perrantes, Virginia