Was this the greatest first weekend in the history of the NCAA tournament?
If it wasn't, it was damn close. We had eight game-winning (or losing!) shots in the final seconds, three of which were true buzzer-beaters — which is already tied for an NCAA tournament record. We had the greatest collapse in the history of college basketball. We had the greatest upset in the history of the NCAA tournament. 
It may get better than that, but not by much. 
Here are the 13 craziest moments from the first weekend of the Big Dance.
13. Hawai'i taking advantage of the dumpster fire that was Cal
The Rainbows convincingly beat a No. 4 Cal team that was as talented as anyone in the country but was dealing with the fallout of a star player with a broken hand and an assistant coach whose sexual harassment scandal may have torpedoed the program. I can't decide whether or not the win or the scandal is crazier. We need to take a minute to appreciate the job that Eran Ganot did with Hawai'i this season. With a postseason ban looming, this may be the last time in a while that the 'Bows are going to be this good.
12. Adam Woodbury's tip-in/foul
Iowa fans may hate me for this, but I don't care. Adam Woodbury got away with a push-off that sent the Hawkeyes to the second round. It was hardly the only horrible call officials made this weekend, it was just the only one that truly decided the outcome of a game. Call the foul like they should have and Temple would have been shooting free throws.
Making this shot all the more wild was the fact that Iowa blew a late lead and fouled a three-point shooter with a couple of ticks left, the free throws forcing overtime.
11. Indiana's defense (…?) leading them to win over Kentucky
Considering where the Hoosiers were when I wrote this piece on their humiliating defensive performance against Duke, I NEVER would have predicted that they would A) win the Big Ten regular season title, B) get to the Sweet 16, and C) do so by totally shutting down what was the nation's most efficient offense.
In fact, if you told me that this is what would happen, I would have told you to stop drinking.
10. Taurean Waller-Prince owning an idiot reporter
9. The horridly-beautiful ending to Providence-USC
Missed free throws, terrible shot selection, bone-headed mistakes. The final minute of No. 8 USC's loss to No. 9 Providence was not covered in glory. But it ended with Ed Cooley calling a beautiful BLOB — something Providence had practiced, because they did not use a time out — to get a layup to win the game:
Rodney Bullock = Hero #MarchMadnesshttps://t.co/pdllBsjQRr

— NCAA March Madness (@marchmadness) March 18, 2016
8. The near-epic comebacks by Wichita State and Yale
The second day of the NCAA tournament began in thrilling fashion. In the last game we'll ever see Ron Baker and Fred VanVleet play at this level, the Shockers erased a 27-6 deficit and took the lead in the second half before eventually succumbing to Angel Rodriguez going full Angel Rodriguez.
It was an incredible game, but very nearly topped by Yale, who trimmed a 27-point first half deficit to three points. And if that isn't impressive enough, the Elis left the court at the Dunkin Donuts Center feeling as if they let one slip away. They had chances to win that game that they blew.
7. Stephen F. Austin's Cinderella run ending thanks to … Rex Pflueger?
Stephen F. Austin was set to become a national brand much the way that FGCU went from 'Who?' to #DunkCity in a matter of 80 minutes. The No. 14 seed Lumberjacks — who were led by Thomas Walkup, the most lumberjack-looking basketball player in the history of basketball — had manhandled a very good West Virginia team in their opener and held a five point lead on No. 6 Notre Dame with just over a minute left in the game.
Then Rex Pflueger happened. To make matter all the more March, Pflueger's game-winning tip-in was his first basket since the regular season finale on March 5th.
6. Cincinnati's buzzer-beater that wasn't
You really have to feel for Cincinnati. They lost in the AAC tournament on a 65-foot heave that came a split-second before the final buzzer sounded. And they lost in the NCAA tournament — after erasing a 12-point lead in the final five minutes — when Octavius Ellis couldn't quite get this game-tying dunk off in time. Torture: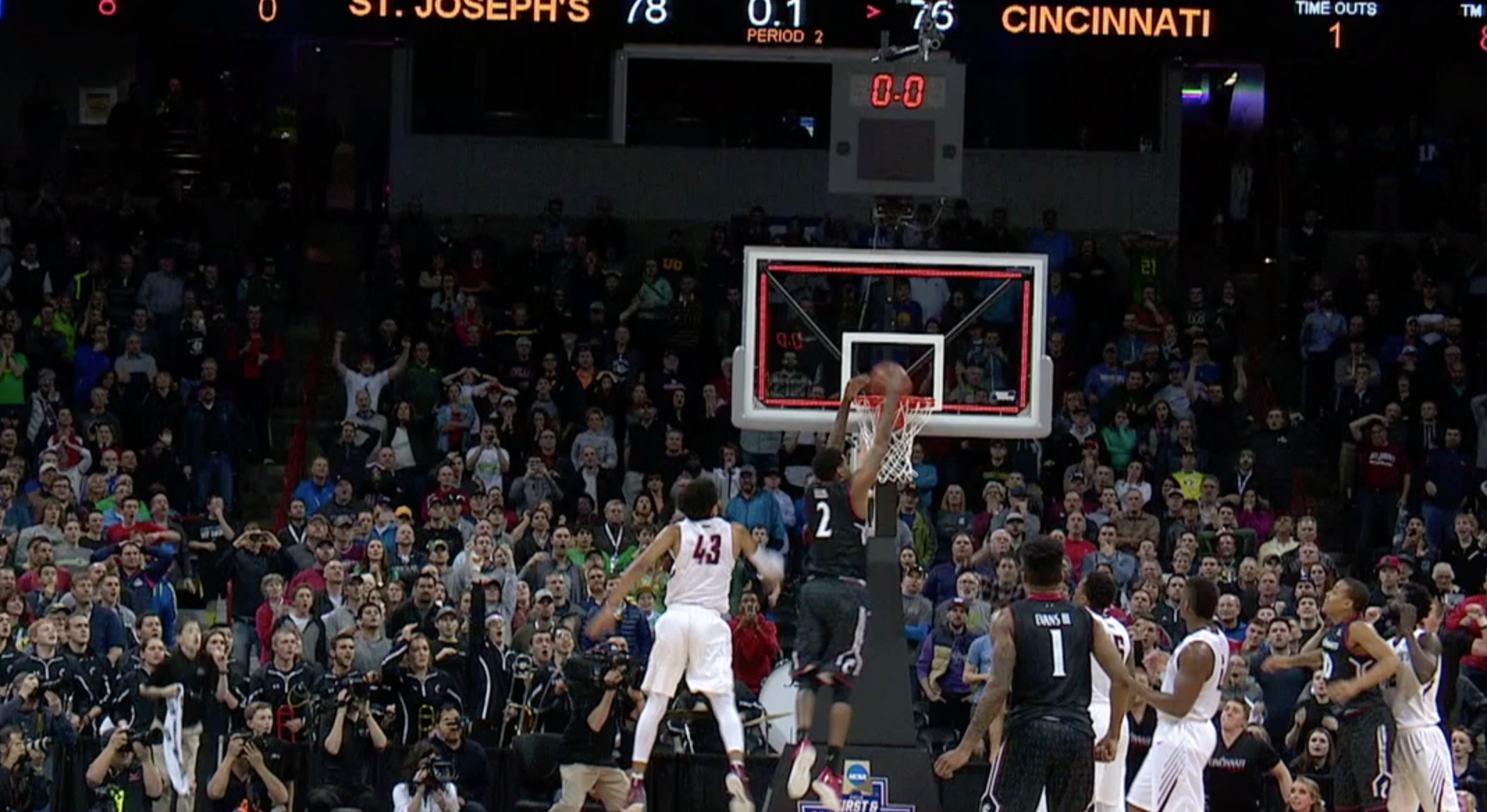 5. Bronson Koenig going full buzzer-beater
Koenig hit a pair of threes in the final 12 seconds on Sunday to send No. 7 Wisconsin to the Sweet 16, an astonishing accomplishment when you consider where they were just two months ago. This was the shot that sent No. 2 Xavier back to Cincinnati. I love how Koenig disappears into the bench before the shot even goes in:
KOENIG SENDS WISCONSIN TO THE #SWEET16!!!! https://t.co/6MnfXu2T0D

— NCAA March Madness (@marchmadness) March 21, 2016
4. Arkansas-Little Rock erases a 13-point lead in three minutes thanks to Josh Hagins
Little Rock is not a pressing team, but they threw on a press in the final three-plus minutes to erase a 13-point Purdue lead their first round game against the Boilermakers on Thursday. Hagins was the star of the show, finishing with a career-high 31 points (on his birthday!!!), which included this shot to force overtime:
THIS IS MARCH! #MARCHMADNESS https://t.co/0P2NOYpVj6

— NCAA March Madness (@marchmadness) March 17, 2016
3. Paul Jesperson's half-court heave
To think it was just two days ago that Northern Iowa was the happiest team in college basketball. Because they had just advanced to the second round of the NCAA tournament on one of the craziest shots you'll ever see in the tournament:
As far as I know, that's only the second game-winning NCAA tournament shot that can from beyond half court. U.S. Reed hit one in 1981 for Louisville.
2. Michigan State losing to Middle Tennessee State
I will go to my grave arguing this: Michigan State suffered the biggest upset in NCAA tournament history on Friday. The Spartans are one of now just eight No. 2 seeds to have ever lost in the first round of the NCAA tournament, and as I detailed out here, they are the only one of those No. 2 seeds to have been considered the favorite — favorite, popular pick, whatever; they were the team the majority of the experts picked to win it all — for the national title.
1. Northern Iowa's historic meltdown
No one knows the full-swing of March emotions like Northern Iowa does. This one, however, is going to hurt, Panther fans: You just set an NCAA record for the worst collapse in the history of the sport. Not the history of the NCAA tournament, mind you. The history of college basketball. I do not envy that.
So if you know a Panther fan, please buy them a cup of coffee and give them a hug. They need it this morning. And if you'd like to relive the epic choke-job, you can do so right here, in a video condensed to a beautiful 2:15. (NFSW in Cedar Falls.)
Only March could make Jesperson's half-court heave a sidenote to their tournament run.