We're kicking off our preview coverage of the Sweet 16 today with a ranking of the 16 teams left in the NCAA tournament to get you primed for the second weekend.
If you're not ready to let the first weekend go, trust me, I hear you.
It was wild. You relive the eight buzzer-beaters we saw or the 13 craziest moments we experienced.
And when you're ready to move on, continue reading here.
1. No. 1 (South) Kansas: Kansas is not the most talented team in the country. They don't have the best player left in the tournament. They probably don't even have the best player left in their region and may not even have the best player on the floor when they take on No. 5 Maryland on Thursday night. But Bill Self has done a tremendous job with this team, balancing egos and shots and touches. They may not have that one guy that you know will take over a game at some point, but they will have three or four guys on the floor at any given moment that can take over a game. A punch is the most dangerous when you don't know where it's coming from.
2. No. 1 (East) North Carolina: Part of me wanted to put UNC No. 1 on this list because I think that, when push comes to shove, Roy Williams has the team with the highest ceiling of anyone left in the NCAA tournament. With Brice Johnson playing like an all-american and the good Marcus Paige and Joel Berry showing up, the Tar Heels are really, really, especially when they decide to defend like they have the last three weeks. But will that last? Are we sure there won't be anymore defensive blips?
3. No. 2 (West) Oklahoma: Buddy's back, baby. Hield went for 27 points in the tournament opener and followed that up with a 36-point performance against VCU where he scored 29 in the second half and had 26 of Oklahoma's 31 points in the final 15 minutes. Oklahoma is a limited, one-dimensional team, but when that one-dimension is kicking into high gear, they can be awesome.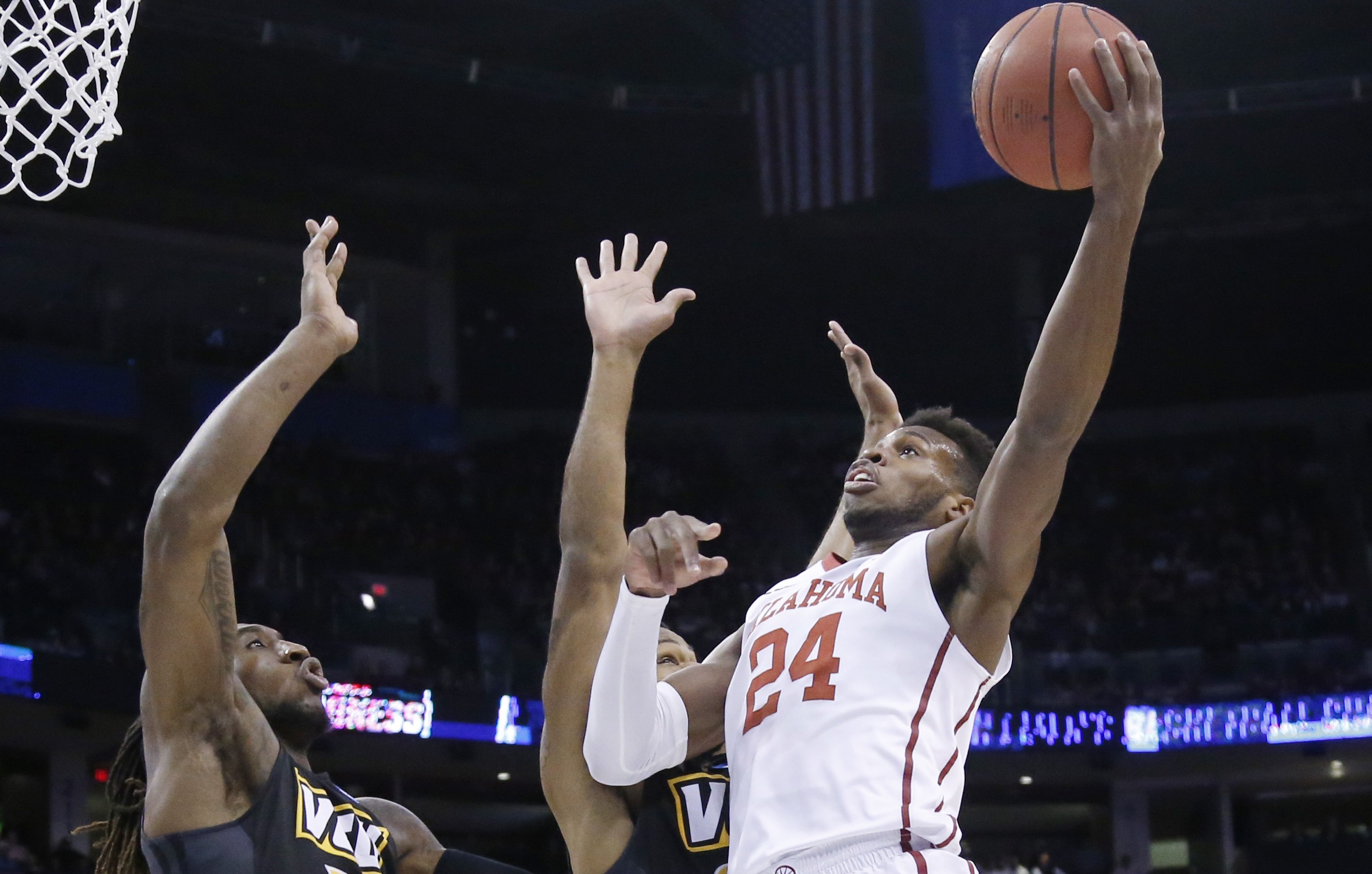 4. No. 1 (Midwest) Virginia: If you were to give me odds on who would win the tournament, I think I'd have the Wahoos higher than Oklahoma simply because I think they have a much easier path to get there, locking horns with Iowa State and a double-digit seed instead of Texas A&M and the Duke-Oregon winner. I'm still going to reserve the right to change my mind on this before the Sweet 16 starts, because I'm not sure anyone else in the country has a guy that can take over offensively and defensively the way that Malcolm Brogdon can.
5. No. 1 (West) Oregon: This is a chance for Oregon to prove a lot of things to a lot of people. We're now into the Sweet 16 and there are probably still die-hard college basketball fans that can't name their starting lineup. That's what happens when you're underrated in the preseason, you can't get many nationally-televised games and your TV network makes it as difficult as possible for media members and fans alike to actually be able to see the games. How many people are going to actually be seeing the Ducks — who are really, really good, but the way — for the first time when they play Duke on Thursday?
6. No. 5 (East) Indiana: I'm still concerned about Indiana's size and depth along their front line, but it is absolutely impossible to ignore how good they've gotten on the defensive end. The combination of Troy Williams being locked in and O.G. Anunoby and Colin Hartman becoming effective and versatile players is a difference-maker. Oh, and they've got this dude named Yogi who's pretty OK. I can't believe how much I like the Hoosiers right now based on what they were three months ago.
7. No. 3 (South) Miami: The only reason that I don't have Miami in the top five is Angel Rodriguez. He's one of the most talented point guards left in this tournament, and, as I wrote on Saturday, is one of those guys that is not afraid of the moment. The problem is his consistency. It's been less of an issue this season, but there is still a phenomenon known as 'Good Angel' and 'Bad Angel'. When he's good, their talent — Sheldon McClellan is the real deal — and their athleticism is probably better than you realize.
8. No. 2 (South) Villanova: Kudos to Villanova for getting over the Sweet 16 hump. Ryan Arcidiacono has been too good for too long to forever be associated with early tournament exits. But the problem is that I'm just not sure that this team has the talent or athleticism to make it to the Final Four. Those fears, however, are somewhat assuaged  when Kris Jenkins plays the way he has for the last month.
9. No. 4 (West) Duke: The depth issues and the point guard issues reared their ugly heads in the second round game against Yale, when Duke nearly — and probably should totally — blown a 27-point lead to a Bulldog team that isn't exactly known for their ability to press. But the bottom line is this: Duke is going to have the two best players on the floor almost every time they play. Will that be enough this deep into the tournament?
10. No. 3 (West) Texas A&M: I'm just not sold on the Aggies. I haven't really been all season long. I love Danuel House, but I'm not sure who else on this team can beat you. Tyler Davis is a year away from truly being a force, Alex Caruso and Anthony Collins are not exactly guys you need to guard out to the three-point line and Jalen Jones can be inconsistent. If Northern Iowa was able to inbound the ball under their own basket, we wouldn't even be having this conversation.
UPDATED NCAA TOURNAMENT BRACKET
11. No. 4 (Midwest) Iowa State: There are two reasons the Cyclones are rated this low: Depth and the fact that you never really know what you're going to get out of Deonte Burton and Jameel McKay. That said, Georges Niang and Monte' Morris is the best 1-2 punch this side of Allen and Ingram.
12. No. 6 (East) Notre Dame: I'm not really sure how to feel about this Notre Dame team. I love Demetrius Jackson, I love Zach Auguste and I think that Steve Vasturia, Bonzie Colson and V.J. Beachem are underrated role players. But this team also should have lost to Stephen F. Austin, they should have lost to Duke in the ACC tournament, where they eventually lost by 31 to UNC.
13. No. 11 (Midwest) Gonzaga: The big difference for the Zags has been the play of their back court recently. If they can get this effort from Josh Perkins (reached double-figures five of the last eight games) and Eric McClellan (an elite defender who has gone off for 20+ points in three of his last five games), their front line of Domantas Sabonis and Kyle Wiltjer is good enough that this might be Mark Few's best chance at getting to a Final Four.
14. No. 7 (East) Wisconsin: Maybe I just can't shake the image of December Wisconsin from my memory, but I think it's fair to make the argument that this is the least-talented team left in the tournament. That hasn't slowed them down the last two months, however, and the only thing currently standing between them and a shot at the Final Four is Notre Dame … well, and Nigel Hayes if he can't find a way to get it going this weekend.
15. No. 5 (South) Maryland: In terms of talent, Maryland might be No. 1 on this list. Seriously. But the Terps looked anything like the team we expected to see this season for an extended period of time. The did for four minutes Sunday night. They did for a half against South Dakota State. I'm not sure why people expect them to change against the best team left in the tournament.
16. No. 10 (Midwest) Syracuse: I'm going to recycle a line that I used in the Sweet 16 Preview because I love it so much: "Please, don't be the guy that says the Orange justified their inclusion with these two wins. By all means, enjoy this run, but it doesn't "prove" the committee right anymore than getting drunk in a bar "proves" you're 21 if you got in with a fake ID."