The opening weekend of the 2016 NCAA tournament was arguably the most thrilling four days the event has ever seen as college basketball fans saw a bevy of ridiculous endings and buzzer-beaters.
With multiple days of close calls, huge comebacks and pressure-packed shots, here's a look back at some of the weekend's most thrilling finishes.
THURSDAY
Arkansas-Little Rock beats Purdue in overtime after an unlikely tying 3-pointer by Josh Hagins
No. 12 seed Arkansas-Little Rock found itself down by 13 with 3:19 left but made a furious comeback to make it a game. Enter Hagins. The 6-foot-1 senior made a deep 3-pointer with 6.8 seconds left to force overtime. The Trojans eventually outlasted No. 5 seed Purdue in overtime.
Drew Edwards finds Rodney Bullock on an inbounds pass as Providence tops USC
Providence was down by one point with 1.4 seconds left and had an inbounds pass under its own basket to set up a winning play. With USC's defense overloading on Kris Dunn and Ben Bentil, Edwards found Bullock with a bounce pass to give the Friars their first NCAA tournament win since 1997.
FRIDAY
Adam Woodbury makes a putback at the buzzer to lift Iowa past Temple
Iowa and Temple were locked in a tight one as the Hawkeyes had the final possession with the game tied at 70. Senior point guard Mike Gesell drove right and threw up a potential game-winner, but it drew iron and missed. Luckily, Gesell's big man, Woodbury, saved the day as his putback at the buzzer lifted the Hawkeyes into the second round.
Northern Iowa's Paul Jesperson makes a miracle half-court, buzzer-beater to upset Texas
The weekend's best buzzer-beater belongs to Jesperson. With Northern Iowa tied with Texas after a tough runner by Longhorns guard Isaiah Taylor, Jesperson received the ensuing inbounds pass with 2.7 seconds left, took one dribble while moving to his left and banked in a buzzer-beater from center court. No. 11 seed Northern Iowa advanced with the win (more on them in a moment…)
Cincinnati loses to Saint Joseph's in a heartbreaker as Octavius Ellis' game-tying dunk is waved off
With under 10 seconds left, Saint Joseph's senior Isaiah Miles made the go-ahead 3-pointer to give the No. 8 seed Hawks a two-point lead. Without taking a timeout, Cincinnati took the ensuing possession the length of the floor as Troy Caupain raced to the rim and found Ellis for the potential game-tying dunk. Ellis made the dunk, but after official review, it was ruled after the buzzer and Saint Joseph's moved on. As you can see from the photo below, the Bearcats just missed forcing overtime.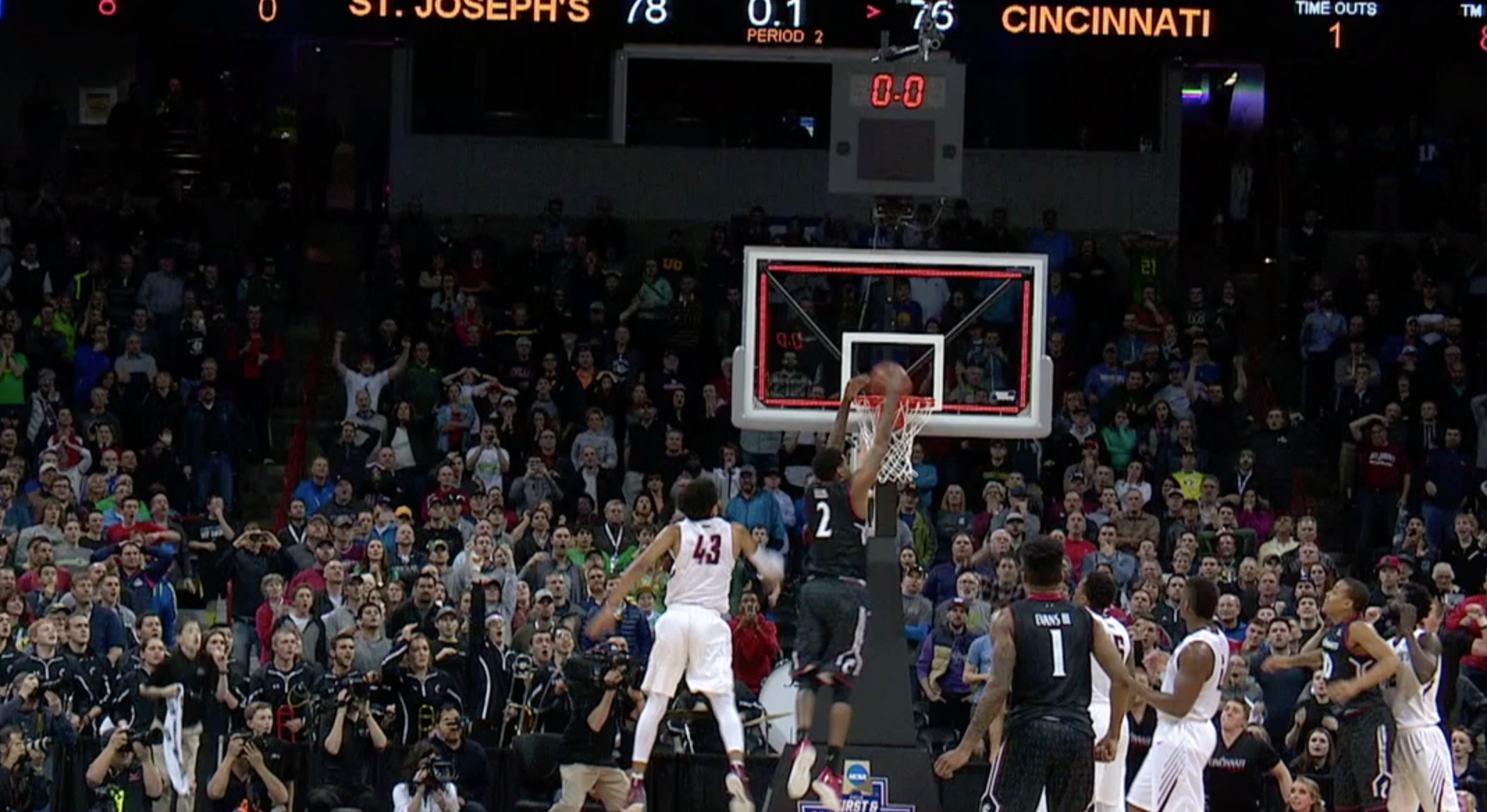 SUNDAY
Rex Pflueger's tip-in gives Notre Dame a win over upset-minded Stephen F. Austin
America was pulling for underdog No. 14 Stephen F. Austin in this one, but Pflueger had other ideas. The little-used freshman guard was put in the game for defensive purposes and ended up the hero after he tipped in Zach Auguste's errant putback after a Demetrius Jackson miss to give No. 3 Notre Dame a one-point win.
Texas A&M scores 12 points in 35 seconds to force overtime as they eventually beat Northern Iowa in two overtimes
The Aggies looked down for the count as they trailed by 12 points with 44 seconds left to No. 11 seed Northern Iowa. But Texas A&M mounted one of the greatest comebacks in sports history — no joke, Northern Iowa had a 99.99 percent chance of winning — as they forced four turnovers that led to quick buckets and eventually forced overtime. After two overtimes, No. 5 Texas A&M finally put down the Panthers. The comeback was so unbelievable that some Aggie fans were openly weeping tears of joy in the stands following Admon Gilder's game-tying bucket to force overtime.
https://twitter.com/bubbaprog/status/711740491625267200/photo/1
Bronson Koenig nails a corner three to put Wisconsin past Xavier
While much of America was fixated on Texas A&M's furious comeback, Wisconsin mounted a late rally of its own to give Koenig one more crack in a tied game after the junior nailed a clutch three only seconds before. With 2.0 seconds left, Koenig took an inbounds pass from teammate Ethan Happ and drilled a corner 3-pointer over the outstretched arms of Xavier defender Remy Abell. After the game, Koenig said, "I just tried to channel my inner-Steph Curry." Koenig's Steph Curry impression has the Badgers back in the Sweet 16.