GAME OF THE DAY: No. 5 Indiana 73, No. 4 Kentucky 67
The Fighting Tom Creans put together one of their most impressive performances of the season, holding Kentucky's powerhouse back court in check as they advanced to the Sweet 16 to take on No. 1 seed North Carolina in Philly. To think, Tom Crean's job was in jeopardy as recently as December. Now, he's the reigning regular season Big Ten champion and into the second weekend after second Kentucky and John Calipari home.
It's incredible where this Indiana team is defensively when compared to where they were 107 days ago.
THIS ONE WAS GOOD, TOO: No. 4 Duke 71, No. 12 Yale 64
Here's how weird this game was: Duke was up by 27 points at one point in the first half. The score was 46-19. Grayson Allen, Luke Kennard and Brandon Ingram were rolling. Yale came back and cut the lead to three points, which should be something close to a win in its own right. Instead, it feels like the Elis left a number of opportunities on the table, like they gave away a chance to win a game against Duke in which they trailed by 27 points. How weird is that?
HEY, LOOK WHO'S IN THE SWEET 16!: No. 11 Gonzaga
We counted out the Zags six weeks ago. That looks pretty foolish now, doesn't it? Domas Sabonis and Kyle Wiltjer dominated both No. 6 Seton Hall and No. 3 Utah this weekend, cruising their way into the Sweet 16. And when you look at the rest of that region, might this be Gonzaga's best chance at reaching a Final Four?
UPDATED 2016 NCAA TOURNAMENT BRACKET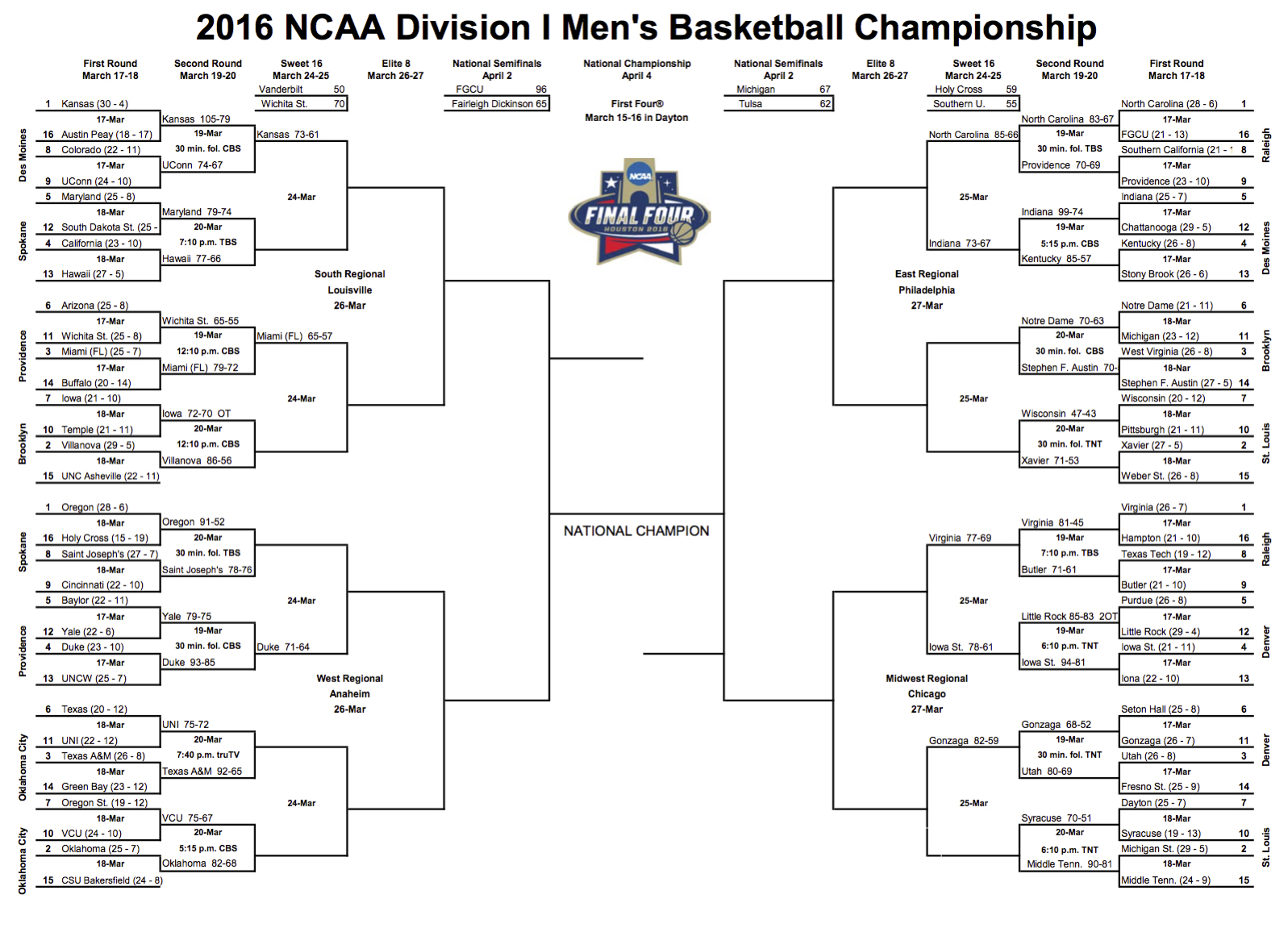 BUT MOSTLY, THE FAVORITES TOOK CARE OF BUSINESS
No. 11 Wichita State's season — and the college careers of Ron Baker and Fred VanVleet — came to a close on Saturday against No. 3 Miami. I tried to put into perspective what those two did for the Shocker program.
No. 4 seed Iowa State steamrolled No. 12 Arkansas-Little Rock, cruising into the Sweet 16 where they will take on …
… No. 1 Virginia, who got challenged by No. 9 Butler until Malcolm Brogdon went into full star mode. Is there anyone in the country more underrated than Brogdon?
No. 1 Kansas advanced to the Sweet 16 with a blowout win over UConn.
And No. 1 North Carolina outlasted Kris Dunn and Ben Bentil en route to a Sweet 16 date with Indiana.
STARRED
STRUGGLED