The first round of the NCAA Tournament has come to a close, and it was a wild one. A record 10 double-digit seeds won their first round game, including a No. 15 seed, a No. 14 seed, a No. 13 seed, two No. 12 seeds, three No. 11 seeds and two No. 10 seeds. 
We've also have five buzzer-beaters, a pair of overtime games, the national title favorite lose in their opener and the wildest three-minute stretch in the history of the event. Let's recap it shall we?
(You can get caught up on Day 1 here.)
GAME OF THE DAY: No. 15 Middle Tennessee State 90, No. 2 Michigan State 81
The Blue Raiders landed what may be the biggest upset in the history of the NCAA tournament on Friday afternoon, as they put a thorough whooping on the Spartans, who just couldn't seem to get a big stop and a big bucket on back-to-back possessions. So Denzel Valentine's career comes to an end.
As far as the biggest upset talk is concerned, I explain here how this was the first time that one of the National Title favorites lost in the first round.
BUZZER-BEATER OF THE DAY: Paul Jesperson, Northern Iowa
So I'm not quite sure that this is the best buzzer-beater in the history of the NCAA tournament — as far as I'm concerned, nothing will ever top Christian Laettner's shot to beat Kentucky — but can you ever think of a kid hitting a shot from beyond half-court to win or force overtime in a game in the Big Dance? Because that's precisely what Jesperson did here.
THIS ONE WAS GOOD, TOO: Cincinnati almost beats the buzzer
The dust hadn't even settled after UNI's win when these shenanigans went down. Within three minutes of real time after Jesperson hit that half-court game-winner, Isaiah Miles had hit a three with 10 seconds left to give No. 8 Saint Joseph's a 78-76 lead on No. 9 Cincinnati, the Bearcats had gone the length of the court for a dunk that tied the game and the officials waived the dunk off because it came a split-second after the final horn.
UPDATED 2016 NCAA TOURNAMENT BRACKET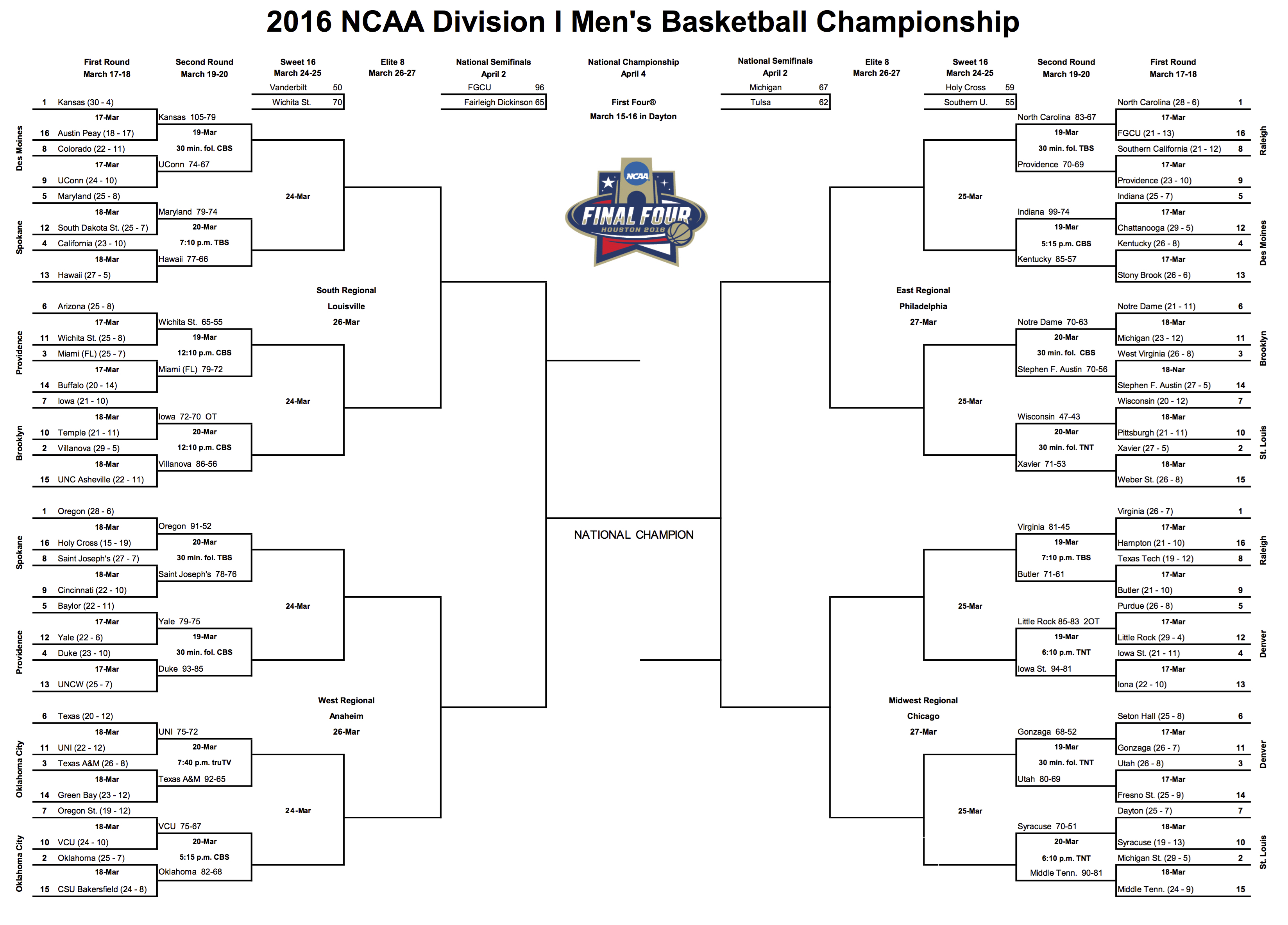 BUT WAS THIS ONE A FOUL?: Adam Woodbury got away with one
Iowa very nearly Iowa'd all over themselves in the Barclays Center, fouling a three-point shooter with 2.1 seconds left while up by three points. But they made it to overtime, where Woodbury may or may not have committed a foul while battling for position for an offensive rebound. You make the call.
THEY WERE UPSET
BUT SOME FAVORITES WON, TOO
STARRED
STRUGGLED