GAME OF THE DAY: No. 12 Little Rock 85, No. 5 Purdue 83 2OT
The Boilermakers blew a 13 point lead in the final three minutes and got sent to overtime — and double-overtime — by Josh Hagins, who scored 31 points, a career-high, on his birthday. Hagins is going to have a tough time topping Thursday when it comes to the best day of his life. (You can see the ridiculous shot he hit to force OT here.)
THIS WAS GOOD, TOO: Providence 70, USC 69
In a game with one of the weirdest finishes I can remember, USC missed three straight free throws in the final minute — two of them front ends of 1-and-1s — and Providence missed a pair of potential game-winning shots before they were able to draw up this beautiful baseline out-of-bounds play to get Rodney Bullock a layup for the win. Kris Dunn had 16 points but he hit a number of big threes down the stretch. Bullock finished with 16 points and 10 boards while Ben Bentil added 19 points.
AND THE UPSETS WERE
Makai Mason was the star of the afternoon session, popping off for 31 points as No. 12 Yale overcame No. 5 Baylor's size advantage in a 79-75 win over the Bears. The Elis will now get another shot at an undermanned No. 4 Duke team for a trip to the Sweet 16. It was Yale's first-ever tournament win.
No. 11 Wichita State totally manhandled No. 6 Arizona. The final score (65-55) didn't do the beatdown justice. The Shockers were up 53-29 at one point, and the 31-19 deficit that the Wildcats faced at the half felt like a gift. The question we need to ask: Were the Shockers really that underseeded?
BUT THE FAVORITES ROLLED, TOO
No. 1 Kansas rolled over No. 16 Austin Peay on the strength of 23 points from Svi Mykhailiuk. The Jayhawks will get No. 9 UConn in the next round.
No. 16 FGCU put up more of a fight than I expected, trailing by just a point at half time, but Brice Johnson (18 points, eight blocks, seven boards, three assists) took over in the second half. The Tar Heels get Providence next.
No. 13 UNC Wilmington gave it everything they had, but No. 4 Duke's talent was just too much for them to overtime as the Blue Devils knocked off the Seahawks, 93-85.
Georges Niang had 28 points and Monte' Morris added 20 points and eight assists as No. 4 Iowa State beat No. 13 Iona in relatively easy fashion.
FRIDAY'S UPDATED BRACKET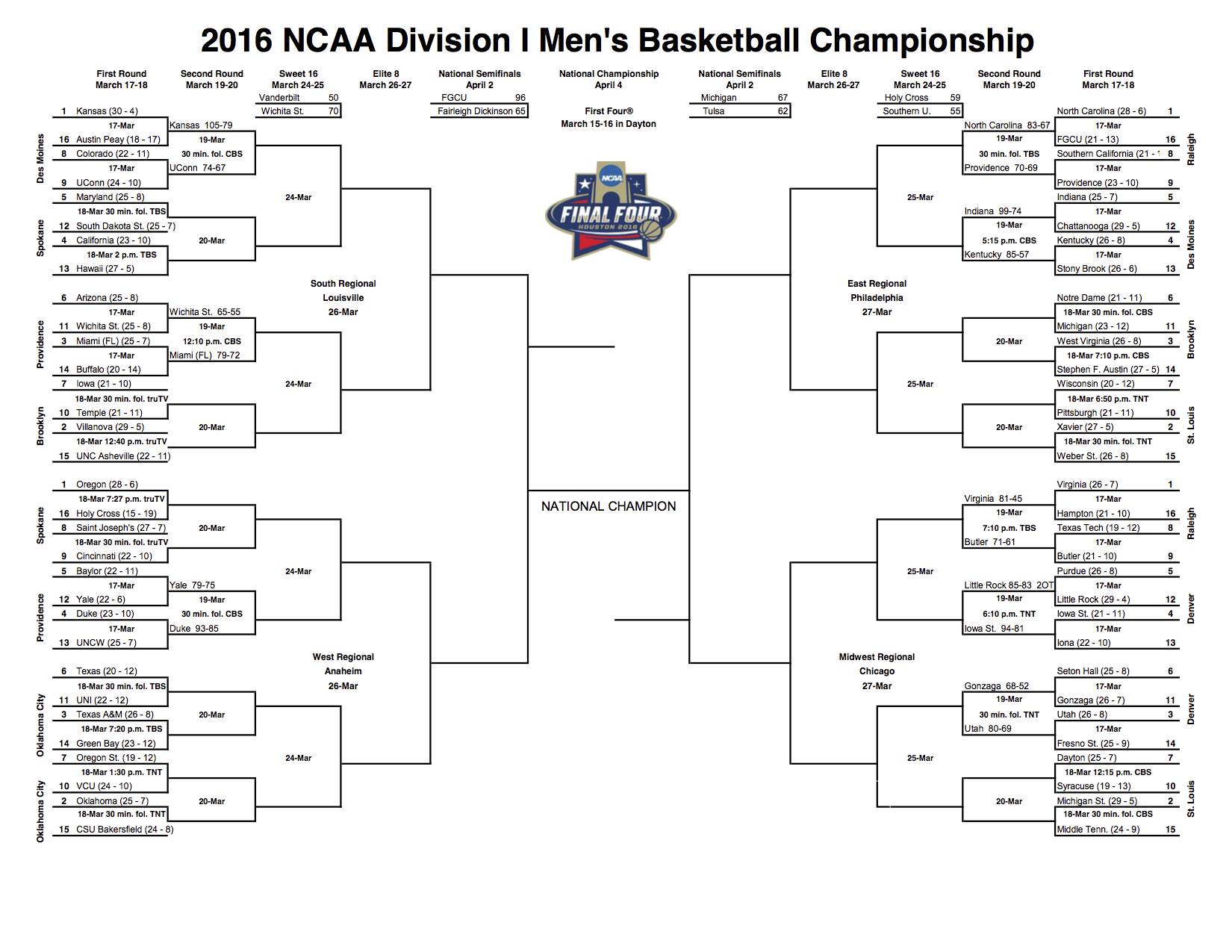 THURSDAY'S STARS
BUT THEY STRUGGLED
Isaiah Whitehead was 4-for-24 from the floor as No. 6 Seton Hall looked totally gassed from the get-go in a 68-52 loss to No. 11 Gonzaga. It was not pretty for the Pirates.
Jameel Warney had 23 points and 15 boards against No. 4 Kentucky on Thursday. The rest of his team shot 17.4 percent from the floor.
No. 1 Virginia head coach Tony Bennett had a little bout with dehydration and collapsed on the sideline, but his ego probably took the biggest hit of all; wins make everyone feel healthy. He'll be ready to coach against Butler. Tony Bennett, the singer, is fine, too, if you were wondering.
Everyone on Arizona. Ouch.