WASHINGTON, D.C. — The story on this North Carolina team all season long — since they were jettisoned from the NCAA tournament in the second round back in 2014, really — was that they lacked a certain 'toughness', that their inability to handle the pressure that comes with the biggest moments in the biggest games was eventually going to be their downfall.
Their big men were soft physically, their guards fragile mentally. That's why they did things like give away a 15-point lead to Notre Dame when the Irish grabbed 13 second half offensive rebounds, or let a Duke team with five healthy bodies land a come-from-behind win in the Dean Dome.
And everyone on that North Carolina roster knew about every word that was said about them.
"We have a group chat and whenever someone on the team sees somebody say something negative about us, we put it in the group chat," Nate Britt told NBCSports.com after the game. "Sometimes we'll screen shot [a tweet]. Sometimes we'll just quote them. It's anything that we see, we see it on twitter, live on TV, whatever."
"We're young people. We see twitter. We see TV. We pay attention to it," Berry said. "We try to feed off that. People are going to say what they have to say about us. They're challenging us."
On Saturday, North Carolina responded to that challenge.
Again.
For the second straight night, the Tar Heels completely shut down an opponent with an offense that ranked in the top ten in offensive efficiency according to KenPom.com, using a 15-2 "run" over an eight minute stretch late in the second half to open up a 55-46 lead. Virginia never truly threatened UNC in the final six minutes as the Tar Heels left the nation's Capitol with a 61-57 win, a dual-ACC title and, in all likelihood, a No. 1 seed in the NCAA tournament.
"I think we are the most criticized really good basketball game I've ever coached," head coach Roy Williams said. "And least appreciated. That's a pretty doggone good basketball team I've got out there."
Joel Berry led the way with 19 points for North Carolina, hitting a three with six minutes left that pushed North Carolina's lead to five. On the ensuing possession, Justin Jackson jumped a passing lane and went in for an uncontested dunk, leading the blue half of a bi-partisan Verizon Center crowd to go bonkers. Virginia wouldn't score again for another five minutes, as UNC's defense totally clamped down.
Virginia would make a flurry of threes in the final two minutes to make the final score closer than it was. If you factor out those final two minutes, the Tar Heels allowed Notre Dame and Virginia to score just 0.762 points-per-possession. For comparison's sake, the best defense the Tar Heels played this season was in a 33 point win over Davidson when they allowed 0.793 PPP.
"I've been harping on, pushing them, cursing them, kicking them, pleading with them, begging with them all year long to understand how important the defensive end the floor is," Williams said.
Williams told the team a couple of weeks ago that he's never had a championship level team that wasn't great defensively, and this team, a couple of weeks ago, wasn't great defensively.
"That kind of resonated with us," Paige said. "We want to win a championship. So we gotta start guarding somebody."
Paige chipped in with 13 points. He scored nine straight early in the second half, all of which came when he was putting the ball on the floor and attacking the rim. His jumper wasn't falling — he said after the game that his shot felt good, but half of his seven missed threes rattled out — but Paige may still have been UNC's most important player. He did the heavy lifting in holding Virginia's first-team all-american Malcolm Brogdon to 6-for-22 shooting from the floor.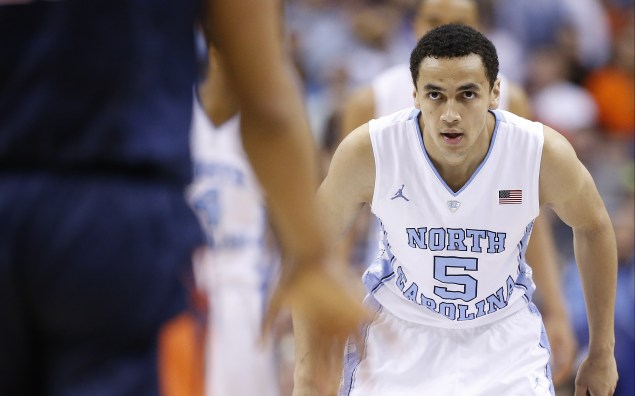 "Marcus Paige is one of the five best defensive players in the league. Everybody wants to talk about him missing threes," Williams said. Brogdon had scored at least 20 points in 10 of his last 15 games and more than 26 points in half of those ten. "He took Malcolm today and did a nice job. Malcolm is exceptionally hard to cover."
"I knew he was going to get his, but I just wanted to make it tough on him," Paige said. "You cut the head off the snake then it's harder for them to get it going. I didn't want him to get any rhythm baskets."
"The key is to have a next-play mentality. He's going to score. He's going to hit a shot. My goals were to be there on every catch for him and contest every shot. Every time he's reading one of those off-ball screens, which he's so good at, was to have him feel my presence."
The question now becomes whether or not this is a new North Carolina.
In these last two weeks, the Tar Heels have already done three things the seniors on this team have never done before: They won at Cameron Indoor Stadium, and that, in turn, won the program their first outright ACC regular season title since 2012. On Saturday, they won their first ACC tournament title since 2008.
That's a helluva season, one that was special enough for Joel James to commemorate by getting every one of his teammates to sign a six-foot banner he had snagged from the net-cutting ceremony.
"That's going in the house," James said.
But that banner isn't the last one James wants hanging on a wall. As successful as this season has been, it's one that won't feel complete without a trip to a Final Four, where they can take a shot at winning Williams his third national title. For that to happen, this surge on the defensive end of the floor, this new-found pride in their mental and physical toughness cannot be something left on the floor of the Verizon Center alongside piles of streamers and confetti.
Because when UNC plays like this, they can beat anyone in the country. They have the horses to win a national title. When pundits said that this was a team whose ceiling was higher than any team in college basketball, they weren't wrong.
That's still very much accurate.
We saw that in D.C.
And if we see it in Houston, Joel James is going to have to clear himself. a little extra wall space.