As expected the Big West season was a competitive one, with Hawai'i and UC Irvine sharing the regular season title and Long Beach State and UCSB both winning double digit games in conference play as well. Now comes the conference tournament, where the Rainbow Warriors are the top seed and will look to earn their first NCAA tournament bid since 2002. The road to the title won't be an easy one however, as the Big West has multiple teams capable of cutting down the nets in Anaheim. Plus, the top seed hasn't won this event since Long Beach State did so in 2012.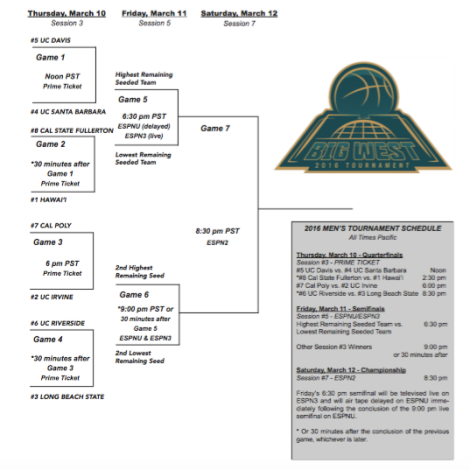 When: March 10-12
Where: Honda Center, Anaheim, California
Final: March 12, 11:30 p.m. (ESPN2)
Favorite: Hawai'i
Earning the top seed in the tournament not only got the Rainbow Warriors an automatic bid to the NIT should the need it, but it also keeps them away from the one team that they've struggled to match up with this season (Long Beach State) until the title game. Stefan Jankovic has been a much-improved player for the 'Bows in the front court, and the presence of tough, talented guards such as Roderick Bobbitt, Quincy Smith and Aaron Valdes allows Hawai'i to get after teams defensively. While they were swept by The Beach, the 'Bows did sweep both UC Irvine and UCSB.
And if they lose?: UC Irvine
Russell Turner's Anteaters have won at least a share of two of the last three Big West regular season titles, and they're a veteran group that has the talent needed to make a second straight trip to the NCAA tournament. 7-foot-6 junior center Mamadou Ndiaye serves as quite the deterrent in the middle of their zone defense, and guards Alex Young and Luke Nelson lead the way on the perimeter. UC Irvine led the Big West in many of the major statistical categories on the defensive end of the floor this season, which makes them a threat to take home the crown.
Other Contenders:
Long Beach State: As mentioned above Dan Monson's 49ers swept the season series with Hawai'i. Nick Faust has been a great addition, and the development of sophomore PG Justin Bibbins has helped as well.
UCSB: The Gauchos have the Big West's leading scorer in senior guard Michael Bryson (18.0 ppg in all games), and they're also one of the Big West's better defensive teams (second in FG% defense, first in 3PT% defense).
Big West Player of the Year: Stefan Jankovic, Hawai'i
After averaging 10.6 points and 4.9 rebounds per game in his first season at Hawai'i, the Missouri transfer took a significant step forward in 2015-16. Jankovic leads Hawai'i in both scoring (15.7 ppg) and rebounding (6.8 rpg), and he's shooting 55.9 percent from the field and nearly 39 percent from three. In conference games, Jankovic averaged 16.9 points and 7.3 rebounds per contest, ranking in the top three in the Big West in both categories.
Big West Coach of the Year: Eran Ganot, Hawai'i
This is an easy choice. In his first season at the helm Ganot led the Rainbow Warriors to their first Big West title, and thanks to a sweep of the season series with UC Irvine they'll be the top seed in Anaheim. Most of this rotation was on last year's team that reached the Big West title game, including Roderick Bobbitt, Aaron Valdes and Stefan Jankovic, and Ganot was able to make this team even better. Add in dealing with an NCAA investigation that began prior to his arrival, and Ganot is the pick.
First-Team All-Big West:
Stefan Jankovic, Hawai'i (POY)
Nick Faust, Long Beach State: In conference games Faust averaged a Big West-best 18.4 points per game, doing so on 44.4 percent shooting from the field.
Michael Bryson, UCSB: Bryson averaged 16.7 points per game in Big West play, shooting nearly 48 percent from the floor, and grabbed 6.6 rebounds per contest.
Luke Nelson, UC Irvine: Nelson ranked eight in the Big West in scoring (15.2 ppg) and fourth in assists (4.1 apg) in conference games.
Mamadou Ndiaye, UC Irvine: Ndiaye averaged 12.9 points, 7.1 rebounds and 2.2 blocks per game in Big West play, and his mere presence on the floor changes the way in which opponents attack UC Irvine's defense.
PREDICTION: Hawai'i ends the top seed's recent run of futility in this tournament with a win over UC Irvine in the title game.