There may not be another conference in America with as much on the line from a bubble standpoint this week as the American Athletic Conference. With SMU on the sidelines as a result of NCAA penalties, the other ten members convene in Orlando with the top dogs all looking to sew up a bid to the NCAA tournament. Winning the automatic bid is the best way to do that, but with four teams harboring realistic hopes of earning an at-large bid some will likely have to sweat out Selection Sunday.
Temple managed to win the regular season title outright, but there's still some work for Fran Dunphy's team to do. The two-seed is Houston, whose non-conference slate likely puts them in a position where they need to win out in Orlando, and seeds three through five (Tulsa, Cincinnati and Connecticut) all find themselves on the bubble. That should make for an intense four days in Orlando, and only the winner will be able to breathe easy in the wait for the announcement of the NCAA tournament field.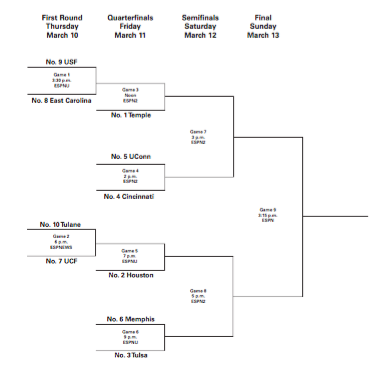 When: March 10-13
Where: Amway Center, Orlando
Final: March 13, 3:15 p.m. (ESPN)
Favorite: Temple
The Owls managed to win their first outright regular season conference title since 2012, when they were still in the Atlantic 10. This year's group has done it with defense, as in conference games they ranked third in field goal percentage defense and first in three-point percentage defense. Offensively senior guard Quenton DeCosey's led the way, with forward Obi Enechionyia being a tough matchup due to his ability to step outside at 6-foot-9 and emerging as one of the American's most improved players. Add in contributors such as forward Jaylen Bond and point guard Josh Brown, and Temple has enough to win the tournament. Close games shouldn't cause much concern either, as in conference games decided by five points or less they're 7-2.
And if they lose?: Houston
The Cougars arrive in Orlando as one of the hottest teams in the American, as they've won nine of their last 11 games (6-1 in their last seven). Forwards Damyean Dotson and Devonta Pollard combined to average 28.3 points per game in American play, and on the perimeter Rob Gray Jr. is the team's leading scorer (16.3 ppg overall) and the point guard tandem of Purdue transfer Ronnie Johnson and freshman Galen Robinson Jr. has been a positive as well. Kelvin Sampson's rebuilding job has gone well to this point, and it wouldn't be a shock if they landed the automatic bid.
Other Contenders:
Tulsa: Tulsa's backcourt is very good, with James Woodard, Shaq Harrison and Pat Birt Jr. being the leaders. A key for Tulsa will be finishing defensive possessions with a rebound, as they ranked ninth in the American in defensive rebounding percentage (67.7) in conference games.
Cincinnati: The Bearcats are tough, and only UConn was better in league play when it comes to field goal percentage defense. With Troy Caupain running the point and Gary Clark in the front court, Mick Cronin has the pieces needed to make a run.
Connecticut: Kevin Ollie's team led the American in field goal percentage defense, limiting teams to 38.4 percent shooting in conference games. But the offense has sputtered at times. If Daniel Hamilton looks to take over consistently, making plays for himself and others, this can be a dangerous team in Orlando.
Sleeper: Memphis
Josh Pastner's Tigers have the league's top scoring duo in forwards Dedric Lawson and Shaq Goodwin, and there's talent on the perimeter as well. But can they put it all together over the course of three days? That remains to be seen.
The Bubble Dwellers:
Temple: Opening with either East Carolina or USF won't do much to bolster Temple's argument for inclusion. But a loss to either would be damaging. Take care of business there and the Owls should be OK.
Houston: The Cougars likely need to win the automatic bid, thanks to the weakness of their non-conference schedule. They have wins over SMU and Temple on their résumé, but that may not be enough.
Tulsa: They face Memphis in the quarterfinals, and that's a win Frank Haith's team will need to get. They did pick up wins over SMU (in Dallas), Cincinnati and Temple last month, and there's also the early season win over fellow bubble team Wichita State.
Cincinnati: Beat UConn in the quarterfinals Friday, which would be their third win over the Huskies this season. The Bearcats have wins over bubble teams George Washington and VCU to their credit, but there would be a lot less stress if they'd been able to close out Iowa State (81-79 loss) back on December 22.
Connecticut: Beat Cincinnati in the quarterfinals and that should sew things up for the Huskies. At the very least a win should get them another shot at a Temple team that swept the regular season series.
American Player of the Year: Nic Moore, SMU
Moore won the award last season and he'd be a good choice for the 2016 edition of the award as well. The senior point guard led the way for a team that was ranked for most of the season despite being ineligible for postseason play, averaging 15.9 points and 4.9 assists per game. A good case can be made for Temple's Quenton DeCosey as well.
American Coach of the Year: Fran Dunphy, Temple
Sure, this can be seen as giving the award to the man whose team was picked to finish sixth in the preseason coaches poll. But Dunphy deserves this honor just as much for the way the Owls played once out of non-conference play. Temple began play in the American with an overall record of 5-5, only to take a considerable leap forward in conference play. Led by Dunphy and seniors DeCosey and Jaylen Bond, Temple won the American outright with a conference record of 14-4.
First-Team All-AAC:
Nic Moore, SMU (POY)
Quenton DeCosey, Temple: If Moore isn't the choice for league POY then it's probably DeCosey, who was the leading option on the American's best team.
Troy Caupain, Cincinnati: Caupain averaged 13.6 points and 5.1 assists per game in conference play. He was also fourth in the conference in assist-to-turnover ratio (2.2).
James Woodard, Tulsa: Woodard led the Golden Hurricane with an average of 15.6 points per game, ranking sixth in the conference in scoring.
Dedric Lawson, Memphis: The conference's best freshman, Lawson paired up with Shaq Goodwin to form the highest scoring tandem in the American. And to think, he was originally supposed to be in the 2016 freshman class.
Second Team All-AAC:
Devonta Pollard, Houston
Shaq Harrison, Tulsa
Daniel Hamilton, Connecticut
Gary Clark, Cincinnati
Shaq Goodwin, Memphis
Defining moment of the season: Temple hands SMU its first loss of the season
CBT Prediction: Houston continues its recent run of solid play, winning three straight to punch their ticket to the NCAA tournament.