PLAYER OF THE YEAR: Denzel Valentine, Michigan State
Hield was in the lead as the favorite for National Player of the Year from the moment he went for 46 points in that triple-overtime thriller against Kansas. Throw in Valentine's injury issues in the middle of the season, and it's understandable that folks considered Hield a lock for all 37 (roughly) National Player of the Years Awards that are given out every March.
And Hield never really slowed down. He had a brief, four or five game blip where he wasn't shooting astronomical percentages, but he still finished the season averaging 25.1 points with shooting splits of 49.5/47.3/89.3. But Valentine threw this Michigan State team on his back, becoming the first player since assists became an official stat to average 19 points, seven boards and seven assists, and he's doing it for a team that is arguably playing the best basketball of anyone in the country. It became too much to ignore.
So while Hield didn't do anything that would have lost him the award, for us, the decision came down to this: If we were starting a college basketball team, who would we pick first, Denzel or Buddy? And the answer is Denzel, because he makes everyone on the floor with him better.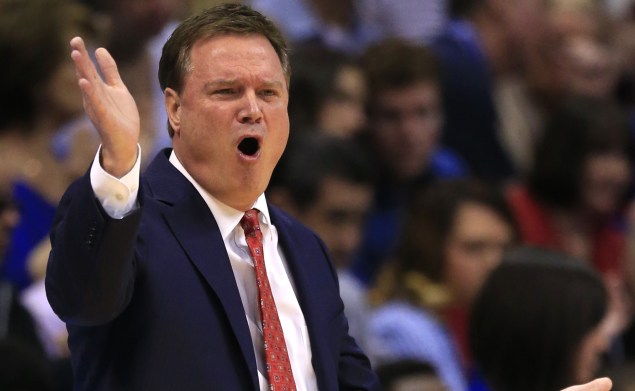 COACH OF THE YEAR: Bill Self, Kansas
The bottom line is this: Bill Self, coaching a team that doesn't have a projected first round pick in his starting lineup, won what KenPom rates as the best conference in the last 14 seasons by a full two games while putting together a profile that is strong enough to earn the Jayhawks the No. 1 overall seed even if they lose in the quarterfinals of the Big 12 tournament by 50.
Dana Altman, Chris Mack, Tony Bennett, Greg Gard, Tom Crean, Bob Huggins, Tubby Smith, Buzz Williams, even Coach K and John Calipari belong in the conversation. Every one of those dudes has a really strong case for Coach of the Year. They've all done a fabulous job with their teams this season. But what Self has been able to accomplish with this roster is not something that can be overlooked.
FIRST TEAM ALL-AMERICA
Denzel Valentine, Michigan State (Player of the Year)
Buddy Hield, Oklahoma: There shouldn't need to be much explanation here. Hield was the best player in the country for much of the season.
Tyler Ulis, Kentucky: Ulis emerged as the best point guard in college basketball by the end of the season as he recovered from an elbow injury and Kentucky made the change to play a lineup that would better space the floor. The diminutive floor general is the guy that controls that team, and the reason they now look like a national title contender.
Malcolm Brogdon, Virginia: Brogdon is one of the best defenders in the ACC and a guy that averaged 18.4 points while playing on the slowest team in the sport. He's got the ability to go into star mode and take a game over at the same time as he is shutting down an opponent's best player. How many guys in the country can do that?
Jakob Poeltl, Utah: The best big man in college basketball. Poeltl is a shot-blocking presence at the rim that has developed the ability to have offense run through him. There's also an argument to make that he is the most improved player in college basketball.
SECOND TEAM ALL-AMERICA
Yogi Ferrell, Indiana: Ferrell put Indiana on his back this season, running as the engine of an offense that carried the Hoosiers to the outright Big Ten title by two full games. He was unbelievable.
Grayson Allen, Duke: Duke has struggled with injuries, a lack of depth and a lack of a point guard, but Allen's ability to beat defenders one-on-one has been the biggest reason the Blue Devils are still relevant.
Jarrod Uthoff, Iowa: The Hawkeyes struggled down the stretch, but the reason they were a top ten team for much of the Big Ten season was due to the play of Uthoff, who is one of the most unique talents in the country.
Georges Niang, Iowa State: Niang is one of those players whose been so consistently great for so long that his talent is probably under-appreciated. He eas a first-team all-american on two of our ballots.
Brice Johnson, North Carolina: Johnson burst onto the scene in December when Kennedy Meeks went out with a knee issue and hasn't slowed down since.
THIRD TEAM ALL-AMERICA
Kay Felder, Oakland: We're going with Felder over Kris Dunn because Felder (24.3 points, 9.3 assists) had an unbelievable year while Dunn and the Friars totally faded down the stretch. And this is coming from Dunn's biggest fan.
Jamal Murray, Kentucky: Murray went from being a questionable decision-maker that was inconsistent and out of position to arguably the most dangerous shooter in the country.
Josh Hart, Villanova: Hart is such a key piece for Villanova. It's not just what he can do offensively, his versatility on the defensive end allows them to hide Kris Jenkins and his rebounding plays a major role in Villanova's ability to go small.
Perry Ellis, Kansas: Has there ever been a more under-appreciated great player than Perry Ellis?
Ben Simmons, LSU: Simmons' numbers were out of this world. He team's performance wasn't, and it still felt underwhelming.