The Mountain West certainly had an interesting regular season. UNLV, expected to be a factor both within the league and nationally, took a nosedive early in conference play and arrives at the conference tournament (in their building, no less) with an undermanned rotation and an interim head coach. Fresno State and Boise State managed to finish second and third in the league, but a familiar face separated itself as the class of the Mountain West: San Diego State. The Aztecs still have their issues offensively, but Jeremy Hemsley has been one of the Mountain West's best freshmen and they've got a veteran group that remains fully committed on the defensive end of the floor.
Steve Fisher's team won the conference by three games, and they'll be expected to handle their business in Las Vegas as well. But given how eventful this season has been for the Mountain West, with everything from blown calls that decided games (New Mexico/San Diego State and Boise State/Colorado State) to the conference presidents not telling the coaches of their decision to trim the field to eight teams beginning next season, this could end up being a basketball version of a Hunter S. Thompson book.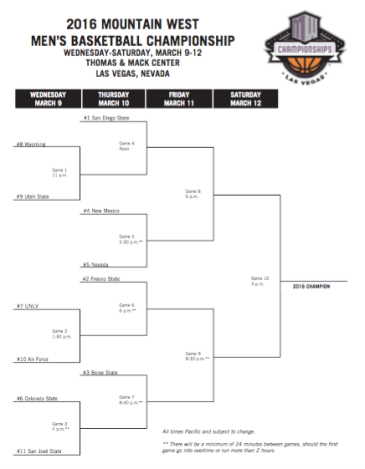 When: March 9-12
Where: Thomas & Mack Center, Las Vegas
Final: March 12, 6:00 p.m. (CBS)
Favorite: San Diego State
Having played in six of the last seven Mountain West tournament title games (winning in 2010 and 2011), the Aztecs are used to having success in Las Vegas. That being said, the fact that the program hasn't won the event since 2011 should serve as extra motivation this week.
San Diego State can still have the occasional lull offensively, as they ranked fifth in the Mountain West (conference games only) in field goal percentage (42.9 percent) and seventh in three-point percentage (32.8), but they have players who can make plays on that end of the floor. Jeremy Hemsley runs the show, fellow guard Trey Kell averaged 16.2 points per game in league play and Winston Shepard dished out 3.3 assists per game from the wing. But what makes this team go is their defense, as they led the Mountain West in both field goal and three-point percentage defense.
And if they lose?: Fresno State
Rodney Terry's Bulldogs finished second in the Mountain West this season, with one of the conference's best players in senior guard Marvelle Harris leading the way. In total Fresno State has seven players averaging at least 7.9 points per game, and they take better care of the basketball than any other team in the conference. The Bulldogs arrive in Vegas playing their best basketball of the season too, as they won six straight and eight of their last nine to end the regular season. Rebounding is a concern, especially with leading rebounder Torren Jones having missed the last ten games, but with Harris leading the way the Bulldogs have a shot.
Other Contenders:
Boise State: James Webb III's health will be key here. If he's in good physical condition the Broncos can win the whole thing, with Mikey Thompson, Anthony Drmic and Nick Duncan among the veterans capable of putting points on the board.
New Mexico: The Lobos have struggled with turnover issues throughout conference play. But in guard Elijah Brown and forward Tim Williams they have one of the better tandems in the Mountain West.
Sleeper: Nevada
First-year head coach Eric Musselman's done a very good job with this group, which includes one of the best freshmen in the Mountain West in forward Cameron Oliver. The Wolf Pack won ten conference games, even with the departure of A.J. West early in the season. What complicates this choice is the health of Marqueze Coleman, and a tough matchup with New Mexico in the quarterfinals.
The Bubble Dwellers
San Diego State: Virtually any scenario involving the Aztecs as an at-large team includes their making Saturday's title game. They'll need to win two games in Las Vegas to have a shot given the non-conference schedule, which includes losses to San Diego (bad), Little Rock and Grand Canyon (both good teams, but Little Rock isn't a bubble team either; GCU's a provisional Division I member). Their best bet: remove all doubt and win the automatic bid.
Mountain West Player of the Year: Josh Adams, Wyoming
Fresno State's Marvelle Harris certainly has a good argument here, given his individual excellence and the fact that he led his team to 13 conference wins. But the pick here is Adams because of how productive he was despite playing with a young supporting cast that virtually guaranteed that defenses were geared towards shutting him down. The senior still averaged 23.5 points, 5.7 rebounds and 4.4 assists per game in Mountain West play. He also ranked in the top ten in field goal percentage, three-point percentage, steals and assist-to-turnover ratio.
Mountain West Coach of the Year: Steve Fisher, San Diego State
Fisher's Aztecs were the class of the Mountain West by a wide margin, winning the conference by three games. When a team wins the conference by a comfortable margin, as was the case here, the head coach deserves to be rewarded. San Diego State's defense grabbed the headlines, but they were also able to do enough offensively to separate themselves from the pack.
First-Team All-Mountain West:
Josh Adams, Wyoming (POY)
Marvelle Harris, Fresno State: Harris averaged 22.7 points and 4.5 assists per game in Mountain West play, ranking third in scoring and first in assists while also leading the conference in steals (2.6 per game).
Elijah Brown, New Mexico: Brown finished second in the conference behind Adams in scoring (22.9 ppg in conference play), and he was also ranked in the top ten in field goal percentage, assists, free throw percentage and three-point percentage.
Trey Kell, San Diego State: The champs deserve to have someone on the first team, and while Shepard could have an argument because of his versatility the pick here is Kell. He gave SDSU a much-needed offensive spark in league play.
James Webb III, Boise State: The preseason pick for Mountain West POY, Webb averaged 16.1 points, 9.8 rebounds and 1.6 steals per game in conference play.
Second Team All-Mountain West:
Marqueze Coleman, Nevada
Patrick McCaw, UNLV
Antwan Scott, Colorado State
Winston Shepard, San Diego State
Tim Williams, New Mexico
Defining moment of the season: Boise State ends "The Streak"
CBT Prediction: San Diego State takes care of business, winning the automatic bid and earning a seventh straight trip to the NCAA tournament.