Villanova won the Big East regular season title.
Again.
Shocker.
Xavier finished right behind them, but the teams we expected to do well this season — Georgetown, Providence, Butler — all had varying degrees of falling off the map. Butler simply couldn't land enough big wins. Providences lost six out of eight at one point. Georgetown was nowhere to be found during league play.
Seton Hall finished as the No. 3 seed, and while they are better than they're given credit for, that's not exactly the best way to state a case nationally as an under-appreciated conference. The only way the Big East is going to be able to prove themselves is with long runs in March.
The Bracket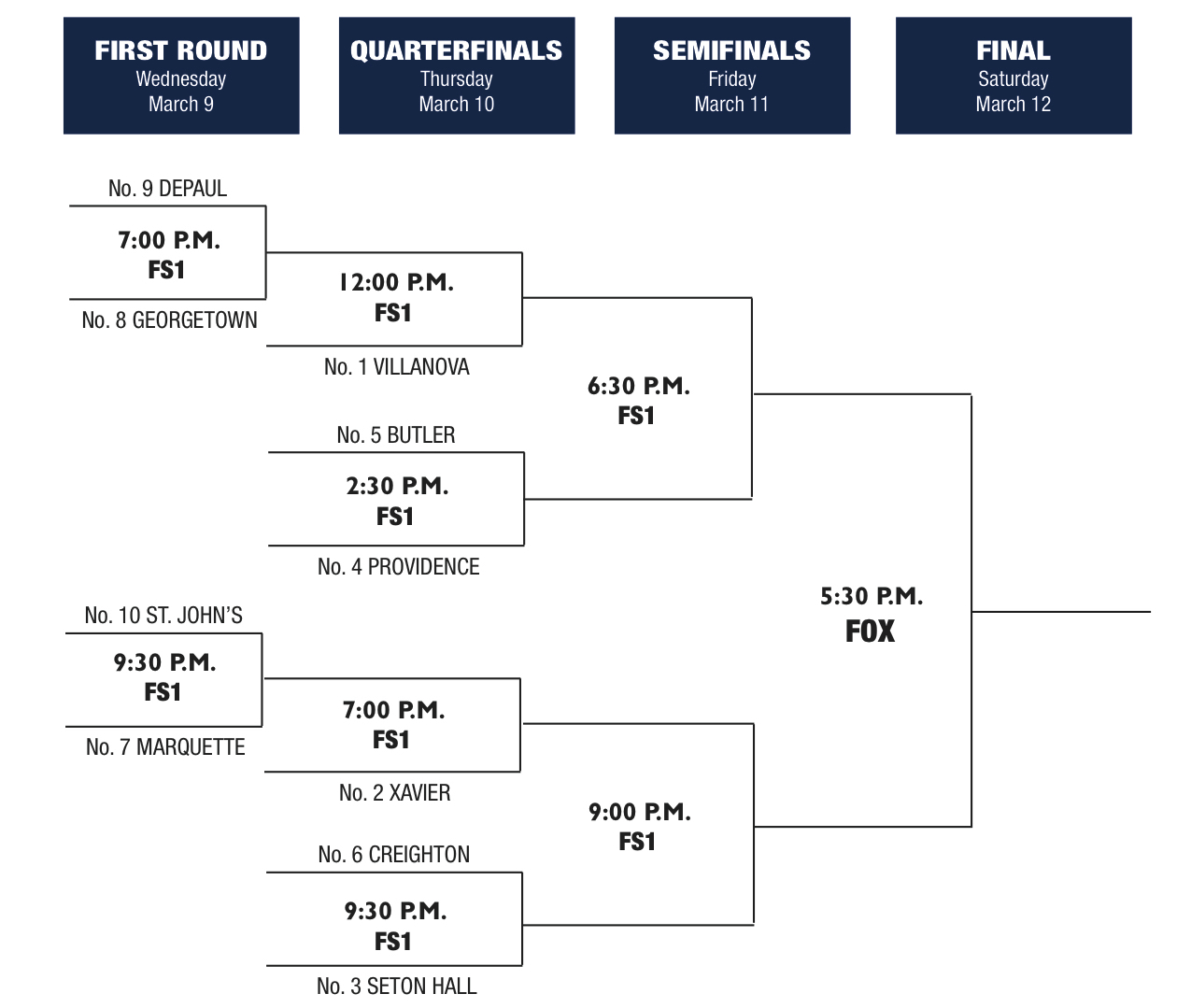 When: March 9-12
Where: Madison Square Garden
Final: March 12, 5:30 p.m. FOX
Favorite: Villanova
This is Villanova's Big East until someone takes that title away from them. They're 51-7 against league foes over the course of the last three seasons, with three regular season titles and a tournament title under their belt. There aren't many reasons to believe that Jay Wright's club won't be able to continue that trend, but there is one …
And if they lose?: Xavier
… and that is the Musketeers. Chris Mack's done an unbelievable job with this group, getting them to 26-4 and a second-place finish in the Big East. It's hard to imagine that a team can get better after losing Matt Stainbrook and Dee Davis, but they did. They also beat the breaks off of the Wildcats in Cincinnati just two weeks ago, a win that should give them the confidence that they can win in Madison Square Garden should those two square off in the rubber match.
Other Contenders
Seton Hall: The Pirates are a tough, scrappy group of kids from New York City. If you don't think they have something to prove playing in their hometown, than you don't understand sports. Led by Isaiah Whitehead and Desi Rodriguez, SHU is a dangerous team this month.
Butler: The Bulldogs are not the kind of Butler team we've become accustomed to. They run, they shoot a bunch of threes and they score a ton of points. The problem? They're not all that good defensively.
Sleeper: Providence
We cannot count the Friars out yet. I know they've been terrible over the course of the last six weeks, but they seemed to start figuring things out over the last week and a half. Plus, they have Kris Dunn and Ben Bentil. When you have two dudes that are that good, you're always going to have a chance. They'll make a run if Rodney Bullock, Jalen Lindsay and the rest of the supporting cast steps up and makes shots.
The Bubble Dwellers
Butler: The Bulldogs are on the right side of the bubble right now and they will probably be there even if they end up losing to Providence in the quarterfinals. A loss leaves them vulnerable, but losing to a team like Providence isn't exactly a résumé killer. They survive.
Providence and Seton Hall: These two have spent the last couple of weeks popping up on bubble watches, but without being able to take another bad loss in the tournament, they're safe by now.
Big East Player of the Year: Josh Hart, Villanova
I'm the conductor of the Kris Dunn hype train, but after the way that Providence's season came to a close, I think that Hart has to be the Big East Player of the Year. He's so vital to what the Wildcats do with his ability to defend multiple positions. That helps hide Kris Jenkins on that end of the floor. Hart's also now a dangerous scorer, capable of hitting threes, getting offensive rebounds and beating people off the dribble. He may be overlooked nationally because he plays for Villanova, but coaches in the league know how good he is.
Big East Coach of the Year: Chris Mack, Xavier
Mack has done a fantastic job with this Musketeer group, turning them into a top five team this season despite playing without a potential first round pick on the roster. They've versatile defensively. They have a number of different guys that can beat you. They can play big or small, man or zone. They're tougher than a well-done steak. When the sum is this much better than the parts, you have to give credit to the person that is in charge.
First-Team All-Big East:
Josh Hart, Villanova (POY)
Kris Dunn, Providence: Dunn didn't have a great close to the season but he's the best raw talent in the conference and it's not all that close.
Trevon Bluiett, Xavier: Bluiett is a valuable shot-maker for the Musketeers, who rely on him to be their leading scorer and a matchup problem.
Isaiah Whitehead, Seton Hall: The Pirates came on strong down the stretch of the season, and it was Whitehead that led the way.
Ben Bentil, Providence: Bentil led the Big East in scoring at 21.2 points. There's an argument to be made that he should have been considered the Providence nomination for Player of the Year over Dunn.
Second Team All-Big East:
Henry Ellenson, Marquette
Roosevelt Jones, Butler
Ryan Arcidiacono, Villanova
Mo Watson, Creighton
James Farr, Xavier
Defining moment of the season: I know there were mitigating circumstances — Edmond Sumner's injury, for one — but the defining moment was Villanova's blowout win over Xavier on New Year's Eve. It sent the tone for another season where the Wildcats would steamroll the rest of the conference:
CBT Prediction: Villanova cuts down the nets after beating Xavier