The Conference USA tournament will likely be UAB be and a host of other contenders looking to knock off the Blazers after they cleared the league by three games this season in their quest to secure a second-straight NCAA tournament berth. The Blazers might have separated themselves, but there is enough punching power in the rest of the league to make things interesting in Birmingham.
The Bracket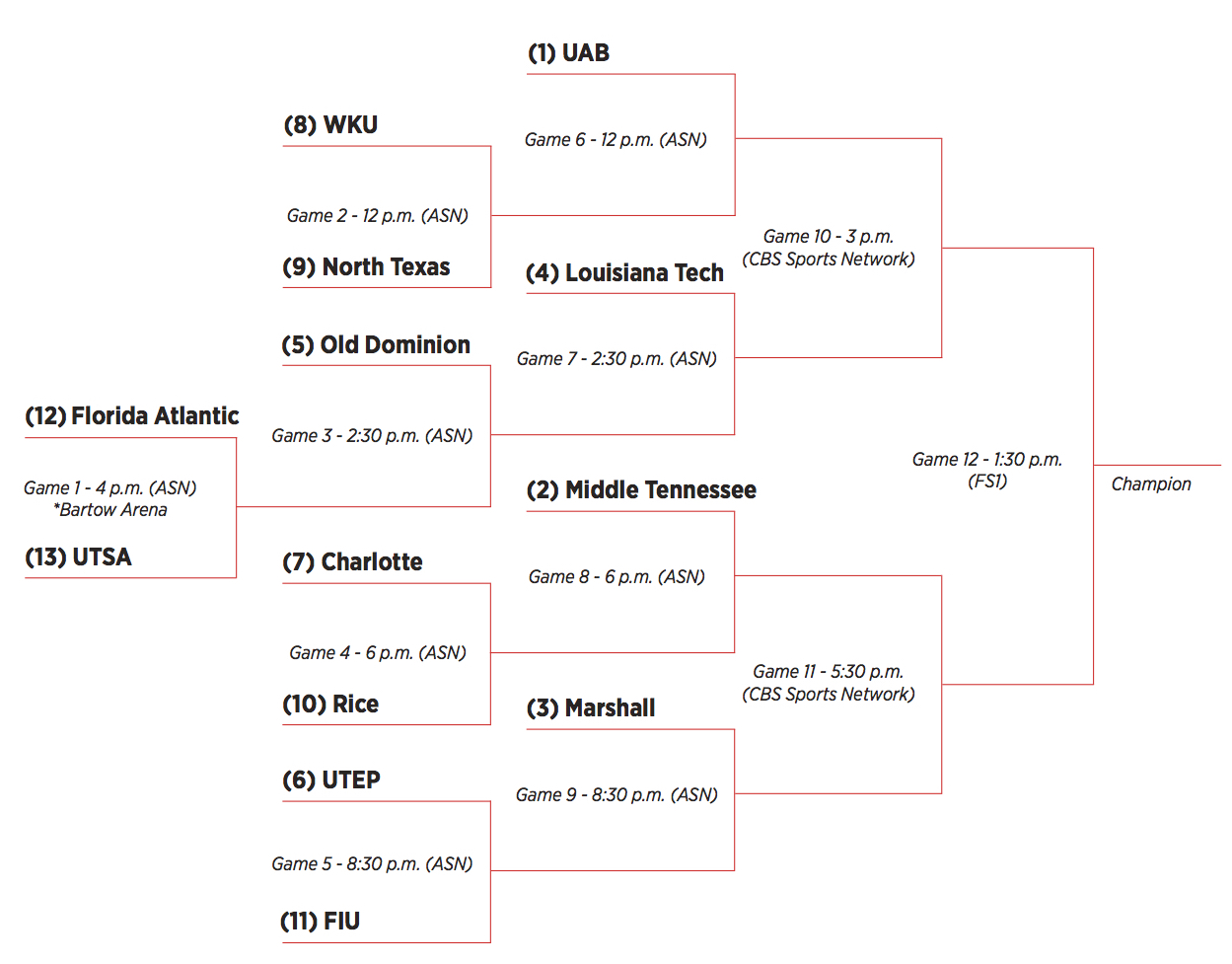 When: March 8-12
Where: Legacy Arena at BJCC, Birmingham, Ala.
Final: Saturday, March 12, 1:30 p.m. (FS1)
Favorite: UAB
The Blazers knocked off Iowa State in one of the biggest upsets of last year's NCAA tournament and continued the momentum to the tune of a 16-2 conference record this season in which they went undefeated at home. UAB is a strong shooting team both inside and out, and the Blazers are one of the top shot-blocking teams in the country. They'll be a tough out.
And if they lose?: Marshall
The Thundering Herd's defense is porous, but their offense is the league's best. And this isn't a conference known for slowing people down. If they get hot, they might be able to ride their offense into the Big Dance.
Other Contenders:
Middle Tennessee: They looked like they might contend for the regular season crown in January, but two home losses in February kept them behind the Blazers.
Old Dominion: The Monarchs' extreme slow-it-down style should keep them close in every contest.
Louisiana Tech: Alex Hamilton is a load offensively and could be the difference in at least one game.
CUSA Player of the Year: Trey Freeman, Old Dominion
Freeman carried a massive offensive burden for the Monarchs, but was still able to be efficient, especially during conference play, fueling Old Dominion's offense through scoring, passing and ball-handling.
CUSA Coach of the Year: Jared Haase, UAB
The Blazers were the pick to win the league this season, but that doesn't diminish what Haase and UAB accomplished with the rest of the league gunning to knock them off. Should UAB make another tournament, the former North Carolina assistant will no doubt be mentioned as a potential target for high major programs.
First-Team All-CUSA:
Trey Freeman, Old Dominion
Marcus Evans, Rice
James Kelly, Marshall
Alex Hamilton, Louisiana Tech
Robert Brown, UAB
CBT Prediction: UAB over Marshall